This post is written in two languages and divided for ease of reading.
Este post está escrito en dos idiomas y dividido para facilitar la lectura.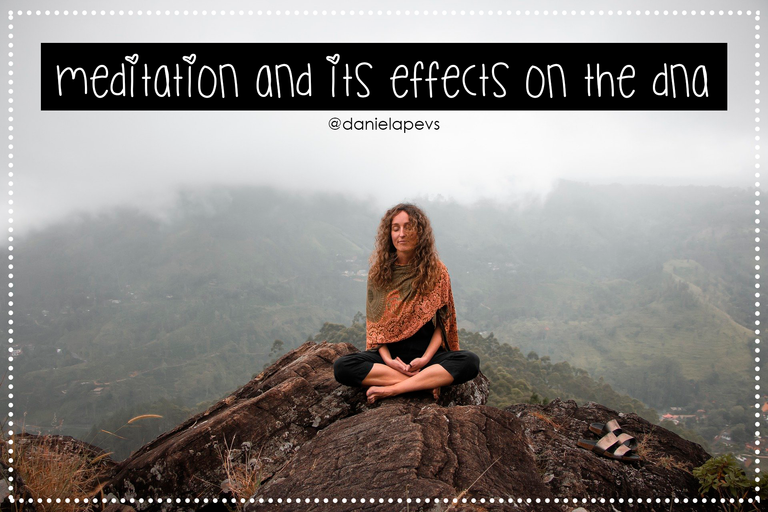 s o u r c e

Most of us know the great benefits that we obtain in our lives with meditation, which are usually greater concentration, living in the present, decreased anxiety, strengthening the lungs through breathing exercises and, in many cases, we secrete dopamine, which is the cause of happiness.
But also meditation has effects on our DNA, which have been studied and have a scientific basis behind them, so we will talk a little about this.
Meet Elizabeth Blackburn, an Australian biochemist and discoverer of telomerase, an enzyme that forms telomeres during DNA duplication. (i)
Telomeres are located at the ends of chromosomes in eukaryotic cells,, when there is cell replication (when cells divide) telomeres tend to wear out in the duplication which are the cause of aging and cell death.
Blackburn also points out that there is a substance called telomerase which, when injected, completely prevents accelerated aging. It happens that this substance also causes cancer to arise, which is why it is not an option in any way for us humans.
However, Elizabeth did not sit idly by and continued her research to find a way to stop aging. This is where she discovered that meditation has very positive effects on our telomeres, slowing down cellular aging.
Now, Blackburn emphasizes that stress, which can come from exploitative jobs, technological overstimulation, anxiety, poor rest habits, are the main causes of our telomeres to shorten and produce this aging. In the study conducted by herself, she emphasizes cortisol and melatonin, cortisol is secreted during the day and clarifies that these shorten the telomeres (since during the day we are constantly active and exposed to environmental stimuli, such as work) at night, cortisol decreases and we begin to secrete melatonin, which is an antioxidant. (i)
Basically, the stress provided by the misuse of technology and also by environmental factors contributes to the over-accelerated telomere attrition.
When we are exposed at night to technological stimuli, when we study excessively or when we work too many hours, we cause a delay in melatonin, which is responsible for rest and delays the antioxidant that allows us to lengthen the telomeres. We begin to secrete more cortisol at times when we should not, since we are subjected to stress by performing these activities at times when we should be resting. (i)
Can you see the damage caused to our hormonal system by being constantly subjected to an accelerated life, with stress, work, technological stimuli and no rest?
Elizabeth Blackburn further notes that daily meditation for three months begins to change telomeres, lengthening them and in turn, exponentially delaying the telomere doubling error.
This means that meditation prolongs life.
It is here then when I think why from a very early age this type of practice is not taught to us, in fact, we are the ones who by other means discover meditation, it is almost always outside our social or family circle. We discover it by chance in a movie, a book or through the internet.
With all this information at hand, which is scientifically supported, what could we not achieve then? Imagine then to implement this practice in children, instead of subjecting them to a life surrounded by technology, why not teach them to value it from meditation and calm. Teach them to balance their daily activities a little.
Are we aware of the damage we are causing by providing our children with cell phones from an early age? To allow them to undergo episodes of stress during the study? What are the consequences?
While it is true that most people meditate to lead a calmer, more present-centered lifestyle, today we know that this also gave us significant longevity. I don't know about you, but I think this information is indispensable for us humans.
---
---