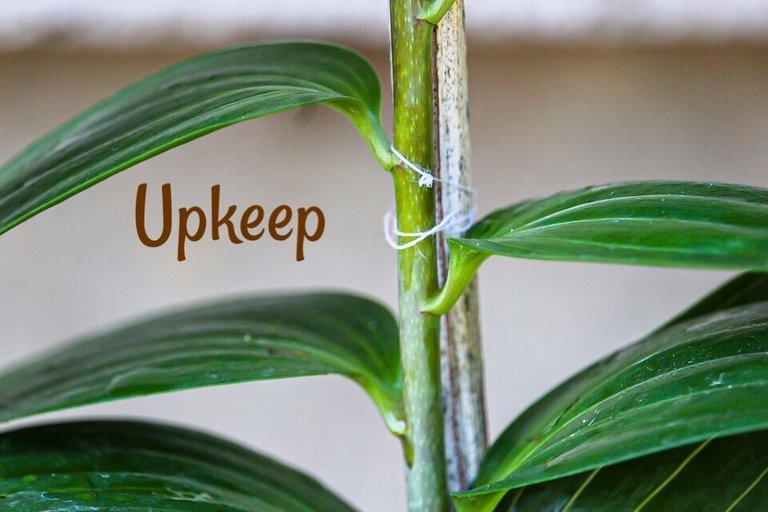 I tip my hat to all gardeners and homesteaders. Being months into this now I can clearly see for myself how much work it is.
This is the first time I have ever done so much maintenance and upkeep on my own. When I helped my parents with their garden and yard work it wasn't as hard because I didn't do the main jobs. This time around my husband and I are doing everything to keep things growing nicely and looking good around the house.
I've been waking up every morning between 6:30am and 7:00am to beat the heat and go water all the plants and veggies. I pick out weeds and trim at least twice a week (more on that later). It is quite the work keeping up a garden.
Thankfully my kiddos are always volunteering to water for me so that helps. They are also outside with me in the evenings so I have little tasks for them to do and they don't mind at all. They enjoy being outside and having the chance to see how everything is growing.
Everything I share with you today was from two weeks ago. All of the plants in this post have grown much more since then. I've been documenting and keeping my journal up to date it's just finding the time to prepare my posts have been a challenge.
Stacey (the woman who lived here before us and who has been teaching me a lot about gardening) was telling me that eventually I would have to stake the stargazer lilies because they grow so tall and need support. That time arrived and I spent a couple of hours getting it done.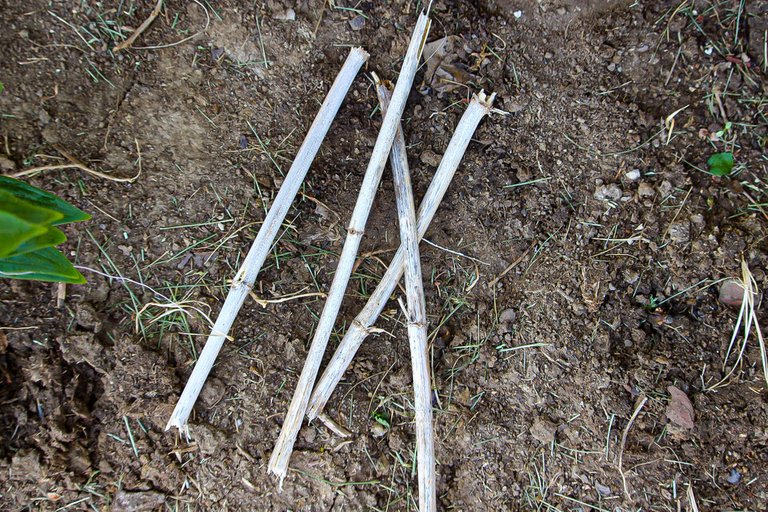 I had the kids help me grab up some nice and sturdy sticks from the woods behind us. I know many people buy these types of things but I'm all about saving money and using what we have around us. This also helps me keep my brain sharp by coming up with ideas.
After sticking the stick in the ground and making sure it was right against the plant, I used white thread to wrap the sticks around firmly.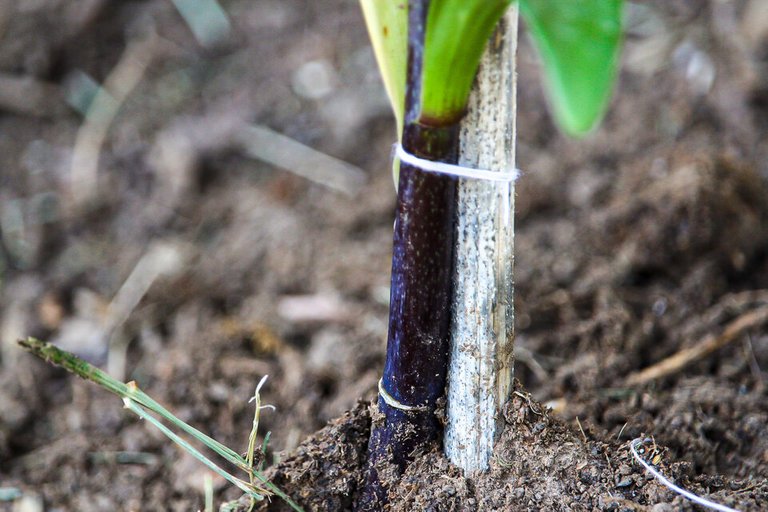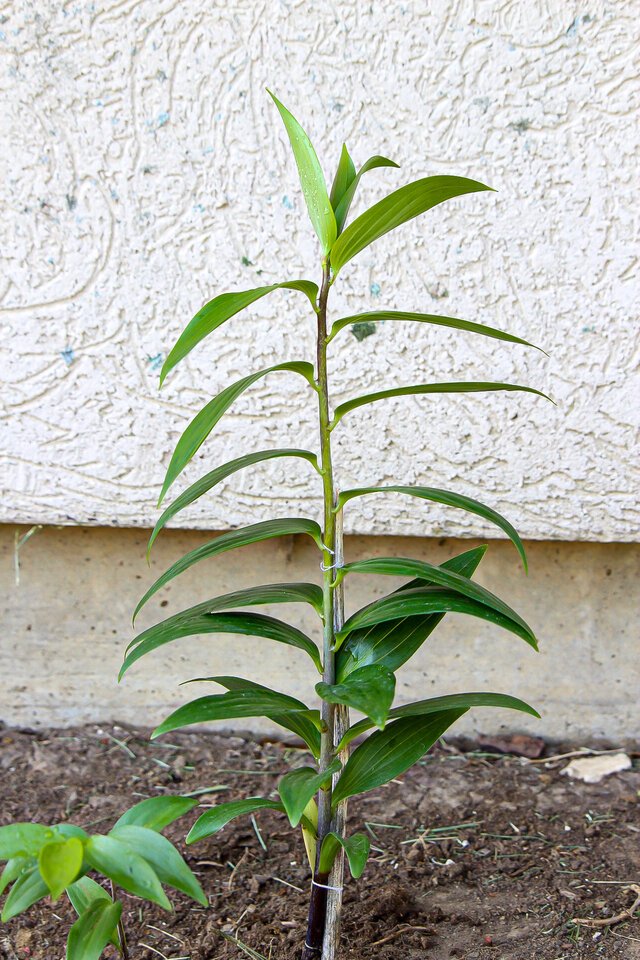 I did this even for the little ones. They were slightly leaning as well...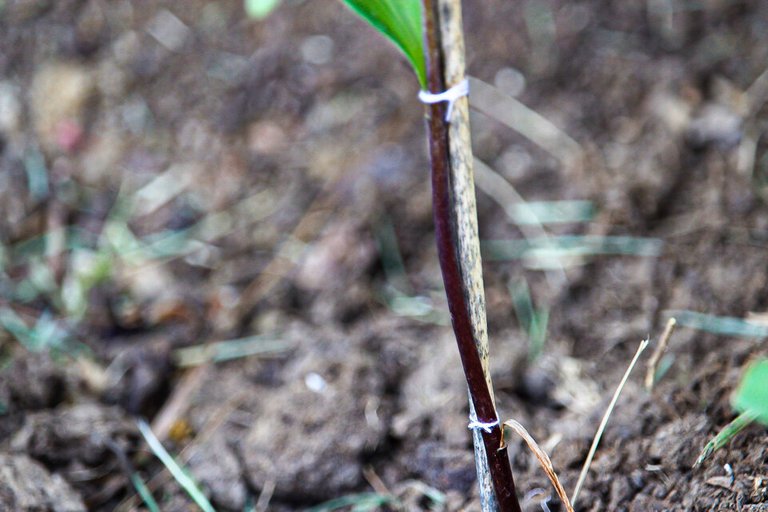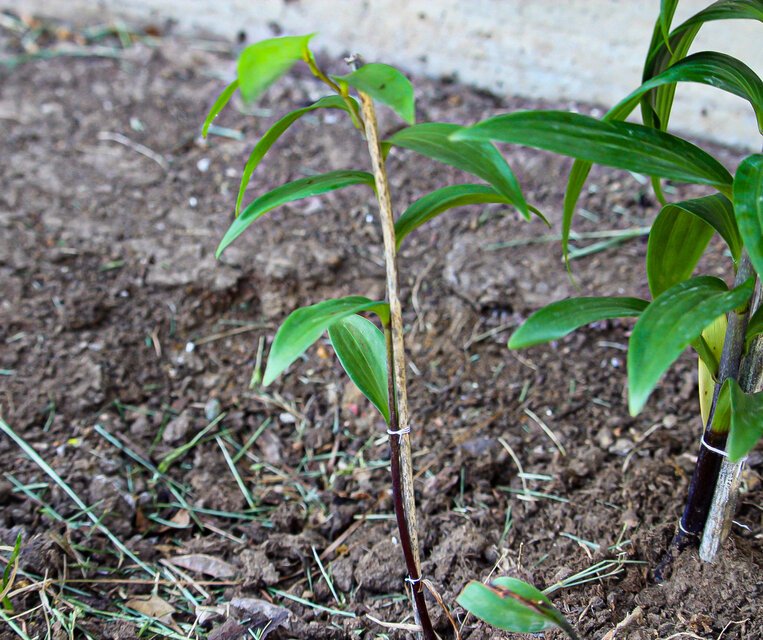 The ones in the front of the house are thicker and taller. The stems on these are like mini trees. It took more effort for me to get these done. As of today I need to get out there to reinforce them again already.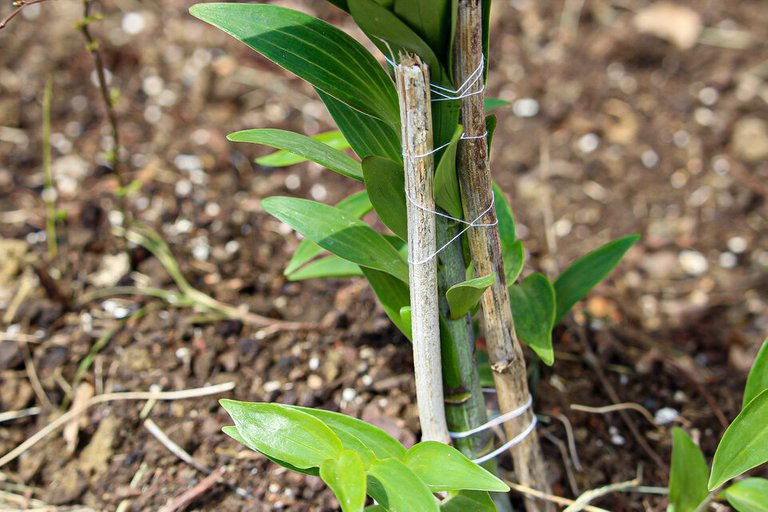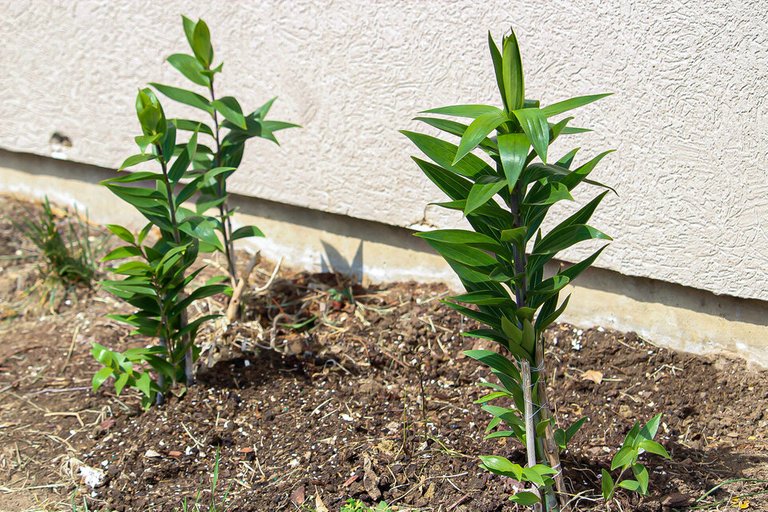 Now, about those ruthless weeds I mentioned...🥵
I have had a time trying to keep weeds out of our garden. Just when I thought I had it somewhat under control these little stinkers start showing up everywhere...
I know that in order to keep them away longer they need to be pulled by the roots. Well geez, it was taking way too long using a tool to do this so I got to reading.
I learned that pouring boiling water on top of weeds will shrivel them up and weaken their roots. We don't use chemicals especially near our food so a natural way was the only way. 🙂
It's true! I poured the steaming boiling water on top of all of them and the next day I came out to this...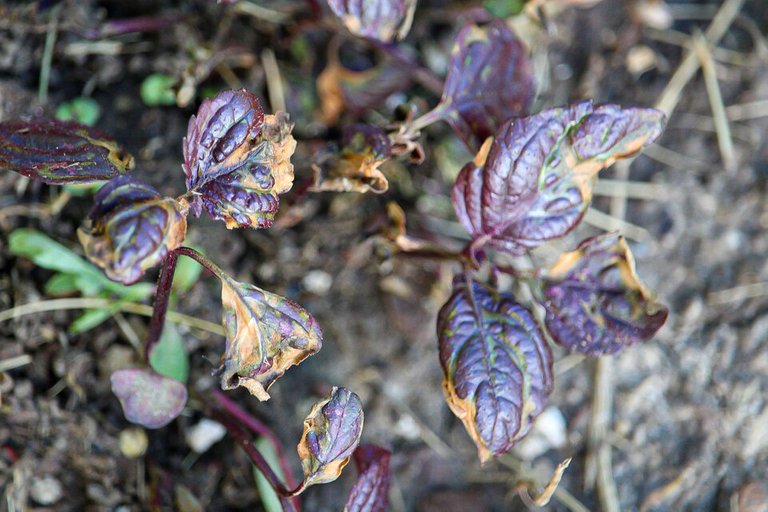 It would have been even better if they melted and disappeared altogether. 😅
However, I am pleased with the results because it made picking them a lot easier. I didn't have to use a tool and the roots came up so so very easily.
So if you have stubborn weeds that need weakening, your solution = boiling water. 💦
Note: Just take care that you don't use the boiling water too close to your plants. The ones that were too close to my plants I had to pick them by hand. It's hard to determine where the roots start and end so please be careful if you try this method.


In other news guess what's peeking up from below? Our strawberry leaves!!!
I am so excited to see these strawberry leaves popping up in several places. I look forward to sharing with you the first strawberries we sight. 🍓😃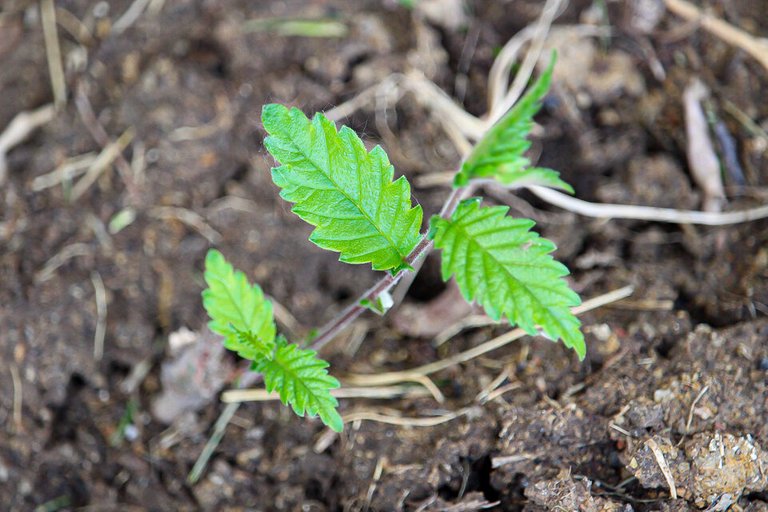 Well we must be doing something right. This ant family built their home right in front of one of our strawberry sites.
These little creatures are the strongest, hardworking, clever and determined species on the planet. I don't think there's any other insect that has better teamwork than they do. I just want them to stay outside and stop trying to come in my house. 😁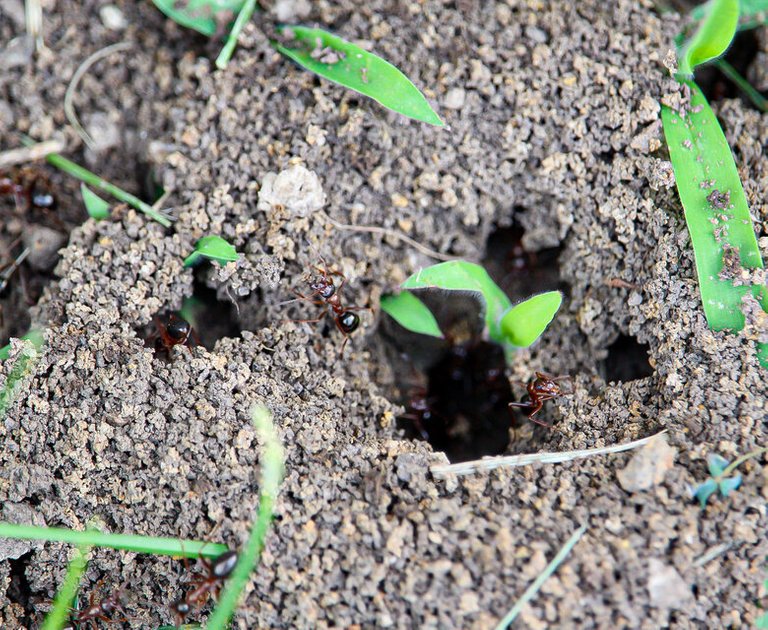 That's all for now. I'll be updating you on how our veggies are doing next week. We ran into an issue but it has been resolved and everything is growing just fine again. Stay tuned to find out what it was!


What do you use to get rid of weeds?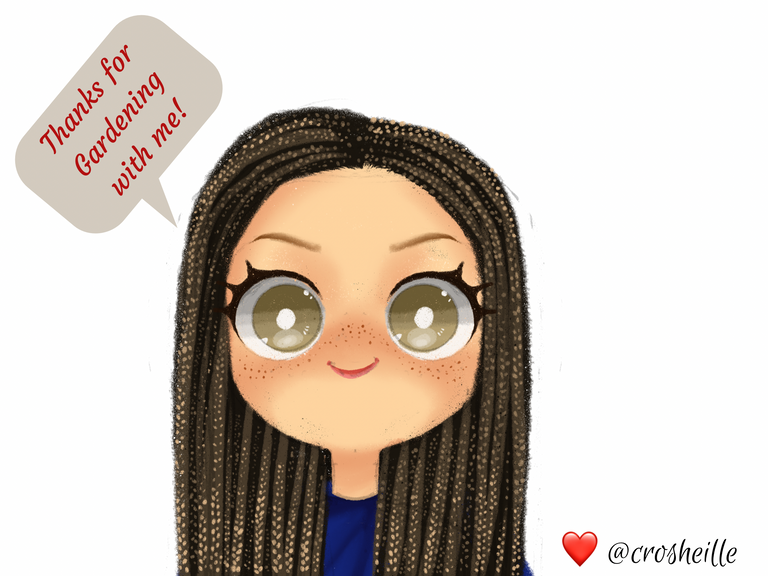 avatar created by @grisvisa