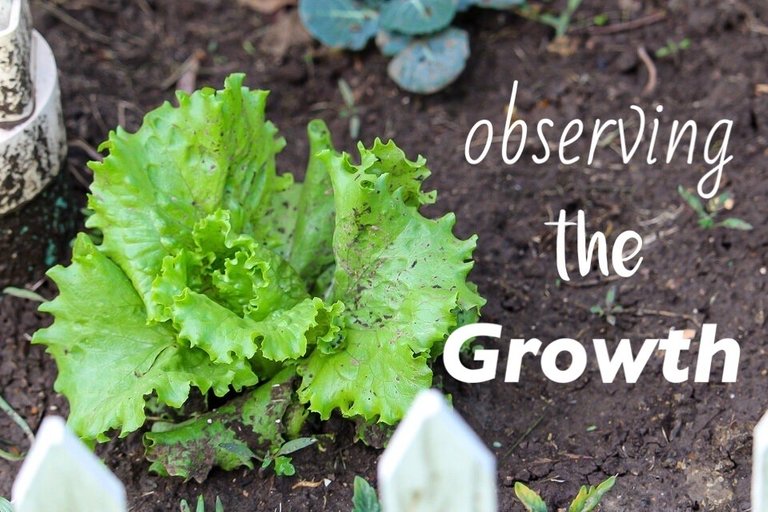 Twenty days ago I introduced you to our first little garden.
Having this garden has awakened some childhood love and memories of enjoying outside life and being free to observe and learn about nature. I have shared about my past tragic events and how this love of the outside world was dampened.
I would now like to move on from there and share with you some updates on our garden.
As I said before, these plants have become my little babies. They were adopted into our family and just as I keep watch over my children I am always looking out for my plants.
We spotted a really huge raccoon and a curious rabbit this week so you can imagine how much more I've been keeping watch over our garden.
My parents suggested I sprinkle some grounded cayenne pepper throughout the garden to help keep predators away. I also spray a mixture of essential oils that deter pests and at the same time are beneficial for the garden:
𝚁𝚘𝚜𝚎𝚖𝚊𝚛𝚢 -
𝚁𝚎𝚙𝚎𝚕𝚜 𝚏𝚕𝚒𝚎𝚜, 𝚏𝚕𝚎𝚊𝚜, 𝚊𝚗𝚝𝚜, 𝚖𝚘𝚜𝚚𝚞𝚒𝚝𝚘𝚎𝚜 𝚊𝚗𝚍 𝚜𝚘𝚖𝚎 𝚒𝚗𝚜𝚎𝚌𝚝 𝚕𝚊𝚛𝚟𝚊𝚎source
𝙱𝚎𝚗𝚎𝚏𝚒𝚝𝚜 𝚝𝚘𝚖𝚊𝚝𝚘 𝚜𝚎𝚎𝚍𝚕𝚒𝚗𝚐 𝚐𝚛𝚘𝚠𝚝𝚑 𝚊𝚗𝚍 𝚗𝚞𝚝𝚛𝚒𝚎𝚗𝚝 𝚞𝚙𝚝𝚊𝚔𝚎source
𝙿𝚎𝚙𝚙𝚎𝚛𝚖𝚒𝚗𝚝 -
𝚁𝚎𝚙𝚎𝚕𝚜 𝚌𝚊𝚝𝚎𝚛𝚙𝚒𝚕𝚕𝚊𝚛𝚜, 𝚏𝚕𝚎𝚎𝚜, 𝚏𝚕𝚒𝚎𝚜, 𝚊𝚙𝚑𝚒𝚍𝚜, 𝚜𝚙𝚒𝚍𝚎𝚛𝚜, 𝚊𝚗𝚝𝚜, 𝚋𝚎𝚎𝚝𝚕𝚎𝚜, 𝚖𝚒𝚌𝚎, 𝚖𝚘𝚝𝚑𝚜, 𝚜𝚕𝚞𝚐𝚜 𝚊𝚗𝚍 𝚜𝚗𝚊𝚒𝚕𝚜source
𝙱𝚎𝚗𝚎𝚏𝚒𝚝𝚜 𝚘𝚏 𝚌𝚘𝚗𝚝𝚛𝚘𝚕𝚕𝚒𝚗𝚐 𝚊𝚗𝚍 𝚎𝚕𝚒𝚖𝚒𝚗𝚊𝚝𝚒𝚗𝚐 𝚏𝚞𝚗𝚐𝚞𝚜 𝚊𝚗𝚍 𝚖𝚘𝚜𝚜 𝚐𝚛𝚘𝚠𝚝𝚑source
𝚃𝚑𝚢𝚖𝚎 -
𝚁𝚎𝚙𝚎𝚕𝚜 𝚋𝚎𝚎𝚝𝚕𝚎𝚜, 𝚌𝚑𝚒𝚐𝚐𝚎𝚛𝚜, 𝚌𝚞𝚝𝚠𝚘𝚛𝚖𝚜, 𝚛𝚘𝚊𝚌𝚑𝚎𝚜, 𝚌𝚊𝚋𝚋𝚊𝚐𝚎 𝚏𝚕𝚒𝚎𝚜 𝚊𝚗𝚍 𝚝𝚒𝚌𝚔𝚜source
𝙱𝚎𝚗𝚎𝚏𝚒𝚝𝚜 𝚊𝚗𝚍 𝚙𝚛𝚘𝚝𝚎𝚌𝚝𝚜 𝚟𝚎𝚐𝚎𝚝𝚊𝚋𝚕𝚎𝚜source
𝚃𝚎𝚊 𝚃𝚛𝚎𝚎 -
𝚁𝚎𝚙𝚎𝚕𝚜 𝚖𝚘𝚜𝚚𝚞𝚒𝚝𝚘𝚎𝚜, 𝚝𝚒𝚌𝚔𝚜, 𝚋𝚎𝚎𝚜, 𝚏𝚕𝚎𝚊𝚜, 𝚏𝚒𝚛𝚎 𝚊𝚗𝚝𝚜, 𝚊𝚗𝚍 𝚜𝚙𝚒𝚍𝚎𝚛𝚜source
𝙱𝚎𝚗𝚎𝚏𝚒𝚝𝚜 𝚘𝚏 𝚌𝚘𝚗𝚝𝚛𝚘𝚕𝚕𝚒𝚗𝚐 𝚏𝚞𝚗𝚐𝚊𝚕 𝚒𝚗𝚏𝚎𝚌𝚝𝚒𝚘𝚗𝚜 𝚊𝚗𝚍 𝚖𝚒𝚕𝚍𝚎𝚠source
𝙲𝚕𝚘𝚟𝚎 -
𝚁𝚎𝚙𝚎𝚕𝚜 𝚊𝚗𝚝𝚜, 𝚊𝚙𝚑𝚒𝚍𝚜, 𝚏𝚕𝚎𝚊𝚜, 𝚛𝚘𝚊𝚌𝚑𝚎𝚜, 𝚖𝚒𝚝𝚎𝚜, 𝚝𝚒𝚌𝚔𝚜, 𝚌𝚑𝚒𝚗𝚌𝚑 𝚊𝚗𝚍 𝚕𝚊𝚌𝚎 𝚋𝚞𝚐𝚜source
𝙱𝚎𝚗𝚎𝚏𝚒𝚝𝚜 𝚘𝚏 𝚔𝚒𝚕𝚕𝚒𝚗𝚐 𝚠𝚎𝚎𝚍𝚜 𝚊𝚗𝚍 𝚌𝚘𝚗𝚝𝚛𝚘𝚕𝚕𝚒𝚗𝚐 𝚖𝚘𝚕𝚍/𝚖𝚒𝚕𝚍𝚎𝚠/𝚏𝚞𝚗𝚐𝚞𝚜 𝚘𝚗 𝚢𝚘𝚞𝚛 𝚜𝚘𝚒𝚕 𝚊𝚗𝚍 𝚙𝚕𝚊𝚗𝚝𝚜source
𝙾𝚛𝚎𝚐𝚊𝚗𝚘 -
𝚁𝚎𝚙𝚎𝚕𝚜 𝚖𝚘𝚜𝚚𝚞𝚒𝚝𝚘𝚜, 𝚌𝚞𝚌𝚞𝚖𝚋𝚎𝚛 𝚋𝚎𝚎𝚝𝚕𝚎𝚜, 𝚌𝚊𝚋𝚋𝚊𝚐𝚎 𝚋𝚞𝚝𝚝𝚎𝚛𝚏𝚕𝚒𝚎𝚜, 𝚋𝚎𝚎𝚝𝚕𝚎𝚜 𝚊𝚗𝚍 𝚊𝚕𝚕 𝚜𝚘𝚛𝚝𝚜 𝚘𝚏 𝚏𝚕𝚒𝚎𝚜source
𝙱𝚎𝚗𝚎𝚏𝚒𝚝𝚜 𝚘𝚏 𝚌𝚘𝚗𝚝𝚛𝚘𝚕𝚕𝚒𝚗𝚐 𝚏𝚞𝚗𝚐𝚞𝚜 𝚒𝚗 𝚐𝚊𝚛𝚍𝚎𝚗source
𝙻𝚊𝚟𝚎𝚗𝚍𝚎𝚛 -
𝚁𝚎𝚙𝚎𝚕𝚜 𝚏𝚕𝚎𝚊𝚜, 𝚖𝚘𝚝𝚑𝚜, 𝚏𝚕𝚒𝚎𝚜, 𝚖𝚘𝚜𝚚𝚞𝚒𝚝𝚘𝚎𝚜, 𝚝𝚒𝚌𝚔𝚜 𝚊𝚗𝚍 𝚜𝚙𝚒𝚍𝚎𝚛𝚜source
𝙱𝚎𝚗𝚎𝚏𝚒𝚝𝚜 𝚘𝚏 𝚊𝚝𝚝𝚛𝚊𝚌𝚝𝚒𝚗𝚐 𝚋𝚎𝚗𝚎𝚏𝚒𝚌𝚒𝚊𝚕 𝚙𝚘𝚕𝚕𝚒𝚗𝚊𝚝𝚘𝚛𝚜 𝚜𝚞𝚌𝚑 𝚊𝚜 𝚋𝚎𝚎𝚜 𝚊𝚗𝚍 𝚋𝚞𝚝𝚝𝚎𝚛𝚏𝚕𝚒𝚎𝚜source
𝙱𝚊𝚜𝚒𝚕 -
𝚁𝚎𝚙𝚎𝚕𝚜 𝚏𝚕𝚒𝚎𝚜source
𝙱𝚎𝚗𝚎𝚏𝚒𝚝𝚜 𝚘𝚏 𝚜𝚞𝚙𝚙𝚘𝚛𝚝𝚒𝚗𝚐 𝚟𝚎𝚐𝚎𝚝𝚊𝚋𝚕𝚎 𝚊𝚗𝚍 𝚙𝚕𝚊𝚗𝚝 𝚑𝚎𝚊𝚕𝚝𝚑 𝚊𝚗𝚍 𝚎𝚗𝚑𝚊𝚗𝚌𝚎𝚜 𝚝𝚑𝚎 𝚐𝚛𝚘𝚠𝚝𝚑 𝚘𝚏 𝚙𝚕𝚊𝚗𝚝𝚜 𝚜𝚞𝚌𝚑 𝚊𝚜 𝚝𝚘𝚖𝚊𝚝𝚘𝚎𝚜, 𝚋𝚎𝚊𝚗𝚜, 𝚋𝚛𝚘𝚌𝚌𝚘𝚕𝚒, 𝚙𝚎𝚙𝚙𝚎𝚛𝚜, 𝚊𝚗𝚍 𝚙𝚘𝚝𝚊𝚝𝚘𝚎𝚜source


There are other essential oils that you can explore such as lemongrass, pine and orange that will also benefit your gardens.
I also add in water and a little bit of liquid castile soap to my spray mixture.


Growth
I put together some comparison photos of when we first planted the plants just 20 days ago compared to how they look today. The before photos are on the top and the current ones on the bottom.
Observing the growth of our plants has been a real treat for my family. My kids are amazed at how much each of them have grown.
ᕼEᗩᗪ ᒪETTᑌᑕE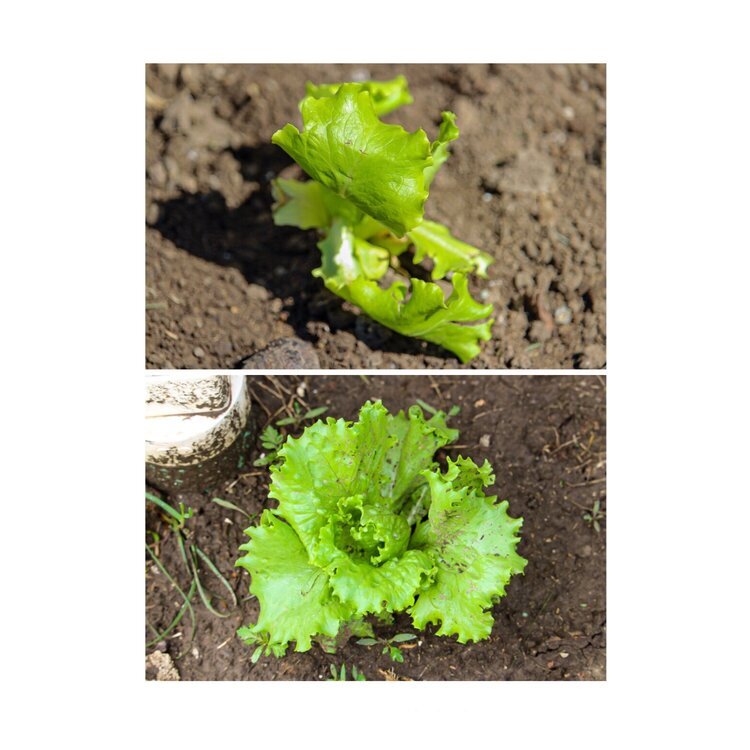 ᑕᗩᗷᗷᗩGE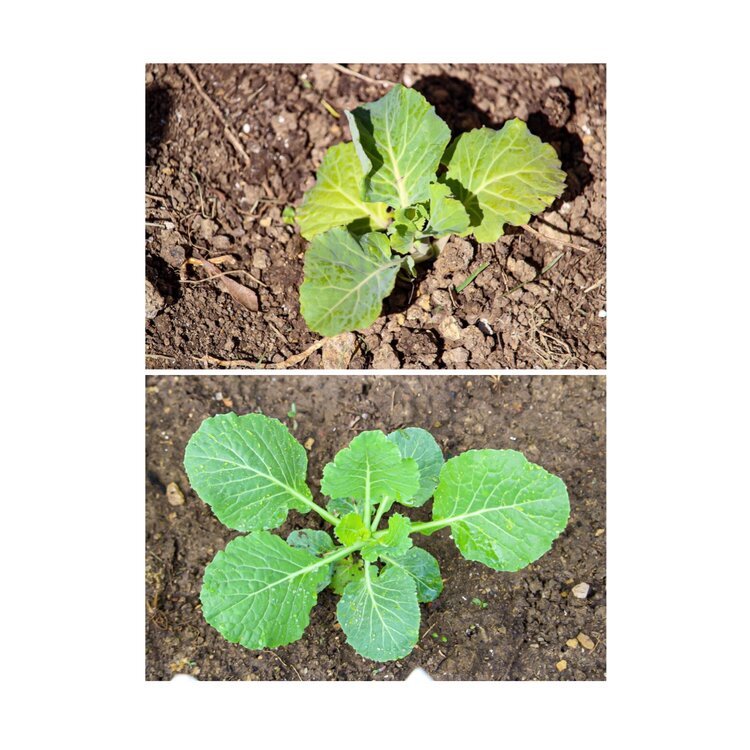 ᗷᖇOᑕᑕOᒪI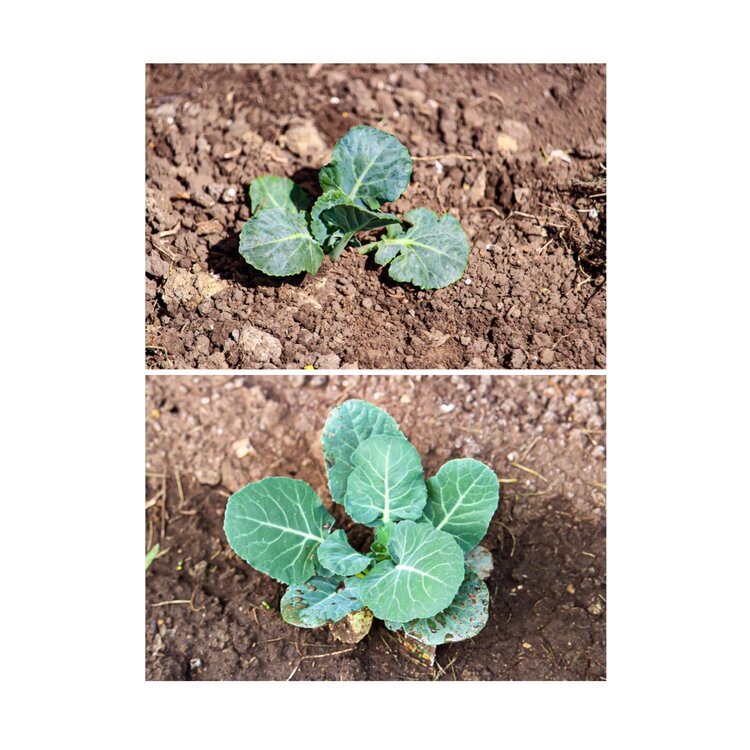 TOᗰᗩTO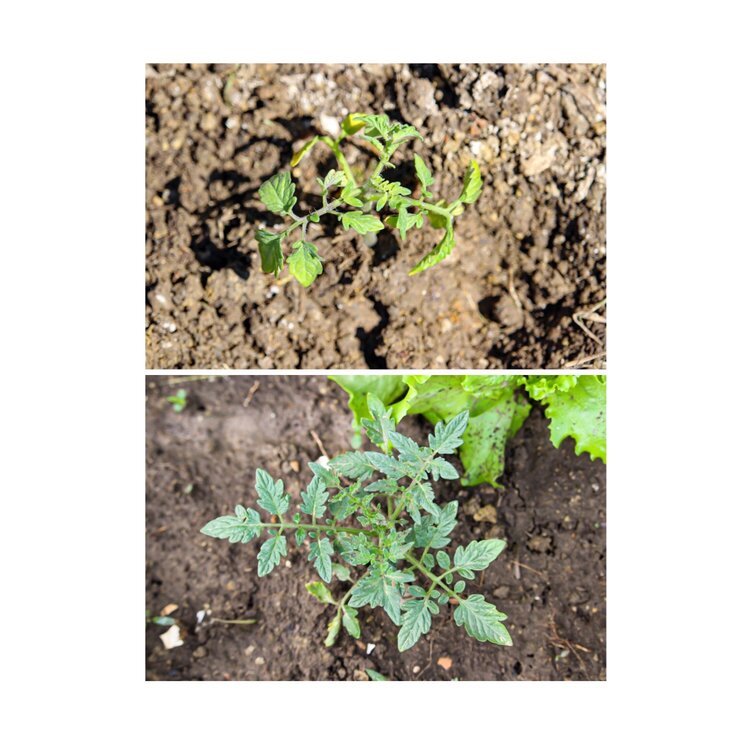 Here is a final comparison from inside the gate...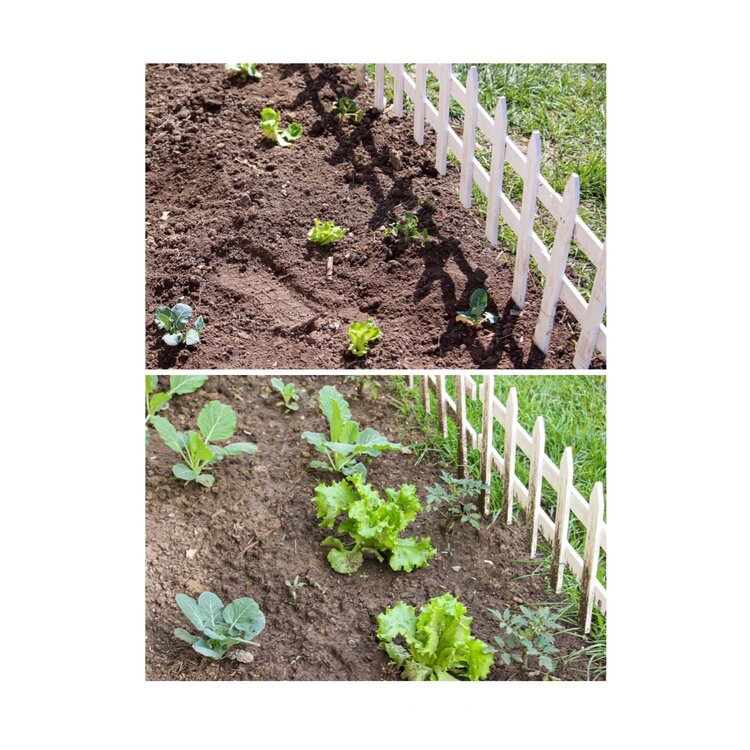 It's really incredible seeing these comparisons. Just to think they still have some growing to do.
We've had a lot of rainfall lately as you can see the mud splattered on the plants. I haven't had to water in almost a week which I don't mind. After the rains I go out and spray the plants as well as the soil with my mixture to help keep the pests and fungus away.
I love that we can naturally and safely protect our plants and even encourage better growth.


The Sad Discovery
I'm sure you all remember the beautiful iris plants I revealed to you?
Gardening definitely has it's learning curve and I have quite a bit to learn.
I felt I should have known this due to how fragile they were but I didn't take any preventive steps to prevent this...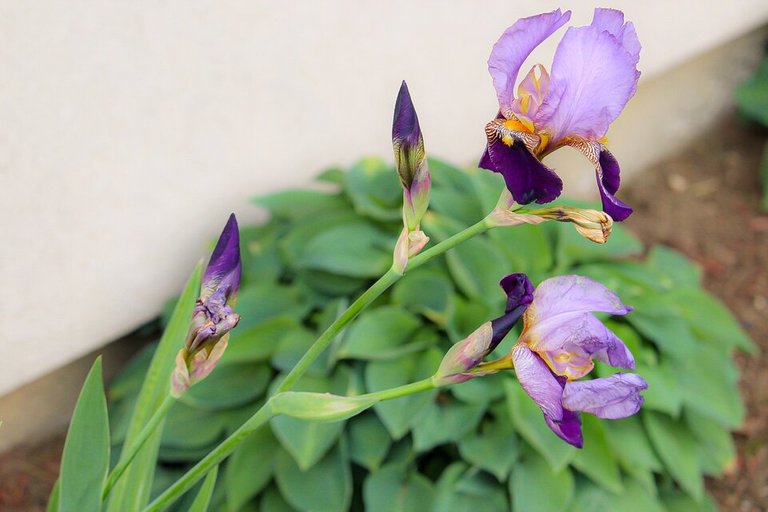 We had two hard rains and this is the result afterwards. I should have staked them to help them be stronger. Although I think even if I did that the hard rain would have still ruined it's delicate petals.
Thankfully we can still reroot and plant them again at the end of Summer. I researched about it and it seems to be an easy process. We'll just have to make sure to take away any rotted roots and stems to get them healthy again.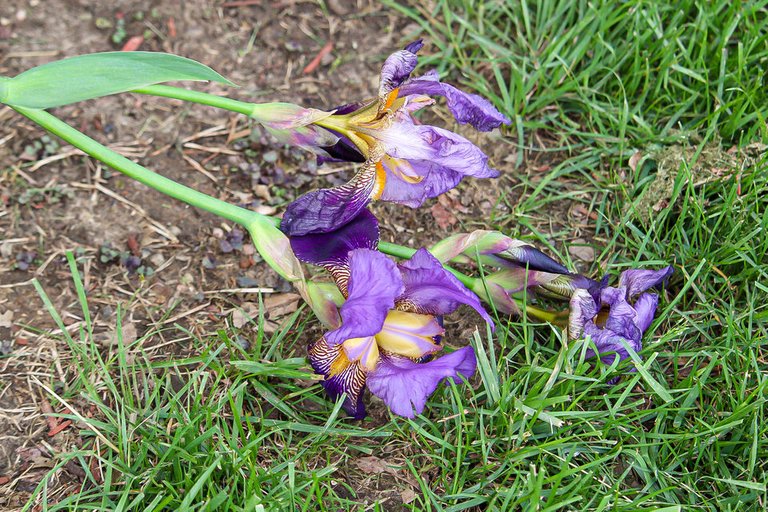 You can imagine how upsetting it was when I found them lying on the ground, hurt, helpless and fading away. I knew there was no saving the ones that had already bloomed so I removed them :(
Well that's gardening for ya. I'm glad I know what to do now so hopefully next Summer we can enjoy them longer :)
Being excited about gardening has got me back outside more and enjoying the nature around us. Once the rains taper off I will need to get out there and pick some weeds.
Oh and we found out that plant we thought might have been a fruit bearing plant is actually a tree. It was this one...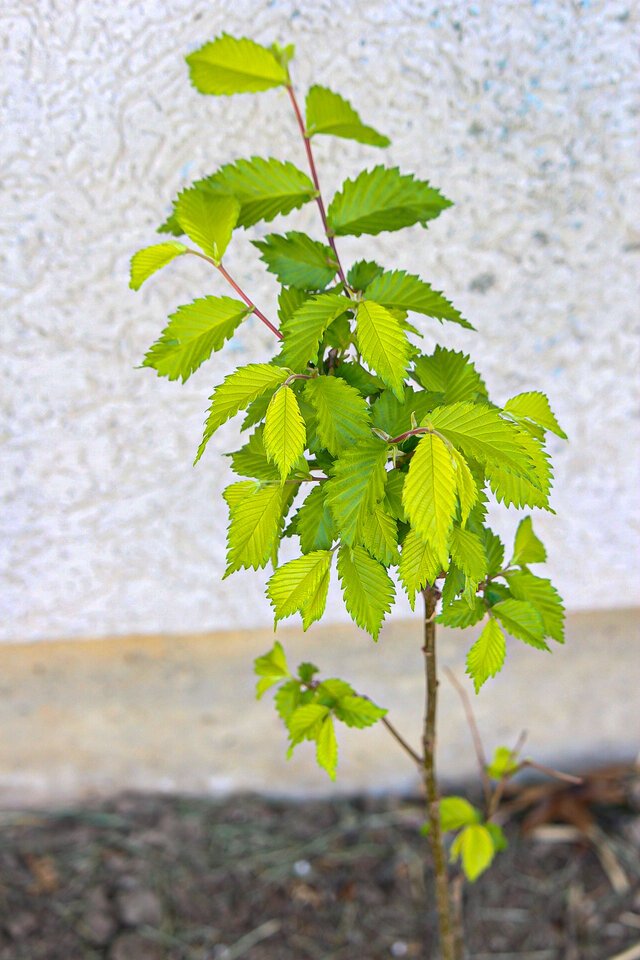 My father told me if I don't get rid of it, it will suck up the nutrients away from our garden vegetables. I definitely don't want that to happen so
bye bye tree! 👋🏽


Stay tuned to my garden journal because next up I'll be sharing how our strawberry planting day went ;)


All photos are my own and were taken with our Cannon EOS Rebel T6.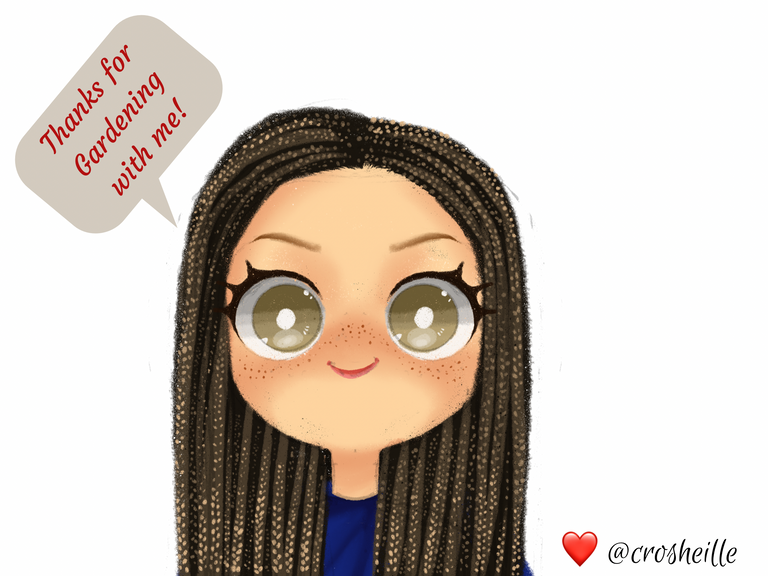 avatar created by @grisvisa