Within the F-mount markings, Nikon had a strategy of giving a single-digit mark to the top models. Entry level models had four digits starting from the low side and rising to the higher end of the APS-C top models. Z-line broke all the rules…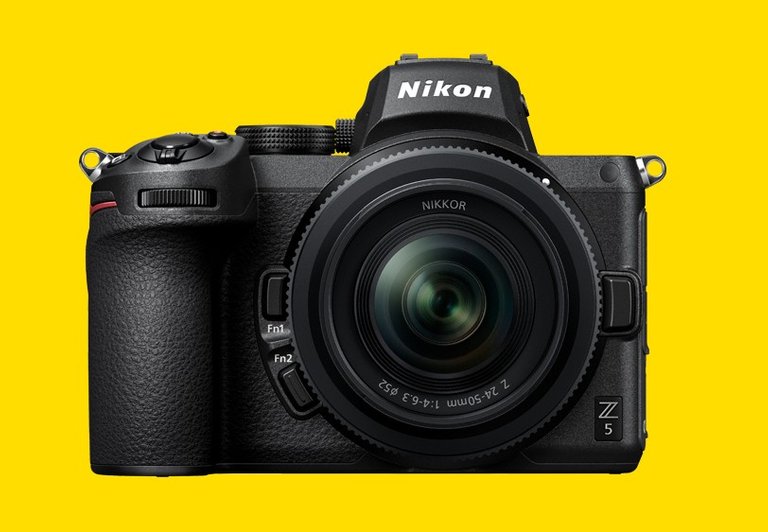 Source: NikonUSA
These days Nikon seems like a confused group of incapable managers and disoriented designers that all have been vaccinated few times too much. They have presented us their new FF (FX in their World) entry level model on Tuesday. You may think – since they have two 'professional' models Z6 & Z7, and Z50 as APS-C – that this entry level full frame should be called Z10. Throw your logic in the nearest ocean, you won't need it any more. They have called it Z5. Now, if this was the only thing out of logic, we could live with it, but… Let's go with the greatest perv… deviation from logic first.
When Nikon announced Z6 & Z7, the wave of disappointment splashed all over the Nikonland, because both 'professional' models had only one card slot. I mean one slot each, not one slot for both cameras, although it was highly likely that corporative management also considered this kind of savings. By the God's grace, on this entry level model they have treated us with two memory card slots! Hallelujah!
Not so fast!
Yes, you shouldn't scream of joy too early, because this model – with two memory card slots – is not so fast at all. Entry level model cannot have the best sensor. So, instead of BSI (BackSide Illuminated) CMOS sensor, we have older generation FSI (FrontSide Illuminated) CMOS, which means 4.5 fps maximum speed, slower sensor readout, max 4K/30p with a heavy 1.7x crop, lower dynamic range, more rolling shutter and more heat… Have I forgot something? So, now you have two card slots when you can't have top video. Fantastic decision. Wonder if the genius will get a bonus for that.
At the same Tuesday occasion, Nikon announced a small accompanying plastic-fantastic kit lens for the new camera. It is, by far, the slowest kit lens with dullest, and most unexciting focal length ever made – 24-50mm f/4-6.3… Chris Nicchols from the dPreview TV hates 35mm because it is not wide enough for everyday shots and not tight enough for portraits. I may add that the only worse thing than that would be a criminally short zoom lens with the f-stop so slow that camera obscura can outcompete it. Nikon ads insists on creativity… well, you will need a lot of creativity to get some sensible pics with these fc*-lengths. Street life at f-stops 4-6.3? How exciting…
Nikon dares to charge $400 for this… let's call it lens again, as a separate item. And they were even insolent enough to call it 'small almost as pancake!' Does this look like a pancake to you?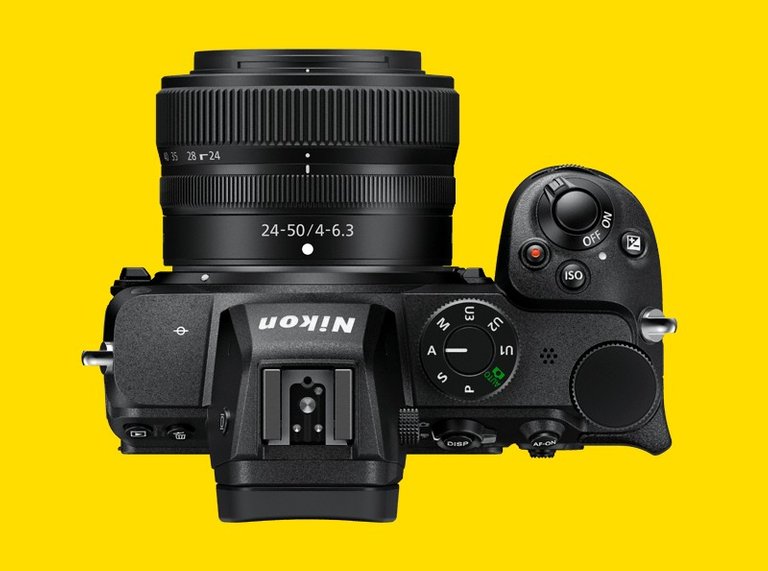 Source: NikonUSA
You can pay that much only if you intend to save Nikon with your generous charitable contribution. Or you can give them $300 if you are so desperate to have this so called lens, as a kit with your new camera… Or you can shell out $800 more for a decent allround travel zoom 24-200mm f/4-6.3 VR for $2199 in total.
Nikon giveth, Nikon taketh…
Well, where are the specs? Let's see if there is something worth having it over the previous 'professional' models:
feat.
Nikon Z5
Nikon Z6
Nikon Z7
Mount
Nikon Z
Nikon Z
Nikon Z
Sensor
FX (FF) FSI
FX (FF) BSI
FX (FF) BSI
     MAX Res.
6016x4016
(24.3 MP)
6048x4024
(24.5 MP)
8256x5504
(45.7 MP)
     AF points
273
273
493
In body IS
Yes, 5-axis
Yes, 5-axis
Yes, 5-axis
ISO standard
100-51200
100-51200
64-25600
ISO expanded
50-102400
50-204800
32-102400
FPS
4.5
12
9
Shutter speed
1/8000s-30s
1/8000s-30s
1/8000s-30s
Flash Sync
1/200s
1/200s
1/200s
Recording medium
2 UHS II
XQD card
XQD card
Viewfinder
3.69k OLED
0.8× mag.
3.69k OLED
0.8× mag.
3.69k OLED
0.8× mag.
Display
TFT LCD tilt
TFT LCD tilt
TFT LCD tilt
     Touchscr
Yes
Yes
Yes
     Diagonal
3.0"
3.2"
3.2"
     Resolution
1.04 MP
2.1 MP
2.1 MP
Video
4K/UHD, 1.7x crop
4K/UHD no crop
4K/UHD no crop, interlaced
     fps
4K 30 fps,
1080 60 fps
4K 30 fps,
1080 120 fps
4K 30 fps,
1080 120 fps w/crop
Wireless (Built-in)
802.11ac + Bluetooth
802.11ac + Bluetooth
802.11ac + Bluetooth
Battery Pack
EN-EL15c
EN-EL15b
EN-EL15b
Battery Life
390
310
330
Weight
590 gr
675 gr
675 gr
Dimensions
134x100.5x69.5 mm
134x100.5x67 mm
134x100.5x67 mm
Price (body)
$1400
$1850
$3399


Yes, it's plastic, and is lighter, but still Nikon says it is dust and moisture resistant. Trust but DON'T verify under the shower. It has a new battery and better battery life… which was not hard having in mind 'professional' models. Even my X-T20 was ahead of them in that regard. And it even isn't cheaper than Canon RP!
OK, but if I was stranded on a desert island with only one Camera store that have only Canon RP and Nikon Z5, this time I would buy Z5 for my last coconuts. Why? Irrational desire to possess that Z-mount and wait for the Tamron's Z-version of their fantastic 28-200 f/2.8-5.6 Di III lens…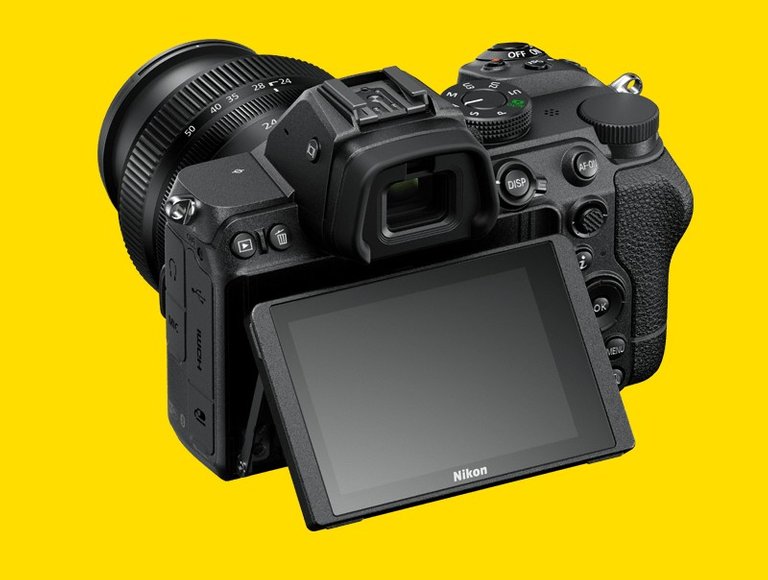 Source: NikonUSA
And all that despite the fact that Nikon will never allow fully articulated display at their new cameras, and will never have so beautiful video AF as Dual Pixel on Canon's models. At least they have on/off switch where it should be…
Overall Z5 is a fine addition to shattering illusions about the competence of Nikon's management team. And since people love those pros and cons points, here are Nikon's Cons first:
Cons:
No top OLED display
Old sensor
Slow FPS
Lower dynamic range
Low res display, still no full articulation
heavy 1.7x crop in 4K
No N-log
More rolling shutter
and probably more heat…
Pros:
Two memory card slots
Well positioned on/off switch, and…
let's go just a bit deeper…
Should I put a measly better battery life here?
It does look kinda handsome from the back, wouldn't you say?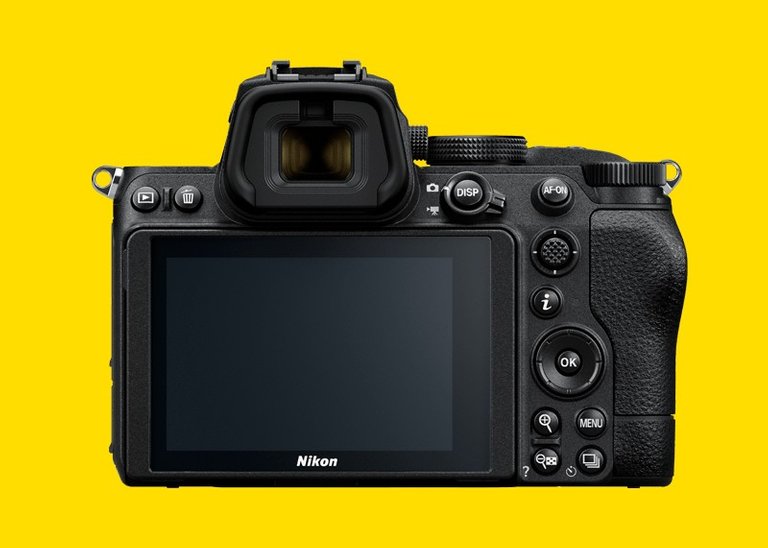 Source: NikonUSA
There must be something else, don't be a quitter now…
Any Nikon fan to help?

That was not much of a help, let's search further…
Oh, here it is! The price!
Let's face it – despite everything, this bewildering camera mess is a full frame camera for only $1400, and that should scare the sh… living daylights out of Fujifilm!


So we may have lower price tag on X-T4 soon!
* * *
Related posts: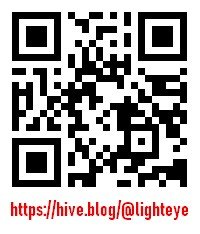 Check out ABRA and easily invest in 28 cryptocurrencies or BIT10, an index of the top cryptos. Use this link to sign up and get $25 in free bitcoin after your first Bank/Amex deposit, or 1.5% cash back when you exchange cryptos

1GZQG69sEKiMXKgGw9TcGcUCBoC4sC1ZYp