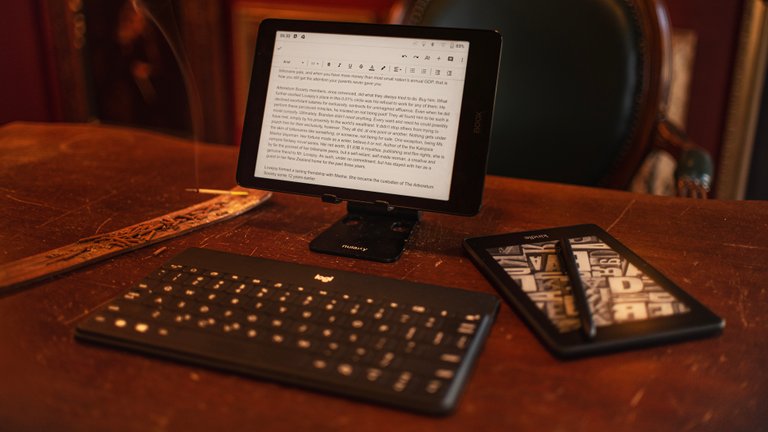 Hey, @threespeak. I've spent the entire day in the studio. Early morning, writing. I'm chipping away at a novel titled The Spoils. I formed this story years ago, around the time I first joined Steemit. It's a near future blockchain based fictional world that focuses on the disruption, social and political upheavals that come with a change to decentralized governance in the city of London. It was suppose to be a graphic novel, but as time went on and I got older, @lovejoy convinced me that a novel was a better idea.
The most difficult part of writing, as any writer will tell you, is actually writing. With my Mac, I find myself leaving the page, Googling things, getting lost in images or quotes from other authors. Eventually, YouTube videos for "inspiration". Before I know it, I haven't written in a couple of hours and it's discouraging to know that what precious time you had to write, you wasted. A lot of the greats, and a personal mentor to me is Will Self, who has been clear about his reasons for using a typewriter. That was a strong consideration for me as well.
---
What I eventually decided on instead, was this combination of an Android based e-ink display called the Onyx BOOX Nova 2. The screen, in addition to being a fantastic e-reader, has a Wacom input display, and bluetooth connectivity for input devices. I landed on a Logitech Keys-To-Go keyboard and a small $9 foldable stand by a brand called Nulaxy. This video gives you a look at how this digital typewriter solution works for me. Multi-use, elegant, under $400. Any questions, please leave a comment blow.
---
▶️ 3Speak