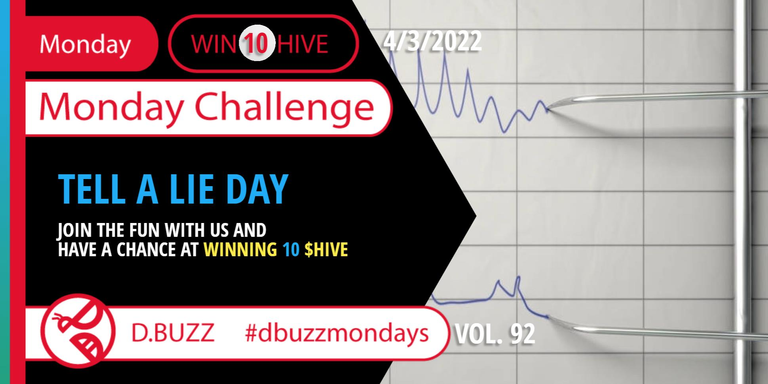 ---
Monday Challenges from D.Buzz
>> Round 92 << | >> Win 10 HIVE<<
---
Hello friends.
There are some obscure holidays and some that are interesting. For example, today, April 5th, is "Tell a lie day".
Tell a Lie Day is the perfect day to let your imagination run wild and tell some outrageous lies. It's a day to be completely dishonest and to get away with it. So, go ahead and tell that whopper of a lie that you've always wanted to tell. Just be sure to keep your wits about you, because if you get caught in a lie, it could be quite embarrassing.
An example of a little lie is a big fish story. A big fish story is a tale of someone catching a large fish. It is often embellished and exaggerated. These stories are usually told to friends and family as a way to boast about one's fishing skills. Instead of catching a normal fish, they tell you of the MONSTER fish they caught.
Again, lying is never good, and we always suggest telling the truth, but today let's have a little fun and tell the world a silly lie.
We're not saying that lying is good. In fact, it's generally frowned upon and can lead to all sorts of problems. But let's be honest - sometimes, a little fib can be fun. It's like a little game you play with yourself and others. And if everyone is in on the game, then no harm is done, right? So go ahead and tell that white lie. It might just brighten up someone's day.
If you want to read more about this holiday, you can go HERE
No no for real, it was a big fish!!
---
Today's challenge
For this week's challenge, post a small lie about something.... anything. Remember, please keep it fun; keep it silly. If you have a photo supporting your story, all the better, but keep it fun, keep it lite and tell a little lie. Hashtag the buzz with #thisisalie .
---
This week's challenge
At some point in the next 6 days...
On a post on D.Buzz, tell us a lie about something.
Hashtag that post with #thisisalie (this is a lie).
Post a link to your buzz on a comment below.
Buzz to Twitter for an extra high-five from us! ;)
---
Thank You
---
Rules:
After seven days (next Monday, at some point), we will select a winner from all valid entries.
We will then make an announcement post on the following Monday and tag you.
The prize will be sent to the winner soon after the winner is announced.
No, follow, or upvote required to join.
---
What is the prize?
The prize is 10 HIVE sent to you.
---
Last Week's Winner!
By random draw, the winner of last week's challenge is...
---
Who posted this Buzz:
https://d.buzz/#/@vonsi/c/an5iig0qpqhjcu8f7xogoa
Wow, that is a nice collection of notes you got!
Congratulations on winning!
You will receive the prize from our rewards account shortly. :)
---
Thank you for playing!
---
Questions? Concerns? Comments?
Just comment below.
---
---
A censorship-resistant short-form microblogging platform that empowers you to share your thoughts in 280 characters or fewer.
Censorship-resistant and built for the community with love.
---
We strive to have a fun and neutral stance on topics. If you have any concerns with the content, please contact @jacuzzi who writes and generates the content for our articles, or the @dbuzz team for clarification.
---
D.Buzz online at:
Join us on Discord at https://discord.gg/BKg5Ptg9ss