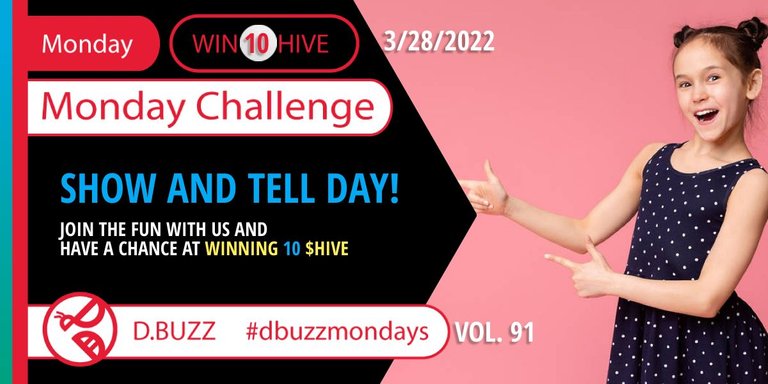 ---
Monday Challenges from D.Buzz
>> Round 91 << | >> Win 10 HIVE<<
---
Hello friends.
Show and Tell was always one of our favorite school games. It was always so much fun to see what my friends had brought in to show everyone. Sometimes they would bring in really cool things, and other times they would bring in some pretty strange things. But it was always a lot of fun to see what everyone had brought in and to hear all the stories that went along with these various items.
If you are not aware, Show and Tell is an event where people bring in something they want to show and talk about. It can be something they made, something they found, or something they're curious about. It's a great way to share your interests with others and learn new things!
The important thing is that we all have a story to tell. In life, we go through many highs and lows, and each experience we have makes up a chapter in our story. As we continue to grow and learn, we add new chapters to our story. Some chapters are happy, while others are sad. But, no matter what, our story is always unique and worth telling.
Without stories about life, what do we have? We have books, movies, and TV shows, but what about the stories that happen to us? The ones we tell our friends over coffee? The ones that make us laugh and cry? These are the stories that make life interesting. They are stories that remind us that we are alive.
This brings us back to Show and Tell, and to today's Monday Challenge!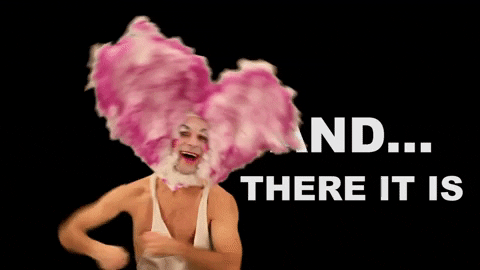 Wow, I wonder what it is ...
---
Today's challenge
For this week's challenge, let's relive the glory days of show and tell. Take a photo of something you own that has a good story tied to it, and tell us that story. Put the hashtag #showandtell.
---
This week's challenge
At some point in the next 6 days...
On a post on D.Buzz, post a photo of an item that has a story behind it, and tell us that story.
Hashtag that post with #showandtell.
Post a link to your buzz on a comment below.
Buzz to Twitter for an extra high-five from us! ;)
---
Thank You
---
Rules:
After seven days (next Monday, at some point), we will select a winner from all valid entries.
We will then make an announcement post on the following Monday and tag you.
The prize will be sent to the winner soon after the winner is announced.
No, follow, or upvote required to join.
---
What is the prize?
The prize is 10 HIVE sent to you.
---
Last Week's Winner!
By random draw, the winner of last week's challenge is...
---
Who posted this Buzz:
https://d.buzz/#/@anderssinho/c/hqpg8aiemcik3ygc55tajg
We agree. WOW, 2 years! Hope you get some minions of your own one day too!
Congratulations on winning!
You will receive the prize from our rewards account shortly. :)
---
Thank you for playing!
---
Questions? Concerns? Comments?
Just comment below.
---
---
A censorship-resistant short-form microblogging platform that empowers you to share your thoughts in 280 characters or fewer.
Censorship-resistant and built for the community with love.
---
We strive to have a fun and neutral stance on topics. If you have any concerns with the content, please contact @jacuzzi who writes and generates the content for our articles, or the @dbuzz team for clarification.
---
D.Buzz online at:
Join us on Discord at https://discord.gg/BKg5Ptg9ss