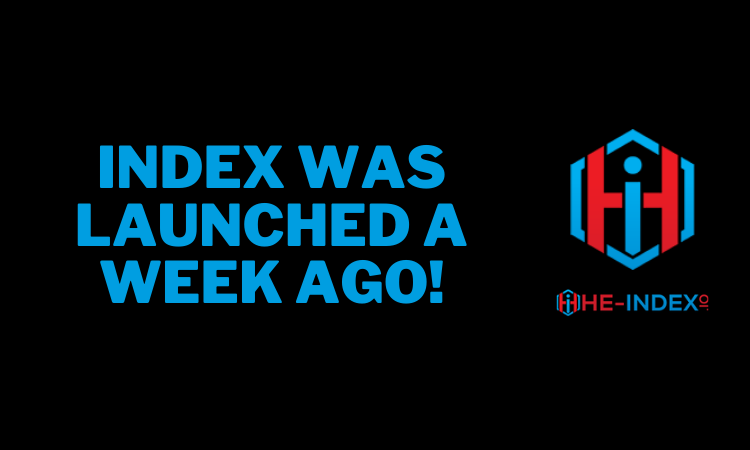 Funny how time flies when you are having fun :)
It's been a full 7 days now since we launched the INDEX Token and so far...
WOW!
We'll go over a few of the numbers in this updates and some things we've worked on over the past 7 days as well.

Index Is Doing Index Things
The first week for us was...To make sure everything works! This is new territory for us, but we've been learning how all the math and algorithms work together to create...Index. And so far, it's been amazing!
So much so that...The INDEX is almost on par with the entire market cap of the tokens within in. We're about $100 off because of some open buy orders, but generally, the INDEX is performing exactly how we planned it.
This is awesome!!! And will only grow as more tokens are purchased and new tokens added to the INDEX.
Curation Rewards & Dividends Have Begun

This is so exciting!
As you can see, the rewards account for INDEX has been paying rewards for a few days now but curation rewards have just begun. Expect this to grow each and every day as we fine tune the curation projects we follow and as INDEX grows.
What an awesome thing it is to see these being sent to token holders each and every day!
Expect to see some big increases over the next few weeks on your daily reward payouts. Remember, 80% of all rewards and dividends are going to you, the INDEX token holder!
INDEX Has Been A Top Token On The Market Since Launch
We hit a high of #4 on the markets this past week and have steadily been within the top 5-15 tokens on the market!
We're 8th so far today and hope to increase and remaining the top 10 for the months and years to come :)
The HE-Index.io Page Has Been Updated
Make sure you bookmark and continue to track all the holdings of INDEX on HE-Index.io

We have all the holdings, current price of INDEX, richlist, token description and overview...Plus so much more!
We listened to the feedback from the community and created an in depth resource for everyone to learn all about the INDEX project. We hope you like it :)
Roadmap Moving Forward Over The Next 30 Days
Continue to monitor the project to make sure we keep the token on par with the tokens within in. Which means...We want to be an ACCURATE representation of the tokens it holds!

Fine tune the curation trails and rewards to give maximum dividends to token holders.

Create a section on HE-Index.io to list and track the mining tokens the INDEX holds.

Review new tokens to slowly be added to INDEX.

Once again thank you for all the support you have shown to this project. Without you, this thing doesn't get off the ground!
We hope to hear from you, not only in the comments below but also in our Discord server. We are always looking for feedback and suggestions on how we can improve this project :)