---
---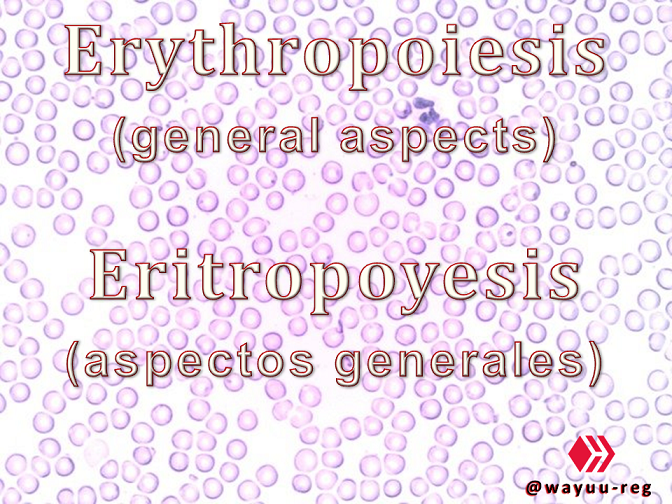 Public domain image (CC0): Pixabay
What is Erythropoiesis about?
¿De qué trata la Eritropoyesis?
---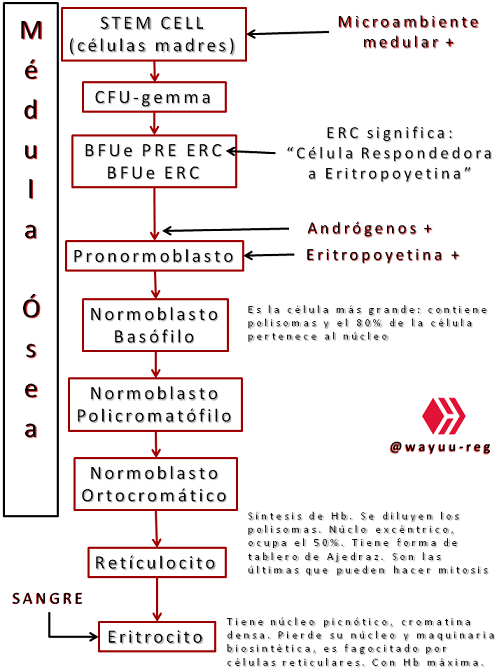 SCHEME (Esquema)
BFU-e has two stages PRE ERC and ERC, they are different because the second one acts on erythropoietin,
originating its name ERC (Erythropoietin Responsive Cell)
BFU-e tiene dos estadíos PRE ERC y ERC, son diferentes porque el segundo actúa a la eritropoyetina,
originando su nombre ERC (Célula Respondedora a Eritropoyetina)
Definition of Hematopoiesis:
Definición de Hematopoyesis: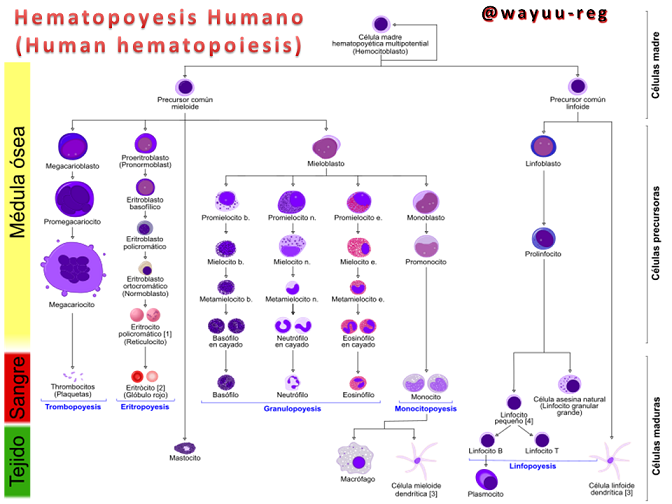 Human hematopoiesis (Hematopoyesis humana)
Human hematopoiesis: in Wright's stain, May-Grünwald-Giemsa stain or May-Giemsa stain, the morphological characteristics of hematopoietic cells are shown. Alternative names for certain cells are indicated in parentheses; some cells may have more than one characteristic appearance, so more than one representation of the same cell has been included. Monocytes and lymphocytes comprise agranulocytes, as opposed to granulocytes (basophils, neutrophils and eosinophils) which are produced during granulopoiesis. Basophilic (b), neutrophilic (n) and eosinophilic (e). There is no difference in appearance between B and T cells, unless a specific staining is applied.
Hematopoyesis humana: en la tinción de Wright, tinción de May-Grünwald-Giemsa o tinción de May-Giemsa, se muestran las características morfológicas de las células hematopoyéticas. Se indican entre paréntesis los nombres alternativos de ciertas células; algunas de ellas, pueden tener más de una apariencia característica, por ello se ha incluido más de una representación de la misma célula. Los monocitos y los linfocitos comprenden los agranulocitos, a diferencia de los granulocitos (basófilos, neutrófilos y eosinófilos) los cuales son producidos durante la granulopoyesis. Basofílico (b), neutrofílico (n) y eosinofílico (e). En la apariencia entre las células B y T no hay diferencias, a menos que sea aplicado una tinción específica.
Morphology (Morfología)
---
---
---
---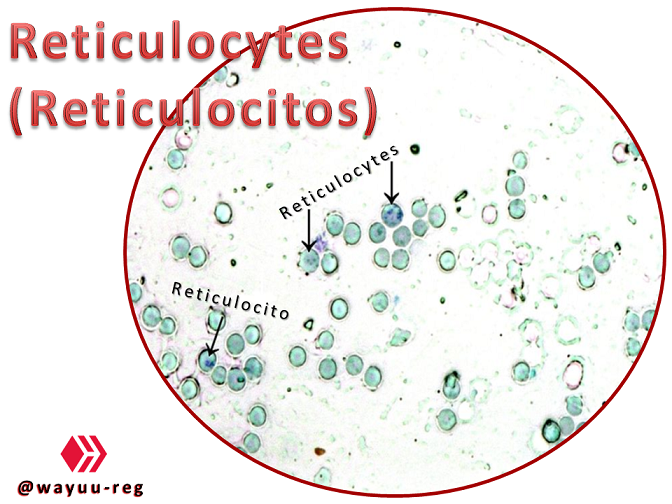 Reticulocytes stained to distinguish them from mature red blood cells
(Reticulocitos teñido para distinguirlos de glóbulos rojos maduros)
---
---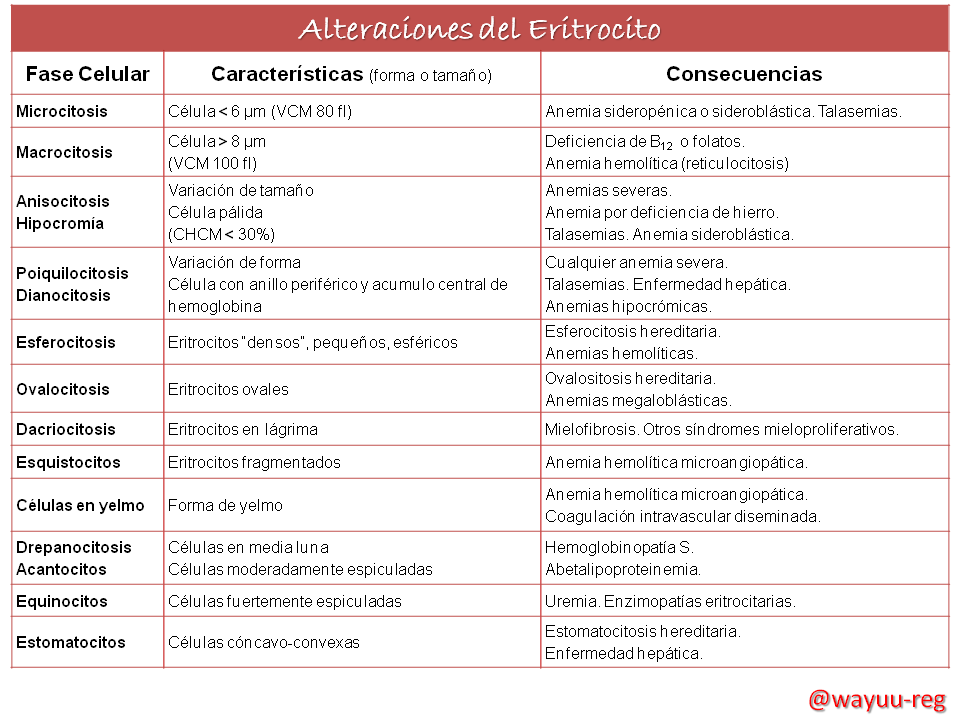 Tabla resumen de las alteraciones del Eritrocito
---
Erythrocyte Function (Función del Eritrocito)
---
---
---
---
---
---
---
---
---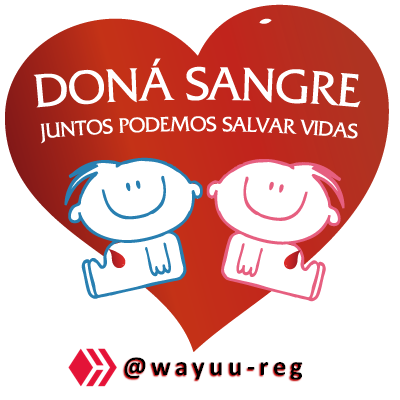 Donor Application (Solicitud de Donantes)
Bibliographic Sources (Fuentes Bibliográficas)
-
Eritropoyesis
-
Fisiología de la Eritropoyesis
-
Hematopoyesis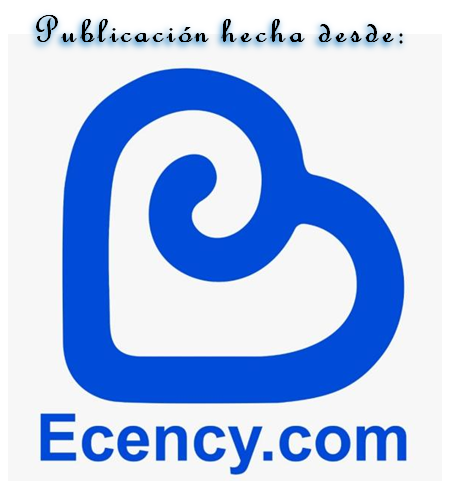 Ecency Logo
---
---