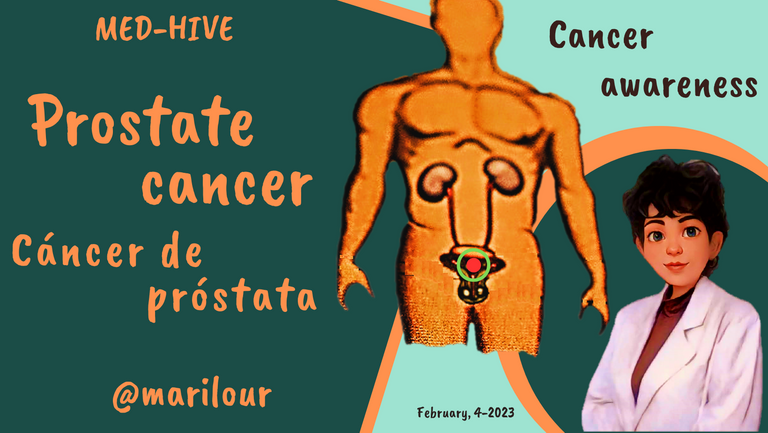 ---
Esta publicación está tanto en Inglés como en Español, puede ir directamente al español haciendo clic AQUÍ
---
Greetings, friends of Hive
For the month of February, the Med-Hive community has chosen as its theme
Cancer Awareness
.
We continue to join this call, bearing in mind that "cancer" is a generic term that includes nosological entities (diseases), which have as a similar characteristic, the accelerated and uncontrolled multiplication of cells that invade and colonize tissues, organs, apparatus and systems, where it can occur in any part of the body.
In men, in general, the most frequent types of cancer are prostate cancer, lung cancer, colorectal cancer and bladder cancer. On this occasion, we will refer to prostate cancer.
We will begin this tour with basic aspects of anatomy (body structure). We will try to condense the information as much as possible, but it is important to familiarize yourself with it.
Male urogenital anatomy
The name urogenital is used because the urinary and reproductive systems in men merge and overlap anatomically, by using a common organ, which is the urethra.
Structurally, the male urogenital system is made up of the scrotum, testicles, epididymis, vas deferens, seminal vesicles, ejaculatory ducts, bulbourethral glands, urethra, penis and prostate.
Each organ listed above fulfills a specific task and together, they work in harmony and synchrony for a vital function, which is to contribute to human reproduction, through the production, storage and transport of spermatozoa.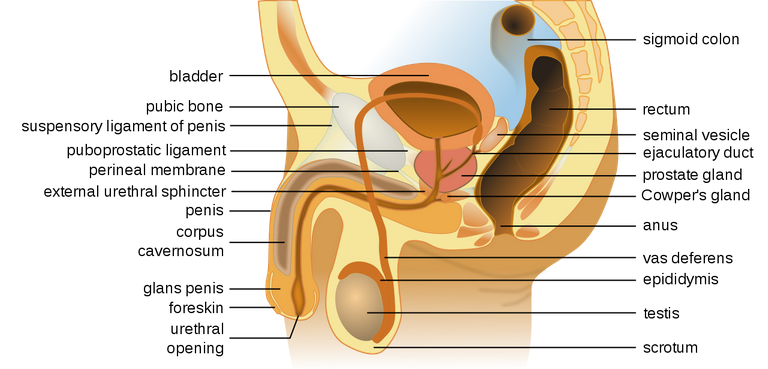 Diagram of the male internal urogenital anatomy. Lateral view.
Credits: Alt.sex and Tsaitgaist . Used under CC 3.0 license.
Below is a description of each structure (see diagram):
Scrotum: these are two skin sacs that surround and protect the testicles. They control the temperature in that area, so that it is lower than the body temperature.
Testes: two glands that produce gametes (sperm) and the sex hormone (tetosterone).
Epididymis: two spiral ducts located above each testicle. They store the spermatozoa so that they can mature and become motile.
Vas deferens: two ducts that facilitate the transport of sperm from the epididymis to the seminal vesicles.
Seminal vesicles: there are two seminal vesicles, which produce substances to nourish the sperm.
Ejaculatory ducts: these are two small ducts. They collect fluids and substances to form seminal fluid (semen). These ducts also carry semen from the testicles to the urethra.
Bulbourethral glands: two glands that produce a secretion (preseminal fluid) that lubricates the head of the penis during erection and ejaculation.
Urethra: passageway for urine during urination, preseminal fluid during erection and seminal fluid during ejaculation.
Penis: copulatory and urinary organ. It allows the passage of urine, preseminal fluid and seminal fluid.
The prostate
It is a gland located below the bladder (organ that stores urine), in front of the rectum (final part of the intestine) and surrounds the urethra.

It produces a fluid (prostatic antigen) that protects the sperm and promotes their mobility.

It functions as a valve during sexual intercourse, stopping the passage of urine and allowing the passage of pre-seminal fluid and semen.

It protects against germs and bacteria from the outside, favoring the infrequency of urinary tract infections in men.

It tends to grow as men age.
What is prostate cancer?
Prostate cancer is when the cells of this gland are altered in their growth and development, multiplying uncontrollably (malignant) and form tumors.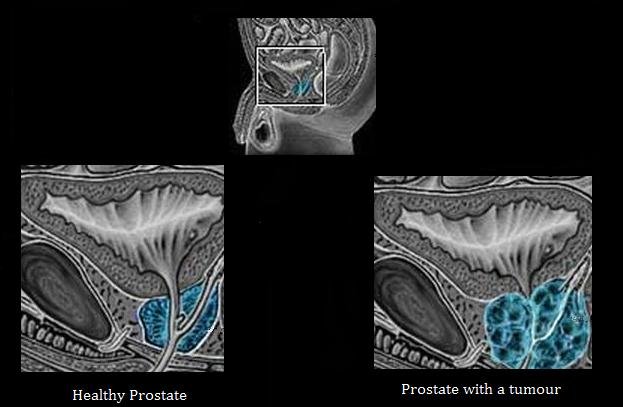 Differences between healthy prostate and a prostate with a tumour
Credit: BQmUB2012102. Used under CC 3.0 license.
Some variants of prostate cancer grow slowly and may require minimal treatment, while other types are considerably aggressive and can spread very rapidly.
The occurrence and development of prostate cancer in men under 40 years of age is rare, but after the age of 50, the probability increases rapidly.
Signs and symptoms
It is a type of cancer, with variable symptomatology and without a specific pattern to refer. Sometimes it is asymptomatic (no signs or symptoms) in patients, in others the signs and symptoms that occur are variable.
The signs and symptoms described are related and associated with urinary tract obstruction:
Pain or burning to urinate.
Need to urinate more often than usual, during the day and night, or predominantly at night.
Involuntary loss of urine.
Weak or interrupted urine flow (urine stream); with the need to strain to empty the bladder.
Blood in the urine or semen.
Inability to urinate.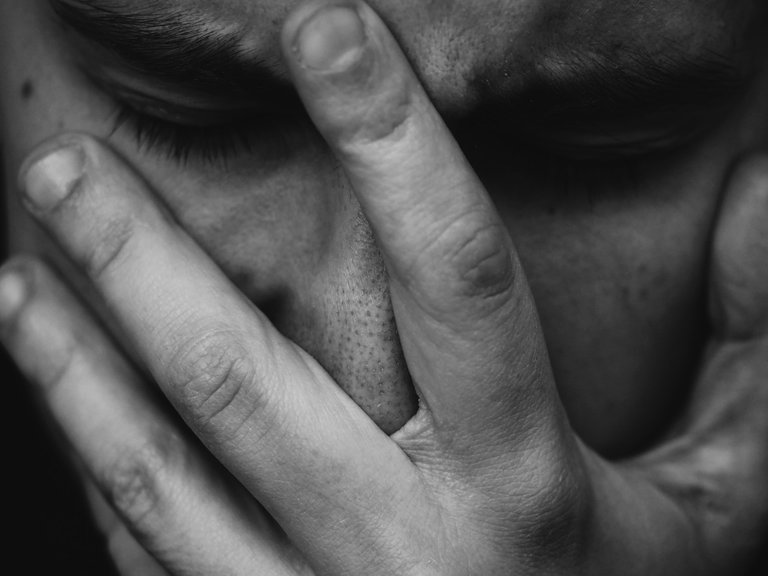 Credit: Adrian Swancar Public domain
Post-urination dribbling.
Pain on ejaculation.
Onset of erectile dysfunction (difficulty maintaining an erection).
Feeling of heaviness in the rectum or change in bowel habits.
Persistent pain in the back, hips or pelvis.
Weight loss for no apparent reason.
Fatigue.
Keep in mind that the symptomatology described above may occur in diseases other than prostate cancer. For example, Benign Prostatic Hyperplasia (enlargement of the prostate associated with age) can produce similar symptoms as well as a bladder or kidney infection.
Diagnosis
The ideal diagnosis is to detect prostate cancer before it generates symptomatology (signs and symptoms), that is, to find it early (incipient), before it spreads, and to initiate treatment in a timely manner.
Although there is no standard test to detect prostate cancer, this slow-growing tumor has methods for its early detection and they are:
Prostate Specific Antigen (PSA) test:
It is a blood test, which measures the level of Prostate Specific Antigen (PSA). This substance is produced by the prostate and its levels are usually elevated in patients with prostate cancer. However, other factors and other conditions can increase PSA levels.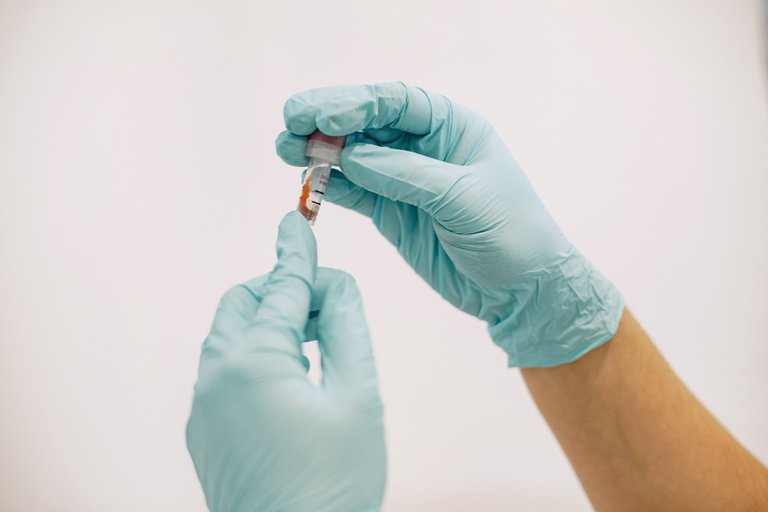 Credit: Gustavo Fring Public domain
Digital rectal examination (DRE), the prostate is palpated through the rectal wall looking for nodules, irregularities, increased consistency, alterations in the borders or abnormal areas of the gland.
These studies must be linked to an adequate physical examination and clinical history that includes personal and family history, pathological antecedents, habits, lifestyles, among other aspects.
The treating physician will be the patient's expeditious guide and together they will conciliate through the pertinent informed consents, the need and approval of these and other studies such as biopsy (small sample of prostate tissue) or imaging (ultrasound, magnetic resonance), etc.
Treatment
There are several types of behaviors to follow for the treatment of prostate cancer. It will be the patient together with his treating physician, considering the affectation, who will decide the course to follow. Some of the treatments that are carried out:
Active surveillance: medical control and periodical prostatic antigen.
External radiotherapy: radiation to the cancerous cells by means of a machine external to the body.
Brachytherapy: through surgery, radioactive seeds or pills are introduced into or near the tumor to destroy the malignant cells.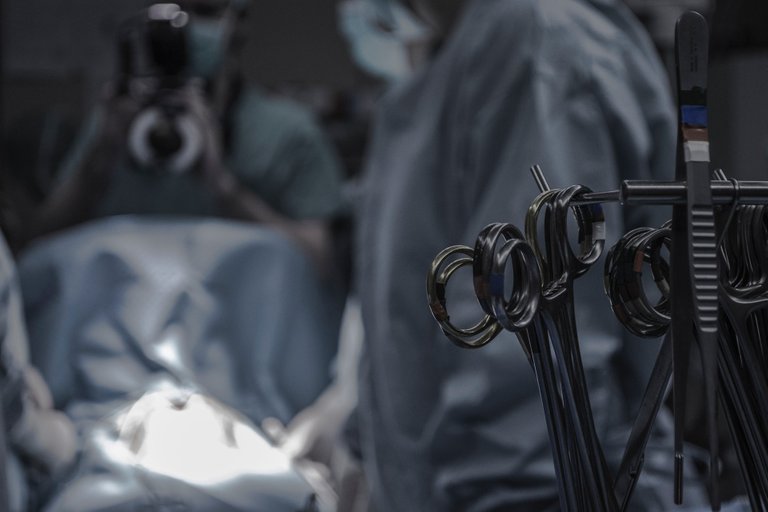 Crédito:Piron Guillaume. Public domain
Surgery: operation to remove the prostate (prostatectomy) and the surrounding tissue.
Radiotherapy plus hormone therapy.
Chemotherapy: administration of special drugs to reduce the size of the cancerous tumor or eliminate it.
Can prostate cancer be prevented?
To date, there are no scientifically proven protective factors that guarantee the prevention of prostate cancer.
But it is possible to adopt healthy measures that protect your health in a comprehensive manner, such as :
Balanced diet, with consumption of vegetables, fruits and whole grains; avoiding foods high in fat and refined sugars.
Drinking between two and three liters of water a day.
Develop physical activity, according to age.
Avoid smoking and reduce alcohol consumption.
Every man over 40 should have an annual medical evaluation specialized in the urogenital sphere and undergo PSA and DRE; especially those with a family history of prostate cancer.
In tune, practice self-care, pay attention to the signals your body gives off, such as warning messages through signs and symptoms.
Go regularly to your health controls, with specialized assessment and periodic diagnostic tests, only in this way there will be an early detection of cancer.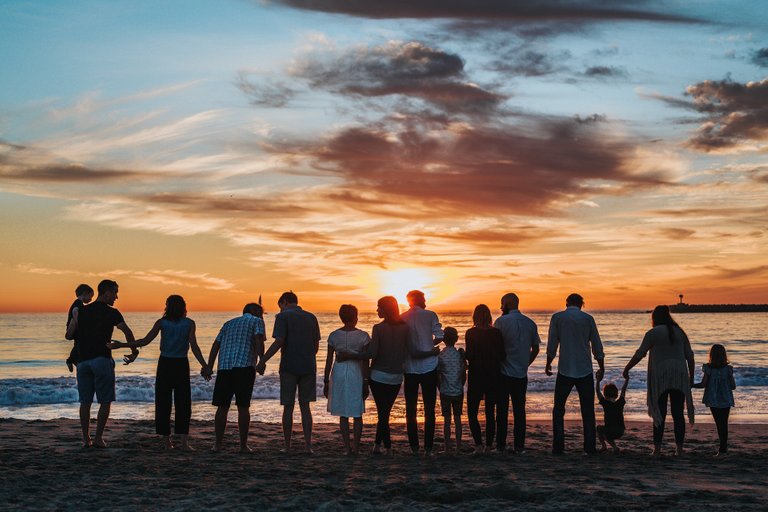 Credit: Tyler Nix. Public domain.
Thank you for your visit, until another time.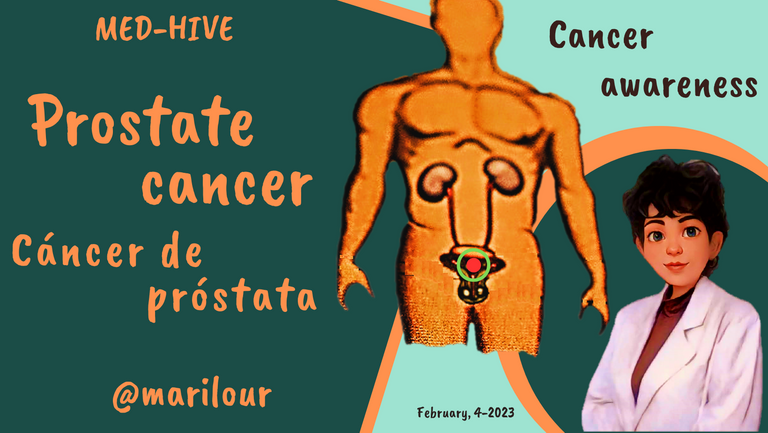 ---
Español
---
Saludos, amigos de Hive
Para el mes de febrero, la comunidad Med-Hive, ha decidido como tema la
Concientización sobre el Cáncer
.
Seguimos sumándonos a esta convocatoria, teniendo en cuenta que "cáncer" es un término genérico que incluye entidades nosológicas (enfermedades), que tienen como característica similar, la multiplicación acelerada e incontrolada de células que invaden y colonizan tejidos, órganos, aparatos y sistemas, donde puede presentarse en cualquier parte del cuerpo.
En los hombres en general, los tipos de cáncer más frecuentes son el de próstata, el de pulmón, el colorrectal y el de vejiga. En esta ocasión, nos referiremos al cáncer de próstata.
Comenzaremos este recorrido con aspectos básicos de anatomía (estructura corporal). Intentaremos condensar la información al máximo, pero es importante que se familiarice con ella.
Anatomía urogenital masculina
La denominación urogenital se utiliza, porque los sistemas urinario y reproductivo del hombre, se fusionan y se superponen anatómicamente, mediante un órgano común, que es la uretra.
Estructuralmente el aparato urogenital masculino, está formado por el escroto, los testículos, el epidídimo, los conductos deferentes, las vesículas seminales, los conductos eyaculadores, las glándulas bulbouretrales, la uretra, el pene y la próstata.
Cada órgano mencionado cumple una tarea específica y juntos, trabajan en armonía y sincronía para una función vital, que es contribuir a la reproducción humana, mediante la producción, el almacenamiento y el transporte de espermatozoides.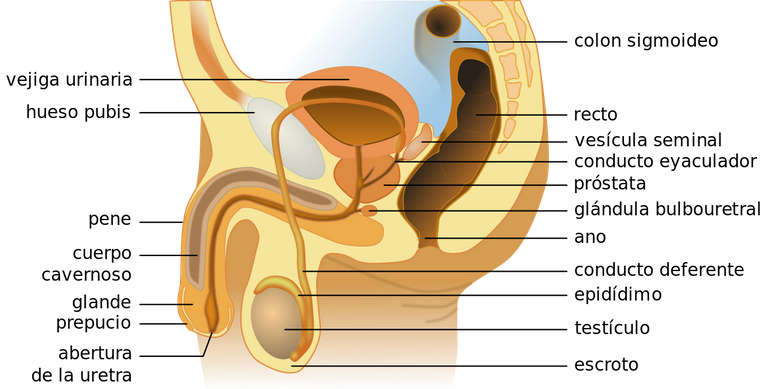 Diagrama de la anatomía interna urogenital masculina. Vista lateral.
Créditos: Alt.sex,Tsaitgaist y Angelito7 . Usado bajo licencia CC 3.0.
A continuación encontrará una descripción de cada estructura (consulte el diagrama):
Escroto: son dos sacos de piel que rodean y protegen los testículos. Controlan la temperatura en esa zona, para sea inferior a la corporal.
Testículos: dos glándulas que producen gametos (espermatozoides) y la hormona sexual (tetosterona).
Epidídimo: dos conductos en espiral, situados encima de cada testículo. Almacenan los espermatozoides, para que maduren y adquieran movilidad.
Conductos deferentes: dos canales que facilitan el transporte de los espermatozoides, desde el epidídimo hasta las vesículas seminales.
Vesículas seminales: existen dos y producen sustancias para nutrir los espermatozoides.
Conductos eyaculadores: son dos pequeños conductos. En ellos se juntan fluídos y sustancias, para formar el líquido seminal (semen). Así mismo, estos conductos transportan el semen, de los testículos a la uretra.
Glándulas bulbouretrales: dos glándulas que producen una secreción (líquido preseminal) que lubrica la cabeza del pene, durante la erección y la eyaculación.
Uretra: conducto que permite el paso de la orina durante la micción, del líquido preseminal durante la erección y el líquido seminal durante la eyaculación.
Pene: órgano copulador y urinario. Permite el paso de la orina, del liquido preseminal y seminal.
La próstata
Es una glándula situada debajo de la vejiga (órgano que almacena la orina), delante del recto (parte final del intestino) y rodea a la uretra.

Produce un líquido (antígeno prostático) que protege los espermatozoides y favorece su movilidad.

Funciona como una válvula durante el acto sexual, deteniendo el paso de la orina y permitiendo el paso del líquido preseminal y seminal.

Protege contra los gérmenes y bacterias del exterior, favoreciendo la poca frecuencia de infecciones urinarias en los hombres.

Tiende a crecer a medida que los hombres envejecen.
¿Qué es el cáncer de próstata?
El cáncer de próstata se produce cuando las células de esta glándula sufren alteraciones en su crecimiento y desarrollo, multiplicándose de forma incontrolada (maligna) y formando tumores.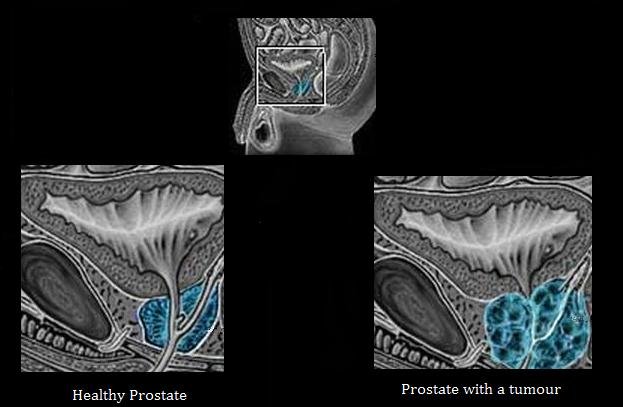 Diferencias entre próstata sana y próstata con tumor.
Crédito: BQmUB2012102 . Usado bajo licencia CC 3.0.
Algunas variantes del cáncer de próstata crecen lentamente y pueden requerir un tratamiento mínimo, mientras que otros tipos son considerablemente agresivos y pueden extenderse muy rápidamente.
La aparición y el desarrollo del cáncer de próstata en hombres menores de 40 años es poco frecuente, pero a partir de los 50 años la probabilidad aumenta rápidamente.
Signos y síntomas
Es un tipo de cáncer, con sintomatología variable y sin un patrón específico que referir. En ocasiones es asintomático (sin signos ni síntomas) en los pacientes, en otras los signos y síntomas que se presentan son variables.
Los signos y síntomas, descritos están relacionados y asociados con la obstrucción de las vías urinarias:
Dolor o ardor al orinar.
Necesidad de orinar con más frecuencia de lo habitual, durante el día y la noche, o a predominantemente por la noche.
Pérdida involuntaria de orina.
Flujo de orina débil o interrumpido (chorro de orina) ; con necesidad esforzarse para vaciar la vejiga.
Sangre en la orina o el semen.
Incapacidad para orinar.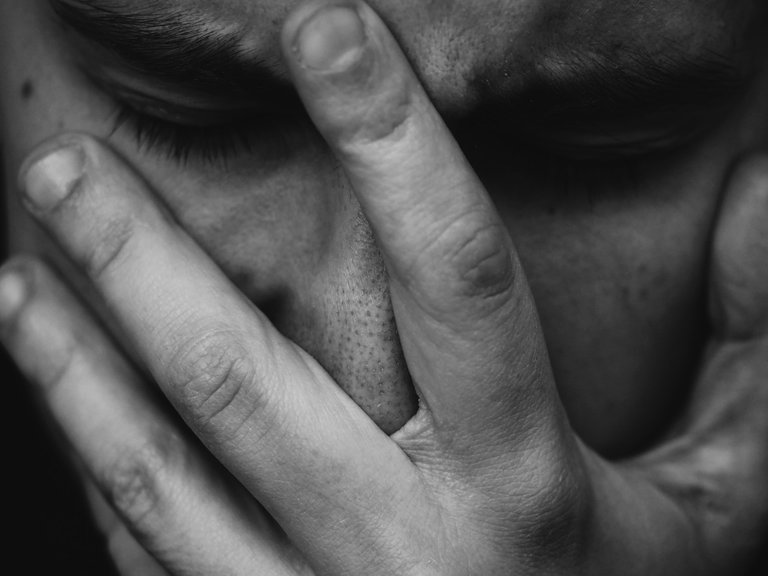 Crédito: Adrian Swancar Dominio público
Goteo después de orinar.
Dolor a la eyaculación.
Aparición de disfunción eréctil (dificultad para mantener la erección).
Sensación de pesadez en el recto o cambio en los hábitos intestinales.
Dolor persistente en la espalda, las caderas o la pelvis.
Pérdida de peso sin motivo aparente.
Fatiga.
Tenga presente que la sintomatología descrita anteriormente, puede darse en enfermedades distintas al cáncer de próstata. Por ejemplo, la Hiperplasia Prostática Benigna (agrandamiento de la próstata asociado a la edad) puede producir síntomas similares, así como una infección de vejiga o riñón.
Diagnóstico
El diagnóstico ideal es detectar el cáncer de próstata antes de que genere sintomatología (signos y síntomas), es decir hallarlo temprano (incipiente), antes de que se disemine, e iniciar el tratamiento oportunamente.
Aunque no existe una prueba estándar para detectar el cáncer de próstata, este tumor de crecimiento lento, cuenta con métodos para su detección temprana y son:
Prueba del Antígeno Prostático Específico (PSA, por sus siglas en inglés) :
Es un análisis de sangre, que mide el nivel del Antígeno Prostático Específico (PSA). Esta sustancia es producida por la próstata y sus niveles suelen ser elevados en pacientes con cáncer de próstata. No obstante, otros factores y otras afecciones pueden aumentar los niveles de PSA.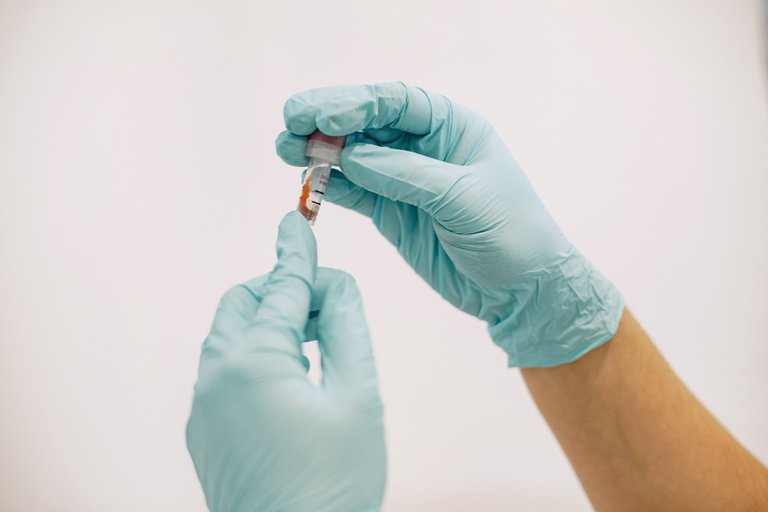 Crédito: Gustavo Fring Dominio público
Tacto rectal (DRE siglas en inglés), se palpa la próstata a través de la pared rectal en busca de nódulos, irregularidades, aumentos de consistencia, alteraciones en los bordes o zonas anormales, de la glándula.
Estos estudios deben estar ligados a un adecuado exámen físico e historia clínica que incluya antecedentes personales, antecedentes familiares, antecedentes patológicos, hábitos, estilos de vida, entre otros aspectos.
El médico tratante será el guía expedito del paciente y juntos conciliarán a través de los consentimientos informados pertinentes, la necesidad y aprobación de estos y otros estudios como biopsia (pequeña muestra de tejido prostático) o imagenología (ecografías, resonancia magnética), etc.
Tratamiento
Existen varios tipos de conductas a seguir para el tratamiento del cáncer de próstata. Será el paciente junto con su médico tratante, considerando la afectación, quienes decidan el curso a seguir. Algunos de los tratamientos que se llevan a cabo:
Vigilancia activa: control médico y antígeno prostático
periódico.
Radioterapia externa: radiación a las células cancerosas mediante una máquina externa al cuerpo.
Braquiterapia: mediante cirugía, se introducen semillas o píldoras radiactivas en el tumor o cerca de él para destruir las células malignas.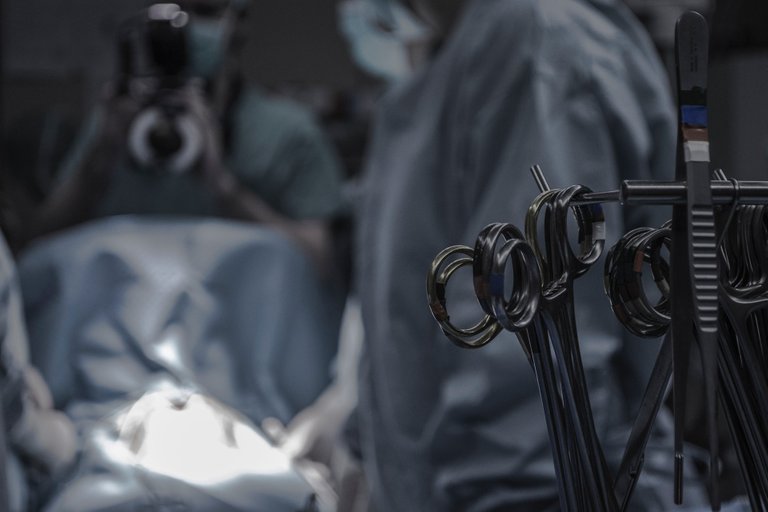 Crédito:Piron Guillaume. Dominio público
Cirugía: operación para extirpar la próstata (prostatectomía) y el tejido circundante.
Radioterapia más terapia hormonal.
Quimioterapia: administración de fármacos especiales para reducir el tamaño del tumor canceroso o eliminarlo.
¿Se puede prevenir el cáncer de próstata?
Hasta la fecha, no existen factores de protección científicamente probados, que garanticen la prevención del cáncer de próstata.
Pero si es posible adoptar medidas saludables que protejan su salud de forma integral, como :
Dieta equilibrada, con consumo de verduras, frutas y cereales integrales; evitando alimentos ricos en grasas y azúcares refinados.
Beber entre dos y tres litros de agua al día.
Desarrollar actividad física, de acuerdo con la edad.
Evitar fumar y reducir el consumo de alcohol.
Todo hombre mayor de 40 años debe realizarse una evaluación médica anual especializada en la esfera urogenital y someterse a PSA y DRE; especialmente aquellos con antecedentes familiares de cáncer de próstata.
En sintonía, practique el autocuidado, preste atención a las señales que emite su cuerpo, como mensajes de alerta a través de signos y síntomas.
Acuda regularmente a sus controles de salud, con valoración especializada y pruebas diagnósticas periódicas, solo así habrá una detección precoz del cáncer.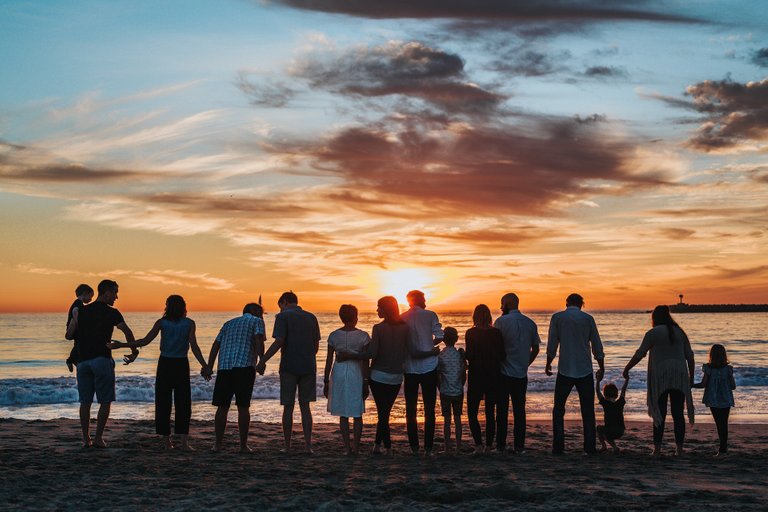 Crédito: Tyler Nix. Dominio público.
Agradecida por su visita, hasta otra ocasión.
---
Bibliographic references consulted / Referencias bibliográficas consultadas
-American Cancer Society. Prostate cancer. [Internet]. 2020. [quoted 2023 Feb.] Available at
-American Society of Clinical Oncology (ASCO). Prostate cancer [Internet]. 2023 [quoted 2023 Feb.] Available at
-Centers for Disease Control and Prevention (CDC). Prostate cancer. [Internet]. 2022. [quoted 2023 Feb.] Available at
-Healthengine. Male reproductive system (urogenital system) anatomy [Internet] 2006 [quoted 2023 Feb]. Available at
-National Cancer Institute (NIH). Prostate cancer. [Internet] [quoted 2023 Feb]. Available at
-Sociedad Española de Oncología Médica (SEOM). Cáncer de próstata. [Internet]. 2021. [quoted 2023 Feb.] 89(9):731-738. Available at
PD: This article has been designed in ecency front-end. Variations may occur if viewed on another front-end.
PD: Este artículo ha sido diseñado en front-end ecency. Pueden producirse variaciones si se visualiza en otro front-end.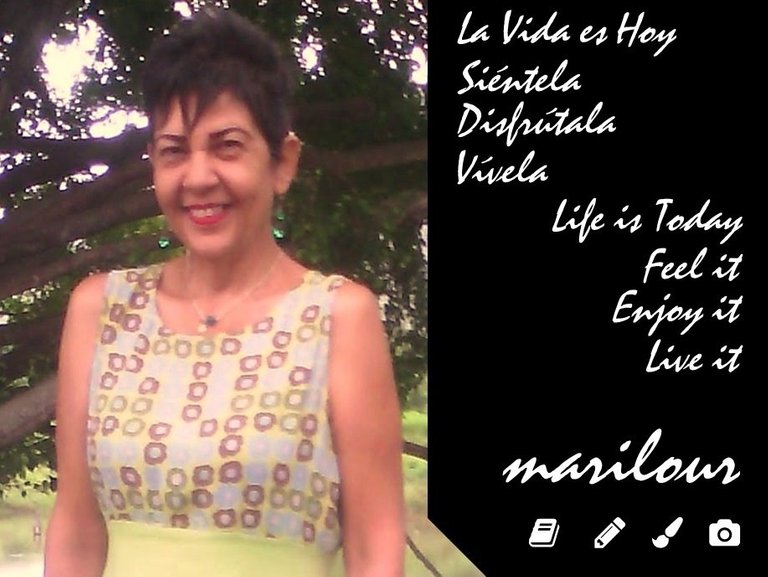 About me
I am Venezuelan. PhD. Physician Parasitologist-Protozoologist. Trained in Collective Health, Fundamental Medical Sciences, Philosophy of Science and Educational Management.
Sobre mí

Soy venezolana. PhD. Médico Parasitólogo-Protozoólogo. Formada en Salud Colectiva, Ciencias Médicas Fundamentales, Filosofía de la Ciencia y Gestión Educativa.
About the cover: is an original production made with the program Canva (free version), using royalty-free elements. The avatar is a product of a photograph of my property, processed with the Toonlab application. An image was included in the cover, this is the source. The written production has been created exclusively for this participation.
Sobre la portada: es una producción original realizada con el programa Canva (versión gratuita), utilizando elementos libres de regalías. El avatar es producto de una fotografía de mi propiedad, procesada con la aplicación Toonlab. En la portada se incluyó una imagen esta es la

fuente

.La producción escrita ha sido creada esclusivamente para esta participación.