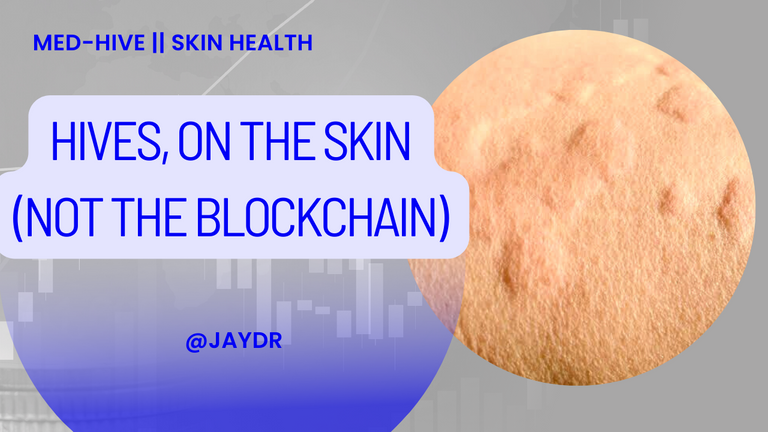 Hello everyone, welcome to my blog again. Today I m sharing on a very beautiful common terminology, however not so many people know it is also a medical condition. Yes there is a medical condition know as Hive and that will be the centre of my discussion today. Although it sound familiar with our great community, it's is quite intuitive to learn about this during our Med-Hive monthly campaign where we have been discussing on the theme of SKIN HEALTH.
Do join the conversation if you have not and share a few things about your skin health and stand a chance of winning a few tokens.
Now to the topic of the day.
---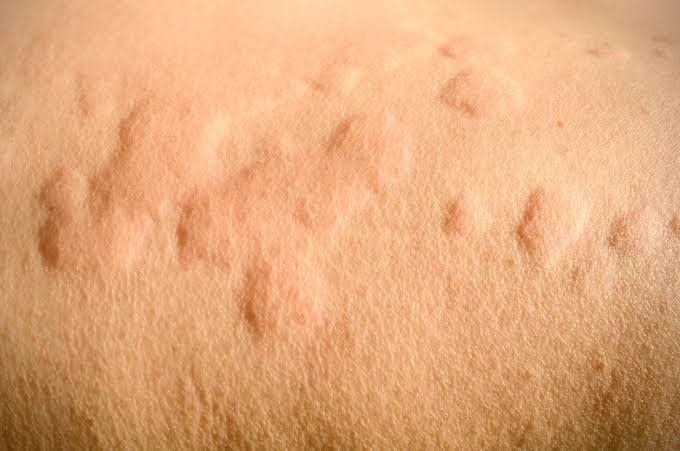 Source
Introduction
Hives, also known as urticaria, is a common skin condition that has affected many people at some point in their lives. It often features sudden appearance of itchy, red, raised skin wheels that can appear and disappear quickly. It is mostly a symptom of an allergic reaction, but can also be caused by a many other factors. In this article, we will take a closer look at the causes, symptoms, and treatment options for hives. But this is only for educational purposes, do well to speak with your physician if you are having these symptoms.
Causes
One of the most common causes of hives is allergic reaction. This can be triggered by a wide range of substances, including food, medication, and environmental allergens. In these cases, hives are usually accompanied by other symptoms, such as sneezing, runny nose, and watery eyes.

Another common cause of hives is viral or bacterial infections. These infections can cause the immune system to overreact, resulting in the formation of hives. Hives can also be caused by certain medications, including antibiotics, aspirin, and ibuprofen. This is why you must review all medications with your doctors and avoid self medication.

Physical triggers, such as pressure or temperature changes, can also cause hives to form. This is known as physical urticaria and can be caused by exposure to heat, cold, or sunlight, or by physical pressure on the skin.
Symptoms
The symptoms of hives can vary depending on the cause, but they typically include itchy, red, raised welts on the skin that can appear and disappear quickly. The welts may be small or large and can be round or irregular in shape. In some cases, hives can also cause swelling, known as angioedema (an area of swollen blood vessels under the skin), which can affect the face, lips, tongue, and throat. A friend of mine once had this after eating some meat at a party.
Treatment options
Treatment for hives depends on the cause of the condition. In cases of allergic reactions, the best course of action is to avoid the allergen that is causing the hives. Over-the-counter antihistamines may also help to reduce itching and inflammation.
In cases where hives are caused by a viral or bacterial infection, treatment will focus on the underlying infection. The appropriate Antibiotics may be prescribed for bacterial infections, while viral infections will typically resolve on their own.They ll run their course.
For physical urticaria, avoiding triggers such as hot or cold temperatures and physical pressure on the skin can help to prevent hives from forming. In some cases, antihistamines may be prescribed to help reduce symptoms.
In severe cases, where hives are causing severe itching or swelling, a course of advanced medications may be prescribed to reduce inflammation.
In conclusion, hives is a common skin condition that can be caused by a wide range of factors, including allergic reactions, viral or bacterial infections, and physical triggers. The treatment of hives will depend on the underlying cause, but over-the-counter antihistamines and avoiding triggers can often help to reduce symptoms. If you are experiencing hives, it is important to speak with a healthcare professional to determine the cause and the best course of treatment.
Read more here
emedicine.meds Urticaria: Practice Essentials, Background, Pathophysiology
Design made using canva