Greetings dear MED-HIVE community! / ¡Saludos estimada comunidad MED-HIVE!
It is great to have found this community. Although it is a few months old, it is a community making noise in the blockchain. I am sure that many other health professionals will come to it to share their valuable content, as well as there will be users who will find professional information that will help them to orient themselves in health issues.
Es grato haber encontrado esta comunidad. Aunque tiene unos meses de creada, es una comunidad que está haciendo ruido en la blockchain motivo por el cual estoy segura que muchos otros profesionales de la salud llegarán a ella a compartir su valioso contenido así como también habrán usuarios que encontrarán información profesional que los ayude a orientarse en temas de salud.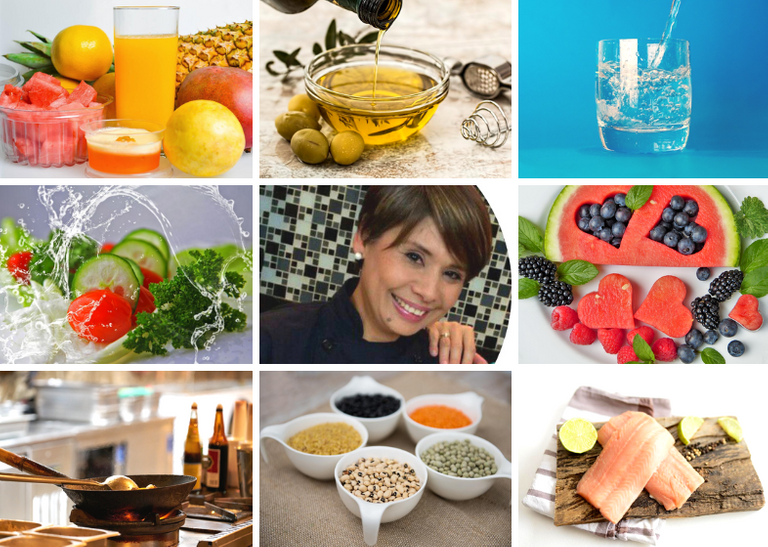 My name is Isabel Bermudez, I am a native of Venezuela. I am a Nutritionist. Food has always been my passion, and my curiosity for it led me to specialize in several areas related to my profession. I graduated from the Universidad Central de Venezuela 25 years ago, and I have practiced my profession doing nutritional education. My social networks have always been focused on being a platform to develop issues related to food. However when I became a member of HIVE (two years ago), I felt that this was the best place to contribute a grain of sand to promote health.
In these two years in the blockchain, I have allowed myself to experiment with creating content about the things that excite me, such as nature and gastronomy. However, I was always anxious to find the right community that would give value to nutritional information focused on education and prevention. Here at MED-HIVE, I think I have come to the right place!
Mi nombre es Isabel Bermúdez, nativa de Venezuela y soy Nutricionista. Los alimentos siempre han sido mi pasión y la curiosidad por ellos me llevó a especializarme en varias áreas relacionadas a mi profesión. Egresé de la Universidad Central de Venezuela hace 25 años de los cuáles he ejercido mi profesión haciendo educación nutricional. Mis redes sociales siempre han estado enfocadas a ser una tribuna para desarrollar temas relacionados a la alimentación, sin embargo cuando me hice miembro de HIVE (hace dos años) sentí que este era el mejor lugar para aportar un granito de arena para promover salud.


En estos dos años en la blockchain me he permitido experimentar con la creación de contenidos de las cosas que me apsionan como la naturaleza y la gastronomía, no obstante siempre estaba en mí la inquietud de encontrar la comunidad apropiada que diera valor a la información nutricional enfocada a la educación y prevención. Aquí en MED-HIVE creo que he llegado al sitio adecuado!

Food topics are very broad, and the general public needs truthful, scientific and easy to digest information as basic tools to establish healthy habits and lifestyles. Here is where the phrase "we are what we eat" makes a lot of sense.
Human nutrition is a science that is transversal to all human endeavors from anthropology to technology with the development of apps focused on this area. So it makes me very happy to soon be able to share some topics related to food, ways of preparation, habits, technological processes and especially the care of our digestive system as the main axis of various metabolic processes.
I will be attentive to any "AMA" (ask me anything you want) that you can leave me in the comments, as it can be wonderful to develop topics of collective interest and thus learn together in this wide world of food.
Los temas sobre alimentación son muy amplios y el público en general necesita información veraz, científica y fácil de digerir como herramientas básicas para establecer hábitos y estilos de vida saludables, es aquí donde la frase "somos lo que comemos" tiene mucho sentido.


La nutrición humana es una ciencia que es transversal a todo el quehacer humano desde la antropología hasta la tecnología con el desarrollo de apps enfocadas a esta área. Así que me hace muy feliz pronto poder compartir algunos temas relacionados a los alimentos, formas de preparación, hábitos, procesos tecnológicos y en especial el cuidado de nuestro sistema digestivo como el eje principal de varios procesos metabólicos.


Desde ya estaré atenta a cualquier "AMA" (pregúntame lo que quieras) que puedas dejarme en los comentarios, ya que puede ser maravilloso desarrollar temas de interés colectivo y así aprender juntos en este amplio mundo de los alimentación.

Thank you for reading my presentation. See you soon in the next publication!
Agradezco que hayas leido mi presentación. Nos vemos pronto en la próxima publicación!
---
All images used are free copyright:
(1) (2) (3) (4) (5) (6) (7)