Have you ever tried to stream something on Netflix, only to get the proxy and unblocked error message? Almost all streaming services and TV networks online have a large register of IP addresses used by VPN services and proxy services, and if they discover any of these IP addresses among their visitors, they will block them from watching the available content.
Netflix, however, is the first to make a big change right here. And to be honest, it is a smart and wise decision.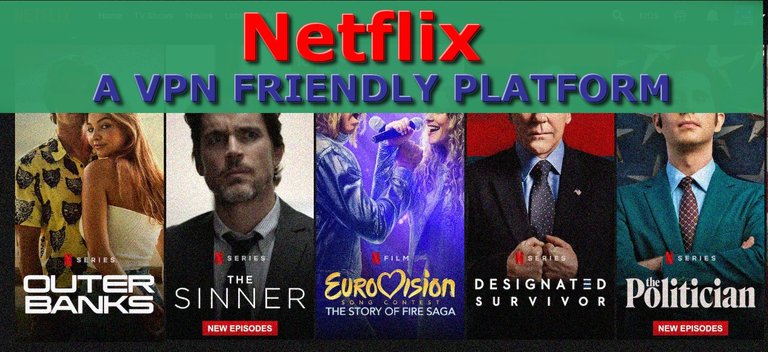 I have often complained about this.
One of the best ways of protecting yourself online is by using a VPN. This will encrypt your activities, and it will make sure that people cannot spy on you. It will also stop malware and spyware from running on your device (often), and even more, hinder them from connecting to harmful sites and servers.
So, what is more natural for people blogging on the Hive network than to use a VPN. But, it has been a painful experience to visit Netflix.com, only to discover that you have to disconnect your VPN in order to watch your favorite content... simply because you want to surf encrypted and securely online.
And that is why this is a step in the right direction from Netflix!
So, what has Netflix done? They still have their large register of IP addresses used by VPN services and proxy providers. But, if you use such an IP address and visit Netflix.com, they will simply show you different materials. What do I mean?
Netflix has the right to broadcast all their original material online, all across the world. So, if they see that you are using a VPN, all you will see is the material available to people, no matter where they might be in the world. That means you can stream the Netflix original series such as The Money Heist, The Crown, The Sinner, Floor is Lava, Dead To Me, The Umbrella Academy, and so on.
They are not breaking any copyright rules by letting you stream these, no matter where you are.
But...
But, if you connect to a VPN server in Canada (known by Netflix), you will not be able to see content available there, but not in other countries. As a result, you will not be able to stream This Is Us, Lethal Weapon, and other TV series and shows available on Netflix Canada only.
Do you get the point?
I am really happy about this, but it also makes things much more confusing. You will not automatically notice that you are using a VPN blocked by Netflix, and that is why people have complained several times already when I have told them about shows available on Netflix in certain countries. They then use any kind of VPN, and complain and say that I lied... no, I didn't. But, they just used a VPN blocked by Netflix, and that is why they don't see the content I mentioned to them.
Which VPN to use for Netflix?
To be honest, you can use any VPN, because they all work. But, if you want to use a VPN that works with content in special countries, my suggestion is that you visit https://netflix.fromabroad.org/ for more exact information and recommendations.
---
What do you think about this? Are you happy?
Are you happy about these modifications Netflix has done to its streaming platform? Are you normally using a VPN, or don't you care about VPN services at all? Please write a comment and let me know.
If you want to know more about VPN services, check the following article I wrote last week titled: Is it worth paying to have a VPN subscription.
---
This post is published in the Netflix & Streaming community on Hive. Subscribe to the community to get more streaming news, reviews, and more. You are welcome to share your own content as well on streaming related topics!