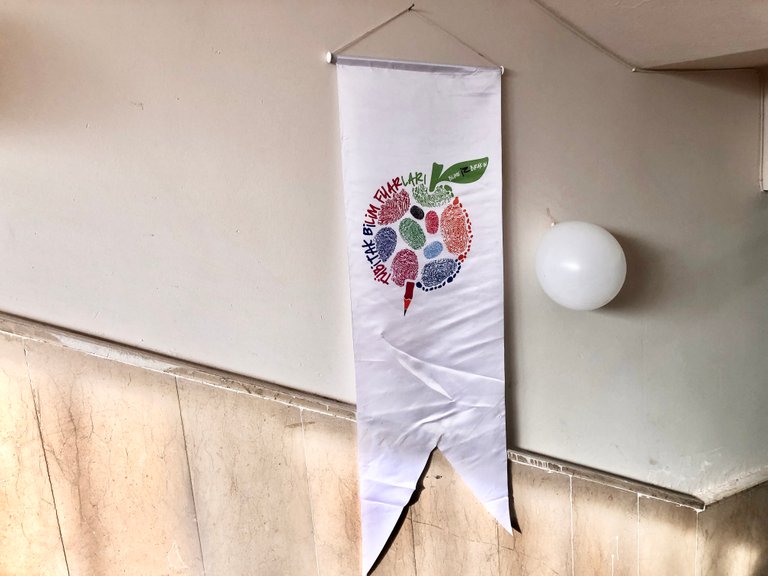 Hello everyone. Tübitak Science Festival was held at the school last week. In fact, our school applied for this and was accepted last year. But when the pandemic intervened, it was constantly postponed. Normally, Tübitak science fairs are held in spring. Ours was constantly delayed so we had to do it in the winter. I was the project coordinator. When we become a science teacher, this kind of work is left to us at school. I am new to the teaching profession. I also worked as a coordinator for the first time at the Tübitak fair. That's why I got excited. It was a bit tiring to deal with the development phase of all projects. It was fun too. Now I have gained experience. I can manage better next time.
TR
Herkese merhaba. Geçen hafta okulda Tübitak Bilim şenliği düzenlendi. Aslında bunun için okulumuz geçen sene başvurup kabul edilmişti. Ama araya pandemi girince sürekli ertelendi. Normalde Tübitak bilim fuarları bahar ayında yapılır. Bizimki sürekli ertelenince kışın yapmak zorunda kaldık. Projenin koordinatörü bendim. Fen bilimleri öğretmeni olunca okulda bu tür işler bize kalıyor. Öğretmenlik mesleğinde yeni sayılırım. Tübitak fuarında da ilk defa koordinatörlük yaptım. O yüzden heyecanlandım. Tüm projelerin gelişim aşamasıyla ilgilenmek biraz yorucuydu. Eğlenceliydi de. Artık deneyim kazandım. Bir dahaki seferde daha iyi yönetebilirim.
We applied for 20 projects on behalf of our school. All accepted. In the past, all projects were left to science teachers. Now they are paying a little more attention to this. They ask all teachers to be consultants on the project. That's why we had projects from every subject. Science, Turkish, English, mathematics, religious culture, informatics.
TR
Okulumuz adına 20 tane projeyle başvuru yaptık. Hepsi kabul edildi. Eskiden tüm projeler fen öğretmenlerine bırakılırdı. Şimdi bu konuda biraz daha dikkat ediyorlar. Tüm öğretmenlerden projede danışman olmalarını istiyorlar. O yüzden her konudan projemiz vardı. Fen bilimleri, Türkçe, ingilizce, matematik, din kültürü, bilişim.
We had 20 projects. I have shared some photos of them here.
TR
20 tane projemiz vardı. Burada bazılarının fotoğraflarını paylaştım.
Our projects related to dental health and sustainable development.
TR
Diş sağlığıyla ilgili ve sürdürülebilir kalkınma ile ilgili projelerimiz.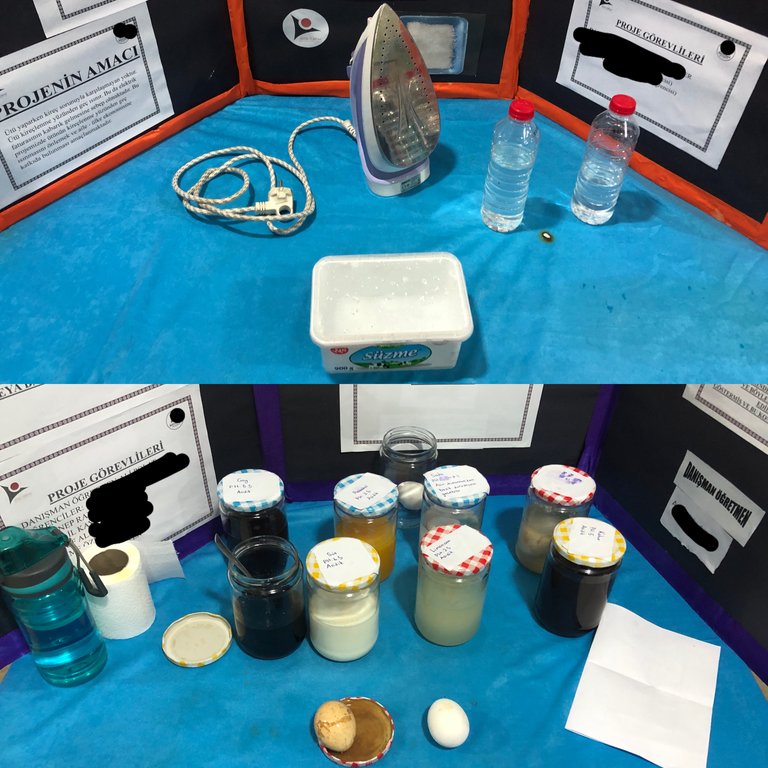 The game project for easy learning of English and the bacteria project in the places we touch in our daily lives.
Of course, these are not the titles of the projects. 😄 I am writing this way because I want to explain briefly.
TR
İngilizcenin kolay öğrenilmesi amacıyla yapılan oyun projesi ve günlük hayatımızda dokunduğumuz yerlerdeki bakteriler projesi.
Projelerin başlıkları bunlar değil tabi ki. 😄 Ben kısaca açıklamak istediğim için bu şekilde yazıyorum.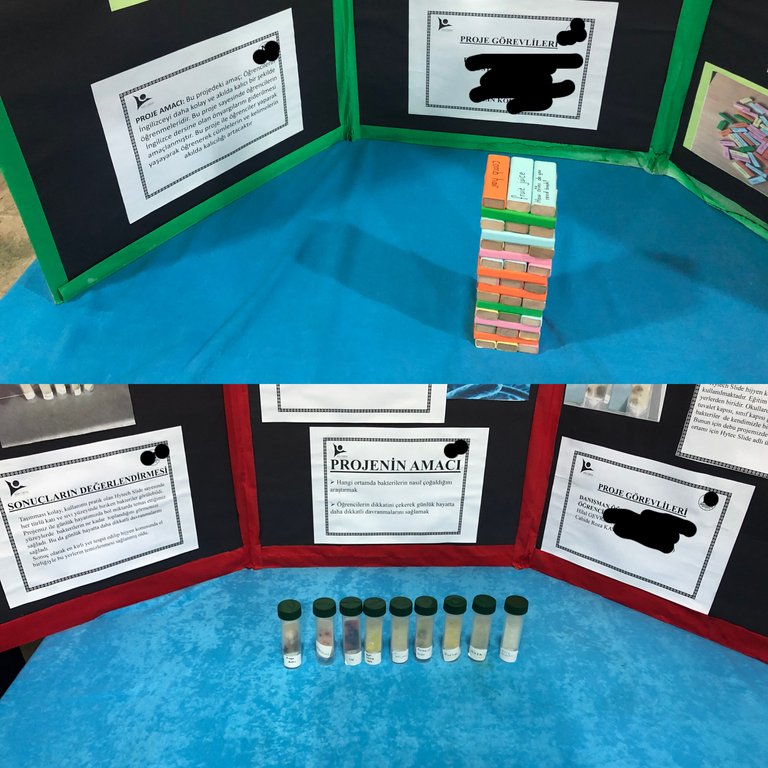 Visual arts project. Designs made using waste paper. The other is the project about robotic coding.
TR
Görsel sanatlar projesi. Atık kağıtlar kullanılarak yapılan tasarımlar. Diğeri de robotik kodlama ile ilgili proje.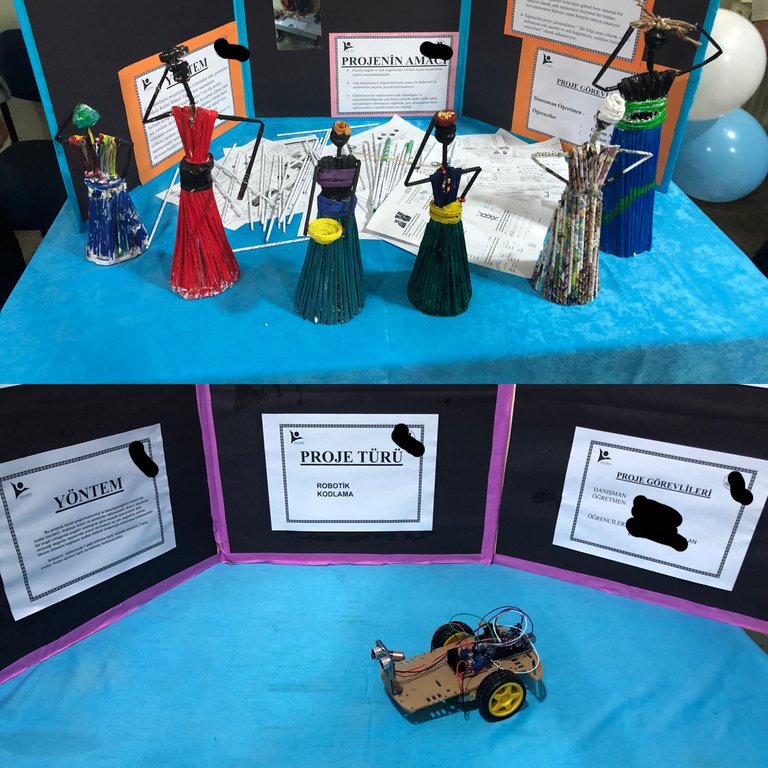 Our project showing the effects of air on food. And our project showing the damage of detergent water to the ecological balance.
TR
Havanın yiyeceklere yaptığı etkileri gösteren projemiz. Ve deterjanlı suların ekolojik dengeye verdiği zararı gösteren projemiz.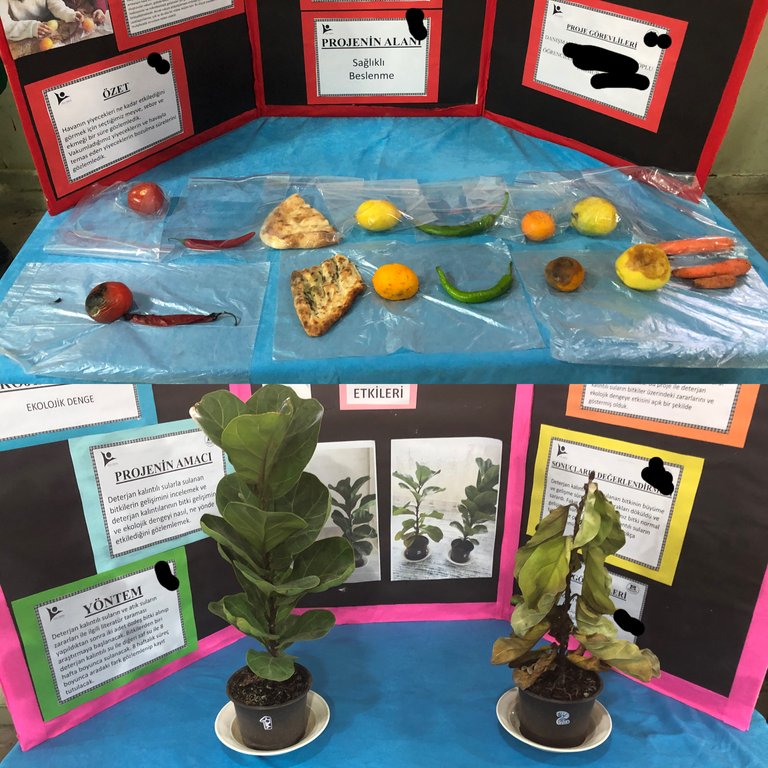 Here, again, 2 projects related to robotic coding. Our IT instructors advised these projects.
TR
Burada da yine robotik kodlama ile ilgili 2 tane proje. Bilişim hocalarımız danışmanlık yaptı bu projelere.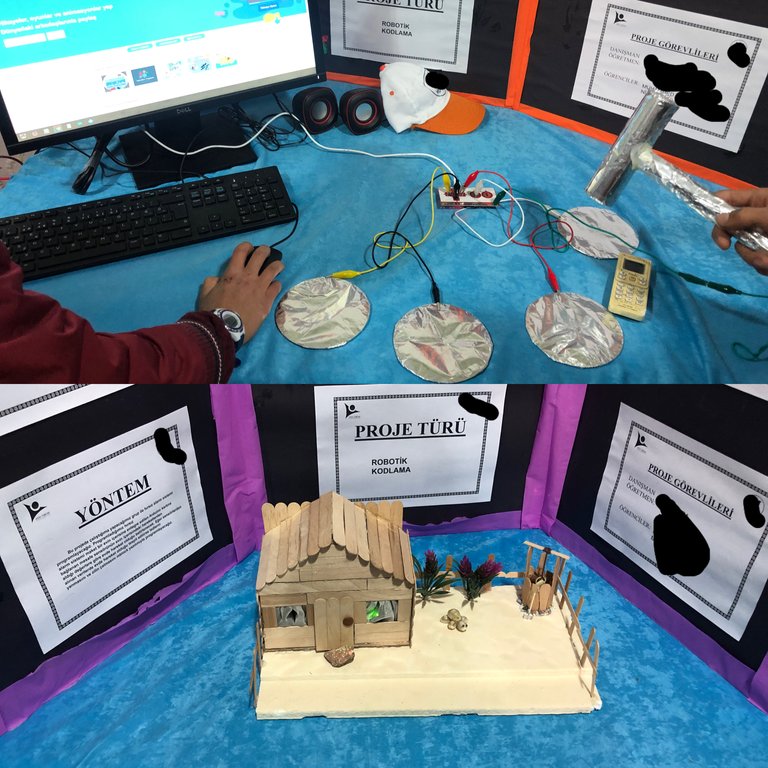 Projects that facilitate the learning of mathematics and Turkish subjects.
TR
Matematik ve Türkçe konularının öğrenimini kolaylaştıran projeler.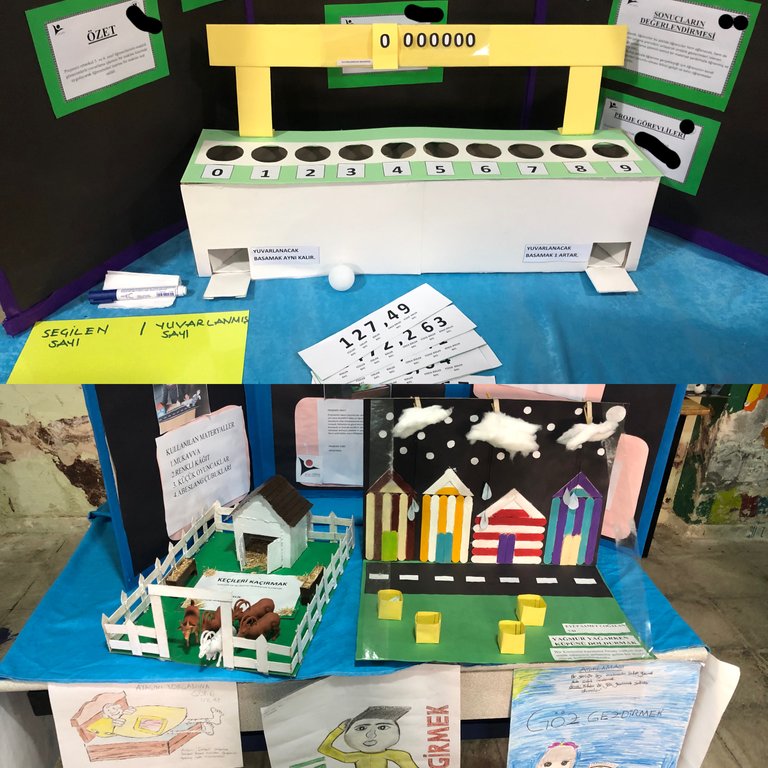 Here, too, we have projects related to science subjects.
TR
Burada da fen bilimleri konularıyla ilgili projelerimiz var.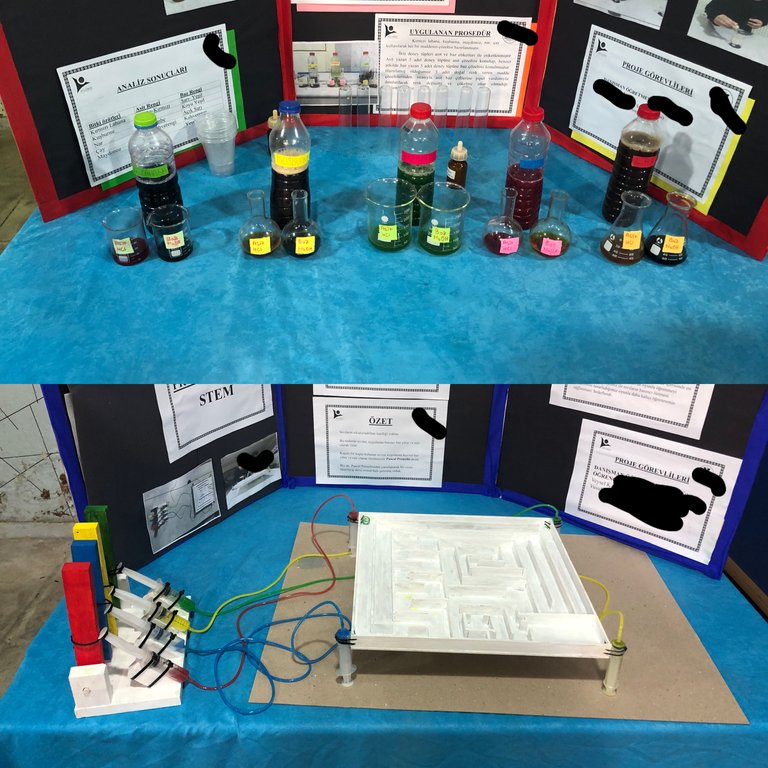 Again, our projects that facilitate the learning of mathematics and Turkish subjects.
TR
Yine matematik ve Türkçe konularının öğrenimini kolaylaştıran projelerimiz.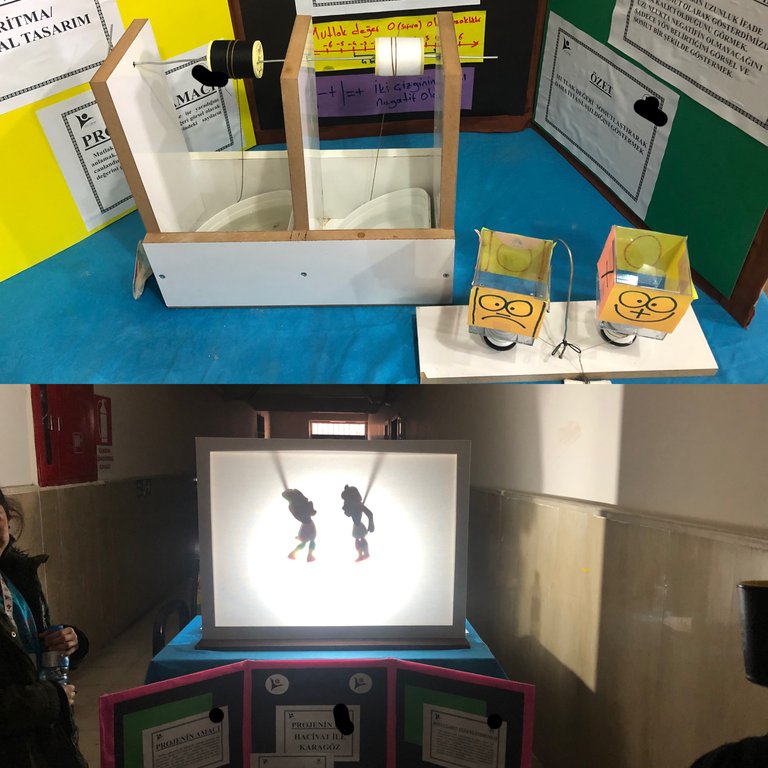 All of our teachers and students in charge have put in a lot of effort. We finished our fair in a good way. Many visitors came to our fair. We had a very tiring but very enjoyable time for 2 days. I couldn't attend classes for 2 days. I was constantly hanging around. 😄 It was so tiring. At the end of the day, I ran home exhausted. Our staff members are also very tired. They kept asking when we were going to rest. 😄 I always motivated them. We were tired together, we had fun together. We had a great time.
TR
Bütün görevli öğretmenlerimiz ve görevli öğrencilerimiz çok emek verdi. Güzel bir şekilde fuarımızı tamamladık. Bir sürü de ziyaretçi fuarımıza gelip gezdi. 2 gün boyunca çok yorucu ama çok eğlenceli vakit geçirdik. 2 gün boyunca derslere giremedim. Sürekli etrafta dolandım. 😄 O kadar yorucuydu ki. Gün sonunda bitkin bir şekilde eve koştum. Görevli öğrencilerimiz de çok yoruldu. Sürekli ne zaman dinleneceğiz diye sorup durdular. 😄 Ben de sürekli onları motive ettim. Hep birlikte yorulduk hep birlikte eğlendik. Güzel vakit geçirdik.
Thank you for reading. See you later. 🌸
TR
Okuduğunuz için teşekkürler. Görüşürüz. 🌸