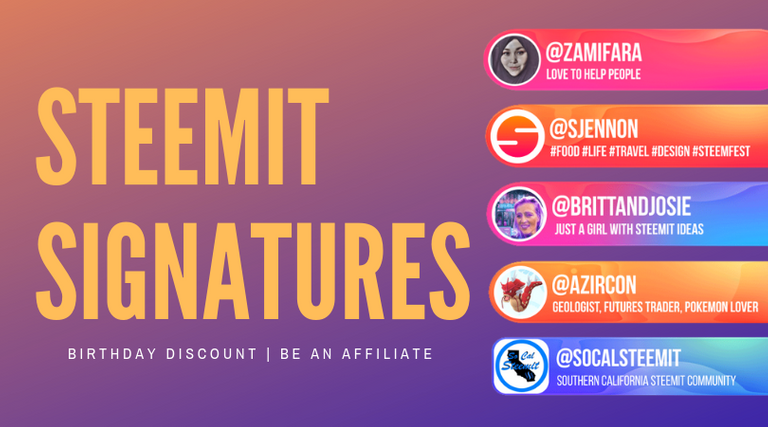 Get your Pack 1 Signatures
The details on how you can get your hands on these awesome siggies are down below. Grab them while the order is open as I won't be doing them all the time when the job gets busy.
If you guys do not know, I have a Pack 2 Signature as well. You can head over to my profile to find that backtrack post or wait till tomorrow and I will post the Pack 2 Signatures up one more time for you guys to order. So these two signatures are supposed to fit your taste and style as they're both very different in art style but with the same concept. Which is to have your Steem name on it, and a nice caption.
A huge shoutout to all who've ordered from me. So far I have created 98 custom signatures for Steemians all over this blockchain and you can be the next one. Also, if it is your birthday month, you can get the Signatures for only 3 STEEM! Other than that, there's an affiliate bonus where you can collab with me if you want to reward Steemians that participate in your contest a signature. More details below.
PS : I won't be designing anymore customized from scratch banners for now. I have to put this on hold as I have taken on new ventures and I would like to focus more on that. Hope you all understand :)

Affiliate Bonus
---
You can now be an affiliate and get access to much CHEAPER professional signatures by me. If you have a contest/challenge and you want to reward your participants with something special, you can reward them with these signatures. Of course, since you may want to bulk order, you will get a special rate from me. All you have to do is drop me a DM in discord, zord189#7776 and we'll talk all about it.
---
Testimonials



---


---



---

---

---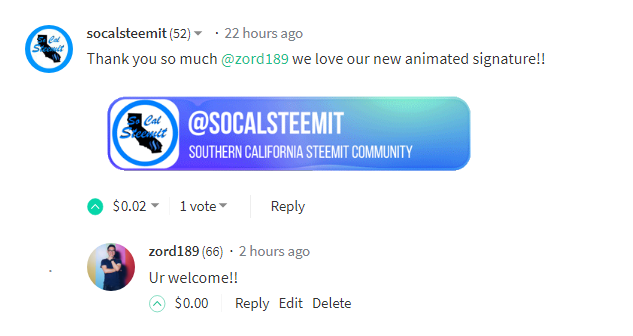 ---
---
---
---
@melissamyra

---
How to get your Steemit Signatures? (5 STEEM)
Type A

Type B
Type C

Type D
Type E

Type F
---
Customizations :
Once you've picked a signature, you can change to your favourite colours.
You can give me any photo/logo to be placed on your signature.
Customizable captions to represent you.
Main Text can be from your Steemit handle to your actual name.
How To Order?
Send 5 STEEM to @zord189.
On memo type " Steemit Signature Pack 1, Type [A,B,C,D,E,F] ". Example : Steemit Signature Pack 1, Type B
Contact me on Discord, zord189#7776 with details as such :
Steemit ID:
@zord189
Signature Type: B
Main Text: @zord189
Caption: Founder of Steemit
Additional Notes: IF ANY. For example, change colour to blue.
And send me your image/logo (jpg, png)
And you're Done!
You will receive your Steemit Signature within 2 weeks upon payment. You will be sent a GIF version of the signature through discord when it's done.
---
Thank you!
I would like to thank all of you for your support in advance and if you would do me a kind favour to help
resteem
this post so it gets out far and wide. Now I've been creating many designs usually for free for Steemians, so I'm asking for just a small price for these.
Why?
With the STEEM that I earn through this, I'm planning to power up and to continue my support for the communities I love on this wonderful platform. That is the main reason why I'm selling these signatures, at a VERY cheap price at that too.
Thank You
If you like what I do, check out my other posts on meetups, animation, and designs.
Get your Personalized Steemit Profile Signatures
DM me on discord : zord189#7776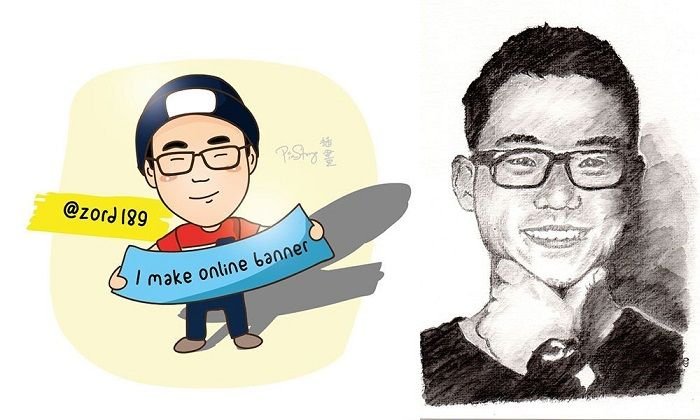 Credits to @pinstory & @coloringiship for this lovely photo of me.
---
Animated Banner Created By @zord189
---
---
Posted from my blog with SteemPress : http://zord189.steemblogs.club/2020/02/29/the-best-steem-signatures-purchase-here-pack-1/
---