Loss is never pleasant, but it is worse when it is unexpected and one doesn't have the chance to say goodbye. Today is one of those days. We had some good times and shared some beautiful views of the world together, but today, it has come to an end - our life hand in hand grip has been shuttered.
Quite literally.
The shutter of my trusty Olympus EM-1 has seized and the image stabilization is ticking trying to do something, but the screen is black. After troubleshooting, it appears that the repair is going to be quite a few hundred euros and take weeks. So, I am going to have to look for an alternative solution.
Thursday is Smallsteps' birthday and we take pictures each year, I need a camera to document the renovation for the future evaluations and history, I use it for work occasionally and of course, photography is a key aspect of my Hive posting. I have been a hobby photographer for years and I was really glad Hive gave me a usecase for it as a support for my writing. I see it as value adding to create a post with as much unique material for a post as possible and I far prefer to have one of my own okay images than the perfect sourced shot from the internet.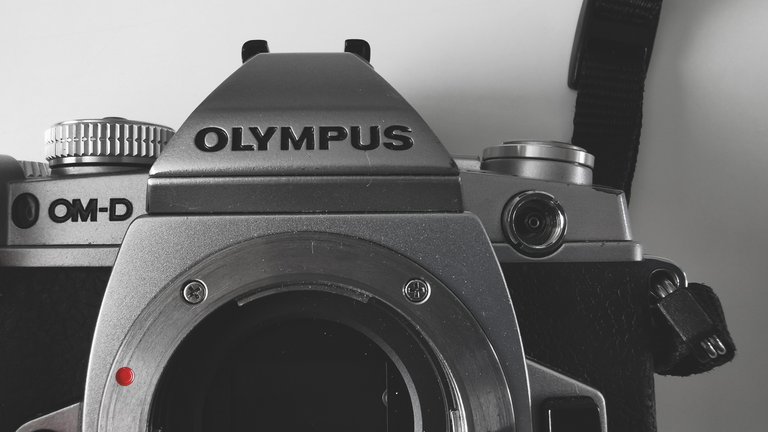 I saw a Hive related post by @ats-david using an image he created himself because he was travelling and didn't have another and I appreciate the effort. Is it a great image? No - but it is his and adds character to the post. I wish more people would get creative, even if they aren't creative and play around with adding more of themselves into the post.
Well, back to the camera...
I will take it into the shop to see if there is an "easy fix" for it, but if I need to get a new one and since I have several lenses for the Olympus micro four thirds (MFT), I will get another - though I am not looking to the price of this one at all.... It really isn't the best time to be spending money on a camera, but it is also something that I use almost as regularly as I write on Hive - So, the bullet must get bit. The camera I get will likely be (once I go and test it) be the most recent EM-1 as I have been more than happy with it (until now) and it is hard-wearing and weatherproof. I can be a little hard on cameras at times and of course, accidents happen with cold hands. Though, I have never dropped my camera.
I might do an unboxing if I get it, as I so rarely buy anything like this. Cameras are entertainment as it is mostly a hobby for me, but I also consider that since I regularly put it to practical value (I have shot some weddings and funerals also), I think it is more of an investment. As soon as it broke, the first thing I thought about was Smallsteps' birthday photos - the next was "crap... Hive." - I like that my hobbies can be combined together to support each other and that they also add value to my family too - it is pretty cool.
Well, today that value isn't going to be added, it is going to go well into minus, but at least I will have something to play with in the evening after my treatment. Which I have to run to now.
Because of my current condition, the two month at a time became 6 weeks and with it taking a heavy toll on my for about a week each session, it is quite a lot of impact time on my life. I think that the degradation in my health is mostly due to all of the stress and lack of adequate rest throughout the last 6 months, so I should get on top of that so it doesn't keep sliding.
This week still has a lot of house work ahead that has to be crammed into tomorrow, but I have been consistently chipping away at it so that I don't have an overload while I am physically and mentally drained from the treatment. I don't normally plan ahead far, but I am glad I didn't procrastinate the last week.
Right, off to the hospital and then the camera store - which is a place I normally only browse with longing, but today might be different. I would be very happy if they can quick fix my camera and bring it back to life for another year or two, as I am a tight ass these days and don't have much to spare, making me clench even harder. Fingers and legs crossed.
Taraz
[ Gen1: Hive ]