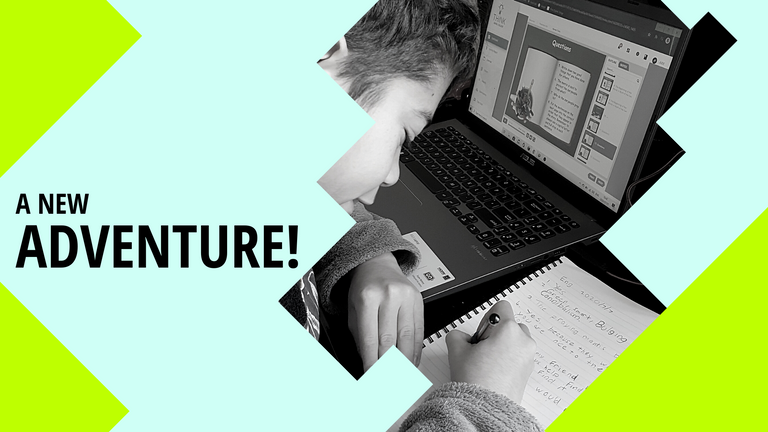 So yesterday marked the beginning of a whole new chapter in Jude's life as well as mine. During lockdown he was doing online schooling with his previous school and he adapted so well, that we made the decision to make the move to online schooling permanently. It was something that we were going to do when he got to high school anyway - so it started two years earlier... but that is no biggie.
Personally, I have been really excited about the lifestyle change as well as the added flexibility. No more dragging my child to school at the crack of dawn. No more subjecting him to "classroom drama" and all the other nonsense that comes with that package. No more uniforms and most excitingly for me... no more lunchboxes... woohooo!!!! As it turns out, I was informed a few weeks after we had notified the old school and registered him for online learning that his school campus is actually going to be closing down... so we would have been in a flat panic (like all the other parents now are) trying to find new schools for their kids after all the annual applications have already closed at other schools... we definitely had an angel watching over us, because on top of everything else that has been happening in my life, I honestly do not think I would have coped with having to find my child a new school too.
For the moment, sporting is still not permitted due to lockdown regulations, but from the beginning of next year, he can pick and choose which sporting and extra curricular activities he would like to participate in. For the time being, I am just grateful for where we stay, as he has daily access to his friends, outdoor play and plenty of fresh air.
I still had a five old laptops from my "shop days", one of which Jude had been using for school up until now... but they were REAL DONKEYS! So the other day I popped them onto Facebook market place and managed to sell all five to one buyer. The next day Jude got the treat of going to get a brand new gaming mouse (obviously) lol, gaming mousepad (again, obviously), an awesome laptop backpack bag and of course the laptop itself.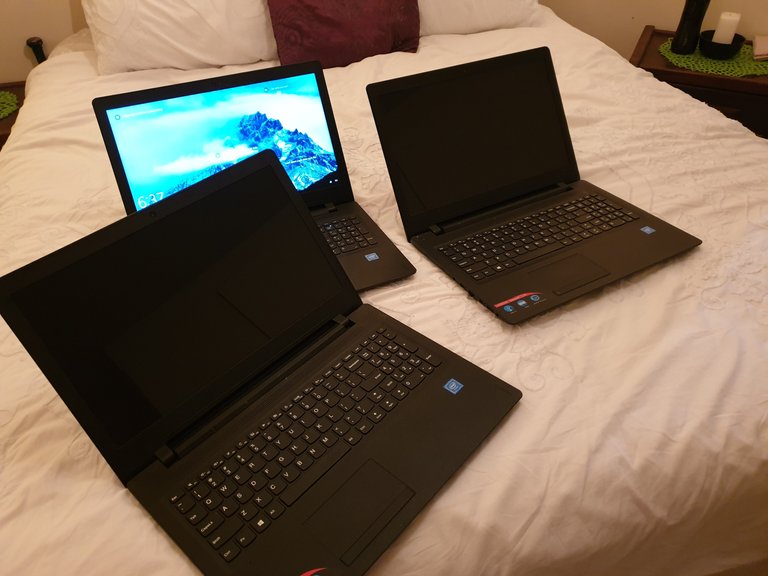 Needless to say, he has been posting daily youtube videos since. lol. I really need to sit down with him and get him back into his profile here on Hive now that he is a little older, he could probably manage that himself.
So, anyway... yesterday was the "first day of the new term"... school started at 10am and in his pyjamas, lol!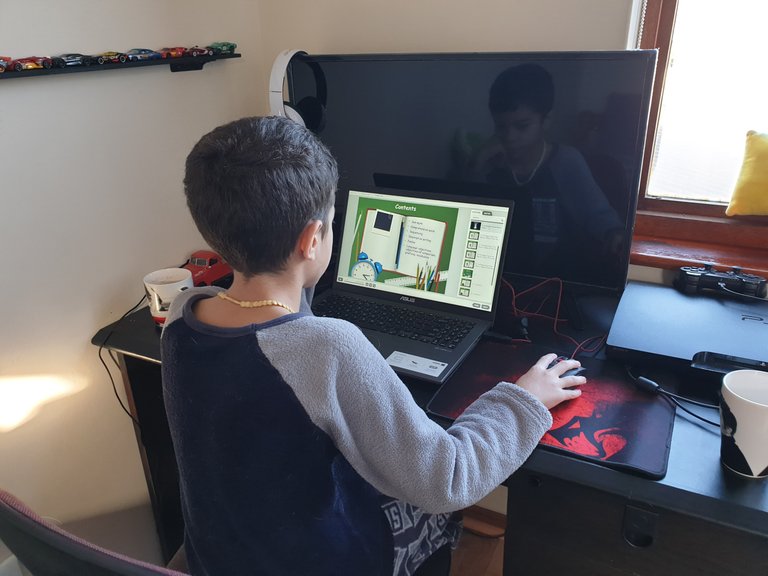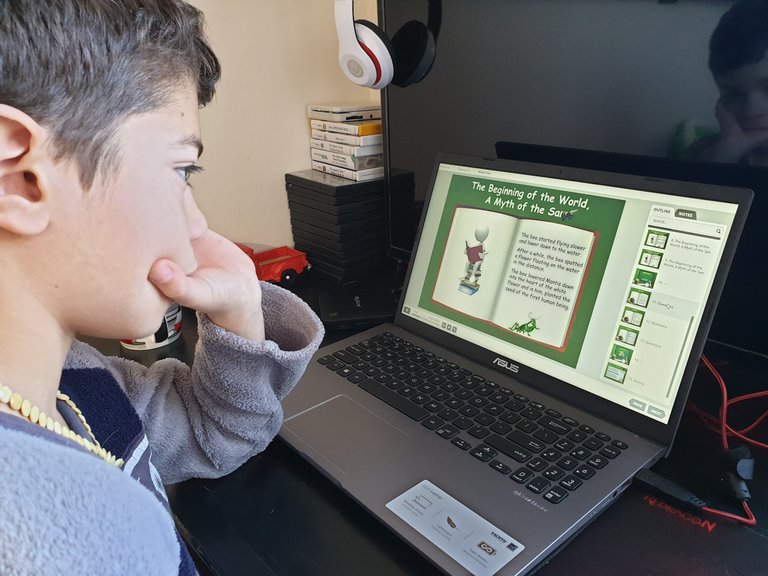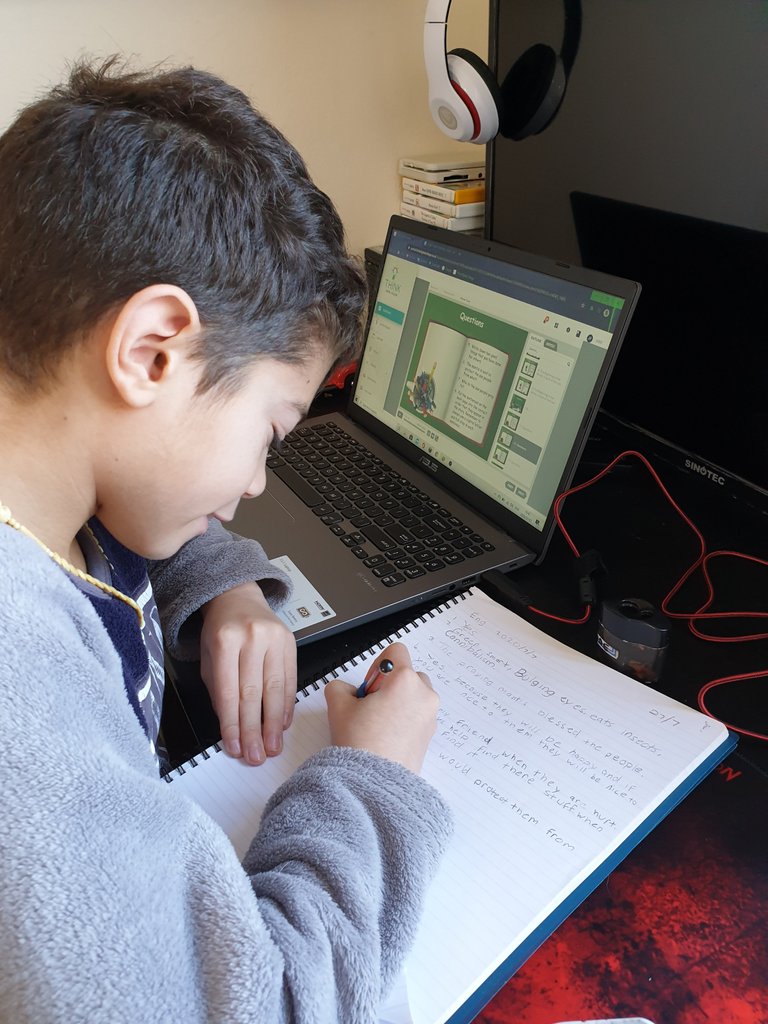 Day one was a bit of a learning curve for the both of us, working out his daily schedule - how many specific subject tasks he will need to do each day etc. as the college allows you to work at your own pace... but once we got that all sorted we were good to go! Today went a lot smoother, Jude came and sat in the lounge at our dining room table (which also acts as a desk for all of us lol) and he did his work there, which was great because when he needed a hand with anything, I was right there to assist - although there are online tutors... I don't think they will ever trump the "first place" of asking mom haha! - Except when mom has NO idea how to help, lol!
The curriculum is the standard South African curriculum - but in all honesty, I am not particularly worried about any of that... as long as he achieves what is required of him, I would rather he put more energies into facets that truly get him excited... like coding and robotics which he has also started now and LOVES already!
Exciting times ahead... a new adventure for all of us! A refreshing change and I am very excited about what lies ahead!
Onward and upward...
❤❤❤
Until next time...
Much Love from Cape Town, South Africa xxx
Jaynielea
FOUNDER OF THE POWERHOUSE CREATIVES
JOIN ME ON TWITTER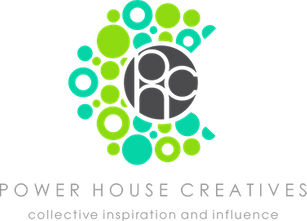 A community dedicated to producing quality content in multiple genres,
offering our subscribers a read worthy feed.
JOIN OUR DISCORD COMMUNITY
SUBSCRIBE TO OUR COMMUNITY FEED
LIKE OUR FB PAGE
FOLLOW US ON TWITTER


Created by @derangedvisions

ALL IMAGES ARE MY PROPERTY UNLESS OTHERWISE CREDITED