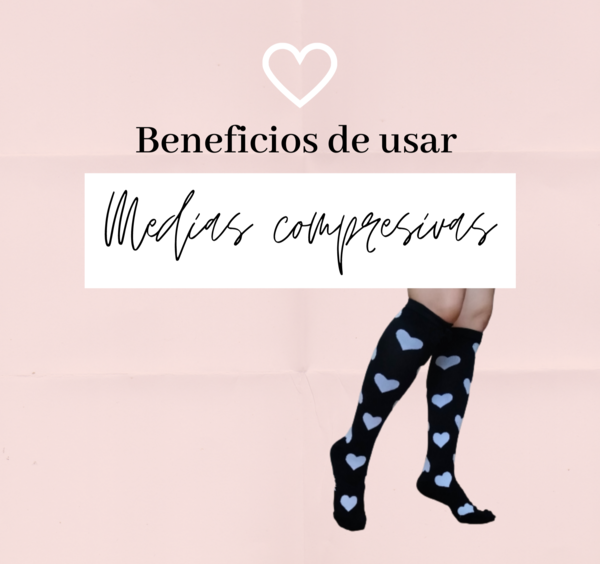 ---
[Español]
¡Saludos, amigos! 🧡
Hace unos días, compré unas medias compresivas con un diseño encantador para cuidar más de la salud de mis piernas, dado que estar tantas horas de pie durante las jornadas en el hospital, constituye un factor de riesgo para presentar síntomas como dolor, edema y cambios cutáneos debido a la estasis sanguínea, que pueden evolucionar a enfermedad venosa crónica.
Estas medias forman parte de la Terapia de compresión, una estrategia preventiva y terapéutica eficaz en la insuficiencia venosa porque contribuye a mejorar el retorno venoso, disminuyendo los síntomas mencionados en las extremidades inferiores, así como también, favorece la cicatrización de las úlceras vasculares no complicadas.
Es importante que sean indicadas por un médico debido a que hay distintos niveles de compresión y deben ser lo suficientemente fuerte para compensar las presiones venosas patológicas muy elevadas, reabsorber los edemas dentro del compartimento vascular y anular las consecuencias tisulares de la enfermedad vascular pero sin ocluir el flujo arterial.
Modelos
Existen hasta la rodilla, hasta la mitad o la parte proximal del muslo y hasta la cintura. La elección dependerá de los requerimientos de cada persona.
Tipos de compresión
Leve: 10-18mmHg
Moderada: 18-30mmHg
Fuerte: >30mmHg (indicadas en úlceras curadas o posterior a cirugía)
Ocupaciones que se ven favorecidas con el uso de la terapia compresiva
Trabajadores sanitarios que pasan mucho de pie y personal de oficina que pasa mucho tiempo sentado. También favorece a las mujeres embarazadas, a los atletas, runners, crossfitters, basquetbolistas, a quienes realizan trekking y viajes de larga distancia.
Contraindicaciones para su uso
Dermatitis en fase aguda
Artritis en fase aguda
Insuficiencia arterial moderada y severa
En insuficiencia cardiaca descompensada y artritis reumatoide podría emplearse con precaución.
[English]
Hello, friends! 🧡
A few days ago, I bought some compression stockings with a lovely design to take better care of the health of my legs, since spending so many hours standing during the days at the hospital, this is a risk factor for symptoms such as pain, edema and skin changes due to blood stasis, which can evolve into chronic venous disease.
These stockings are part of the Compression Therapy, an effective preventive and therapeutic strategy in venous insufficiency because they contribute to improve venous return, reducing the symptoms mentioned in the lower extremities, as well as favoring the healing of uncomplicated vascular ulcers.
It is important that they are indicated by a physician because there are different levels of compression and they must be strong enough to compensate for very high pathological venous pressures, reabsorb edemas within the vascular compartment and annul the tissue consequences of vascular disease but without occluding arterial flow.
Models
There are knee-length, mid to proximal thigh and waist-length. The choice will depend on the individual's requirements.
Compression types
Mild: 10-18mmHg
Moderate: 18-30mmHg
Strong: >30mmHg (indicated in healed ulcers or following surgery)
Occupations that are favored by the use of compression therapy
Healthcare workers who spend a lot of time on their feet and office workers who spend a lot of time sitting. It also favors pregnant women, athletes, runners, crossfitters, basketball players, trekkers and long distance travelers.
Contraindications for use
Dermatitis in acute phase
Acute phase arthritis
Moderate and severe arterial insufficiency
In decompensated heart failure and rheumatoid arthritis it could be used with the appropriate indications depending on the requirements of each individual.
---
Mis medias de corazones son de moderada compresión, realmente me ayudan a disminuir el cansancio de mis piernas luego de estar tantas horas de pie. No sufro de insuficiencia venosa, pero actuando desde la prevención inicié a usar estas medias, complementando con ejercicio físico y utilizo muy poco zapatos de suelas planas como los Converse, optando por zapatos que brinden mayor soporte a mis pies.
My heart stockings are of moderate compression, they really help me to reduce the tiredness of my legs after being on my feet for so many hours. I don't suffer from venous insufficiency, but acting from prevention I started to use these stockings, complementing them with physical exercise and I use very little flat soled shoes like Converse, opting for shoes that provide more support to my feet.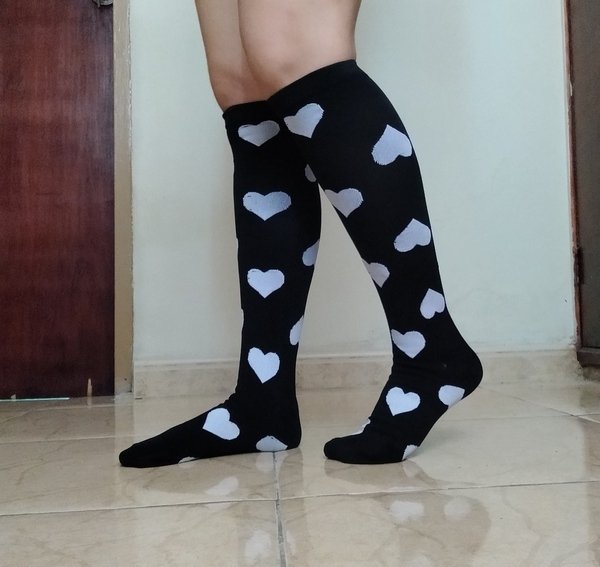 ---
¡Gracias por leerme! Cualquier duda pueden escribirla en los comentarios o comunicarse con su médico. Besos. Cuídense mucho.
Thanks for reading me! If you have any questions you can write them in the comments or contact your doctor. Kisses. Take care.