I tend to spend my days alone when working, when I'm not meeting with clients or my team at the office that is. I tend to do a lot of my work from café's, because I can, and mostly can be found sitting by myself tapping away on my keyboard or hooked up to my phone's head-set talking with clients. It's not a bad existence I guess, but it often leaves me a lot of time to think...Which is what I've been doing over lunch today, right now, as it turns out.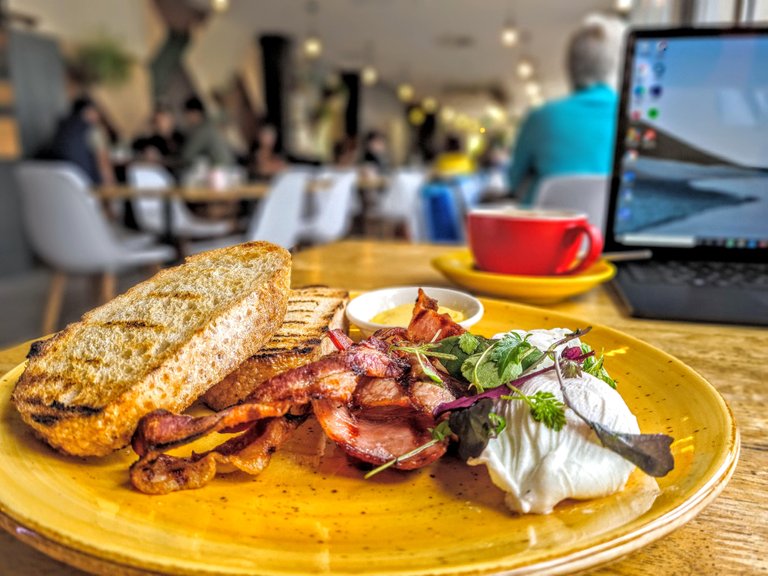 G-dog's Friday lunch of poached eggs, bacon, artisan rye bread and coffee.
So, my question...
I've been around for a while, on the blockchain I mean. It's been about three and a half years now and I've enjoyed my time here a great deal - I still do! I just wanted to get that out there up front.
I have to be honest though, I'm a little perplexed about something and I thought I'd pose the question to the rest of you hivers as someone may have an answer for me...I'm hoping so anyway.
That image below is a screen capture of one of my posts...I've circled the item that has lead me to write this post and ask this question:
What is up with the comment-notifier on our posts?

Can someone please throw some light on this situation that endures over two weeks after the recent Hard Fork? Or is it just me that only gets the '1' notification?
I know, I know, it might seems like a small thing...But is it? And if it's a small thing why can't it be rectified?
My concern is that when people look at the blockchain, external people, they see very little activity. I mean some of my posts have attracted over 600+ comments, a single post, and yet it shows only the one. Not so good for a social media don't you think?
Don't get me wrong here, I'm not complaining, I'm fully-engaged with hive and enjoy my time here, but I'm bemused as to why this small thing cannot be rectified...Over two weeks after the Hard Fork.
Something else that I find baffling is the lack of dialogue around it...I have seen zero comments or posts relating to it and the only discussions I've had have been privately on Discord in private messages with friends...Who are also just as perplexed I might add.
Can someone please enlighten me...Please tell me that there's some overly technical reason for this, that it is being investigated, that some smart coder somewhere is working day and night on the issue and it will be sorted. Tell me to shut the hell up and stop whinging, tell me I'm an annoying wanker...I don't fucking care...Just tell me something about this issue.
OK, rant-mode is off now...Sorry. 😁
Anyway, engagement here is very important as is showing activity and I think we (whomever has the power) can do this a little better. Don't you agree?
I'm a nobody on the blockchain, just another user, and I hold no sway anywhere, but maybe someone who does might be able to help me with this question? Please?
So that's it for now...I've just ordered another coffee and will sip it and calm the fuck down whilst people-watching. It's Friday after all and there's no point carrying stress into the weekend.
The #weekend-engagement post will be out later today, probably in around seven to eight hours, so look out for it and get engaged...I'll reply to your comments and engage right back, as will others.
Have a great end of week y'all...Sorry for my mini-rant. No I'm not!
---
Design and create your ideal life, don't live it by default - Tomorrow isn't promised.
Be well
Discord: galenkp#9209
---