I knew that they were developing a new games at Kryptogames, but I had to idea that they were close to releasing it.
When I logged in this morning to check my dividends, I was surprised to see a new game Icon!
Casino War
Casino war is a simply game with not a lot of rules. The players wagers an amount of Steem, and a card is draw for the Casino and the Player!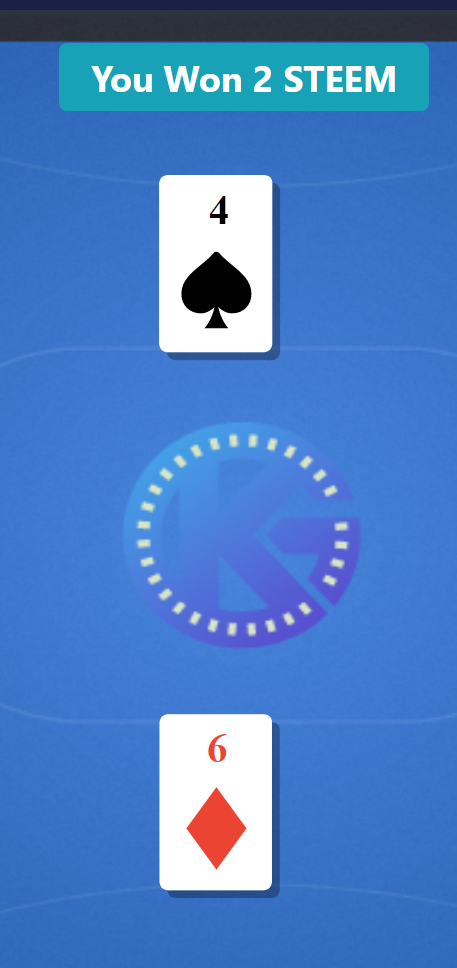 When you card is higher than the card of the Casino, you do win your initial wager back and the same amount as bonus.
When there is a draw, the player has an option to surrender (Casino wins) or the wager the same amount again, the draw the next card for the player and the Casino. When won here, you will win the amount wagered plus the initial wager amount. So for an initial 1 steem bet, you will get 3 in return).
House edge
The game is played with 4 decks (confirmed by Kryptogames in their discord channel).
In a 6 deck game the win probability for the player is 46.3%. This is the same probability for the house. The house edge comes mostly from the ties!
The war gives you the possibility to win one unit or loose 2.
With 4 decks there is a 7.2115% chance on a tie. If you are dealt with let's say 6 of spades, there are 15 more 6s in the deck. So 15/208 (4 decks) does give you this probability!
It is a game where the players will win more hands than he will loose hands. But with the war rules in places the Casino still had an edge!
Fun factor
Playing Casino War never will be the big money winner for a player. But I do guess that for a lot of us it will bring back memories. One of the first cards games learned to kids is War. Where a single deck is divided into two or three (depending on the number of players) and then one who has all cards at the end wins!
I am happy that Kryptogames is extending their game portfolio. With 4 games now (One dice game and 3 card games) it looks that they are here to stay! Also they do offer great support and a question in their discord is always answered!
I do hope that this new game will attract more players for them, because they do earn this! Now it is up to their competitor Epicdice to step up. The look and feel of Epic is better, but KG has better odds and more games.
If you want to try it out, you can click on one of the KG links in this post!
Cheers,
Peter