Well I did graduate from high school in the mid 90s. In my days the start of Highschool was simple. There were just 3 options, nothing more nothing less. You could choose a technical education, the regular high school or the more difficult one high school combined with ancient languages (Latin and/or Greek).
Because our oldest son will go to high school after the summer it was time to refresh our knowledge about the education system in Belgium. So that we could support him with making the right choices.
The CLB (A Center which guides student during their education) did gave an information session combined with some high school presenting themselves.
The desires high school was already more or less chosen. We do have a good high school in our town, which does offer enough options. Most of the kids from his current class will go to this school. So at least one thing less to worry about.
The old days
I did go to the Ancient Language option. Did study Latin from 9 hours per week! 9 hours!!!! Maybe I should also tell that a regular school week consists of 32 class hours.
In the second year, we had to make a choose between Latin combined with mathematics or Latin combined with Greek. That was an easy choose, mathematics it was. But after 2 years I did drop a level. Latin was just nothing for me!
When going to the fourth year (out of 6) another choose had to be made. At this moment one could add some more math, science or modern languages (English and French). At that moment science was the direction I went into!
The modernized version
A few years ago, the government decided to modernize the education. While this should prepared the kids better for the future it makes it also harder to make the correct decisions.
The 6 years of high school are now chopped into 3 major blocks. Grade 1 (first 2 years), grade 2 and grade 3.
A standard roster of 27 hours has been carved in stone. Regardless of which direction you will choose. The 5 extra hours can be filled in by the schools according to the regulations, this is called differentiation.
So our son, has more or less 5 choices. But we did rule out 3 of them. We did rule out the technical direction and the regular option. The first one because this is for the kids who don't graduate from primary school, the second one because we do think that he needs some stimulation. The other one we did rule out is the regular education with a talent discovery program. There is nothing wrong with this but his grades do indicate that he should be capable of cruising through the more difficult educations. Besides that if he does want to go into one of the directions after the first or second year, he will have to catch up a lot, which is never easy!
So this leaves 2 options for him:
First grade STEM
First grade Ancient Languages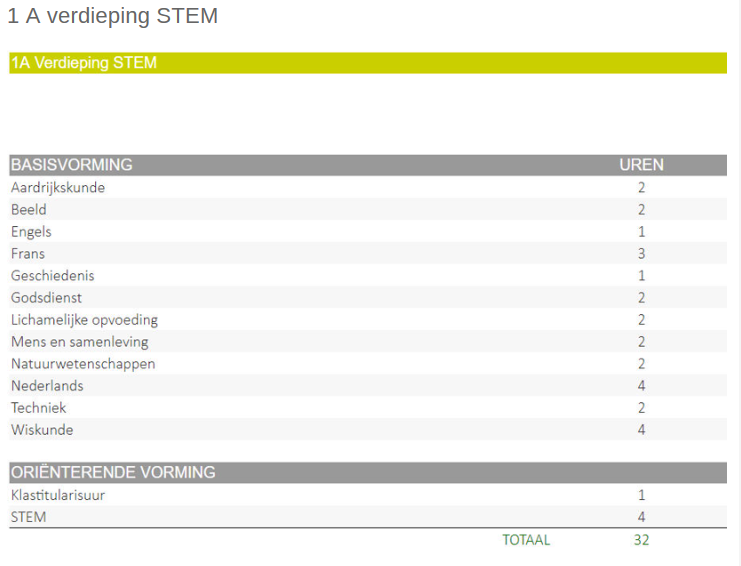 It is up to him which one he wants to follow. And to my surprise he is doubting. Most people do have the opinion that Ancient Language are only important if one want to go into a medical educations. I beg to differ. The ones who did study Latin, do know that the analyzing skills are improved a lot. Each sentence and text does have to analyzed!
The only difference between the 2 direction is that one has 4 hours Latin per week, while the other has 4 hours STEM per week (Science, Technology, Engineering and Mathematics).
I do prefer the STEM direction because I do think that it is a better fit for the future!
What I do find strange in the 27 hours. Is that there is no Computer Science and may to less English. They do start with 3 hours French per week and 1 hour English. French is one of the official languages here in Belgium. But I do think 2 hours French and 2 hours English would have been better!
Well it is up to him to decide. But this is one difficult decisions for sure for the kids who don't have a dream job yet!
But I do think that the modernized version will prepare the kids better for the future. But it is hard to tell because this year is the first year of the modernized version.
Cheers,
Peter