Era un día soleado lleno de grandes expectativas, la gente anda agitada de arriba abajo viviendo las fantasías de estos tiempos mágicos con olor a ilusiones. Tome el subte y me distraje pensando en el mundo interior de los seres humanos, allí entre las cortinas interiores existen historias particulares con un sin fin de capítulos.
En sus manos portaban una herramienta poderosa que parecía paralizar hasta la respiración, los sentí ausentes como mirando tan solo eso que reflejaba un gran pez cocodrilo con boca gigante y dientes afilados triturando sus ideas, impresionaba como al pulsar algunas teclas este pez cocodrilo cambiaba sus emociones, algunas veces se matizaba azul por algún motivo inspirador, otro verde quizás por algún evento esperanzador, rojo tal vez por algún pensamiento contrario a lo esperado y violeta al reír transformando todo el espacio en una nube de arcoíris.
El silencio reina y aún cuando el subte está rebosando en ideas, cómo relámpago fugas este caballo de hierro porta día tras día las incertidumbres envueltas. Salta por sus oídos un Caballo extranjero como que llegara de un planeta lejano, galopa velos arrebatando a todos aquel extraño aparato con cabeza de pez y dientes de cocodrilo, con saltitos que destellan estrellas trata de presentarse para innovar y que sus ojos por un instante observen el hermoso universo que han alejado de su corazón y que hoy enfría el amor de hogar que es para siempre.
Las personas seguían inmóviles metidas en ese mundo tecnológico y no notaban la presencia de aquel Caballo extranjero de un planeta lejano que venía cargado de alegría y felicidad, la gente se bajaba en sus estaciones sin levantar la mirada ya no socializaban y el Caballo extranjero tan solo deseaba que sus ojos volvieran a descubrir la armonía de la convivencia.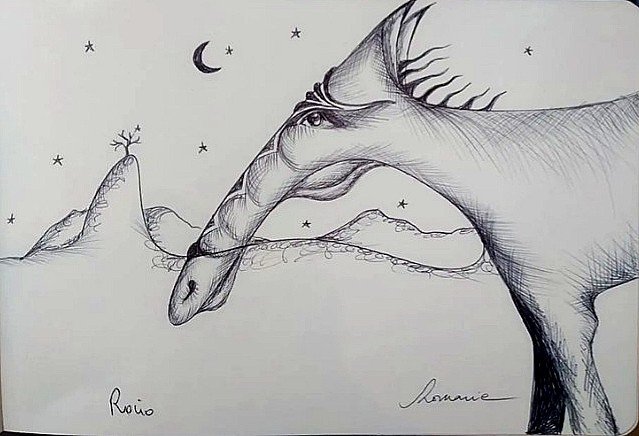 Dibujos: @rxomanie
It was a sunny day full of great expectations, people are agitated from top to bottom living the fantasies of these magical times smelling of illusions. I took the subway and got distracted thinking about the inner world of human beings, there between the inner curtains there are particular stories with endless chapters.
In their hands they carried a powerful tool that seemed to paralyze even breathing, I felt them absent as looking only at that which reflected a large crocodile fish with a giant mouth and sharp teeth crushing their ideas, it was impressive how when pressing some keys this crocodile fish changed their emotions Sometimes it was tinged blue for some inspiring reason, another green perhaps for some hopeful event, red perhaps for some thought contrary to expectations and violet when laughing transforming the entire space into a rainbow cloud.
Silence reigns and even when the subway is overflowing with ideas, how lightning escapes this iron horse carries the uncertainties involved day after day. A foreign Horse leaps through his ears as if it came from a distant planet, gallops veils snatching from everyone that strange apparatus with the head of a fish and teeth of a crocodile, with little hops that sparkle stars, it tries to present itself to innovate and let your eyes observe for a moment the beautiful universe that they have taken away from their heart and that today cools the love of home that is forever.
People were still immobile stuck in that technological world and did not notice the presence of that foreign Horse from a distant planet that came loaded with joy and happiness, people got off at their stations without looking up, they no longer socialized and the foreign Horse just he wanted his eyes to rediscover the harmony of coexistence.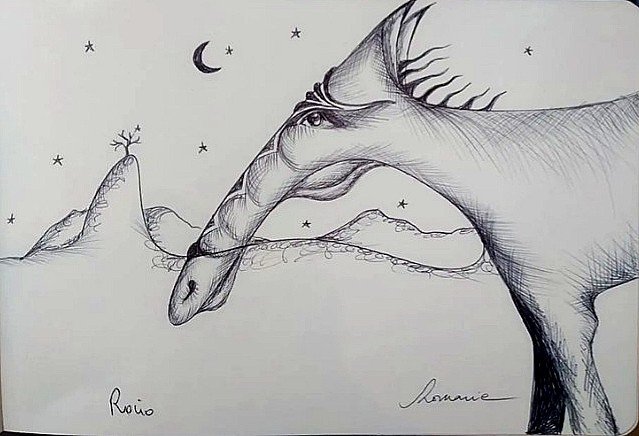 Drawings: @romanie