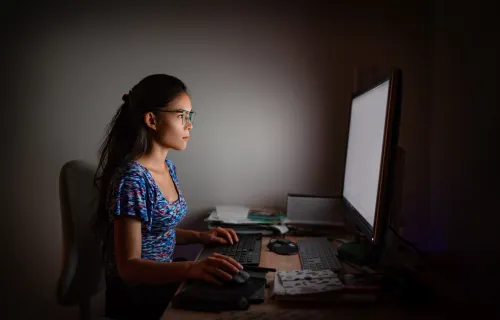 CORVALLIS, Ore. — Too much blue light from gadgets like televisions, laptops, and smartphones can accelerate the aging process, a new study warns. Researchers found that the light could also lead to the onset of obesity and psychological problems.
"Excessive exposure to blue light from everyday devices, such as TVs, laptops, and phones, may have detrimental effects on a wide range of cells in our body, from skin and fat cells, to sensory neurons," says Dr. Jadwiga Giebultowicz, a professor at the Department of Integrative Biology at Oregon State University, in a media release. "We are the first to show that the levels of specific metabolites – chemicals that are essential for cells to function correctly – are altered in fruit flies exposed to blue light."
Been a while since I posted but I read this article, it popped my interest and I wanted to talk about it. Blue light has been a concern of mine for a while now. It's been proven that blue light exposure before bed can have a negative impact on your sleep and we are bombarded with blue light all the time from the energy saving LED lights. I would consider blue light a pollutant especially at night. The brightness of cities has increase greatly over the years since they've all switched to LED street lights too.
they discovered that the levels of one metabolite, succinate, increased, while glutamate levels dropped.
Glutamate is a source of fuel for the body and the brain needs it to function too so when you have an increase in metabolism your body is going to use up that glutamate so the lower levels make sense. And an increase in metabolism is going to make you fat and cause a whole host of issues.
Blue light disrupts sleep and if you're not sleeping well that's going to cause a whole host of problems including early death. So that's what I think is going on here. Sleep is important and if you're not sleeping well it could be a number of things but decreasing your exposure to blue light at night will probably help and even increasing your exposure to red light and infrared can improve your quality of sleep. Basically get out in the sun for a while during the day and turn the lights down or avoid blue light as much as possible at night.