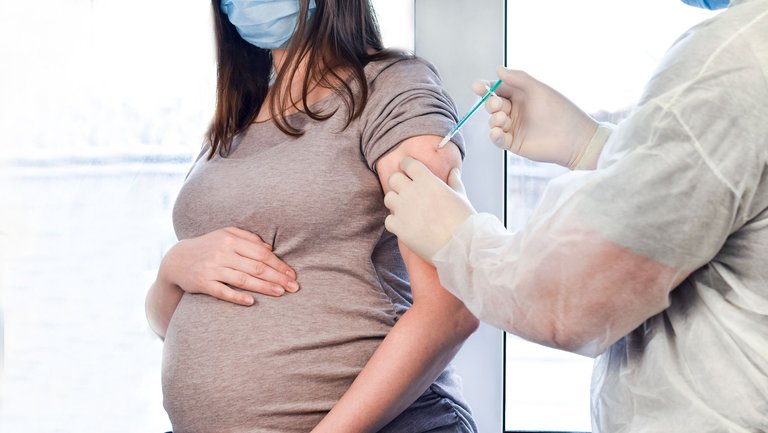 Source image
Not only anti-inflammatory, health institutions also reverse course on anti-Covid vaccines. At least this is what is happening in the UK, where the Ministry of Health recently updated the vaccination campaign guidelines for Pfizer's preparation. In a document released on the English government website on August 16, 2022, a passage on vaccination of pregnant women stands out that leaves us perplexed:
It is considered that sufficient reassurance on the safety of vaccines for pregnant women cannot be provided at the moment.
The same paragraph states that:
Women who are breastfeeding should not be vaccinated.
The ministerial update clashes with a document still available from 11 April 2022, in which the British health authorities strongly recommended vaccination for pregnant and breastfeeding women. In short, the exact opposite of what is stated in the new guidelines. UK Health Minister Sajid Javid on January 14 invited pregnant women to be given the serum on Twitter:
By vaccinating you will protect yourself and your baby.
It is also confirmed that no mRNA vaccine toxicity tests, nor genotoxicity, and even less carcinogenesis tests have been performed. Since they are not considered necessary to obtain a license to develop vaccines against infectious diseases. It is useful to remember that anti-Covid vaccines have been authorized in an emergency, with streamlined clinical trials and reduced bureaucracy to bring these drugs to market as soon as possible.
At the beginning of December 2021, the first internal documents of Pfizer clinical trials had been published. At the time, the reckless use of vaccines on pregnant women raised many concerns. Out of 270 cases, 23 spontaneous abortions and a further 5 cases of newborns who died before and after delivery were reported. Adverse effects were also caused by the breast milk of vaccinated women, whose children experienced, among others, insomnia, anxiety, allergic reactions to the vaccine and malnutrition. In short, the science of government changes the cards on the table, and does so in the most deafening silence.
References:
https://www.normanfenton.com/post/breaking-news-uk-government-says-vaccine-not-safe-for-pregnant-or-breastfeeding-women
https://www.gov.uk/government/publications/regulatory-approval-of-pfizer-biontech-vaccine-for-covid-19/summary-public-assessment-report-for-pfizerbiontech-covid-19-vaccine
https://www.gov.uk/government/publications/covid-19-vaccination-women-of-childbearing-age-currently-pregnant-planning-a-pregnancy-or-breastfeeding/covid-19-vaccination-a-guide-for-women-of-childbearing-age-pregnant-planning-a-pregnancy-or-breastfeeding


BLOGGING
GEOPOLITICS | ENVIRONMENT | WAR | ECONOMICS | SOCIETY | GAMING

CURRENTLY PLAYING



IF YOU SIGN UP ON THIS GAMES WITH MY REF LINK CONTACT ME FOR HELP