Here's the 4th look into the Garden Shed where we look for tools, tips and on a tough day, a little inspiration.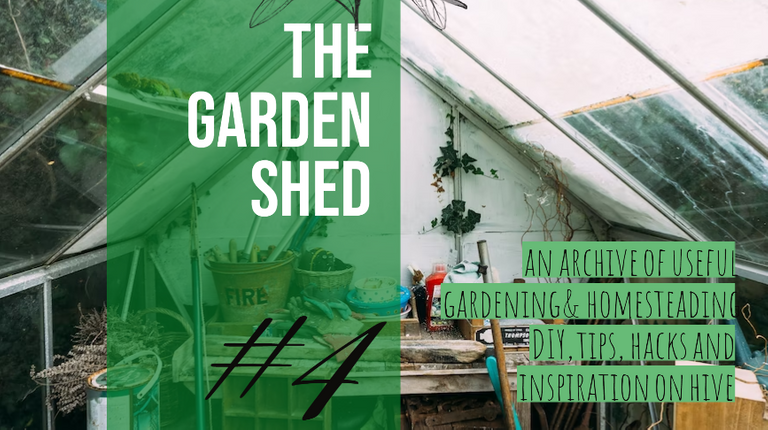 What Is The Garden Shed?
This collection is designed as an archive to easily find and reference posts which might assist fellow gardeners.
It is not published weekly, rather, upon discovery of EIGHT posts. This means sometimes posts may come out twice a week or once a month!
Each publication, we award THREE recipients with a 5 percent beneficiary, plus a beneficiary for the curator of the post at the discretion of the curator. Any remaining HIVE will be powered up to help with upvotes. Please support by upvoting, reblogging or delegating.
As some of these posts may be past payout, we ask you to go and support at least one of the feature authors to put a smile on their face.
The Shed...
https://peakd.com/hive-140635/@umirais/harvesting-curcuma-in-polybags-and-how-to-plant-curcuma-in-polybags
https://peakd.com/hive-166168/@riverflows/myco-notes-winter-bucket-mushroom-grow
https://peakd.com/hive-140635/@isdarmady/beginners-mistakes-when-starting-hydropnic-part-1-and-my-hydroponics-journal-weekly-8-15-august-2022
https://peakd.com/hive-140635/@fermentedphil/making-charcoal-for-the-compost
https://peakd.com/hive-140635/@afterglow/repotting-papaya-seedlings
https://peakd.com/hive-140635/@anttn/visiting-the-amazing-botanical-garden-of-kerdalo-in-brittany
https://peakd.com/hive-140635/@samstonehill/the-pumpkin-house-double-decker-gardening-to-beat-the-heat
https://peakd.com/hive-140635/@goisal/curing-the-fruit-plants-in
---
This week's beneficiaries go to @goisal @fermentedphil and @isdarmady Thanks so much for all you contribute to the Hive Garden!


The HIVE GARDEN COMMUNITY supports gardening, homesteading, cannabis growers, permaculture and other garden or botanical related content. Delegations to the curation account, @gardenhive, are welcome! Find our community here!

Thumbnail image courtesy of Unsplash