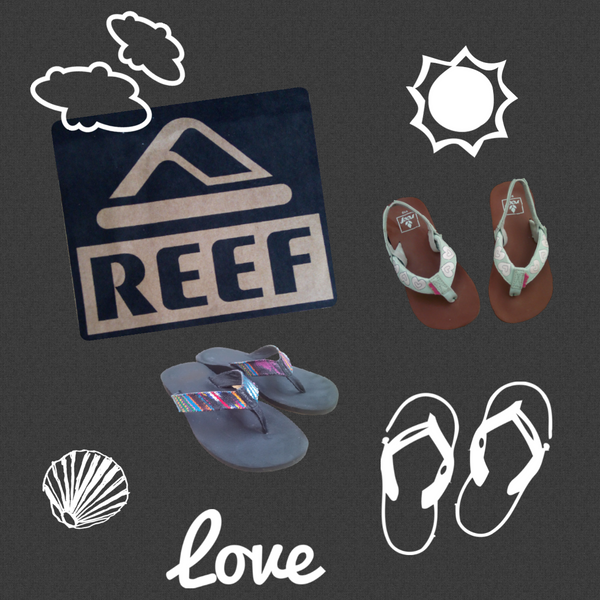 El entorno que te rodea está constituido de objetos que representan una marca, hay diferentes calidades y propósitos. Las marcas se identifican con un signo que se fije en la memoria a determinado público, ofreciendo un estilo que vaya con el gusto personal, que brinde bienestar, ahorro económico y algunas contribuyen en preservar el ambiente La marca Reef reúne para mí esos criterios y ahora que resido en Argentina puedo certificar que son una marca genial y respetable.

La Reef es una marca Argentina propagada en otras rincones del planeta que le ofrece a un público particular disfrutar del confort con ojotas, zapatillas y ropas. Resulta que, esta linda marca contiene un diseño que representa un estilo de paseo, casual, playero y diferentes estaciones del año para identificarse con el entorno. Povengo de un lugar atractivo donde las playas del oriente de mi país Venezuela te invita a estar acordé con el entorno, así que las personas estilan colocarse Ojotas conocidas por los venezolanos como Cholitas y encontrar este símbolo aquí me complació.
The environment around you is made up of objects that represent a brand, there are different qualities and purposes. Brands are identified with a sign that is fixed in the memory of a certain public, offering a style that goes with personal taste, that provides welfare, economic savings and some contribute to preserve the environment. The Reef brand meets these criteria for me and now that I live in Argentina I can certify that they are a great and respectable brand. The Reef brand meets these criteria for me and now that I live in Argentina I can certify that they are a great and respectable brand.
Reef is an Argentine brand spread in other corners of the planet that offers a particular public to enjoy comfort with flip-flops, sneakers and clothes. It turns out, this cute brand contains a design that represents a walking style, casual, beach and different seasons of the year to identify with the environment. I come from an attractive place where the beaches of the east of my country Venezuela invites you to be in harmony with the environment, so people use to wear Ojotas known by Venezuelans as Cholitas and I was pleased to find this symbol here.
---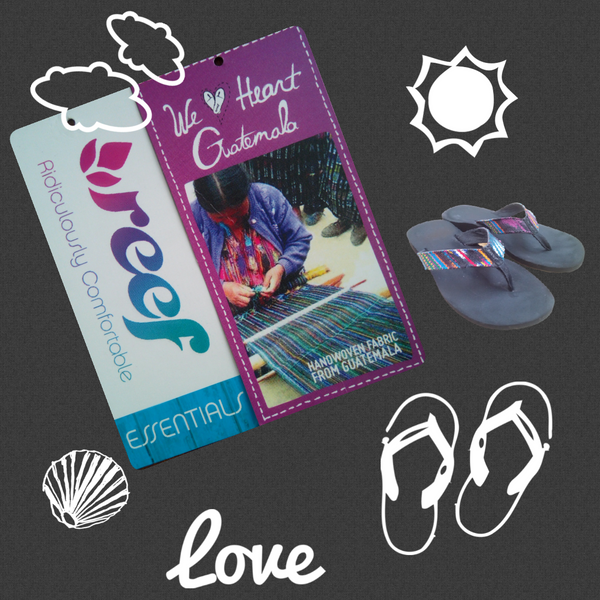 La marca Reef posee diseños para adultos y niños conservadores, tradicionales, modernos, útiles y conservacionistas, pensando en el ambiente. Recientemente compré en la tienda Reef, unas ojotas inspiradas en el tejido colorido de Guatemala, la cual me encantó y el costo era accesible, además como dice la presentación eran ridículamente confortable porque están elaboradas de goma Eva que amortigua la pisada y es un material reciclable.
The Reef brand has designs for adults and children that are conservative, traditional, modern, useful and conservationist, with the environment in mind. I recently bought at the Reef store, some flip-flops inspired by the colorful fabric of Guatemala, which I loved and the cost was affordable, plus as the presentation says they were ridiculously comfortable because they are made of Eva rubber that cushions the footprint and is a recyclable material.
---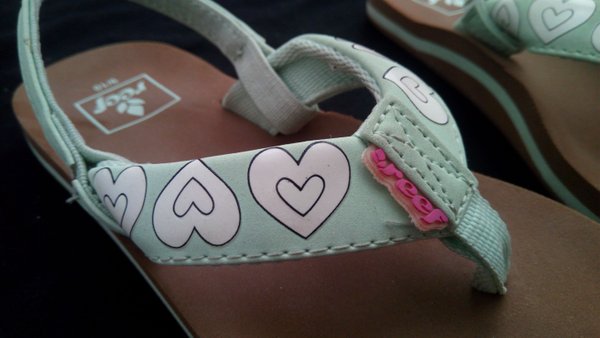 Les cuento que mi hija le llamó la atención unas Cholitas con corazones, decidí que se las probara, le quedaron de maravilla y resultó que estaba el par en ofertas; sin embargo, eso no fue lo que nos alegró, sino que el vendedor nos informa que las ojotas vienen con tecnología Camaleón (Pigmentos Termocrómicos), cambian de color debido a la temperatura. En otras palabras, los rayos UV y la temperatura del ambiente hacen que el material con el que está elaborado reaccione transformando los colores en otros y crea un efecto de felicidad en los niños.
I tell you that my daughter was attracted to some Cholitas with hearts, I decided to try them on, they looked great and it turned out that the pair was on sale; however, that was not what made us happy, but the seller informed us that the flip-flops come with Chameleon technology (Thermochromic Pigments), they change color due to temperature. In other words, the UV rays and the temperature of the environment cause the material used to make them react, transforming the colors into other colors and creating a happy effect in children.
---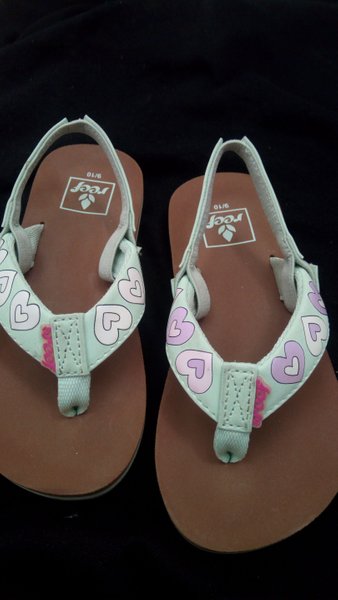 Esta creación tecnológica nace en el 2014 por un proyecto y fue receptivo para captar al público infantil y ahora está en diferentes productos como ropa, accesorios, juguetes, utensilios de bebidas y más para un público amplio. Asimismo ofrece información sobre aquello que no podemos observar y los beneficios que los objetos cambien de color porque ofrece información al usuario, una ventaja para notificar el estado de la temperatura por ejemplo de una taza. Si desea conocer un poco más visita este

La marca Reef evoluciona, es versátil, es reconocida y certificada de ser cómoda, presentable, versátil y busca estar a la par de las tendencias sin dejar su esencia e incorpora a la composición de algunos de sus productos materiales que ayuden a cuidar el medio ambiente. Un producto como las ojotas que tienen las bondades mencionadas, aquí les dejo el link oficial de la marca Reef
This technological creation was born in 2014 by a project and was receptive to capture the child audience and is now in different products such as clothing, accessories, toys, beverage utensils and more for a wide audience. It also offers information about what we cannot observe and the benefits that objects change color because it offers information to the user, an advantage to notify the state of the temperature for example of a cup. If you want to know a little more, visit this link
The Reef brand evolves, is versatile, is recognized and certified to be comfortable, presentable, versatile and seeks to keep up with trends without leaving its essence and incorporates into the composition of some of its products materials that help care for the environment. A product like the flip-flops that have the mentioned benefits, here is the official link of the brand Reef

Agradezco la visita y el apoyo a mi producción

Las dos primeras imágenes creadas con la aplicación Fotocollages. Fotos tomadas con mi teléfono móvil noblex modelo 551.



Soy miembro de @motherhood

Diseño realizado en Canva
@AntonietaGonzl7
Twitter

Las publicaciones elaboradas en mi blog son realizadas desde un móvil Noblex modelo 551.