---
Dependiendo de en qué zona del mundo te encuentres, puedes hallar que los apagones o cortes de electricidad en tu zona pueden llegar a ser frecuentes o incluso durar horas. Y si eres creador de contenido en #Hive, seguramente esto interrumpe tu flujo de trabajo, y no puedes escribir las ideas que tengas, al menos que sea en el teléfono.
Sin embargo, el teléfono por si solo puede llegar a ser incómodo para escribir, al menos si quieres escribir un post de 500 a 1000 palabras. Es por ello que en este video de #3Speak te mostraré una manera que he encontrado de conectar el teclado de la computadora a tu teléfono, para así escribir más cómodamente en el teléfono.
Esto no solamente puede serte útil si no dispones de energía eléctrica en tu hogar o en donde sea que te encuentres, sino que también puede ser útil en cualquier momento, ya sea que tu computadora esté ocupada o no quieras encenderla.
Depending on what part of the world you're in, you may find that power outages in your area can be frequent or even last for hours. And if you're a content creator at #Hive, this surely disrupts your workflow, and you can't write down any ideas you have, unless it's on your phone.

However, the phone alone can become uncomfortable to write on, at least if you want to write a 500 to 1000 word post. That's why in this #3Speak video I'll show you a way I've found to connect your computer keyboard to your phone, so you can type more comfortably on your phone.

Not only can this be useful if you don't have power at home or wherever you are, but it can also be useful at any time, whether your computer is busy or you don't want to turn it on.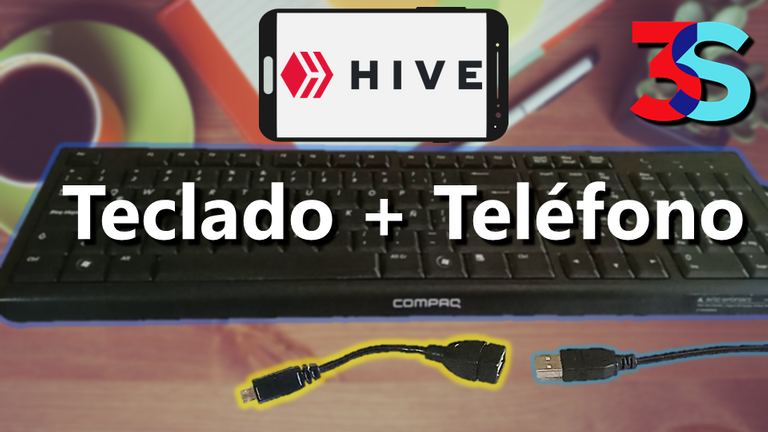 Imagen editada en PowerPoint - Pixabay - Pixabay
Nota: esto puede no funcionar con algunos teléfonos.
Para poder realizar esto, necesitas:
•Teléfono.
•Teclado.
•Cable adaptador USB OTG.
Este es un cable especial que posee en sus extremos un puerto USB y en el otro una entrada para teléfonos, igual a la que se utiliza para cargarlo o transferir archivos a la computadora.
Note: this may not work with some phones.

To be able to do this, you need:

•Phone.

•Keyboard.

• USB OTG adapter cable.

This is a special cable that has a USB port on one end and a phone input on the other, just like the one used for charging or transferring files to the computer.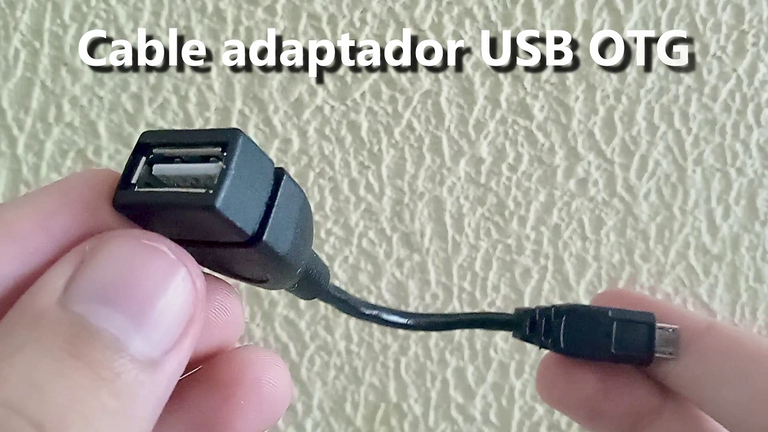 Espero que esto te sea útil, especialmente si los cortes de luz o energía eléctrica son comunes en tu zona. Ten en cuenta que algunos teléfonos no admiten esto. Mientras realizaba este video, encontré que con mi teléfono si podía hacerlo, pero no con el de mi mamá, el cual es uno de marca Yezz (el mío es Xiaomi Redmi).
Este cable sería un Gadget muy útil que puede ayudarte a la hora de crear contenido tanto para #Hive como para cualquier plataforma de contenidos. ¿Conocías este gadget?
I hope you find this useful, especially if power outages are common in your area. Note that some phones do not support this. While making this video, I found that with my phone I could do this, but not with my mom's phone, which is a Yezz (mine is Xiaomi Redmi).

This cable would be a very useful Gadget that can help you when creating content for both #Hive and any content platform. Did you know about this gadget?
---
Deja tu comentario o comparte (reblog) esta publicación si te ha parecido interesante.
Leave a comment or share (reblog) this post if you found it interesting.
---
Música: Futuristic Timelapse (de Coma-Media) - Pixabay
Video capturado mediante teléfono Xiaomi Redmi 9C
¡Gracias por visitar! — Deja tu comentario

---
▶️ 3Speak