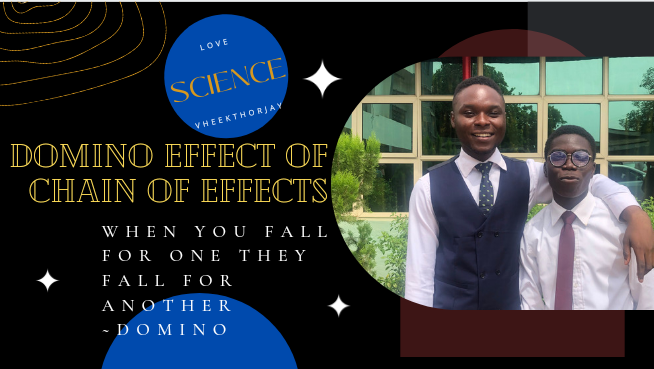 made by using canva

The Domino effect

Too many times,we are stuck with the a bad habit we can't seem to put off and it goes a long way in affecting how much we believe in ourselves and make us feel bad altogether.
An habit forms when we repeat a behavior or a style of leaving....there are people who bath every night(that's an habit),they developed the habit years ago when they did it continually(whether consciously or unconsciously).
Most of the time,we do things continually and it leads to bad habits,most of which we find really difficult to eliminate...now that is where the Domino effect comes in.
Before we proceed,we must first of all understand what ***Domino effect *means....We all know what dominos are right?(Picture below).....now if the dominos are placed not too far from each other i.e in the right position , and arranged like a chain then if the first Domino is tilted to fall,that one tilt will lead to the fall of the rest of the dominos.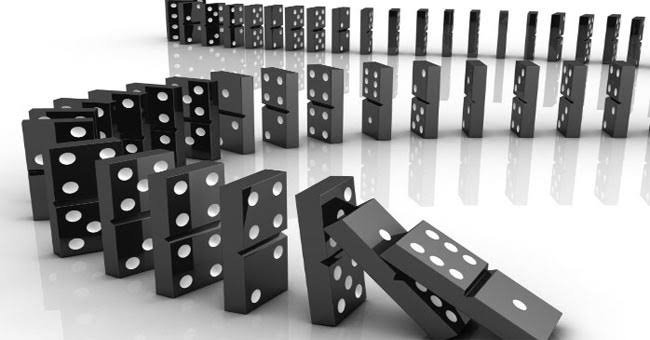 $ource
Just one tilt/push will result into a chain of effect(multiple effect) that is why the Domino effect is sometimes called the Ripple effect.
Now back to the main point,the Domino effect does not only apply to the game,it can work in our individual lives and can help us get rid of these bad habits and start new ones.
Let me start with an abstract example;A man who has never for ones cleaned his room before leaving the house unless he has a guest around or expecting one decided to clean his room for only 4 days(which doesn't sound like a big deal) and this is better than saying "start cleaning your rooom"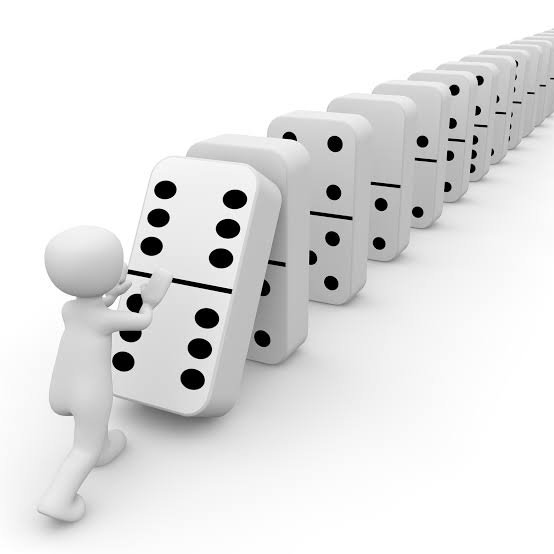 $ource
So this man cleaned his room for only 4 days,and on the 5th day,he realized that he wanted to not only clean his room but to also clean his sitting room and kitchen,which he did.....and in a month,he found himself cleaning the whole house.... Fantastic right?
The explanation of the ripple effect is that whenever you start doing something you didn't' do before ,it makes you feel good about yourself,helps your self image and also the way you believe in yourself.
I remember that when i was in high school (secondary school) and was struggling with doing house chores....i found that if i could play music; especially the ones i love,not long after,I'll feel like doing all the chores in the house.....this means that one habit (listening to music) resulted into another habit "house chores" which will also result into another habit until it forms a chain of habits.
The same principle works for bad habits,steal something and it'll lead you to do another bad thing,and then another one until it's hard to break the cycle......Our personality is actually a function of the choices we made when we were little because it kept leading into other choices and formed a ripple.

How then can we implement this
1.Start with tasks you are motivated to do :I was always motivated to listen to music and sing along and it led into doing housechores..
2.Be consistent: Persistence in the tasks that begin the Domino effect is really important as well. Build a momentum and don't stop it.
3.Break you work into chunks:Instead of losing 100kg,think about losing 1kg
Thank you for reading
God bless you real good.

Who is VheekthorJay

VheekthorJay is a Christian,Drummer,Writer,Farmer,lover of hive,striving to become a better version of himself.
He learns on a daily basis and looks at every disappointment as a blessing.
He is kind, loving and a good person
Thank you for always supporting him!!!!