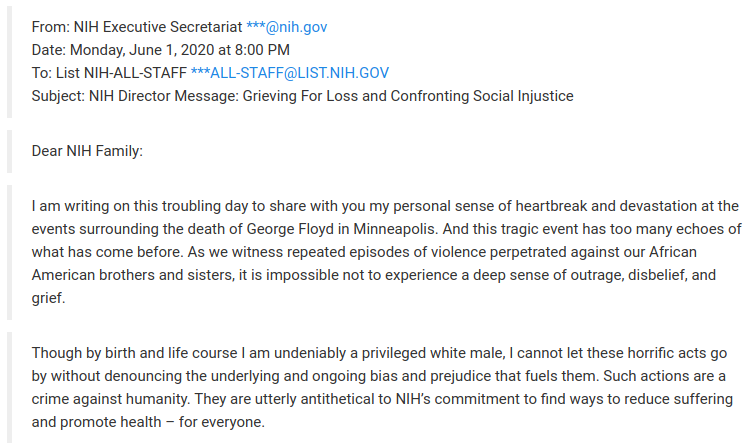 The following is an email allegedly penned by Francis S. Collins, M.D., Ph.D. addressed to all NIH personnel on 1 June 2020. The impetus to its writing was the death of George Floyd in police custody in Minneapolis on 25 May.
From: NIH Executive Secretariat ***@nih.gov
Date: Monday, June 1, 2020 at 8:00 PM
To: List NIH-ALL-STAFF ***[email protected]
Subject: NIH Director Message: Grieving For Loss and Confronting Social Injustice
Dear NIH Family:
I am writing on this troubling day to share with you my personal sense of heartbreak and devastation at the events surrounding the death of George Floyd in Minneapolis. And this tragic event has too many echoes of what has come before. As we witness repeated episodes of violence perpetrated against our African American brothers and sisters, it is impossible not to experience a deep sense of outrage, disbelief, and grief.
Though by birth and life course I am undeniably a privileged white male, I cannot let these horrific acts go by without denouncing the underlying and ongoing bias and prejudice that fuels them. Such actions are a crime against humanity. They are utterly antithetical to NIH's commitment to find ways to reduce suffering and promote health – for everyone.
I am reaching out to you today to share the grief and anger that I know you also feel, but also to reaffirm our common resolve. It will not be helpful to sanitize the facts or underestimate the challenges before us as a society. Four hundred years after the introduction of the sin of slavery in this country, there is still a tremendous amount of difficult work to do. It is hard not to feel helpless in the face of circumstances like this. But both as private citizens and as members of this great institution, I call on myself and everyone at NIH to do what we can – to ensure that we foster a culture of inclusion, equity, and respect for one another, and that justice will endure.
As leaders in health research, it is our duty to continually uncover new ways to improve people's lives and keep them free from harm and disease. One of our most important callings is to address the health disparities that prevent many from experiencing the full and complete life they hope for and deserve. The COVID-19 pandemic has shone a bright and deeply distressing light on just how much health inequity persists in our society. We need to look at this unflinchingly, and embrace that challenge, enlisting the vision of the talent all around us. We are surrounded by deeply committed colleagues who have not only studied health disparities and racial violence, they have lived them. We're reliable, capable, and resilient because of our many races, ethnicities, cultures, faiths, gender identities, sexual orientations, ages, abilities, and backgrounds. Our diversification fuels our creativity and drives innovation. I embrace that – now, more than ever.
COVID-19 has regrettably kept us apart from one another. I long to be with all of you now. We could have an amazing face to face town meeting right now. I could learn a lot from you. We might even sing together. But despite physical distancing, we are still a community that cares about each other. I encourage you to reach out, lend an ear, and provide a virtual shoulder to those in need. Let's show our collective strength by remaining allies and advocates for one another. Although the recent headlines make us want to look away in disgust and disappointment, let us look to each other for strength and hope, and recommit ourselves to our shared goals of making the world a better place -- for everyone.
Though I am heartbroken by the injustice of this dark moment, and deeply troubled about the increasing threat of violent responses, now is the time for us to come together as we serve together – across the NIH community. Our work has never been more critical. Our concern for each other has never been more important.
In the words of the great Dr. Martin Luther King, Jr.:
"Injustice anywhere is a threat to justice everywhere. We are caught in an inescapable network of mutuality, tied in a single garment of destiny. Whatever affects one directly, affects all indirectly."
Dear friends, I wish you peace, health, vision, and safety,
Francis S. Collins, M.D., Ph.D.
NIH Director
I have no reason to believe the letter is not genuine.
I had decided to write an open letter to Dr Collins showing the content of the above to be little more than woke propaganda and providing evidence showing that very little if anything in it is reflective of reality, and that if anything it is an expression of politically correct delusions. Research, however, proved to be time consuming and I have not published it in time - and now it is too late to publish it with the original intent in mind as Dr Collins has decided to resign anyhow - albeit for a different reason. The reason is, apparently, his indirect participation in the research of the virus gain of function conducted in Wuhan, China. So he has likely contributed, even if unwittingly, to the global pandemic that has caused millions of deaths, by some counts, and has been used by global elites for massive consolidation of wealth, influence and power.
What I discovered is, in my humble opinion, fascinating. From the fact that the African American population was more demographically successful in the 19th century than the whole population of France to the fact a Black American is less likely to be killed by police while unarmed than to be struck by a lightning there is plenty to show how detached from reality Dr Collins' position is. Once I have organized it - and I am close to that point - I will be publishing it. For now I think this email will suffice as yet another piece of evidence demonstrating that some of those in charge of the mainstream science - and Dr Collins seems to certainly fall into that cohort - are more in tune with politics than true science. If I was able to spend some time - not an insignificant amount, but nothing crazy - and discovered what I had discovered, then what excuse does a person in charge of a major research organisation have for not doing minimal due diligence and obtaining at least some basic relevant data before parroting politically correct propaganda?
References
BREAKING: NIH Director Francis Collins Resigns After Documents Reveal He Lied About His Involvement with Gain-of-Function Research in Wuhan Lab
Cristina Laila, Gateway Pundit, 5 October 2021
No racial bias in police shootings, study by Harvard professor shows
Valerie Richardson, The Washington Times, 11 July 2016
George Floyd: why did he die?
@borepstein , 30 August 2020
Social media links
Website
Support