This is my entry for post #075 in accordance to my introductory post.
Today 15/08/2020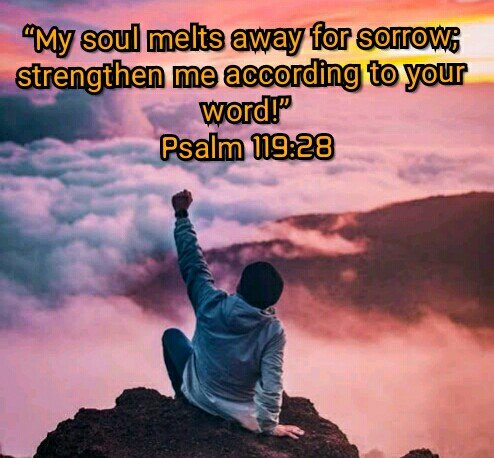 Psalm 119:28
Good day and happy weekend beloved!
What kind of prayer do you pray when you're in trouble?
What kind of prayer do you pray when your soup is troubled?
This very prayer can be added to your prayers.
Use this very Bible passage and also add these ones below to it.
Strengthen me oh Lord my God, for my soul melts away in sorrow.
I know you can hear me as I call on you oh Lord.
I believe that you can remove this very load that has kept me still.
God help us all in Jesus name. Amen.
---
My Previous Posts
Post 1-10
Post 11-21
Post 22-31
Post 32-40
Post 41-50
Post 51-60
Post 61-70
Post 71
Post 72
Post 73
Post 74
---
You can support this challenge by;
Voting
Reblogs
Comments
Thanks and God bless you.
Stay safe