Falta casi unos dos meses para que el año termine, en general puse algunas metas en enero y otras se fueron sumando y cumpliendo en el camino, la mayoría era de cosas que quería comprar, pero también de cosas más personales que quería conseguir, pero hoy hablemos de mi última compra.
Estos últimos dos meses me propuse gastar un poco menos de mi dinero ya que tenía ganas hace un tiempo de comprar una nueva silla, pero no conseguía cuotas que tengan sentido, muchos intereses y yo tengo una regla y es un máximo de 3mil en intereses y con la silla era imposible. Suelo estar atenta a las ofertas de mercado libre, porque a veces hay algunas muy buenas y así fue como la idea de la silla apareció y se hizo real, me encontré con una oferta que era imposible rechazar, una silla ergonómica a 20mil, con envió gratis y llegaba en dos días y justo estaba en casa ese día para recibirla.
There are almost two months left before the end of the year, in general I set some goals in January and others were added and fulfilled along the way, most of them were things I wanted to buy, but also more personal things I wanted to achieve, but today Let's talk about my last purchase.

These last two months I decided to spend a little less of my money since I wanted to buy a new chair for a while, but I couldn't get installments that make sense, a lot of interest and I have a rule and it is a maximum of 3 thousand in interest and with the chair it was impossible. I usually pay attention to free market offers, because sometimes there are some very good ones and that's how the idea of the chair appeared and became real, I found an offer that was impossible to refuse, an ergonomic chair for 20 thousand, with shipping free and it arrived in two days and I was just at home that day to receive it.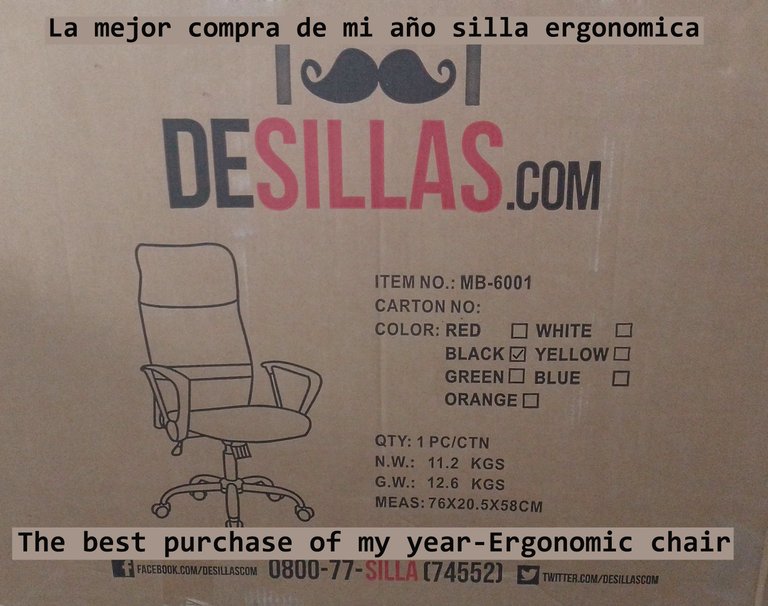 La silla es de la distribuidora de sillas punto com, cuando vi la oferta vi que en su tienda tenían menos descuento, eso me ayudo a decidirme de comprarla, vino es una caja bastante grande que contenía las piezas y unas fáciles instrucciones de armado, junto con todos los tornillos necesarios y la llave que necesitaba para armarlo, esto me pareció genial porque yo no tengo muchas herramientas en casa, solo unas pinzas y unos destornilladores y eso es todo, esto fue super útil.
The chair is from the dot com chair distributor, when I saw the offer I saw that their store had less discount, that helped me decide to buy it, it came in a fairly large box that contained the pieces and some easy assembly instructions, along with all the necessary screws and wrench I needed to put it together, I thought this was great because I don't have many tools at home, just some pliers and a screwdriver and that's it, this was super helpful.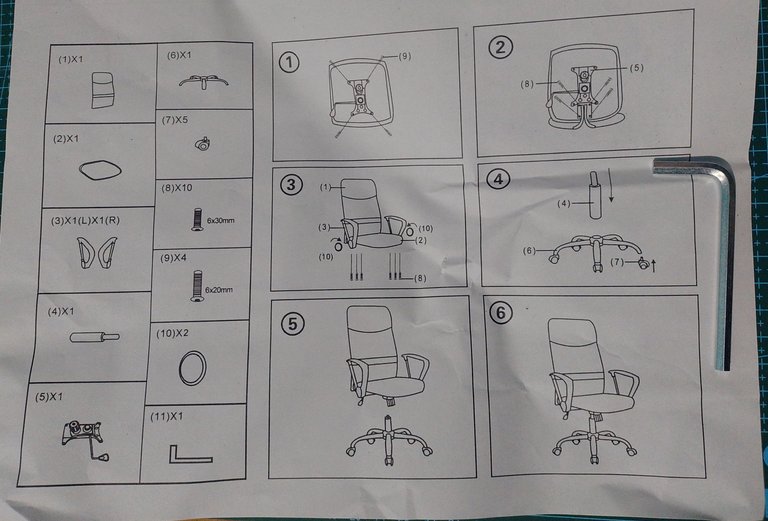 El armado es muy simple, se ponen las patas a la parte de abajo con presión, se ensambla la parte superior con unos enganches, y luego lo más difícil fue poner los apoyabrazos ya que estaba sola cuando la arme, pero no fue taaaan difícil.
The assembly is very simple, the legs are put on the lower part with pressure, the upper part is assembled with some hooks, and then the most difficult thing was to put the armrests since it was alone when I assembled it, but it was not sooo difficult.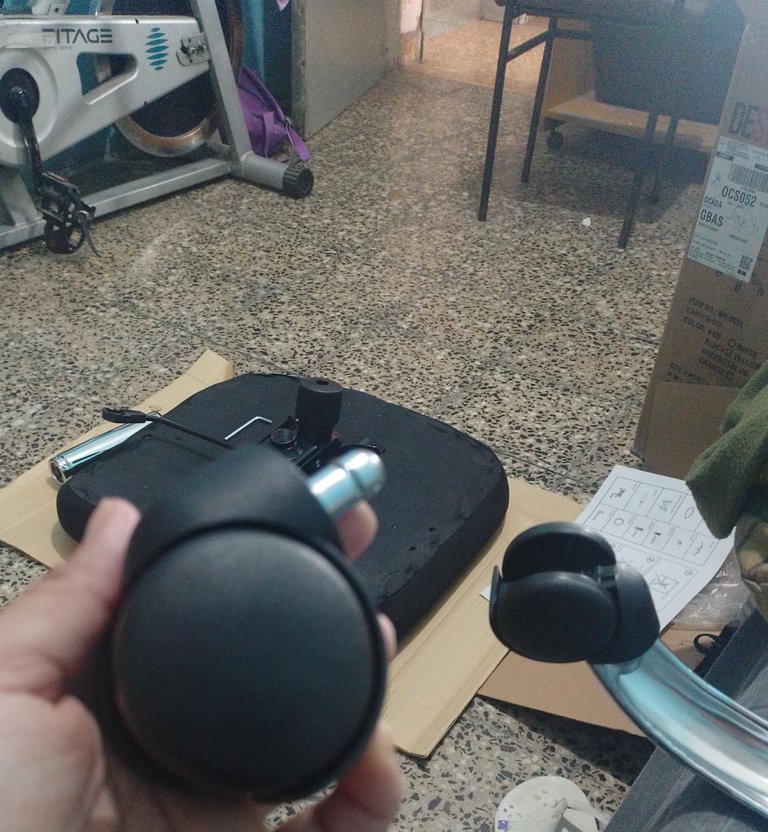 Estoy usando mi silla hace un tiempo y creo que fue una muy buena compra, de tamaño está un poco grande pero no me parece algo tan grave, por ejemplo, yo mido 1.50 y llego bien a la altura de cabeza. Lo que me costó un poco fue acomodar la altura que me fuera cómoda y me gustara, pero una vez esto listo puedo estar muchas horas sentada sin estar incomoda, en estas últimas semanas tuve días de estar 10 horas haciendo cosas de la facultad, tener la silla fue genial ya que evita que tenga dolores de espalda.
I've been using my chair for a while now and I think it was a very good purchase, the size is a bit big but it doesn't seem like such a big deal, for example, I'm 1.50m tall and I'm well up to head height. What was a little difficult for me was adjusting the height that was comfortable for me and that I liked, but once this is ready I can sit for many hours without being uncomfortable, in recent weeks I have spent 10 hours doing things from the university, having the chair was great as it keeps me from getting back pain.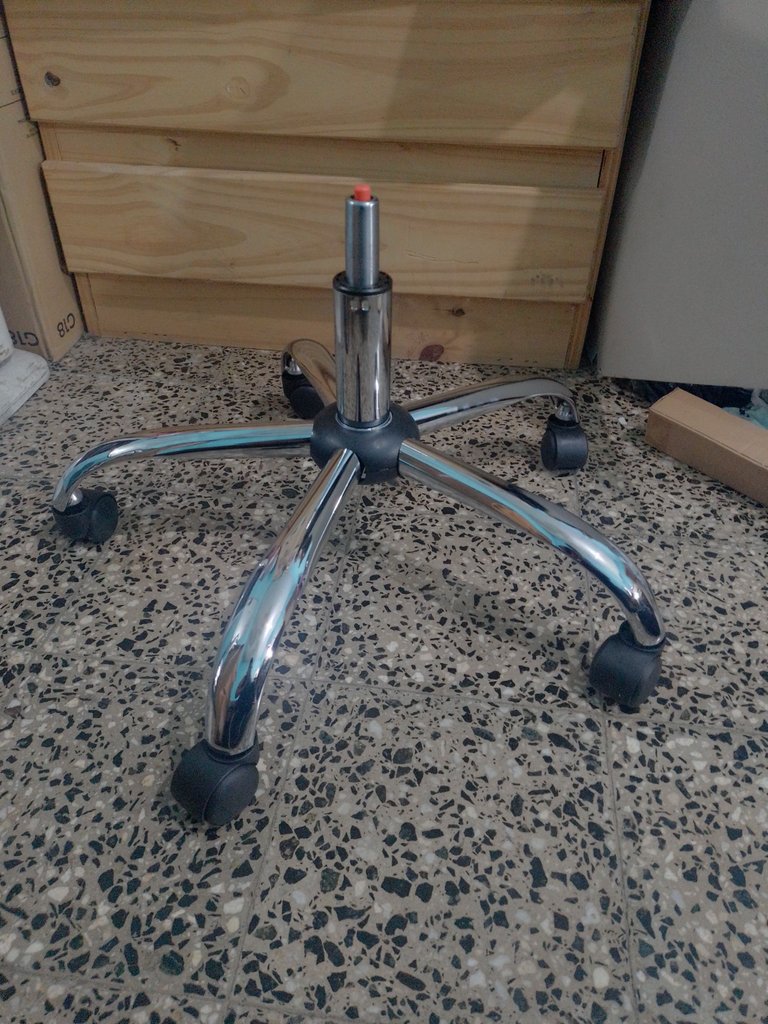 También las ruedas funcionan muy bien y cuando tengo que ir de un lado a otro me puedo deslizar por mi cuarto jajaja, esto es genial, en cuanto al material se ve bastante bien y no parece que vaya a ser caluroso en el verano ya que es una especie de tela de malla que deja pasar el aire, esa fue una gran razón para comprarla.
El sistema para reclinar es algo con lo que no estoy tan conforme, ya que tiene un sistema donde al girar una rueda que esta debajo se reclina un poco para atrás o queda fija, pero es algo complicado que quede fija, en general no necesito estar recta, pero cuando quiero hacerlo es difícil, me gustaría que esto fuera mejor.
Also the wheels work very well and when I have to go from one place to another I can slide around my room lol this is great material wise it looks pretty good and it doesn't look like it's going to be hot in the summer as it is a kind of mesh fabric that lets air through, that was a great reason to buy it.

The reclining system is something that I am not so satisfied with, since it has a system where when turning a wheel that is underneath it reclines a little backwards or remains fixed, but it is somewhat complicated to remain fixed, in general I do not need to be straight, but when I want to do it it's hard, I wish this was better.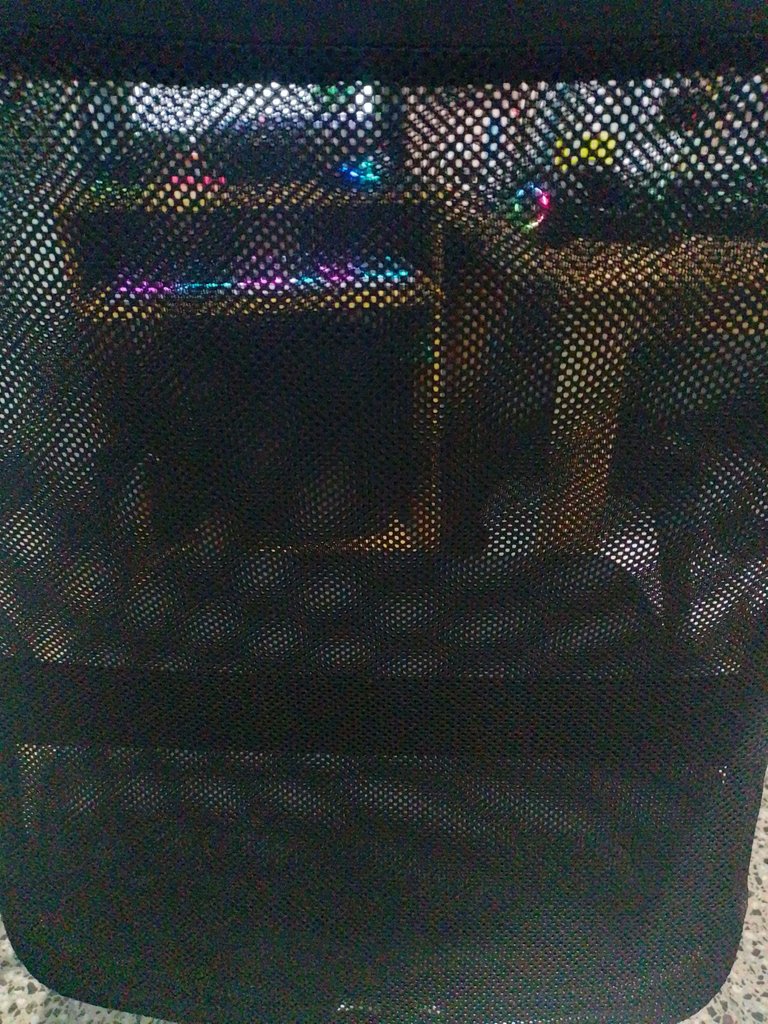 Estoy muy feliz con la silla, hace un tiempo casi cometo el error de comprar una silla gamer pero las que probe no me gustaron, hasta que probe la silla ergonómica que tiene mi novio y me convencí de ello, si bien la mía es un modelo mucho más sencillo tiene el apoyo lumbar y eso es lo importante, me daba algo de miedo que al ser sencilla no fuera cómoda.
I am very happy with the chair, a while ago I almost made the mistake of buying a gamer chair but I didn't like the ones I tried, until I tried the ergonomic chair that my boyfriend has and I was convinced of it, although mine is a model The lumbar support is much simpler and that is the important thing, I was a little afraid that being simple it would not be comfortable.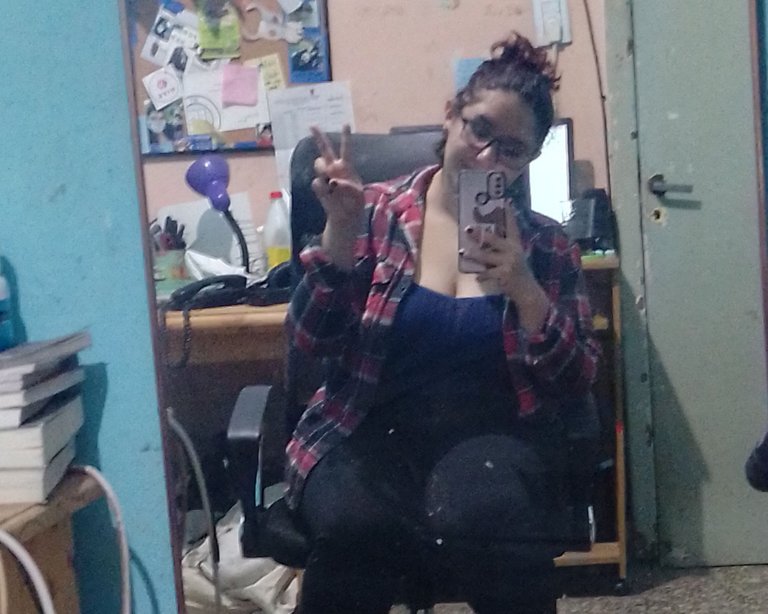 Todas las fotos fueron tomadas por mí
All photos were taken by me