Hola geek zone :3 estoy de nuevo por aquí, en el día de hoy quiero compartir con ustedes algunas herramientas digitales que me ayudan en mi organización para el día a día o el mes, creo que organizarse es clave para poder hacer todo lo que uno necesita.
Hello geek zone :3 I'm here again, today I want to share with you some digital tools that help me in my organization for the day to day or the month, I think that getting organized is key to be able to do everything that one needs to.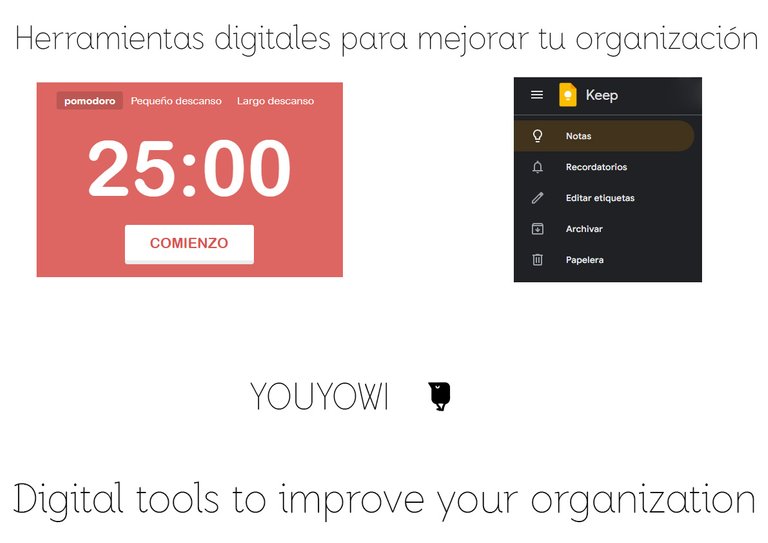 Una herramienta que me ayuda muchos es Google keep, es una aplicación de notas de Google que se sincroniza con tu email, en ella puedes escribir notas y ponerle una alarma, editar colores y crear unas tarjetas simples, hacer listas de quehaceres y también tiene la opción de dibujar, como es de Google la app de teléfono se sincroniza y podes acceder desde la computadora con el mismo email y tener todas tus notas, esto me parece super útil porque las veces que mis teléfonos dejaron de funcionar perdí todas mis notas, a veces tomo apuntes de clase, o escribo mis posts de hive como boceto en esta app, entonces es super útil, también se pueden añadir imágenes , dibujos o grabar audios, es una aplicación muy útil, la descubrí de casualidad buscando una app de notas ya que mi teléfono no traía de fábrica, la super recomiendo.
A tool that helps me a lot is Google keep, it is a Google notes application that syncs with your email, in it you can write notes and set an alarm, edit colors and create simple cards, make to-do lists and it also has the option to draw, as it is from Google, the phone app is synchronized and you can access it from the computer with the same email and have all your notes, this seems super useful to me because the times my phones stopped working I lost all my notes, sometimes Sometimes I take class notes, or write my hive posts as a sketch in this app, so it's super useful, you can also add images, drawings or record audio, it's a very useful app, I discovered it by chance looking for a notes app already that my phone did not come from the factory, I highly recommend it.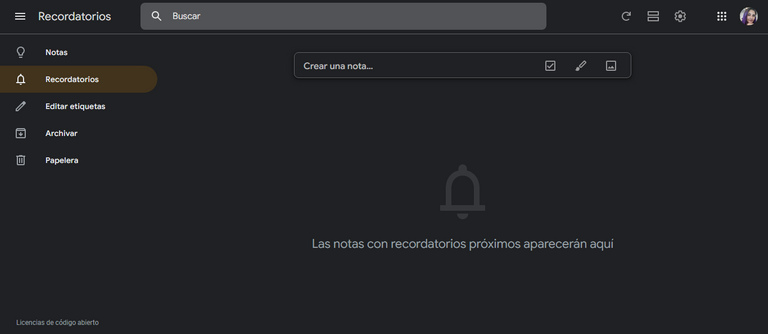 Pomodoro timer es una página para hacer sistema pomodoro, el sistema pomodoro consiste en trabajar 25 minutos y descansar 5, esta herramienta esta online o em versión de aplicación por distintos desarrolladores, yo utilizo mucho este método para estudiar, me sirve mucho tener un pequeño recreo, descubrí hace poco este método por alguien que sigo en redes sociales lo recomendaba muchísimo y lo probe, realmente cambio mucho mi productividad.
Pomodoro timer is a page to make the pomodoro system, the pomodoro system consists of working 25 minutes and resting 5, this tool is online or in an application version by different developers, I use this method a lot to study, it helps me a lot to have a little break I recently discovered this method by someone I follow on social media who highly recommended it and I tried it, it really changed my productivity a lot.
En toda mi búsqueda de organización de la vida y los pendientes quería una agenda, pero no física sino virtual y de casualidad una youtuber que sigo estaba en busca de lo mismo y compartió esta gran herramienta, se llama tweek calendar, es una página de calendario semanal, donde podes escribir las cosas que tenes que hacer e ir tachando, tiene un apartado para cosas para hacer más a futuro y tenerlas para ver siempre, esta herramienta me sirve mucho para organizar mi semana y saber que fui haciendo, lo que tengo que hacer y puedo ir poniendo cosas a futuro a medida que tengo las fechas de compromisos.
Tweek tiene un servicio premium que permite obtener otras cosas como recordatorios, programaciones y mucho mas pero la version gratuita esta muy bien.
In all my search for organization of life and pending I wanted an agenda, but not physical but virtual and by chance a youtuber that I follow was looking for the same thing and shared this great tool, it's called tweek calendar, it's a calendar page weekly, where you can write down the things you have to do and cross out, it has a section for things to do more in the future and have them to see always, this tool helps me a lot to organize my week and know what I was doing, what I have to do and I can put things in the future as I have the dates of commitments. Tweek has a premium service that allows you to get other things like reminders, schedules and much more but the free version is very good.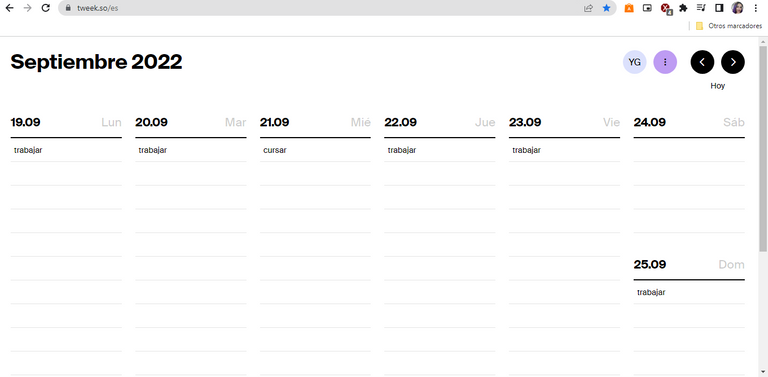 Por último quiero compartir este dato de una extensión de Google llamada picture in picture mode, esto te permite tener un video reproduciéndose por encima, a mí me sirve un montón, a veces estoy editando fotos y quiero ver una serie o un video de fondo pero sin prestar tanta atención a todo y lo uso, también me sirve para hacer tutoriales de Photoshop, el tamaño es ajustable así que se puede poner grande o chico, y lo mejor es que la ser una extensión es totalmente seguro, le doy muchísimo uso desde que lo instalé.
Lastly I want to share this information about a Google extension called picture in picture mode, this allows you to have a video playing on top of it, it helps me a lot, sometimes I am editing photos and I want to see a series or a video in the background but without paying so much attention to everything and I use it, it also helps me to make Photoshop tutorials, the size is adjustable so you can put it big or small, and the best thing is that being an extension is totally safe, I use it a lot since i installed it.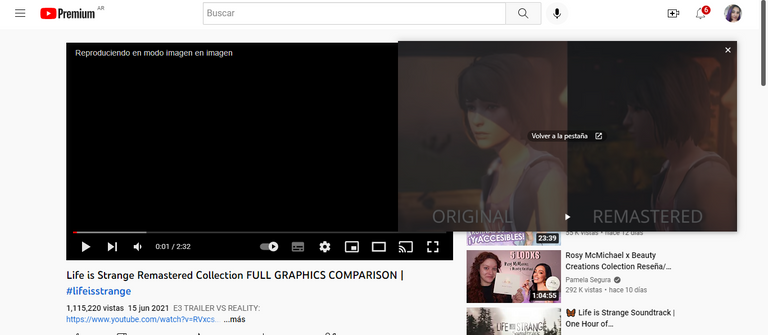 Con la pantalla mas grande /with the biggest screen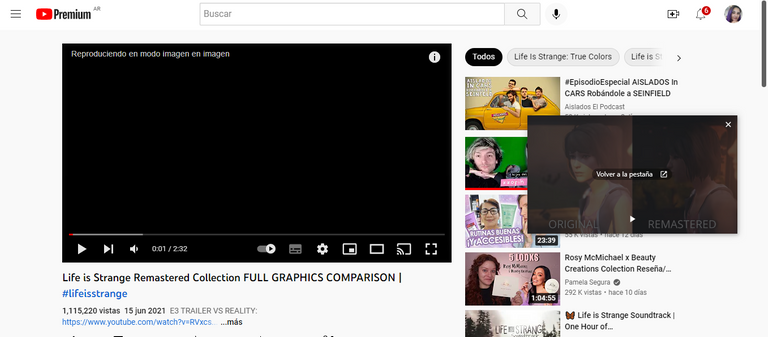 la pantalla un poco mas chica/the screen a little smaller
Espero que les hayan gustado estas herramientas y les sean útiles, lo que me gusta también de estas herramientas es que están disponibles como página de internet o aplicación, ya que no soy fan de cargar mi teléfono con muchas cosas, y que puedo acceder desde mi computadora también, si conocen algunas más estoy a favor de leerlos en comentarios.
I hope you liked these tools and they are useful to you, what I also like about these tools is that they are available as a website or an application, since I am not a fan of loading my phone with many things, and that I can access from my computer too, if you know some more I'm in favor of reading them in comments.


Todas las fotos fueron tomadas por mí
All photos were taken by me