Pasar las Publicaciones de Texto a Voz, para poder escucharlas mientras trabajamos en otras ocupaciones
Aprecio mucho tener la oportunidad de publicar este tipo de contenido que nos facilita las posibilidades consumir contenido, como yo digo "Contra viento y marea" ya que si me dejan puedo pasar horas leyendo publicaciones en Hive que son muy interesantes, pero esto debo hacerlo al mismo tiempo que hago muchas tareas del hogar, manejo mi carro o atiendo a mi familia, también al mismo tiempo que creo mi contenido que fundamentalmente es de Diy y debo hacer con mis manos los proyectos. Entonces se hace muy difícil dedicar mucho tiempo a sentarme a leer las publicaciones, a leer "todas las publicaciones" que me interesa.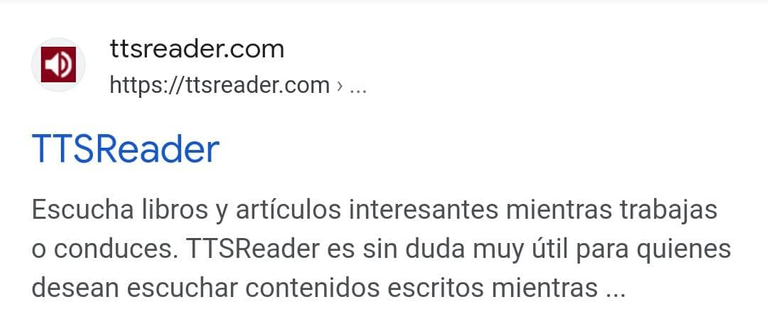 Es casi Imposible terminar de leer una Publicación sin que me interrumpan o tenga que hacer algo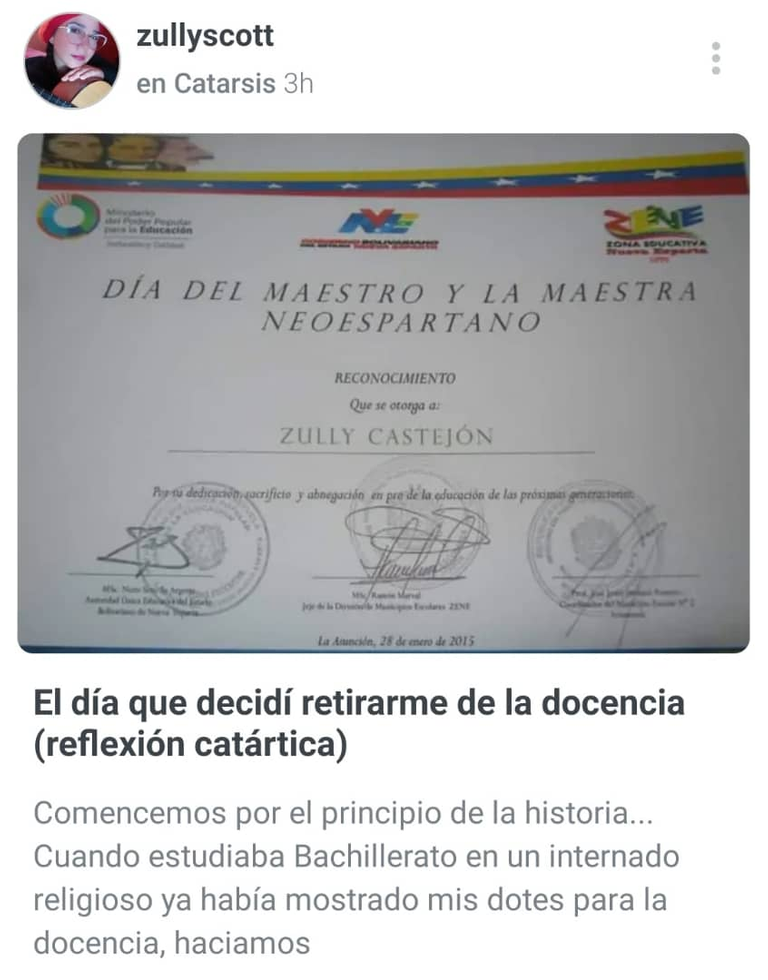 Entonces, no se porqué pero me llegó una pregunta a mi cabeza:
¿Será que existe alguna página o aplicación que convierta Texto a Voz? así sería más fácil para mí consumir contenido al mismo tiempo que hago mis labores u ocupaciones.
Ingresé en el buscador "Pasar Texto a Voz" y resulta que sí, existen muchas Aplicaciones y páginas que pueden hacer esto incluso de forma Online, sin descargar nada. Hoy les quiero contar cómo me fue con la página TTSReader, lo fácil y rápido que pasó toda la Publicación escrita de @zullyscott a voz, y que me permitió escucharla completa mientras me dedicaba a mis costuras.
Tal vez muchos de uds ya sabían esto, pero tal vez hay algunas personas que como yo estábamos ajenas a esta herramienta. No sé cómo se me ocurrió googlear el problema, tal vez sea porque el tema de la Inteligencia Artificial está muy de moda actualmente y pensé en que sería posible, algo tan sencillo como pasar Texto a Voz, y es que usarlo es demasiado útil y práctico. Bueno, les cuento que hay muchas opciones: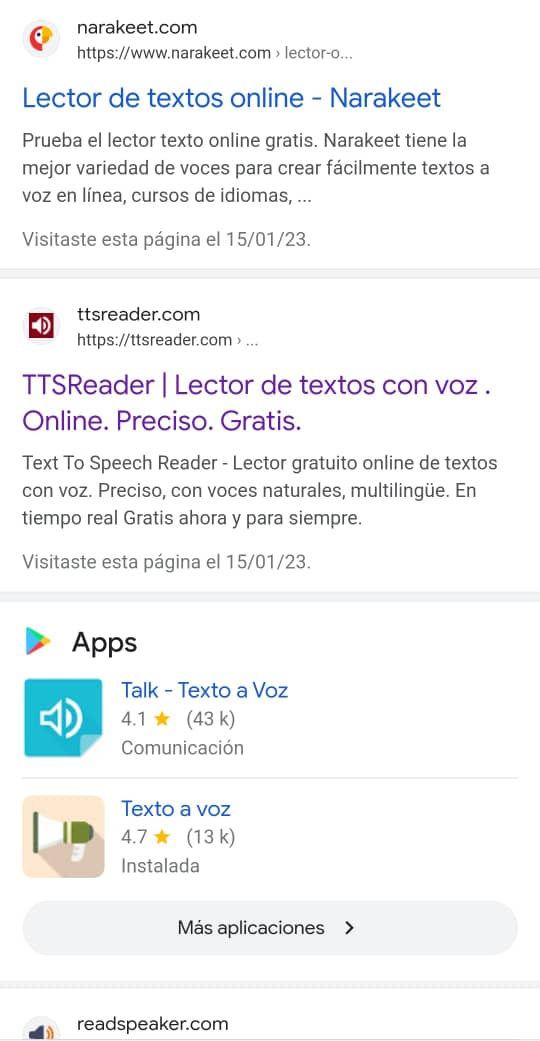 Algo me dijo que escogiera a TTSReader.com y al entrar en la página la propuesta fue irresistible:
Lector de Textos a Voz
Online
No necesitaba descargar nada
Gratis
Es muy sencillo y simple su uso
De uso Ilimitado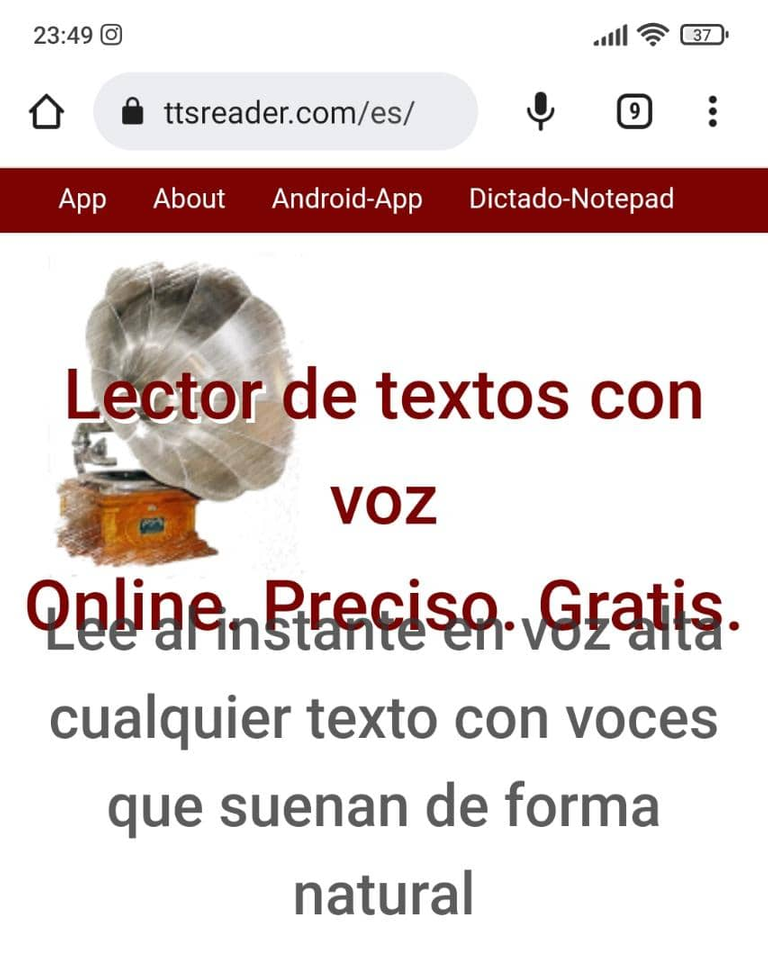 Después de leer las instrucciones que no fueron muchas, (sí, confieso que soy de las que leen las instrucciones siempre) en resumidas solo necesito interactuar con esta sencilla ventana: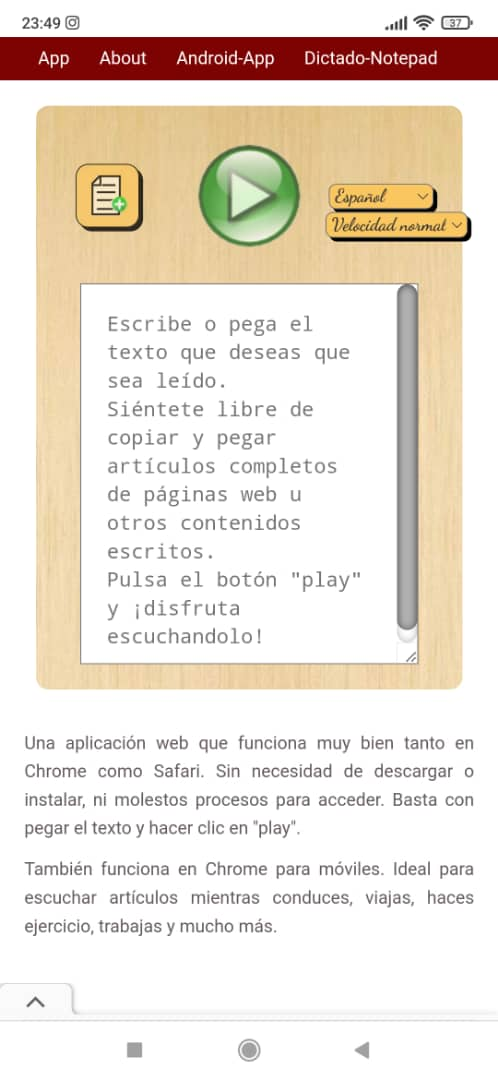 Seleccioné y copié todo el texto que quería pasar a Voz, y lo Pegué en el recuerdo. Luego, pulsé el botón verde que tiene el símbolo universal de Play o Reproducir el audio. Por defecto ya estaba seleccionado el idioma Español y la velocidad normal.
Y listo, comenzó a reproducirse todo el audio. Era la voz de una mujer, algo robótica como uno escucha en otros sitios, pero muy bien modulada y a una velocidad que no me inquietaba, sino que podía efectivamente disfrutar de la narración, con sus pausas correctas y muy normales. Puede escuchar finalmente toda la publicación, y quedé encantada.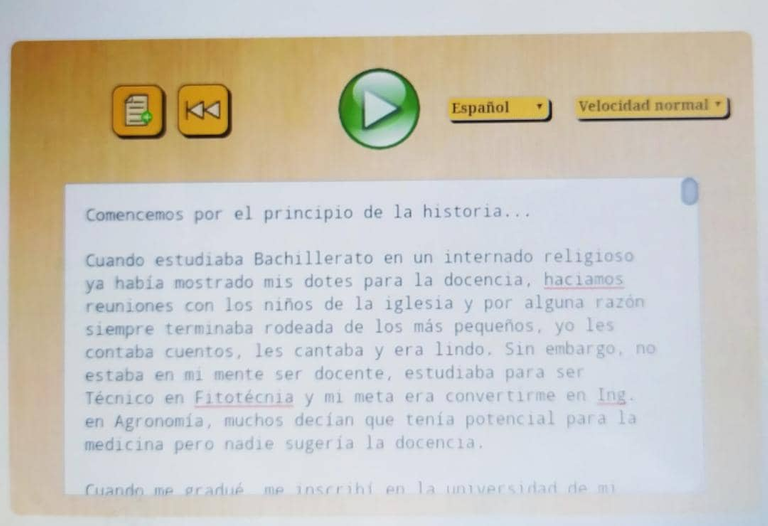 Esta página no era nada complicada, era muy fácil de usar, muy intuitiva. No es nada ambiciosa, ya que uno no puede escoger el sexo de la voz o la nacionalidad, pero me funcionó perfecto.
Otro aspecto que me gusto es que podemos Pausar el audio si necesitamos interrumpir y luego podemos reanudar.
Esto facilita mucho la cantidad de publicaciones que puedo conocer. Recuerdo que hace unos meses @eddiespino nos pasó el dato de que podíamos aumentar la velocidad de reproducción de los videos de Threespeak, y eso fue genial porque también nos ayuda a consumir contenido en menos tiempo, ya que los podcast de 40 minutos o más, también nos ocupa mucho de nuestro tiempo que a veces no tenemos tan libre. De manera que, pasar de Texto a Voz es así de práctico y útil.
Estas son algunos de las Valoraciones y comentarios que aparecen en la página: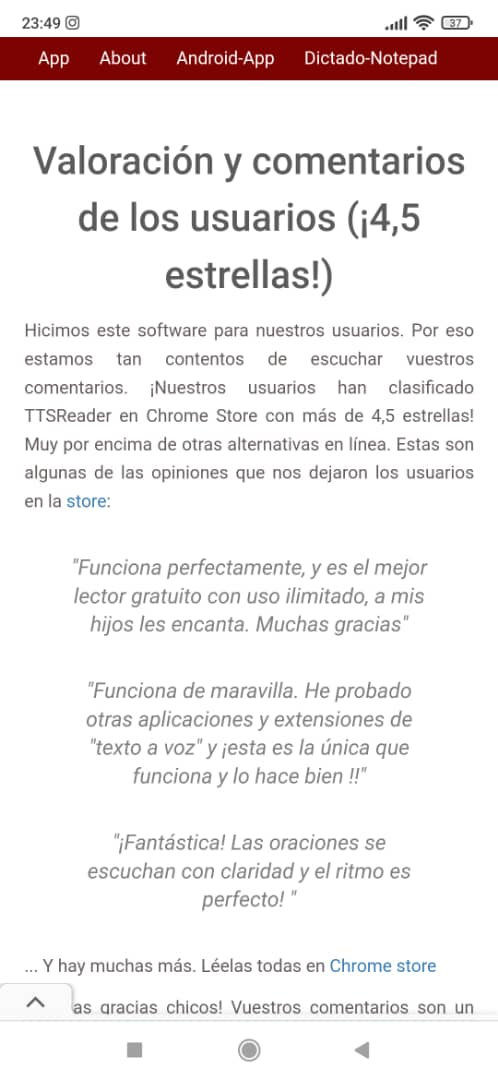 Estoy muy emocionada por poder aumentar el consumo de contenido que tiene mucho texto, como las historias de nuestros Hivers escritores, los que hacen Reseñas de películas, los que nos cuentan sus historias personales, o sus viajes y experiencias. Ahora es mucho más factible consumir más y más contenido.
Como les mencioné anteriormente, hay muchas opciones y seguramente las hay más complejas o con más opciones, yo les recomiendo ésta porque es la que acabo de conocer, pero seguramente seguiré conociendo que otras herramientas nos pueden apoyar como Creadores y Consumidores de Contenido en Hive.
Deseo que sea útil esta información, y les agradezco haber leído esta publicación.
Saludos...
---------- ❤️❤️❤️❤️ ----------
Las Capturas las tomé con mi teléfono Redmi Note 8
Utilicé el Traductor Google
Mi redes sociales:
Discord: YennysYaneth#0189
Twitter: @yennysferm
Instagram: @yennysyaneth
---
Pass Text-to-Speech Posts, so we can listen to them while doing other things
I really appreciate having the opportunity to publish this type of content that makes it easier for us to consume content, as I say "Through the odds" because if they let me I can spend hours reading posts on Hive that are very interesting, but I must do this at the same time that I do many housework, drive my car or attend to my family, also at the same time that I create my content, which is fundamentally Diy and I must do the projects with my hands. Then it becomes very difficult to spend a lot of time sitting down to read the publications, to read "all the publications" that interest me.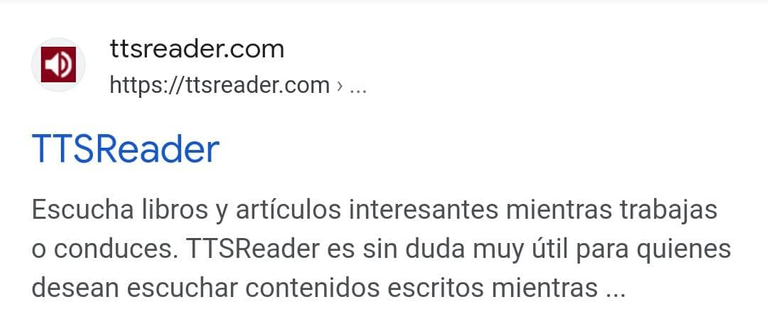 It's almost impossible to finish reading a Post without being interrupted or having to do something
Today was the last straw, because I tried to read the post of one of my favorite authors on Hive, from my colleague @zullyscott about [The day I decided to retire from teaching (cathartic reflection)](https://ecency.com/hive -110372/@zullyscott/the-day-I-decided-to-retire-from-teaching-reflexion-cathartic), and without exaggeration I think I tried to do it 6 times, and couldn't make progress in reading for one thing or another what to attend to By the way, I recommend it: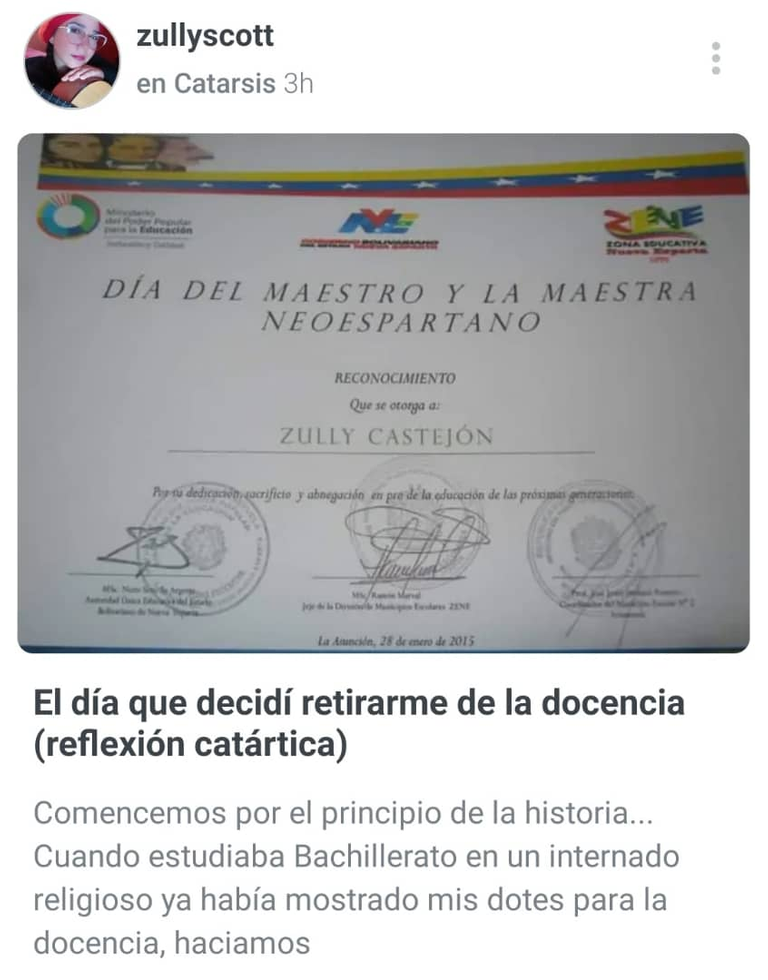 So, I don't know why but a question came to my head:
** Could it be that there is a page or application that converts Text to Speech? This way it would be easier for me to consume content while I do my work or occupations.**
I entered the search engine "Pass Text to Speech" and it turns out that yes, there are many Applications and pages that can do this even online, without downloading anything. Today I want to tell you how it went with the TTSReader page, how easy and fast it was for all of @zullyscott's written Post to be voiced, and that it allowed me to listen to it in its entirety while I was doing my sewing.
Perhaps many of you already knew this, but perhaps there are some people who, like me, were unaware of this tool. I don't know how I came to googling the problem, maybe it's because the topic of Artificial Intelligence is currently very fashionable and I thought that it would be possible, something as simple as passing Text to Speech, because using it is too useful and practical . Well, I tell you that there are many options: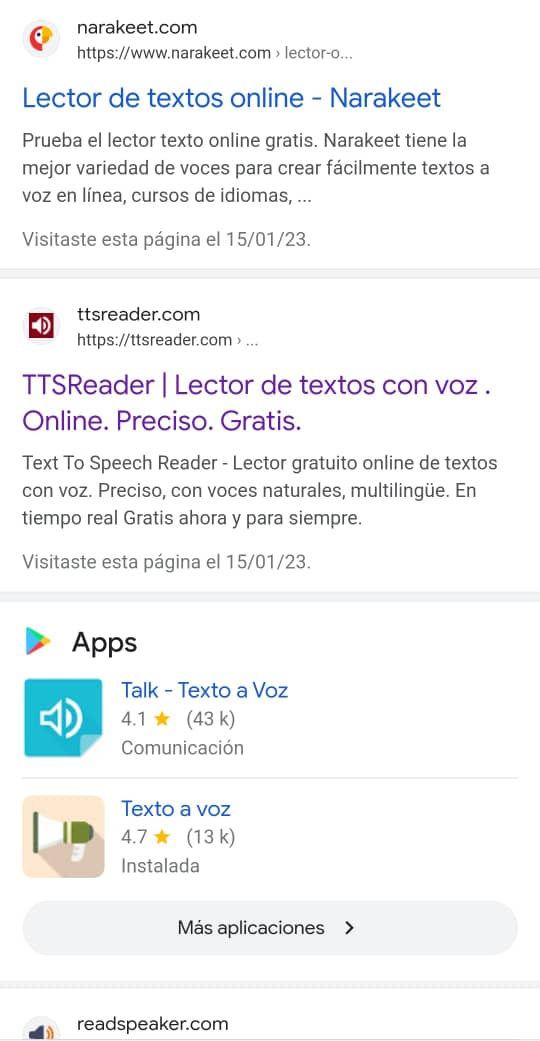 Something told me to choose TTSReader.com and when I entered the page the proposal was irresistible:
Text to Speech Reader
Online
Didn't need to download anything
Free
It is very simple and simple to use
Unlimited use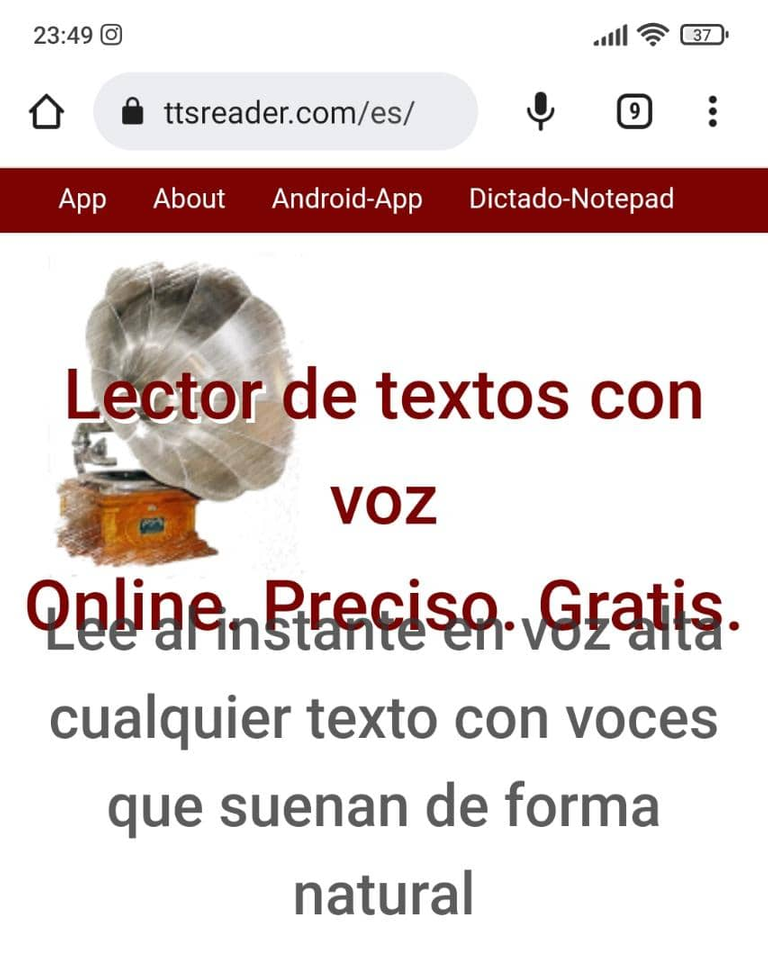 After reading the instructions, which weren't many (yes, I confess that I am one of those who always read the instructions) in summary, I just need to interact with this simple window: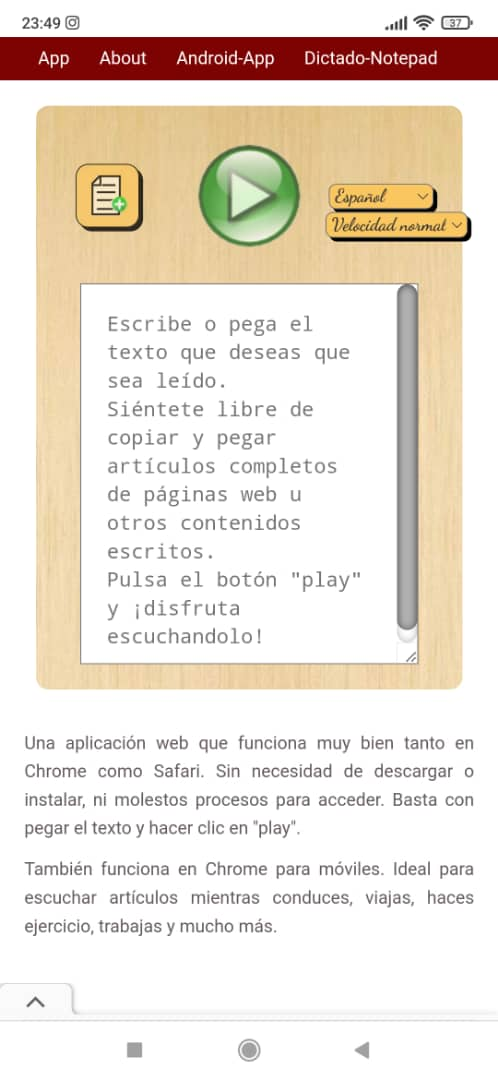 I selected and copied all the text that I wanted to pass to Speech, and Pasted it into the memory. Then I hit the green button with the universal Play symbol on it. By default, the Spanish language and normal speed were already selected.
And voila, all the audio began to play. It was the voice of a woman, somewhat robotic as one hears in other places, but very well modulated and at a speed that did not worry me, but rather I could actually enjoy the narration, with its correct and very normal pauses. You can finally listen to the entire post, and I was delighted.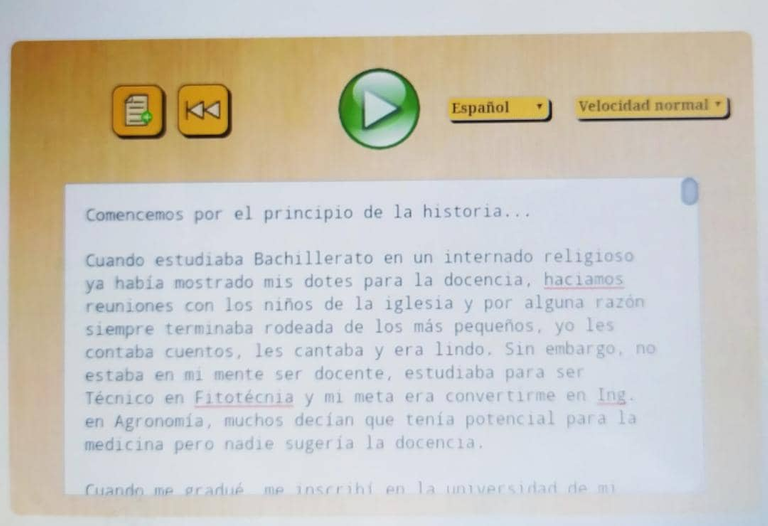 This page was not complicated at all, it was very easy to use, very intuitive. It's not ambitious at all, since you can't choose the sex of the voice or the nationality, but it worked perfectly for me.
Another aspect that I liked is that we can Pause the audio if we need to interrupt and then we can resume.
This greatly facilitates the number of publications that I can meet. I remember that a few months ago @eddiespino gave us the information that we could increase the playback speed of Threespeak videos, and that was great because it also helps us consume content in less time, since podcasts of 40 minutes or more, it also takes up a lot of our time that sometimes we don't have so free. So, going from Text to Speech is that practical and useful.
These are some of the Ratings and comments that appear on the page: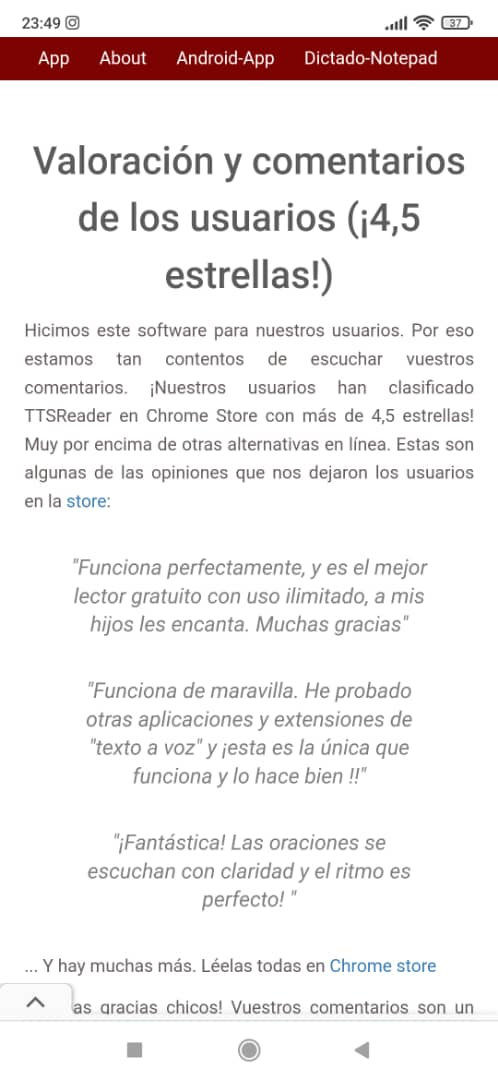 I am very excited to be able to increase the consumption of text-heavy content, such as the stories of our Hivers writers, those who do Movie Reviews, those who tell us their personal stories, or their travels and experiences. Now it is much more feasible to consume more and more content.
As I mentioned before, there are many options and surely there are more complex ones or with more options. I recommend this one because it is the one I just learned about, but I will surely continue learning about other tools that can support us as Content Creators and Consumers in Hive.
I hope this information is useful, and I thank you for reading this publication.
Regards...
---------- ❤️❤️❤️❤️ ----------
The Captures were taken with my phone Redmi Note 8
I used the Google Translator
My social networks:
Discord: YennysYaneth#0189
Twitter: @yennysferm
Instagram: @yennysyaneth