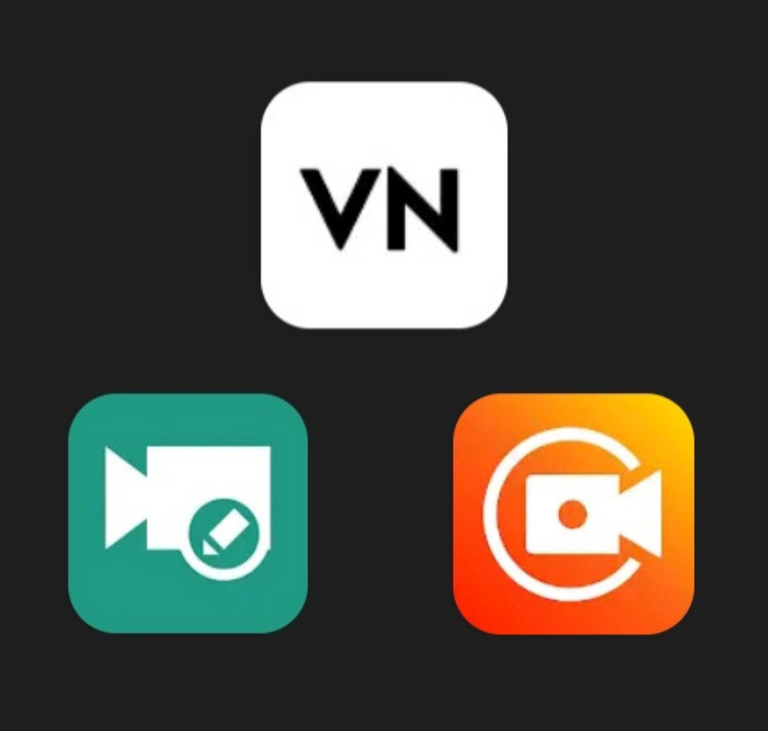 Sometimes I think about how technology has developed in such a way, that in every moment of our lives that progress is heading rapidly. And it is that until 15 years ago, when I was just entering university to study audiovisual journalism, there were no tools as sophisticated as now, where a simple cell phone can record and edit videos almost instantly. At that time it was more difficult, cell phones did not have the technology that boast smartphones, and to record, you had to have a video camera and a separate computer with their respective programs.
Therefore, such is the case of this review where I show 3 essential applications to edit and encode your videos from your smartphone device, without the need to resort to a computer, although editing videos on a computer from my point of view is more efficient and comfortable, but in the case of the cell phone you can make good audiovisual works having the necessary tools.
A veces me pongo a pensar como la tecnología se ha desarrollado de tal manera, que en cada instante de nuestra vida ese progreso se encamina rápidamente. Y es que hasta hace 15 años, cuando apenas entraba a estudiar en la universidad periodismo audiovisual, no existían herramientas tan sofisticadas como ahora, donde un simple celular se puede grabar e editar videos casi de manera instantánea. Para esa época era más difícil, los celulares no tenía la tecnología que presumen los smartphones, y para uno grabar, se debía tener una video cámara y una computadora aparte con sus respectivos programas.
Por lo tanto, tal es el caso de esta reseña donde muestro 3 aplicaciones esenciales para poder editar y codificar tus videos desde tu dispositivo smartphone, sin la necesidad de recurrir en un computador, aunque editar videos en un computadora desde mi punto de vista es más eficiente y cómodo, pero en el.caso del celular se pueden realizar buenos trabajos audiovisuales teniendo las herramientas necesarias.
XRecorder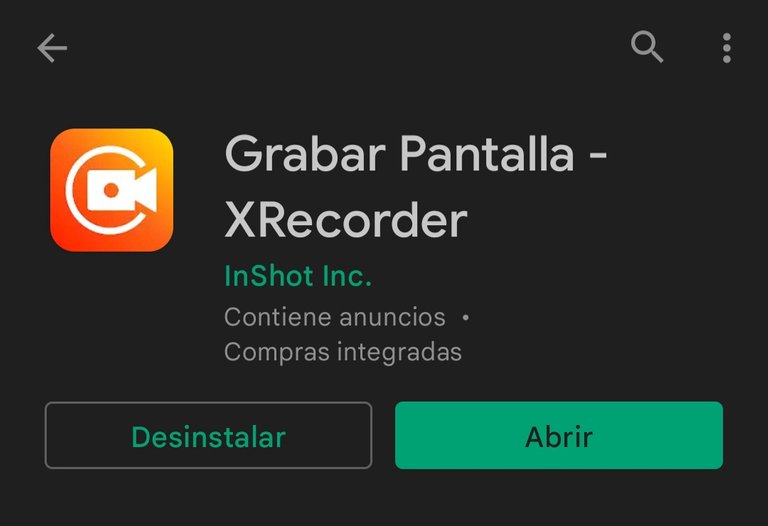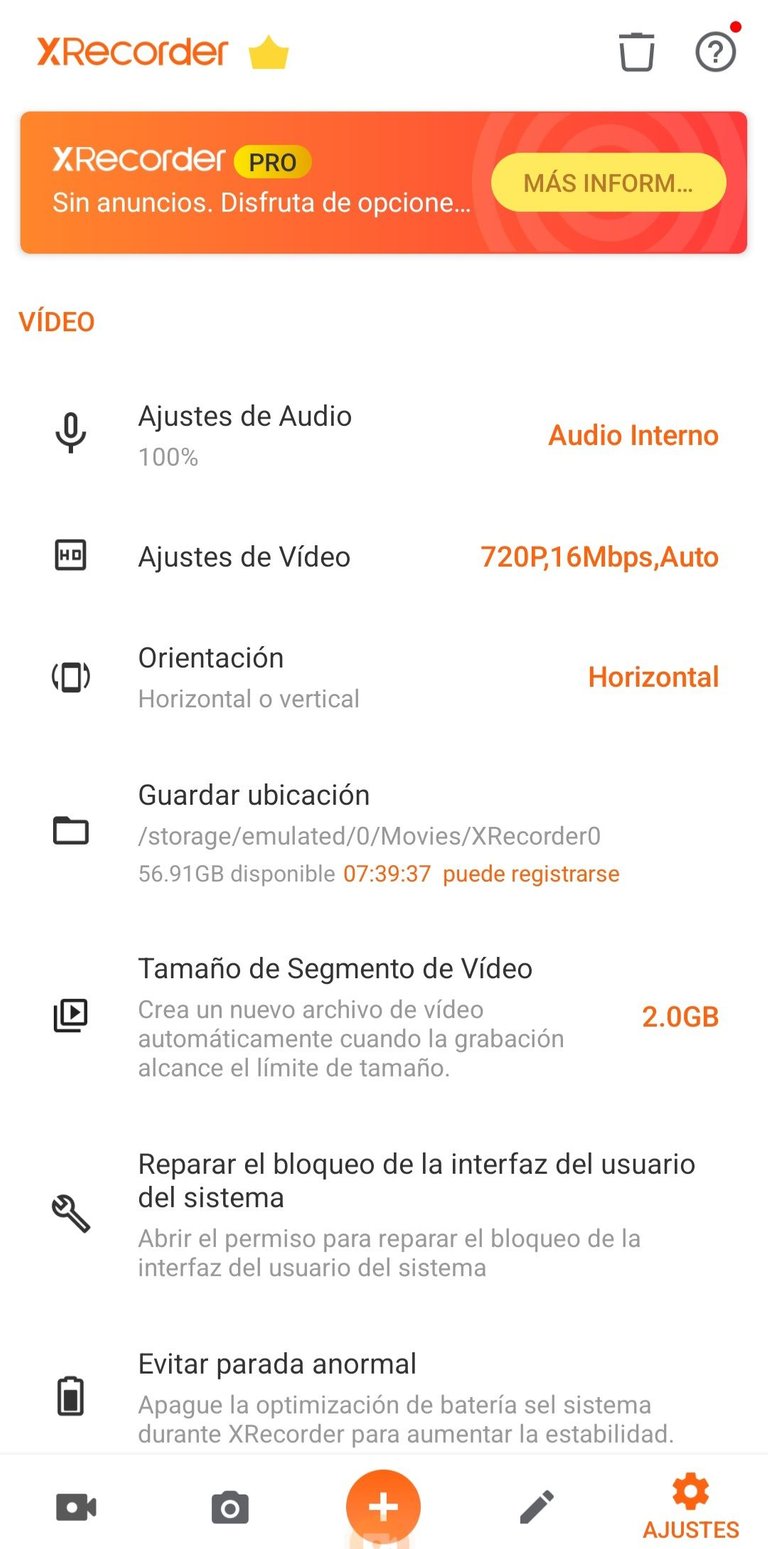 I think it is not so necessary to make an extensive tutorial of these applications, the truth is that they are very intuitive and easy to handle apps, just with a little practice we can understand its usefulness for our benefit. First I mention the app XRecorder, which basically serves to make your video screenshots of your cell phone, so it serves to capture videos of gameplays you do on your smartphone or simply capture video screen of some explanation you want to give your cell phone.
In this app, we can configure the resolution of the output video, as well as the internal audio and microphone equalization, and on the other hand we can also add a screen where you can go out in the video scene, perfect for making gameplays.
Considero que no es tan necesario hacer un extenso tutorial de estas aplicaciones, la verdad que son apps muy intuitivas y fácil de manejar, solo con un poco de práctica podemos comprender su utilidad en beneficio para nosotros. En primer lugar menciono la app XRecorder, que básicamente sirve para hacer tus capturas de video pantalla de tu celular, por lo que sirve para capturar videos de gameplays que realices en tu smartphone o simplemente capturar video pantalla de alguna explicación que quieras dar de tu celular.
En esta app, podemos configurar la resolución del vídeo de salida, así como la ecualización del audio interno y del micrófono, y por otra parte también podemos agregar una pantalla donde podrás salir en la escena del video, perfecto para hacer gameplays.
VN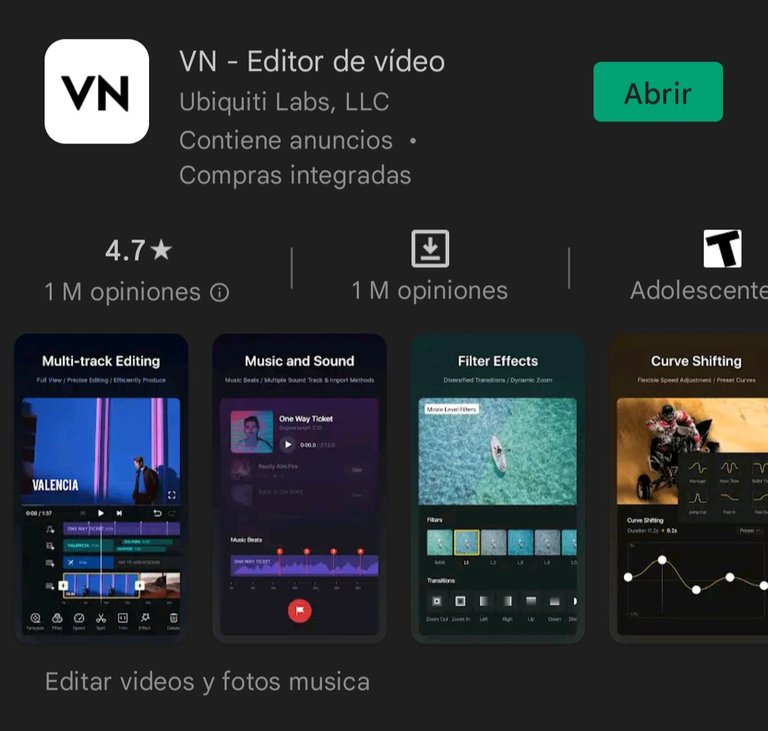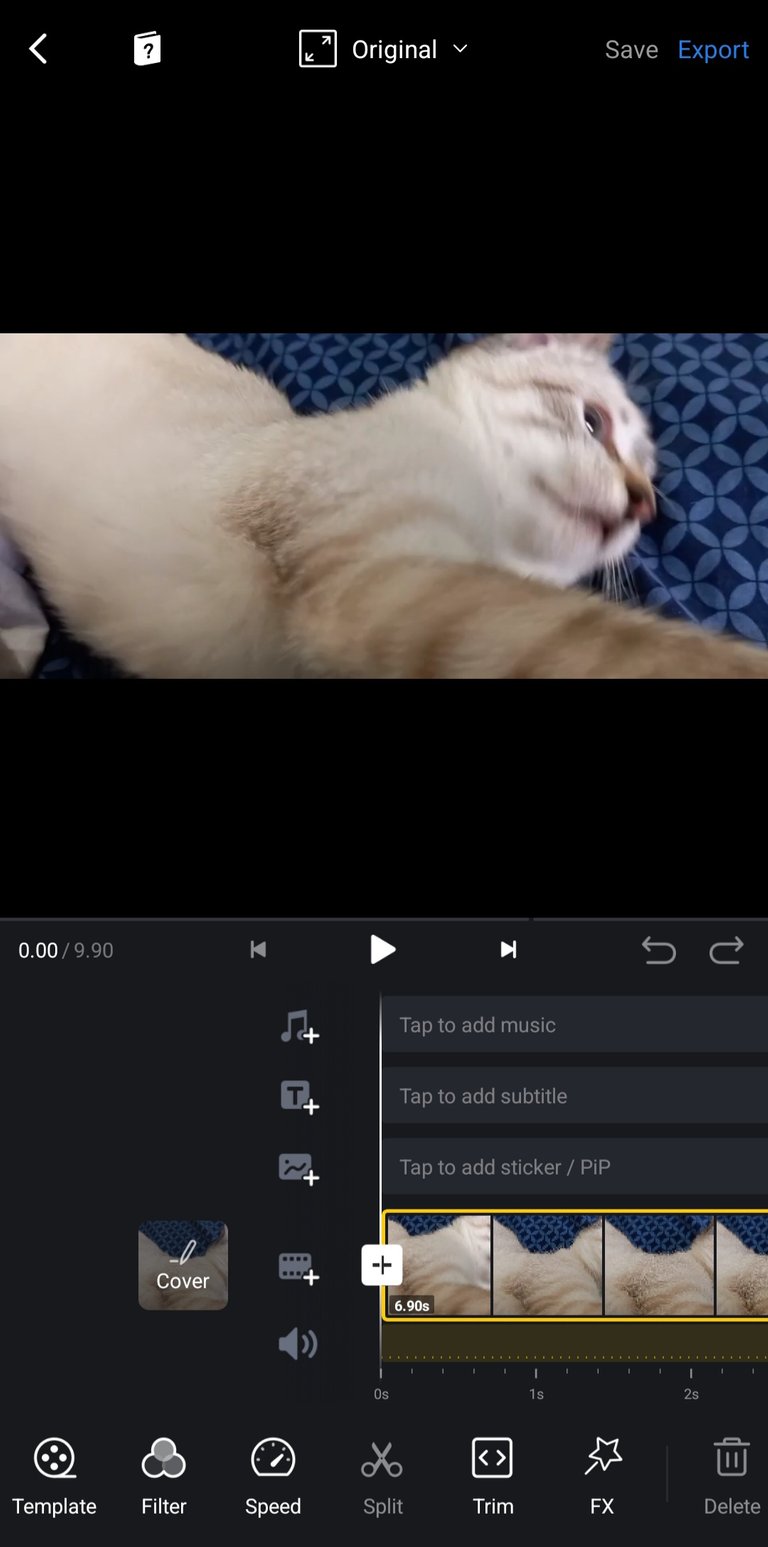 Now, to talk about this second app, I must say that I have tried many apps to edit videos, but this is the one that best suits for its consumption and utility. This is VN video editor, a simple to use app, to edit any video under any format that can be recorded, besides having preset tools, as well as some configuration and replacement of the original sound of the video.
Also, as this application you can find some tools to make simple animated intros and add some text characters of different designs, if necessary for the audiovisual work you need.
Ahora, para hablar de esta segunda app, debo decir que probado muchas apps para editar videos, pero esta es la que mejor se adapta por su consumo y utilidad. Se trata de VN editor de vídeos, una app sencilla de utilizar, para editar cualquier video bajo cualquier formato que se pueda grabar, además de tener herramientas preestablecidas, así como cierta configuración y reemplazo del sonido original del video.
Asimismo, como también está aplicación puedes encontrar algunas herramientas para hacer intros animados sencillos y agregar algunos caracteres de textos de diferentes diseños, si es necesario para el trabajo audiovisual que necesites.
Video Compressor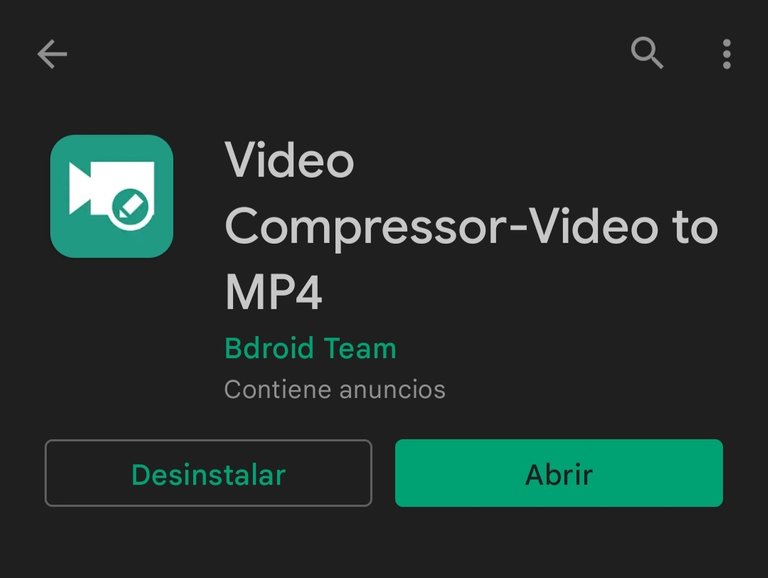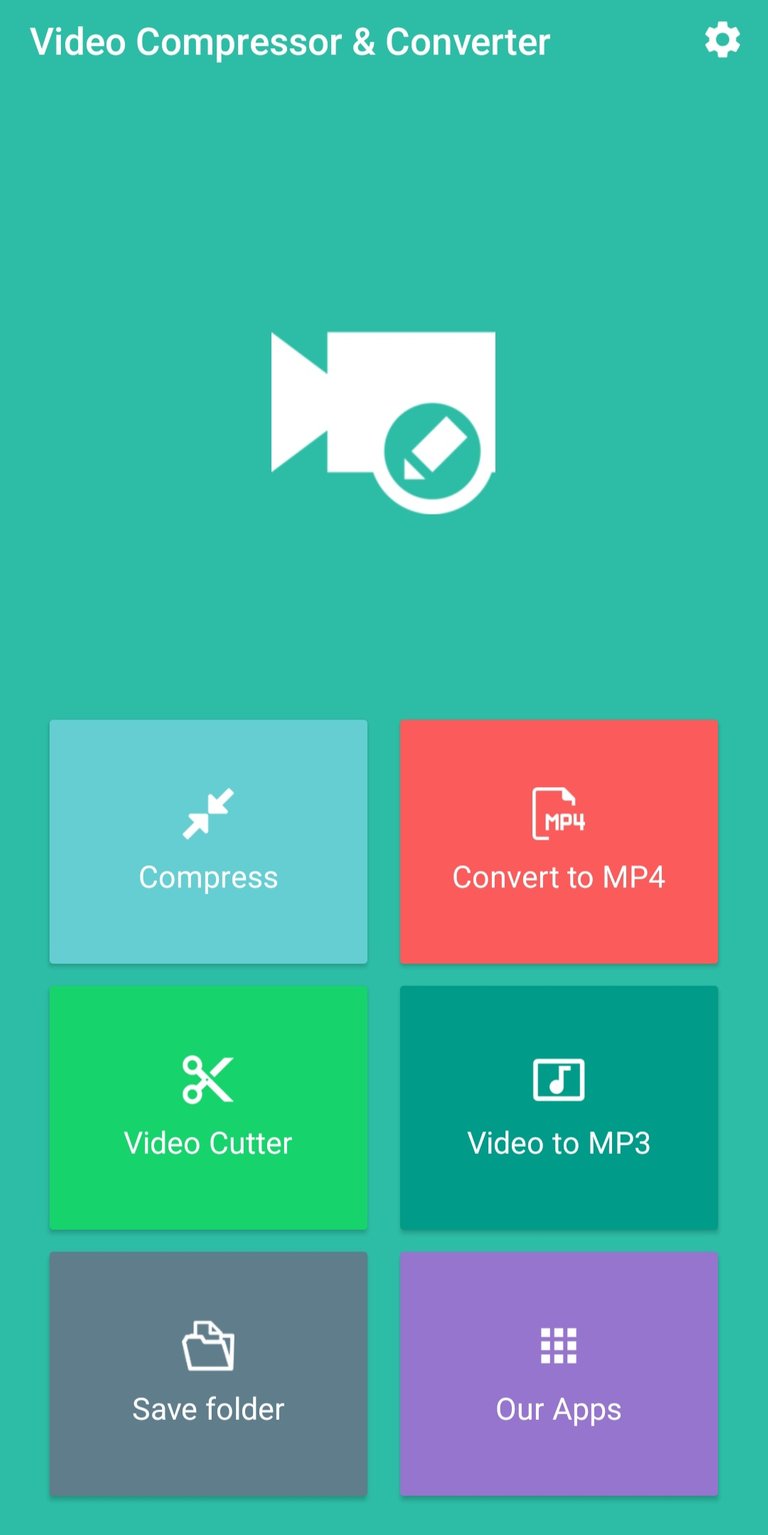 And finally, I could not miss this excellent application, which serves to encode or compress our videos that are very heavy, or simply their formats are not suitable for uploading them to the video platform you use. Since I knew this application helped me to solve the problem on some occasions, when I uploaded videos in 3speak, and gave me error either by its format or weight of the video.
Besides this application you can change formats, resolutions or even edit your videos, although only for simple actions such as cutting and pasting fragments of videos. In itself it is an app that does not consume a lot of resources of your smartphone and its progress can be fast, when changing format or encoding a video.
Anyway, these are the 3 applications that I use to produce a video from my cell phone, all available on Android operating systems, although I do not know if they are available on iOS, but if so, they are excellent tools to create audiovisual content in the most practical way and with just having a smartphone, where you can record videos.
All images are screenshots taken from my smartphone.
Y por último, no podía faltar esta excelente aplicación, que nos sirve para codificar o comprimir nuestros videos que sean muy pesados, o simplente sus formatos no son los adecuados para subirlos a la plataforma de video que utilices. Desde que conocí esta aplicación me ayudó a resolver el problema en algunas ocasiones, cuando subía videos en 3speak, y me daba error sea por su formato o peso del video.
Aparte esta aplicación puedes cambiar formatos, resoluciones o incluso editar tus videos, aunque solo para acciones simples como cortar y pegar fragmentos de videos. De por sí es una app que no consume mucho recursos de tu smartphone y su progreso puede llegar a ser rápido, la hora de cambiar de formato o codificar un video.
En fin, estas son las 3 aplicaciones que utilizo para producir un video desde mi celular, todas disponibles en sistemas operativos Android, aunque desconozco si están disponibles en iOS, pero de ser así, son unas excelentes herramientas para crear contenido audiovisual de la manera más práctica y con simplemente tener un smartphone, donde puedas grabar videos.
Todas las imágenes son capturas de pantalla realizadas desde mi smartphone.