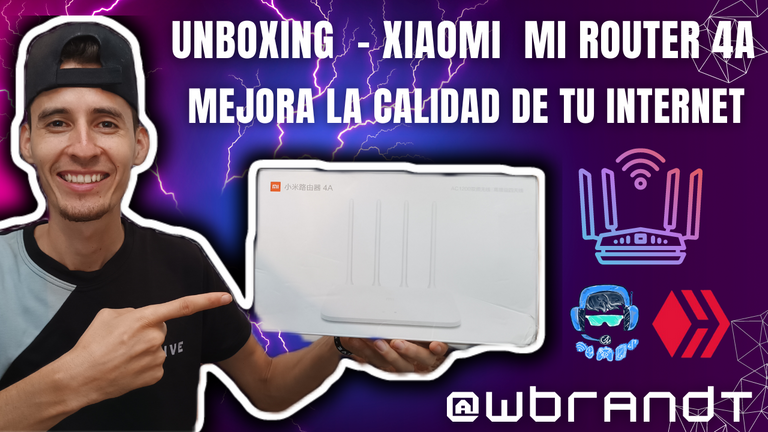 Hello friends of this great community of @geekzone I welcome you to my blog in #hive I hope you feel very comfortable in this space of technology, games and many more things, I hope you feel very well wherever you are, I hope you are working hard for your dreams and that very soon you can achieve it, cheer up and enjoy the process.
Today my dear and dear friends, in this new post of an unboxing, I bring you for everyone in the community, it is a router 4A AC1200 of the Xiaomi brand, a router that we were looking everywhere because I needed it for the apartment, for us content creators it is very important to have this equipment that make your life a little easier.
To put them a little in context, in December we changed the internet, because "cantv" was very slow because it was 6 MB and the router was very very old, and was not working as it was, that's why we changed the internet server for another one called "INTER" fiber optic, which seemed excellent for the price of 50 MB that was offering us, the truth is that we put it, but even so, it was not giving us its full potential and so we lasted several months with the old router, I told my wife and my brother in law, that this old router comes from the middle ages (hahaha) na lie.
As I was telling you, the internet had improved somewhat, but, with so much power, the router was not helping at all, because it was taking out any of the phones and this was becoming a problem, because it was not giving its 100% until one day, we decided to buy this great router, we bought it for free market for only 30 $ a very good and affordable price, it arrived two days after we bought it.
To be honest I had a lot of anxiety since it arrived to the office that sent it to us, when they told us that it was already there, I went with my brother in law Eliud to get it, when we got home the first thing we wanted to do was to arrive and place it, but we had to have lunch first (hahaha), so we had lunch and we started to place the router.
As you can see in the pictures, it is a device that does not bring many things, only the router, its charger and the instruction manual, just that, I really liked it, the white color looks great, although I would have liked black, but there was not, something funny happened to us, because we removed the old router and put the new one, and we had to download an app that brings Xiaomi to configure the router, and we had to put back the old one download the app and so put back the new one, it was something very funny.
The truth is that we were learning with the router because having this app to configure your router and know what devices are connected, the speed of the download in upload and download, see the performance of the router and much more is great, having all this on the phone, just by placing the router, it felt like a 1000% difference because the first thing I did was to enter my Call of Duty game and see how the pin was and it stayed at 40 and 50 and I was playing quietly without so much lag.
| | |
| --- | --- |
The app is called My Wifi and in the box brings the QR code to download it from the Play Store, it will only ask you to open an account xiaomi link it and go doing the step by step that will tell you until it is already configured with the router is something very simple to do does not have something from the other world, another thing we did was to do a download speed test and we threw more than 90% that was taking full advantage and this was a total joy because we already knew it was the old router was presenting us with problems, now are so many things that we improved that now we are happy about all this.
The parameters of the device:
Model: RMAD
Wireless Technology: With Wifi 2.4GHz (300Mons), 5GHz (867 Mbps).
Wifi Optimization.
Anti-Rock Network.
Easy Installation.
Our phones come with a new technology that the old routers do not bring them, for example here with this router I can connect to the 2.4 GHZ band, but my phone does not take full advantage of it, but if I connect it to the 5 GHz band the phone flies, this is crazy, at home we are only 4 people, two use the 2.4 GHz band and the other 2 use the 5 GHz band this makes it stay according to the capacity of each phone and this is a great plus.
Of these routers come in two versions, the global and the Chinese version, I was doing some research about it, and the Chinese version is better than the global is much faster, and we decided to buy the Chinese version because it is the best, because it is much more powerful than the global.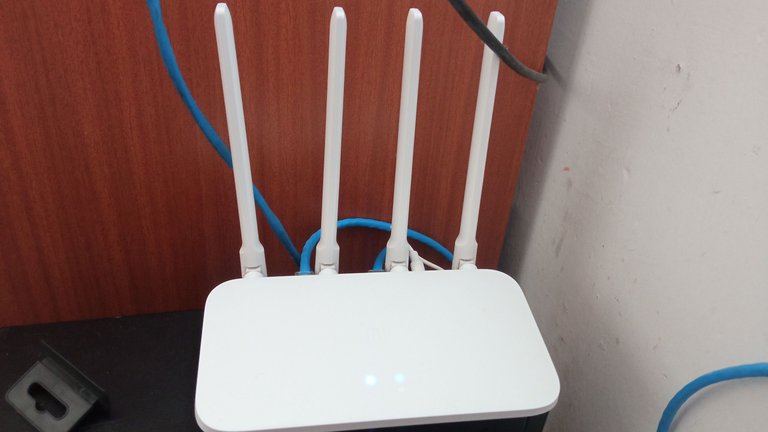 So friends in short, when you change from internet to fiber optic, it is good to look for a new and updated router that can get the most out of your internet, we have been using it for almost a month and so far everything is going very well with our new router, we already have experience with these devices because my in-laws also have one, and I can assure you that they are very good and of good quality and thanks to hive we managed to have this device.
I hope this unboxing is very useful, so we continue here enjoying a good internet, whether to play and work, this will help you a lot, technology advances and we have to adapt to the changes.
Well, my dear friends, I hope you liked this unboxing that I brought for all of you, and I hope it will be very useful.
---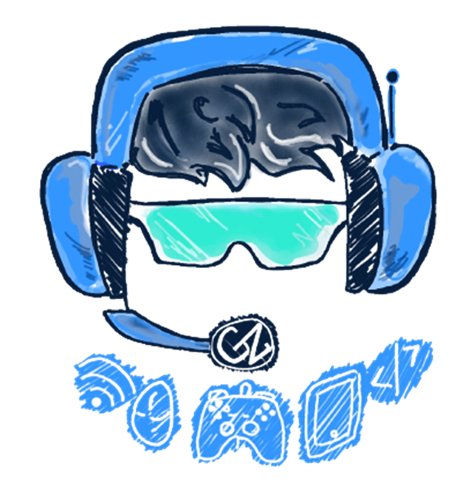 ---
Thank you, my dear friends for getting this far in this post, thanks for the love and support you give me, I hope you liked this unboxing of this Router Xiaomi MI 4A AC1200 I brought for our community Geek Zone, the experiences of each is of great value to all is very nutritious is to inform us with this content, you learn, many things and it's fun to share with everyone, if you like this post let me know in the comments, I'm saying goodbye, I take care, see you another time a big hug.

Español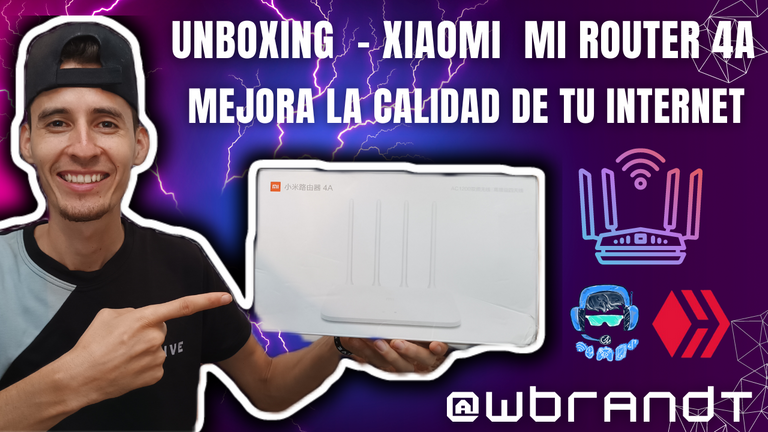 Hola amigos de esta grandiosa comunidad de @geekzone te doy la bienvenida a mi blog en #hive espero que te sientas muy cómodo en este espacio de tecnología, juegos y muchas cosas más, deseo que te encuentres muy bien donde estés, espero que estés trabajando mucho por tus sueños y que muy pronto lo puedas alcanzar ánimo y disfruta del proceso.
Hoy mis queridos y estimados amigos, en este nuevo post de un unboxing, que les traigo para todos en la comunidad, se trata de un router 4A AC1200 de la marca Xiaomi, un router que lo estábamos buscando por todos lados porque lo necesitaba para el apartamento, para nosotros los creadores de contenido es muy importante tener estos equipos que te hacen la vida un poco más fácil.
Para ponerlos un poco en contexto, el mes de diciembre nosotros cambiamos el internet, porque "cantv" estaba muy lento porque era de 6 MB y el router que tenía era muy muy viejo, y no nos estaba funcionando como era, es por esto que cambiamos del servidor de internet por otro que se llama "INTER" de fibra óptica, la cual nos pareció excelente por el precio de 50 MB que nos estaba ofreciendo, lo cierto es que lo colocamos, pero, aun así, no nos estaba dando su máximo potencial y así duramos varios meses con el router viejo, que le dije a mi esposa y mi cuñado, que ese router viejo viene de la edad media (jajaja) na mentira.
| | |
| --- | --- |
Como les venía diciendo, si había mejorado algo él interne, pero, con tanta potencia, el router no estaba ayudando en nada, porque estaba sacando cualquiera de los teléfonos y esto ya se estaba volviendo un problema, porque no estaba dando su 100 % hasta que un día, nos decidimos por comprar este grandioso router, lo compramos por mercado libre por tan solo 30 $ un precio muy bueno y accesible, nos llegó a los dos días desde que lo compramos.
Si les soy sincero tenía mucha ansiedad desde que llego a la oficina que nos lo enviaron, cuando nos avisaron que ya estaba allá, me fui con mi cuñado Eliud a buscarlo, cuando llegamos a la casa lo primero que queríamos hacer era llegar y colocarlo, pero teníamos que almorzar primero (jajaja), así que almorzamos y nos pusimos a colocar el router.
Como pueden ver en las imágenes, es un aparato que no trae muchas cosas, solo el router, su cargador y el manual de instrucciones, solo eso, me gusto mucho, el color blanco se ve genial, aunque me hubiera gustado de color negro, pero no había, nos pasó algo chistoso, porque quitamos el router viejo y colocamos el nuevo, y teníamos que descargar una app que trae Xiaomi para configurar el router, y tuvimos que volver a poner el viejo descargar la app y así volver a colocar el nuevo, fue algo muy chistoso.
Lo cierto es que estábamos aprendiendo con el router porque que tenga esta app para configurar tu router y saber qué dispositivos están conectados, la velocidad de la descarga en subida y en bajada, ver el rendimiento del router y mucho más es genial, tener todo esto en el teléfono, con solo colocar el router, se sintió una diferencia al 1000 % porque lo primero que hice fue entrar en mi juego de Call of Duty y ver cómo estaba el pin y se mantenía en 40 y 50 y estaba jugando tranquilo sin tanto lag.
| | |
| --- | --- |
La app se llama Mi Wifi y en la caja trae el código QR para que la descargues en Play Store, solo te va a pedir que abras una cuenta de xiaomi la vinculas y vas haciendo los paso a paso que te van indicando hasta que ya se configura con el router es algo muy sencillo de hacer no tiene algo del otro mundo, otra cosa que hicimos fue hacerle un test de velocidad de descarga y nos arrojó más del 90 % que se estaba aprovechando al máximo y esto fue una alegría total porque ya sabíamos que era el router viejo nos estaba presentado problemas, ahora bien son tantas cosas que nos mejoró que ahora estamos felices por todo esto.
Los parámetros del dispositivo:
Modelo: RMAD
Tecnologia Inalambrica: Con Wifi 2.4GHz (300Mons), 5GHz (867 Mbps).
Optimizacion del Wifi.
Red Anti Roce.
Facil Instalacion.
Nuestros teléfonos vienen con una nueva tecnología que los routers viejos no los trae, por ejemplo aquí con este router me puedo conectar a la banda 2.4 GHZ, pero mi teléfono no lo aprovecha al máximo, pero si lo conecto a la Banda 5 GHz vuela el teléfono, esto es una locura, en casa solo estamos 4 personas, dos utilizan la banda 2.4 GHz y los otros 2 la banda 5 GHz esto hace que se mantenga de acuerdo con la capacidad de cada teléfono y esto es un plus genial.
De estos routers vienen en dos versiones, la global y la versión china, estuve investigando un poco acerca de ello, y la versión china es mejor que la global es mucho más rápida, y decidimos comprar la versión china porque es la mejor, porque es mucho más potente que la global.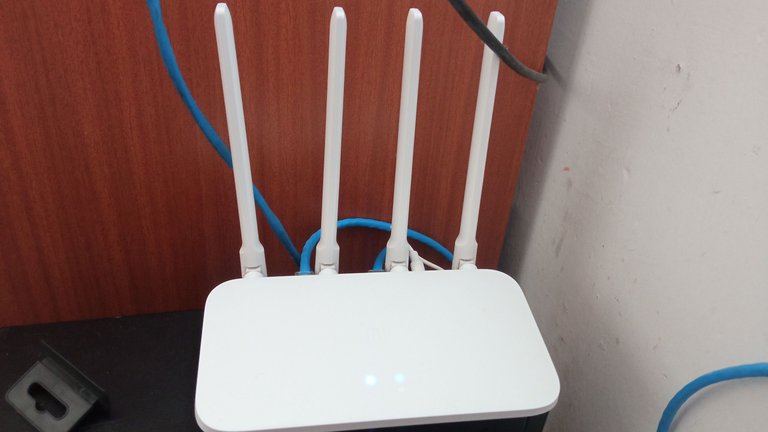 Así que amigos en resumidas cuentas, cuando cambien de internet a fibra óptica, es bueno buscar un router nuevo y actualizado que le pueda sacar el máximo provecho a su internet, nosotros ya llevamos casi un mes y por ahora todo marcha muy bien con nuestro nuevo router, ya tenemos experiencia con estos dispositivos porque mis suegros también tienen uno, y les quedó asegurar que son muy buenos y de buena calidad y que gracias a hive logramos tener este dispositivo.
Espero que este unboxing les sirva de mucho, así que seguimos por aquí disfrutando mucho de un buen internet, sea para jugar y trabajar, esto te servirá de mucho, la tecnología avanza y nosotros tenemos que adaptarnos a los cambios.
Bueno, mis estimados amigos, espero que les haya gustado este unboxing, que traje para todos ustedes, y espero que les sirva de mucha utilidad.
---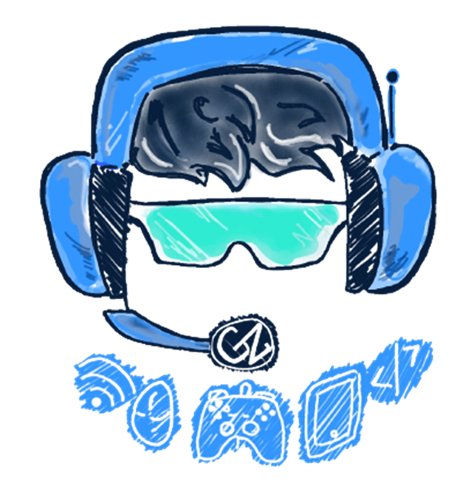 ---
Gracias, mis estimados amigos por llegar hasta aquí en este post, gracias por el cariño y el apoyo que me das, espero que te haya gustado este unboxing de este Router Xiaomi MI 4A AC1200 que traje para nuestra comunidad de Geek Zone, las experiencias de cada uno es de gran valor para todos es muy nutritivo es poder informarnos con estos contenidos, se aprende, muchas cosas y es divertido poder compartirlo con todos, si te gusto este post me lo haces saber en los comentarios, me voy despidiendo, se me cuidan, nos vemos en otra oportunidad un fuerte abrazo.

The photos were taken with my Xiaomi Redmi 9 phone and are of my authorship.
The photo was edited with Canva
Use Lumii App

Las fotos fueron con mi teléfono Xiaomi Redmi 9 son de mi autoría
La foto fue editada con Canva
Utilice App Lumii