Tras una prolongada pausa en el desarrollo de mis actividades por Internet (debido a problemas técnicos) retomo mi rimo de publicación. Parece increíble pero la verdad es que me vi seriamente comprometido con mi estación de trabajo pues mi laptop sufrió una repentina falla que me dejó fuera de servicio por más o menos un mes. Y si, quedarse sin PC es algo que te pasa factura por obvias razones.
Desde hace varios meses venia estudiando la posibilidad de hacer cambios en mi setup, el más importante claro está era el de incorporar una nueva computadora pues las tareas que vengo realizando cada vez se tornan más demandantes. Si bien es cierto que mi anterior equipo era potente y sus prestaciones lo hacen estar vigentes al día de hoy, en pocas palabras es una HP con un procesador i7 de 4ta generación, 8 GB de RAM, una SSD de 256 GB y una tarjeta de gráficos integrados de 2 GB, pero la electrónica interna estaba algo deteriorada, más específicamente los flex que hacen posible la conexión del disco solido tenían mucho juego lo cual en ocasiones causaba intermitencias de encendido y apagado de la laptop sin mencionar ademas que los ventiladores estaban extremadamente ruidosos.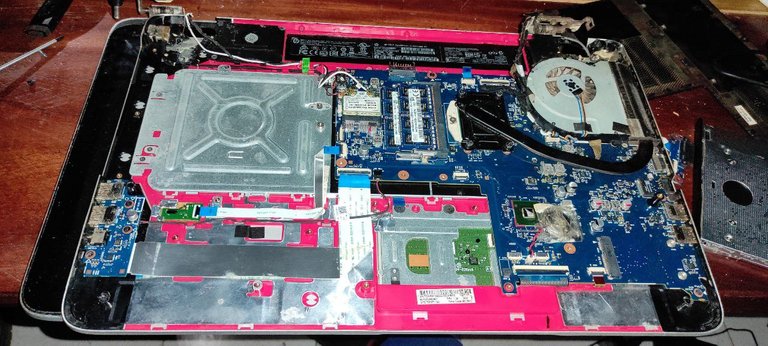 After a long pause in the development of my Internet activities (due to technical problems) I resume my publication rhythm. It seems incredible but the truth is that I was seriously compromised with my workstation because my laptop suffered a sudden failure that left me out of service for about a month. And yes, being without a PC is something that takes its toll for obvious reasons.

For several months I have been studying the possibility of making changes in my setup, the most important of course was to incorporate a new computer because the tasks I have been doing are becoming more and more demanding. While it is true that my previous computer was powerful and its features make it be valid today, in short it is an HP with a 4th generation i7 processor, 8 GB of RAM, a 256 GB SSD and a 2 GB integrated graphics card, but the internal electronics was somewhat deteriorated, more specifically the flex that make possible the connection of the solid disk had much play which sometimes caused intermittent on and off of the laptop not to mention that the fans were extremely noisy.
Por supuesto, le hice los respectivos mantenimientos pero un día "no incendio más". Como he mencionado en artículos anteriores, esta HP es del 2014 por lo que suma más de 8 años de intenso uso, de hecho ya no se puede considerar una laptop pues las bisagras están muy desgastadas y la pantalla está "semi flotando" por lo que me impide transportarla con facilidad de un lugar a otro.
Muchas veces queremos que nuestros equipos sean eternos pero cuando se trata de tecnología tarde o temprano llega ese día en el que debemos hacernos con algo más moderno que nos facilite las cosas y más aun si de ello depende nuestro trabajo. Así que decidí finalmente comprar una laptop nueva. Me puse a leer al respecto, ver experiencias de usuarios, en fin, todo ese proceso de investigación que conlleva la compra de algún dispositivo. El precio como siempre es un factor determinante en la formula a la hora de hacer la elección, pero si tengo que decir que actualmente uno recibe mucho por lo que paga en cuanto a prestaciones.
Tras esa ardua y extensiva búsqueda finalmente me decante por la marca Acer, si bien es cierto que nunca había tenido un terminal de este fabricante la critica que rodea al gigante de Taiwan es bastante buena. Para ser más especifico, elegí el Acer nitro 5 modelo AN515-55-53E5, si un nombre bastante raro la verdad pero es que del nitro 5 hay varias versiones y en breve hablaremos de las especificaciones de este en concreto.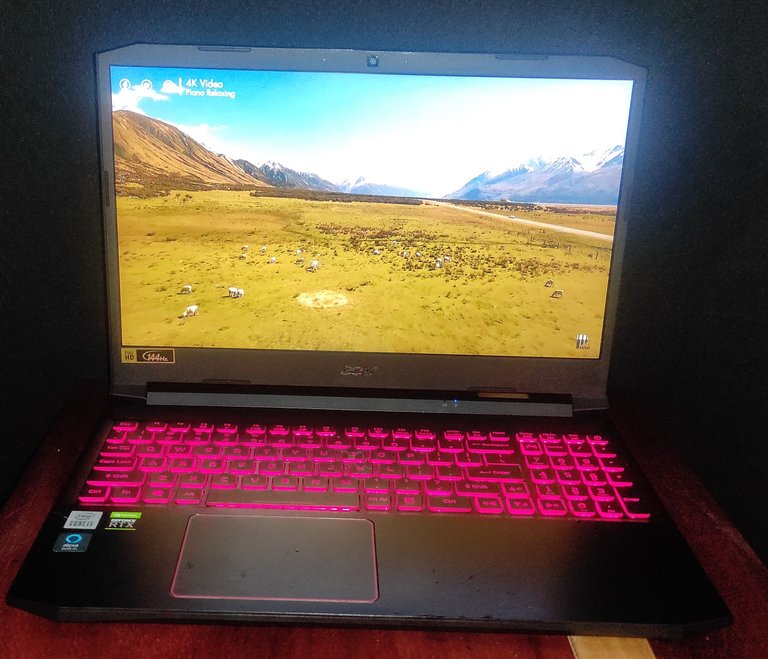 Of course, I did the respective maintenances but one day "it didn't fire anymore". As I mentioned in previous articles, this HP is from 2014 so it adds more than 8 years of intense use, in fact it can no longer be considered a laptop because the hinges are very worn and the screen is "semi floating" so it prevents me from transporting it easily from one place to another.

Many times we want our equipment to be eternal but when it comes to technology sooner or later comes that day when we must get something more modern to make things easier for us and even more if our work depends on it. So I decided to finally buy a new laptop. I started to read about it, see user experiences, in short, all that research process that involves the purchase of a device. The price as always is a determining factor in the formula when making the choice, but I have to say that nowadays you get a lot for what you pay in terms of performance.

After that arduous and extensive search I finally opted for the Acer brand, although it is true that I had never had a terminal from this manufacturer, the criticism surrounding the Taiwanese giant is quite good. To be more specific, I chose the Acer nitro 5 model AN515-55-53E5, if a rather strange name the truth is that the nitro 5 there are several versions and soon we will talk about the specifications of this particular one.
Este tipo de compras siempre las hago por Internet pues es más económico y el catalogo de oportunidades es más variado. Me paso algo muy curioso cuando estaba realizando la compra, al momento de pagar el total del producto eran unos $775 (sin incluir gastos de envió), tras unos 2 días la orden aún estaba en proceso y es que claro este equipo al venir de Asia tiene cierto tiempo para su procesamiento, el tema está que al navegar por amazon me aparece una sugerencia del mismo equipo más barato ($610) pero en condición de "refurbished" y es que la diferencia era notable, casi $200 dolares, así que no lo pensé 2 veces y cancelé la otra compra y ordené el más económico.
Ya yo he tenido experiencia probando equipos refurbished pero este caso en especifico seria mi primera laptop en dicho estado. Con el dinero que me ahorré compré una RAM de 8 GB y un SSD de 1TB para darle mas poder a la laptop. Solo quedaba esperar, esperar y esperar.
Tras casi un mes en vela el paquete llegó y con ello el momento de probar a la nueva bestia.
Al ser un equipo refurbished el unboxing no tiene mucha ciencia la verdad, no vamos a contar con las cajas originales y desde luego se pierde esa experiencia de "abrir el juguete nuevo" pero en lo personal esto es algo que a mi no me resulta tan critico y es que al final del día ese estimulo es menos que temporal y las cajas terminan siendo un estorbo/basura. La laptop, el cargador y los manuales vinieron bien protegidos en un plástico inflable. Al sacarla de este contenedor pude detectar ese olor a nuevo que no esta nada mal.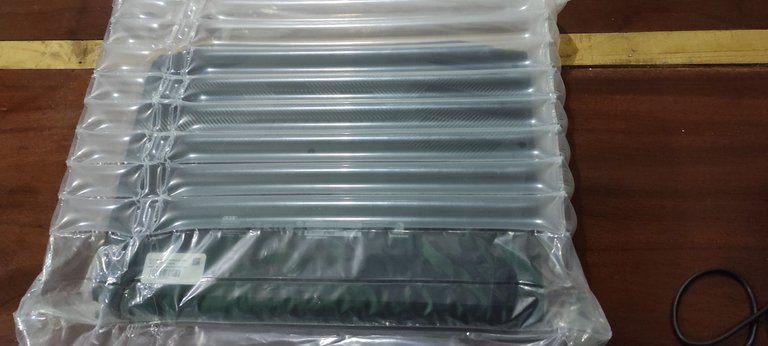 This type of purchases I always do them by Internet because it is more economical and the catalog of opportunities is more varied. Something very curious happened to me when I was making the purchase, at the time of paying the total product was about $775 (not including shipping), after about 2 days the order was still in process and it is clear that this device to come from Asia has some time for processing, the issue is that when browsing amazon appears a suggestion of the same cheaper equipment ($610) but in "refurbished" condition and the difference was remarkable, almost $ 200 dollars, so I did not think twice and canceled the other purchase and ordered the cheaper one.

I have already had experience testing refurbished equipment but this specific case would be my first laptop in refurbished condition. With the money I saved I bought an 8 GB RAM and a 1TB SSD to give more power to the laptop. The only thing left to do was to wait, wait and wait.

After almost a month of waiting the package arrived and with it the time to test the new beast.

Being a refurbished equipment the unboxing has not much science the truth, we will not have the original boxes and of course you lose that experience of "opening the new toy" but personally this is something that to me is not so critical and at the end of the day that stimulus is less than temporary and the boxes end up being a nuisance / trash. The laptop, charger and manuals came well protected in an inflatable plastic. When I took it out of this container I could detect that new smell which is not bad at all.
Es un equipo súper ligero si tenemos en cuenta que es una laptop gamer, ademas su diseño es altamente minimista pero con un estilo bastante genial que se siente muy bien al tacto y honestamente no notaria la diferencia con uno equipo nuevo.

Ahora bien, luego de toda esa euforia tocaba ponerla en marcha y la coloqué en mi escritorio para proceder con las pruebas. Lo primero que debo decir es que no encontraba el botón de encendido lol. Duré unos cuantos minutos tratando de encontrarlo y finalmente lo conseguí, creo que yo estaba algo desactualizado pero se me hizo raro que este botón sea una tecla más del teclado, no sé, me parece poco intuitivo pero no es para hacer un drama tampoco. Presioné el power pero no pasaba nada y pensé que estaba descargada lo cual es normal e inmediatamente busqué el cable de corriente.
El segundo reto que me tocó enfrentar fue encontrar la entrada de alimentación lol. Increíble, tras varios minutos más lo localicé en la parte posterior del equipo cosa que supongo es parte de las novedades de los terminales actuales. Lo conecté a la corriente y nuevamente presioné el botón de power y la computadora seguía sin dar señales de vida, ni siquiera encendía algún LED indicando que estaba conectado y ya me empecinaba a poner paranoico.

It is a super light device if we consider that it is a gamer laptop, plus its design is highly minimalist but with a pretty cool style that feels great to the touch and honestly would not notice the difference with a new device.

Now, after all that euphoria it was time to start it up and I placed it on my desk to proceed with the tests. The first thing I must say is that I couldn't find the power button lol. I lasted a few minutes trying to find it and finally I got it, I think I was a little outdated but I found it strange that this button is a key on the keyboard, I do not know, it seems unintuitive but it is not to make a drama either. I pressed the power but nothing happened and I thought it was discharged which is normal and immediately looked for the power cord.

The second challenge I faced was finding the power input lol. Unbelievable, after several more minutes I located it on the back of the device which I guess is part of the novelties of the current terminals. I connected it to the power and again pressed the power button and the computer still showed no signs of life, it didn't even turn on any LED indicating that it was connected and I was getting paranoid.
La dejé un rato "cargando" y al regresar seguía muerta y ya por mi mente pasaban cosas como: vino defectuosa, me estafaron etc...
Me calmé un poco y me puse a investigar por Internet. Efectivamente este modelo en concreto viene con una especie de seguro, se debe hacer algo de presión extra hasta que oigas dos veces el chasquido. Una vez más, supongo que esto es el estandarte ahora. Finalmente la computadora encendió y todos fueron felices para siempre lol.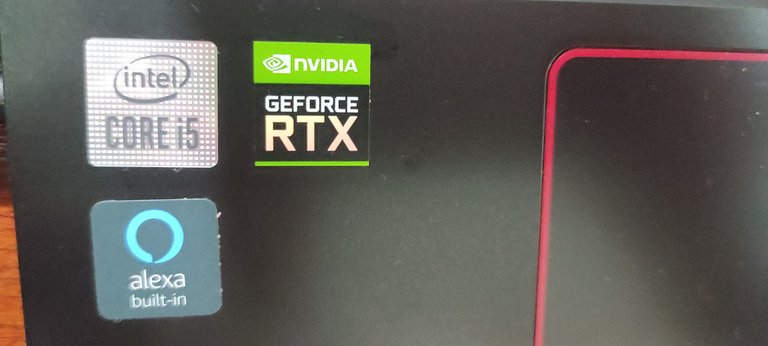 Sobre las especificaciones
Como mencioné arriba esta es una laptop gamer pero por supuesto que se puede realizar cualquier tipo de tareas y producción en general. Entre sus caracterizaras más relevantes tenemos: una pantalla de 15.6 pulgadas IPS de 1080p con una tasa de refresco de 144Hz, el procesador es un Intel Core i5-10300H el cual alcanza una frecuencia turbo de hasta 4,5 GHz, 8 GB de RAM aunque le añadí otros 8 GB para completar un total de 16, almacenamiento SSD de 256 y también le sumé otro SSD de 1 TB. La gráfica es una GeForce GTX 3050 la cual me parece genial.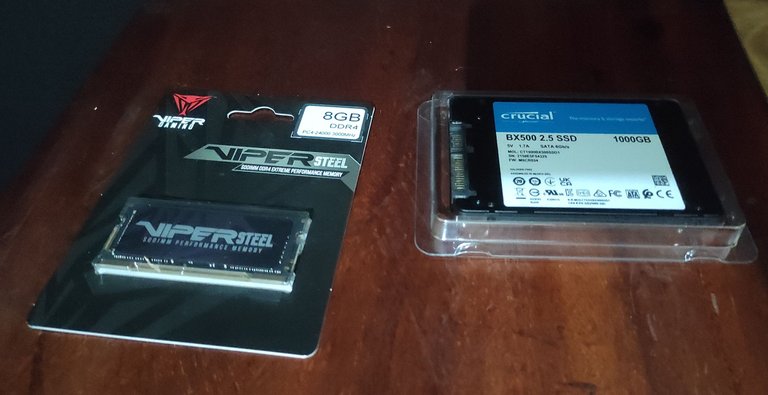 I left it "charging" for a while and when I came back it was still dead and things were going through my mind like: it came defective, they ripped me off etc...

I calmed down a bit and started researching on the Internet. Indeed this particular model comes with a kind of safety catch, you have to do some extra pressure until you hear the click twice. Again, I guess this is the standard now. Finally the computer turned on and everyone was happy ever after lol.

About the specs

As I mentioned above this is a gamer laptop but of course you can perform any type of tasks and production in general. Among its most relevant features we have: a 15.6-inch 1080p IPS display with a 144Hz refresh rate, the processor is an Intel Core i5-10300H which reaches a turbo frequency of up to 4.5 GHz, 8 GB of RAM although I added another 8 GB to complete a total of 16, 256 SSD storage and I also added another 1 TB SSD. The graphics is a GeForce GTX 3050 which I think is great.
| | |
| --- | --- |
| | |
En cuanto a conectividad tenemos Bluetooth 5.0, una entrada HDMI, 2 puertos UBS 3.2 gen 1, 1 puerto USB 3.2 gen 2, un puerto USB 3.2 gen 2 Tipo C y un puerto RJ45 lo cual me encanta pues casi todos los nuevos modelos no lo traen y me parece que aún sigue siendo necesario. El teclado es iluminado pero solo de color rojo. Su autonomía según el fabricante es de 11 horas pero con un uso más o menos normal la batería dura unas 4 horas. También cuenta con una cámara web FULL HD la cual esta bastante interesante, tambien mantiene el jack de 3.5 mm para auriculares. Por ultimo pero no menos importante su peso es de una 5.07 libras lo que equivale a unos 2.3 Kilos.
La he estado probando un par de días y la experiencia es bastante fluida, no es para nada ruidosa como solían ser las primeras laptops gamer pero al momento de ejecutar tareas pesadas si se pueden oír los ventiladores trabajar un poco.
Ya para finalizar, puedo decir que este es un equipo bastante robusto que incluye prestaciones de terminales más costosos, la experiencia es bastante buena y para un uso diario/laboral esta más que sobrado. Como recomendación les sugiero hacer una rápida actualización de sus instrumentos de trabajo y que no les pase como a mi que estuve desconectado por mucho tiempo por no haber tomado las respectivas previsiones.
Si has llegado a esta parte del post muchísimas gracias por leer. Cuéntame en los comentarios si has tenido alguna experiencia con equipos refurbished y que tal te ha parecido. Un saludo y hasta la próxima oportunidad.
In terms of connectivity we have Bluetooth 5.0, an HDMI input, 2 UBS 3.2 gen 1 ports, 1 USB 3.2 gen 2 port, a USB 3.2 gen 2 Type C port and an RJ45 port which I love because almost all new models do not have it and I think it is still necessary. The keyboard is illuminated but only red. Its autonomy according to the manufacturer is 11 hours but with a more or less normal use the battery lasts about 4 hours. It also has a FULL HD webcam which is quite interesting, also keeps the 3.5 mm jack for headphones. Last but not least it weighs 5.07 pounds which is equivalent to about 2.3 Kilos.

I have been testing it for a couple of days and the experience is quite smooth, it is not at all noisy as used to be the first gamer laptops but when running heavy tasks if you can hear the fans work a little.

Finally, I can say that this is a fairly robust equipment that includes features of more expensive terminals, the experience is quite good and for a daily / work use is more than enough. As a recommendation I suggest you to make a quick update of your work tools and that does not happen to you like me that I was disconnected for a long time for not having taken the respective provisions.

If you have reached this part of the post thank you very much for reading. Tell me in the comments if you have had any experience with refurbished equipment and how did you like it. Best regards and see you next time.
Todas las imágenes son de mi sutoria / All images are my own property