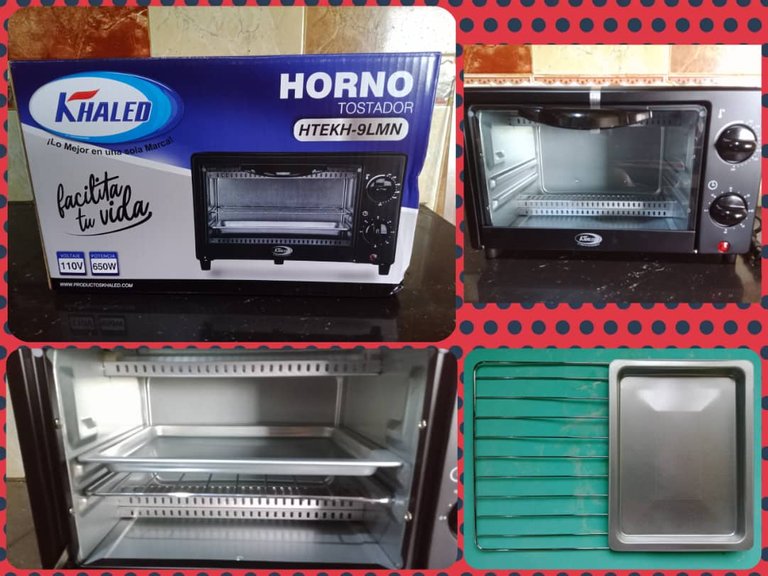 ESPAÑOL
Feliz fin de semana para toda la comunidad. En esta ocasión deseo compartirles acerca de mi nueva adquisición se trata de un Horno Eléctrico (HTEKH-9LMN) el cual tuve que comprar dadas las circunstancia ya que donde vivo tenemos problema con el servicio de gas doméstico por lo general cuando llenan las bombonas sólo duran de cuatro a cinco días y pasamos hasta dos semanas sin dicho servicio.
ENGLISH


Happy weekend to all the community. On this occasion I want to share with you about my new acquisition is an Electric Oven (HTEKH-9LMN) which I had to buy given the circumstances because where I live we have a problem with domestic gas service usually when they fill the bottles only last four to five days and we spend up to two weeks without such service.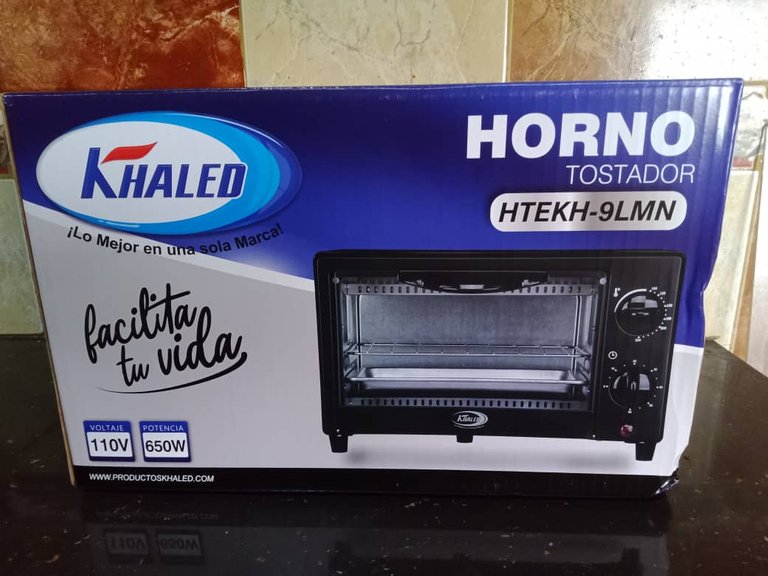 En vista de eso, me vi en la obligación de buscar una alternativa para paliar dicha situación y para sorpresa mía me encontraba en un centro comercial muy reconocido en la ciudad llamado Hiper Galería , allí está ubicada una tienda comercial de equipos electrodomésticos conocida como Multimax donde podemos encontrar dichos aparatos un poco más accesible y ajustado a nuestro presupuesto.
In view of this, I was forced to look for an alternative to alleviate this situation and to my surprise I found myself in a well known shopping center in the city called Hiper Gallery, there is a commercial store known as Multimax where we can find such appliances a little more accessible and adjusted to our budget.

Ese día vi en esa tienda este horno el cual captó mi atención por su tamaño , lo práctico y ´útil que será para solventar la problemática arriba mencionada. En mi caso ha sido un poco difícil ya que tengo un niño en pleno crecimiento y necesita tener los alimentos preparados a la hora adecuada para su desarrollo físico mental y emocional. Pensando como solucionar esta situación surgió la idea de comprar un equipo eléctrico que fuese útil pero que se ajustará a nuestros bolsillos.
That day I saw in that store this oven which caught my attention because of its size, how practical and 'useful it will be to solve the problem mentioned above. In my case it has been a little difficult because I have a child in full growth and he needs to have food prepared at the right time for his physical, mental and emotional development. Thinking about how to solve this situation, I came up with the idea of buying an electrical equipment that would be useful but that would fit our pockets.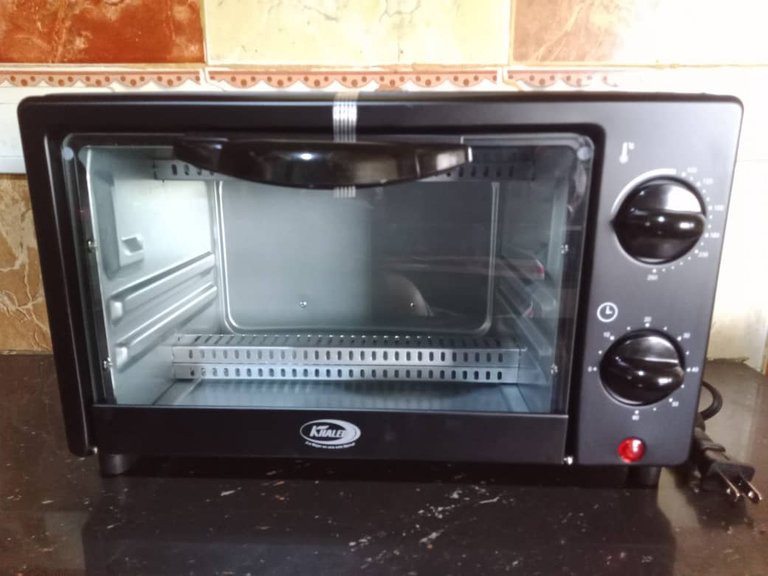 ---
Sin más preámbulo les comento que fue muy buena la inversión ya que el equipo es muy sencillo de usar , con un consumo bajo en vatios y voltaje de 110, me pareció excelente y para estrenarlo hornee un pasticho ( el cual se comió mi peque antes de poder tomar capture) en un tiempo aproximado de diez minutos y quedó muy bien.
.
Without further ado I comment that it was a very good investment because the equipment is very easy to use, with a low wattage consumption and voltage of 110, I found it excellent and to premiere it I baked a pasticho (which my little one ate before being able to take capture) in about ten minutes and it was very good.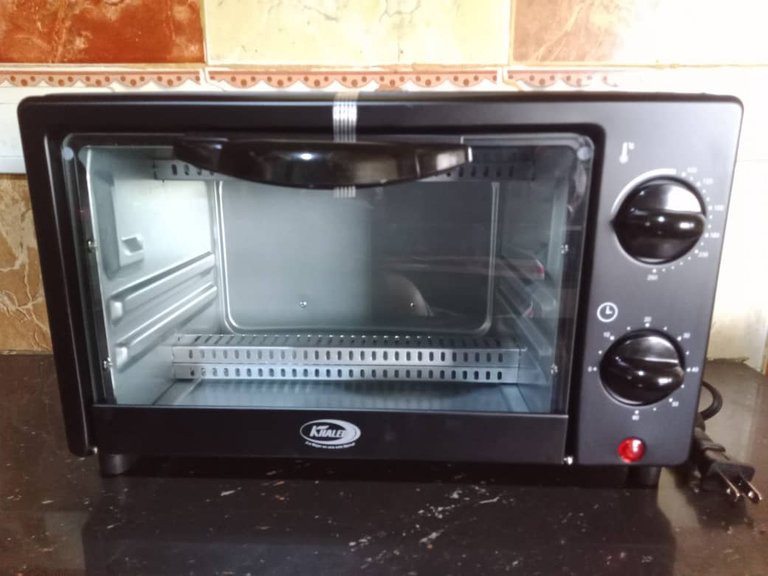 Este equipo tiene un tamaño adecuado el cual podemos llevar de un sitio a otro sin ningún tipo de problema , posee una capacidad de nueve litros lo cual me parece muy interesante porque se puede fácilmente poner a hervir unos huevos , además, podemos programarlo para una duración de una hora con un consumo de energía promedio.
This equipment has a suitable size which we can carry from one place to another without any problem, has a capacity of nine liters which I find very interesting because you can easily boil some eggs, in addition, we can program it for a duration of one hour with an average power consumption.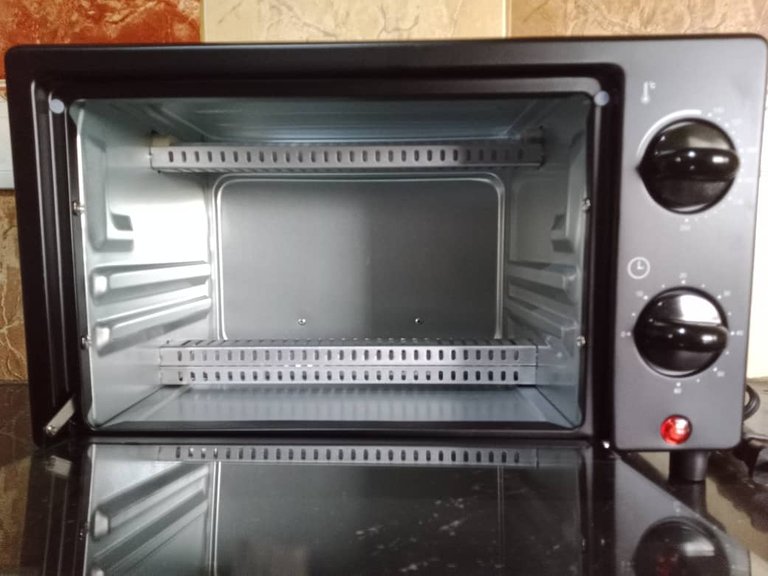 ---
De acuerdo con el manual sus especificaciones más importantes son las siguientes:
*Posee una capacidad interior de 9 litros
Consumo de 650 Vatios
Temporizador : 60 minutos
Posee un cuerpo de color negro
La temperatura podemos ajustarla de 100-250 C°
According to the manual its most important specifications are the following:
*It has an interior capacity of 9 liters.
Consumption of 650 watts
Timer: 60 minutes
It has a black colored body
The temperature can be adjusted from 100-250 C°.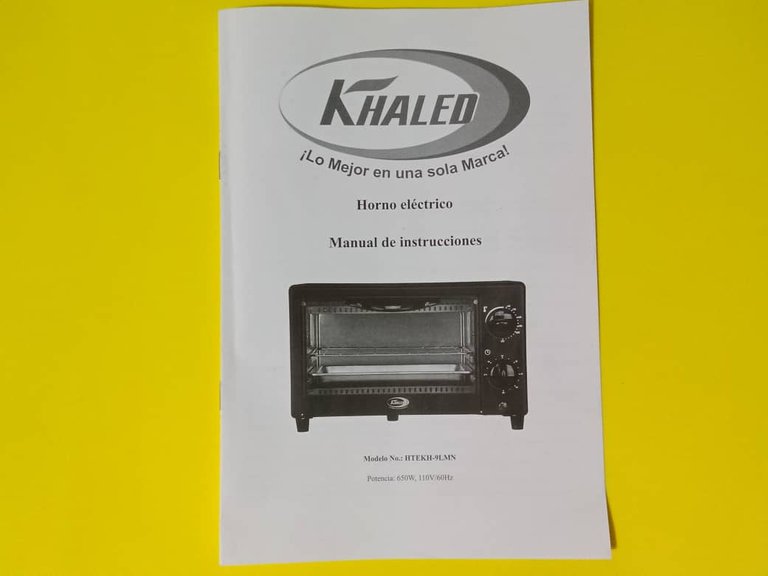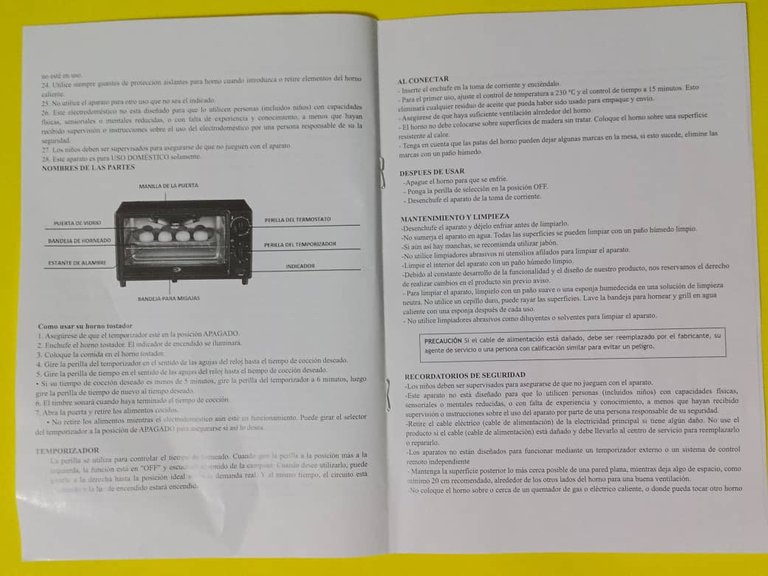 ---
Una de la cosas importantes que debemos hacer antes de empezar a usar este aparato es limpiar con agua caliente la bandeja y la parilla que trae con la finalidad de extraer cualquier sustancia de fábrica. Les cuento que al principio me asusté un poco porque al momento de encenderlo comenzó a humear y pensé que había venido dañado pero al leer el manual me di cuenta que esto ocurre los primeros días pero en la medida que vayamos usándolo esto desaparecerá.
One of the important things to do before starting to use this appliance is to clean with hot water the tray and the grill that comes with it in order to remove any substance from the factory.
At first I was a little scared because when I turned it on it started to smoke and I thought it had been damaged but when I read the manual I realized that this happens the first few days but as we go using it this will disappear.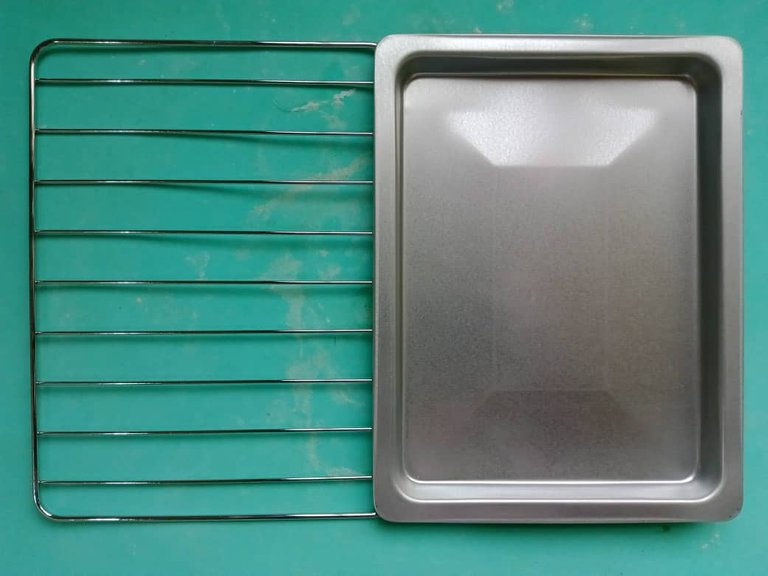 ---
Les puedo comentar que este equipo cumplió con mis expectativas al ser de gran utilidad en casa ya que se puede preparar los alimentos en él , como por ejemplo, arepa, pollo horneado, pastel, entre otros, así de esta manera poder cocinar nuestra comida de manera sencilla y sobre todo pude aprender que todo en la vida se puede solucionar como dice un proverbio japonés : Cada crisis es una nueva oportunidad para crecer.
I can tell you that this equipment met my expectations by being very useful at home because you can prepare food in it, for example, arepa, baked chicken, cake, among others, so in this way we can cook our food easily and above all I could learn that everything in life can be solved as a Japanese proverb says: Every crisis is a new opportunity to grow.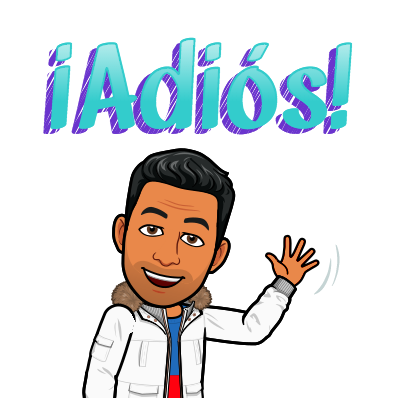 ---
Para concluir, me parece un electrodoméstico importante que no debe faltar en casa porque nos puede ayudar en cualquier momento a sar, tostar y cocer cualquier tipo de alimento como pollo, carne, verduras , pizza , entre otros, además, su precio es bajo para la gran utilidad que le podríamos dar
To conclude, it seems to me an important appliance that should not be missing at home because it can help us at any time to roast, toast and cook any type of food such as chicken, meat, vegetables, pizza, among others, in addition, its price is low for the great utility that we could give it.

---
Translated with
https://www.deepl.com/translator

                Todas las imágenes son de mi autoría, capturadas por un teléfono Blackview A80 Plus, divisores cortesía de @kattycrochet   
              All images authored by me, captured by a Blackview A80 Plus phone, splitters courtesy of @kattycrochet.