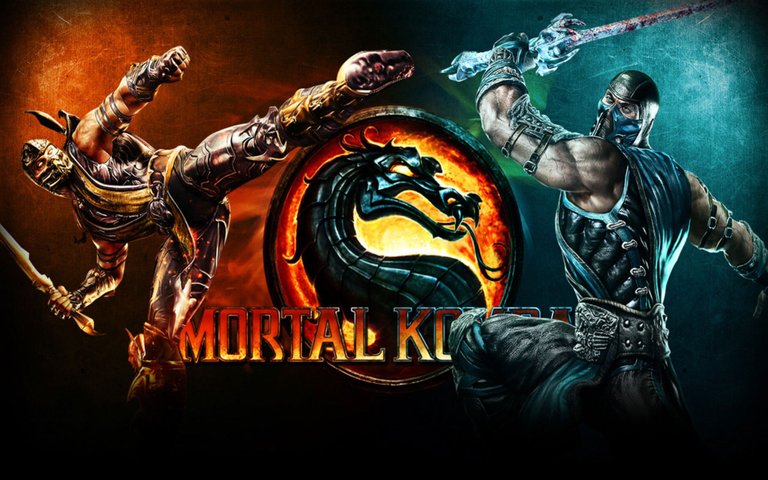 Desde pequeño me crié rodeado de consolas con las cuales me pasaba horas jugando junto a mi hermano mayor clásicos como Super Contra 2, Kirby y Mortal Kombat, disfrutando, mientras él me revelaba a su vez técnicas secretas de estos juegos. Mortal Kombat siempre fue nuestro favorito, ya que era un "des-estrés" para nosotros por así decirlo en momentos después del colegio y fines de semana, con el que no solamente pasamos nuestra infancia, sino que también crecimos con él.
Since I was a child I grew up surrounded by consoles with which I spent hours playing with my older brother classics like Super Contra 2, Kirby and Mortal Kombat, enjoying, while he revealed to me in turn secret techniques of these games. Mortal Kombat was always our favorite, as it was a "de-stressor" for us so to speak at times after school and weekends, with which we not only spent our childhood, but also grew up with it.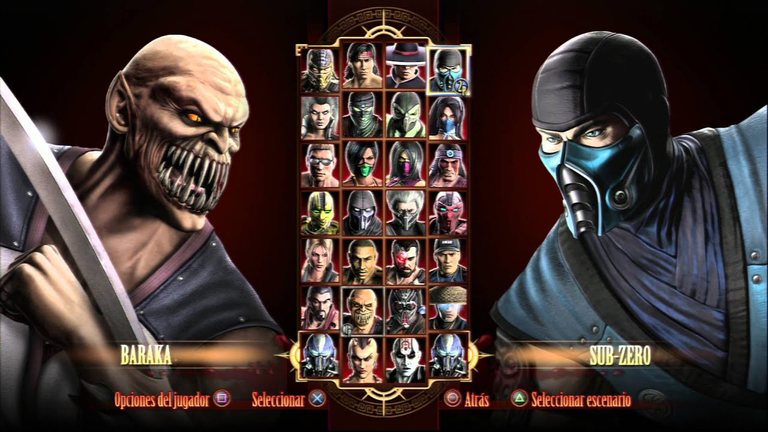 Mortal Kombat es un videojuego de peleas para consolas orientado a sistemas con multijugador, en el cual, existen muchísimos personajes interesantes que utilizan poderes para combatir. Mortal Kombat 3 fue el primero que tuve la oportunidad de jugar en mi vida, pero también probé sus versiones anteriores, Mortal Kombat: Trilogy, la versión 4 y la 5. Pasé de ver gráficos de acción real a diseños asistidos totalmente por computadoras hasta que choqué con la versión del 2011, Mortal Kombat 9.
Mortal Kombat is a fighting video game for consoles oriented to multiplayer systems, in which there are many interesting characters that use powers to fight. Mortal Kombat 3 was the first one I had the opportunity to play in my life, but I also tried its previous versions, Mortal Kombat: Trilogy, version 4 and 5. I went from seeing live-action graphics to fully computer-aided designs until I bumped into the 2011 version, Mortal Kombat 9.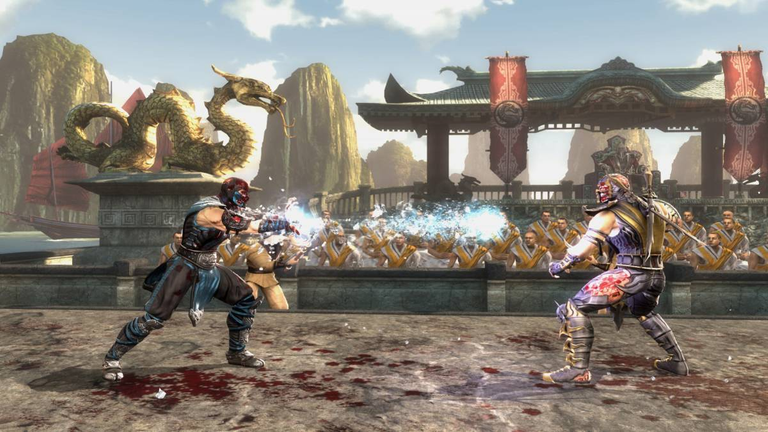 Desarrollado por NetherRealm Studios y publicado por Warner Bros. Games, Mortal Kombat 9 fue lanzado a nivel internacional para PlayStation 3 y Xbox 360, junto con una versión posterior para Microsoft Windows. El juego presenta un estilo gráfico refinado y tecnológicamente revisado que le da un aspecto casi cinematográfico, siendo, el primer juego moderno en la serie desde Mortal Kombat: Deception en 2006; después del cierre de Midway Games, WB Games adquirió los derechos de la franquicia, trazando el camino para la resurgencia del título a lo grande.
Developed by NetherRealm Studios and published by Warner Bros. Games, Mortal Kombat 9 was released internationally for PlayStation 3 and Xbox 360, along with a later version for Microsoft Windows. The game features a refined and technologically revised graphical style that gives it an almost cinematic look, being, the first modern game in the series since Mortal Kombat: Deception in 2006; after the closure of Midway Games, WB Games acquired the rights to the franchise, paving the way for the title's resurgence in a big way.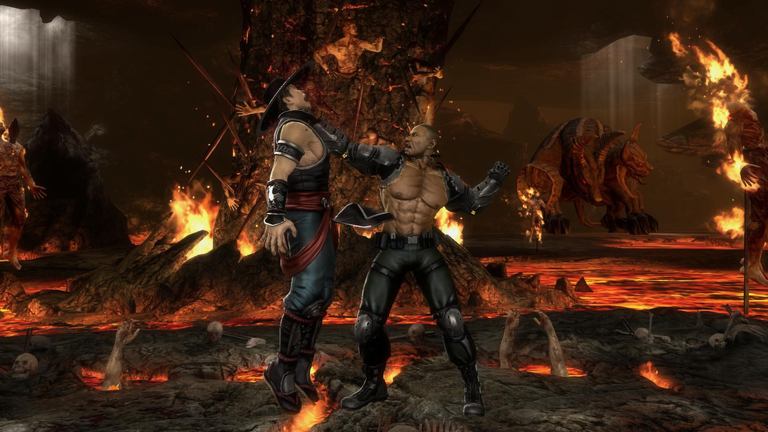 En términos de jugabilidad, mantiene los controles tradicionales del juego pero incluyen varios elementos renovados, como ataques especiales X-Ray Moves y combo Breaker Breakers para encadenar ataques adicionales. Además, hay 8 nuevos personajes jugables disponibles en el juego, con algunas mini series como Ninja Smoke o Cyrax. También hay nuevos modos que se han introducido, incluyendo Konquest Story Mode (un modo narrativo basado en la historia) y Tag Team Fighting Mode (donde dos jugadores pueden elegir dos personajes y luchar contra otros equipos).
In terms of gameplay, it maintains the game's traditional controls but includes several revamped elements, such as X-Ray Moves special attacks and Breaker Breakers combo to chain additional attacks. In addition, there are 8 new playable characters available in the game, with some mini-series such as Ninja Smoke or Cyrax. There are also new modes that have been introduced, including Konquest Story Mode (a story-based narrative mode) and Tag Team Fighting Mode (where two players can choose two characters and fight against other teams).
Este juego es una pasada en entretenimiento y uno de los mejores en gráficos que combina la agresividad de las peleas de sus primeros lanzamientos con personajes más realistas y trabajados contextualmente según las tendencias modernas. Cuando tuve mi primera PC en 2013 fue uno de los que más frecuentaba con mi hermano y amigos, literalmente pasándonos más de 5 horas sin salir de alante de la pantalla. Nos aprendimos todas las técnicas de todos los personajes y pasamos todos los niveles en su modo historia.
This game is a blast in entertainment and one of the best in graphics that combines the aggressiveness of the fights of their first releases with more realistic and contextually worked characters according to modern trends. When I had my first PC in 2013 it was one of the most frequented with my brother and friends, literally spending more than 5 hours without leaving the screen. We learned all the techniques of all the characters and passed all the levels in its story mode.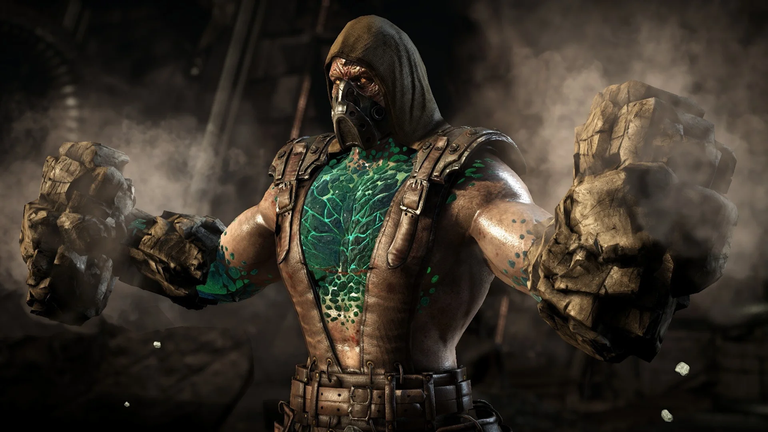 Mi personaje favorito es Sub-Zero, debido a que mi contricante mayor en el juego (mi mejor amigo) prefiere a Scorpion, así que si según conoces la historia de estos dos personajes, uno no puede co-existir sin el otro. Aunque también me he permitido jugar con Noob Saibot, Nightwolf o Rain, no pierdo la oportunidad con ninguna de las modalidades del ninja del hielo.
My favorite character is Sub-Zero, because my biggest opponent in the game (my best friend) prefers Scorpion, so if you know the history of these two characters, one can't co-exist without the other. Although I've also indulged in playing with Noob Saibot, Nightwolf or Rain, I don't miss a chance with any of the ice ninja modes.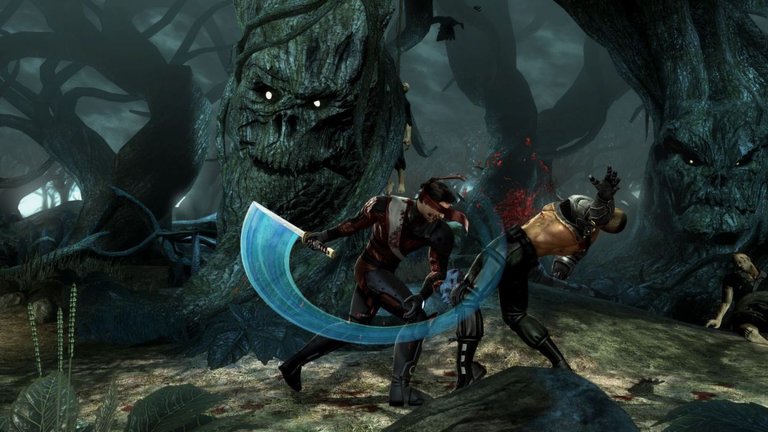 Para practicar, llegaba de la escuela y me repetía a mí mismo diferentes niveles de torneo para prepararme a combatir con mis amistades los fines de semana, quienes me hacían mucho frente a pesar de mi constancia. Indiscutiblemente Mortal Kombat ha marcado para bien mis tiempos de ocio cuando joven y ha sido uno de los videojuegos que, a pesar de ya no frecuentarlo, sigo manteniendo la técnica y la habilidad.
To practice, I would come home from school and repeat to myself different tournament levels to prepare myself to fight with my friends on the weekends, who would give me a hard time despite my perseverance. Undoubtedly Mortal Kombat has marked for good my leisure time when I was young and has been one of the video games that, although I no longer play it, I still keep the technique and skill.
¿Lo has jugado antes? ¿Qué versión has podido probar? ¿Cuál ha sido tu personaje favorito a lo largo del tiempo?
Have you ever played it before? Which version have you been able to try? Which has been your favorite character so far?
---
IMAGE SOURCE
Image 1 | Image 2 | Image 3 | Image 4 | Image 5 | Image 6 | Image 7 | Image 8

---