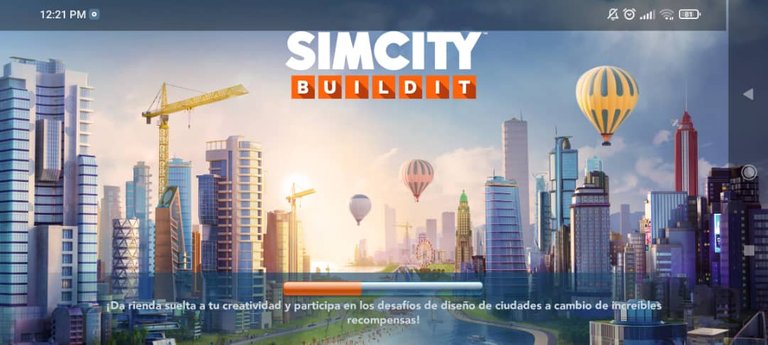 Hola queridos amigos de Geek Zone amantes de los juegos, hoy quiero compartir con todos ustedes , mi experiencia con un juego que tengo hace días en el teléfono y se trata de SIMCITY, este juego es realmente llamativo ya que se trata de construir una ciudad completa, asegurar el bienestar de todos los habitantes y cubrir las necesidades de la ciudad, además de hacerla crecer y que funcione correctamente , ya que no solo eres el constructor de la ciudad, sino que también tienes el cargo de alcalde, tarea que no es fácil.
Hello dear friends of Geek Zone game lovers, today I want to share with all of you, my experience with a game that I have had for days on the phone and it is SIMCITY, this game is really striking because it is about building a complete city, ensuring the welfare of all the inhabitants and meet the needs of the city, in addition to making it grow and function properly, since you are not only the builder of the city, but also have the position of mayor, a task that is not easy.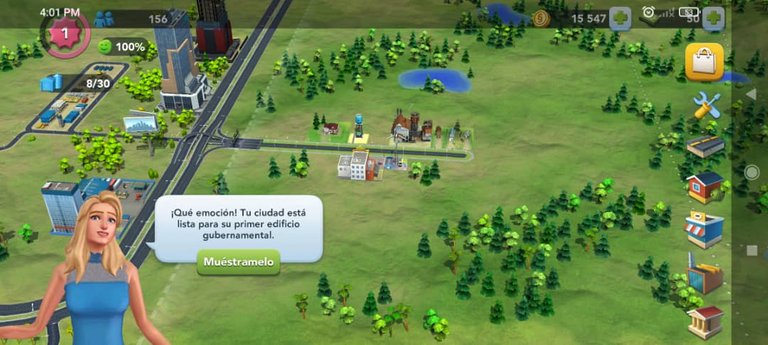 Reconozco que al principio no entendía nada del juego, sólo sabía que tenía que construir algo y pensaba que eran cosas básicas, como crear una casa y ya está, nunca me imaginé que tenía que construir carreteras, industrias, alumbrado público , control de alcantarillado, incluso hay que hacer parques para que los habitantes se sientan felices. Definitivamente es un reto y un juego muy parecido a la realidad, porque vemos que una ciudad o una urbanización necesita muchas cosas para funcionar correctamente.
I admit that at the beginning I did not understand anything about the game, I only knew I had to build something and I thought they were basic things, like creating a house and that's it, I never imagined that I had to build roads, industries, street lighting, sewage control, you even have to make parks for the inhabitants to feel happy. It is definitely a challenge and a game very similar to reality, because we see that a city or an urbanization needs many things to function properly.
Al principio pensé en optar por el comodín de llamar a un amigo, porque no entendía casi nada del juego, incluso pensé en desinstalarlo por no entenderlo, pero pensé que, si tanta gente está jugando, es porque algo bueno debe tener, y me tomé mi tiempo y fui aprendiendo muy poco a poco con aciertos y fallos. Este es el primer juego de este estilo que tengo en mi teléfono, y realmente fue un juego que me sacó de mi zona de confort.
At first I thought about opting for the wild card of calling a friend, because I understood almost nothing of the game, I even thought about uninstalling it for not understanding it, but I thought that, if so many people are playing it, it is because something good must have, and I took my time and I was learning very slowly with hits and misses. This is the first game of this style that I have on my phone, and it really was a game that took me out of my comfort zone.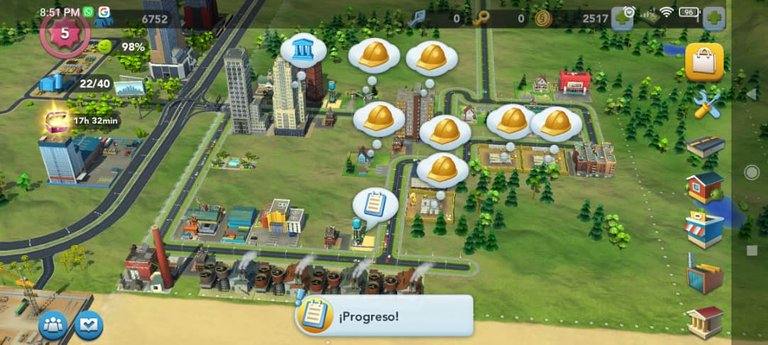 Como siempre digo todo comienzo es fácil y al principio me gaste todo el dinero que me daba el juego construyendo casas y carreteras, creo que como alcaldesa no hice una buena administración de los recursos y mi esposos me decía una y otra vez que debía administrar correctamente el dinero , por si acaso salían necesidades en el futuro y yo no lo escuche .El caso es que el juego se hizo fuerte cuando paso el tiempo , necesite dinero y no tuve de donde sacarlo. Creo que hubo un momento en que me estresé porque los habitantes se quejaban de todo y yo no tenía de dónde sacar dinero para satisfacer sus necesidades, creo que llegué a sentirme impotente (risas) y tuve que armarme de mucha paciencia para trabajar poco a poco por el dinero y también para resolver las necesidades más importantes de los habitantes.
As I always say every beginning is easy and at the beginning I spent all the money that the game gave me building houses and roads, I think that as mayor I did not do a good administration of the resources and my husband told me again and again that I should manage the money properly, in case there were needs in the future and I did not listen to him, the case is that the game became strong as time went by, I needed money and I had nowhere to get it. I think there was a moment when I got stressed because the inhabitants were complaining about everything and I had nowhere to get money to meet their needs, I think I came to feel helpless (laughs) and I had to arm myself with a lot of patience to work little by little for the money and also to solve the most important needs of the inhabitants.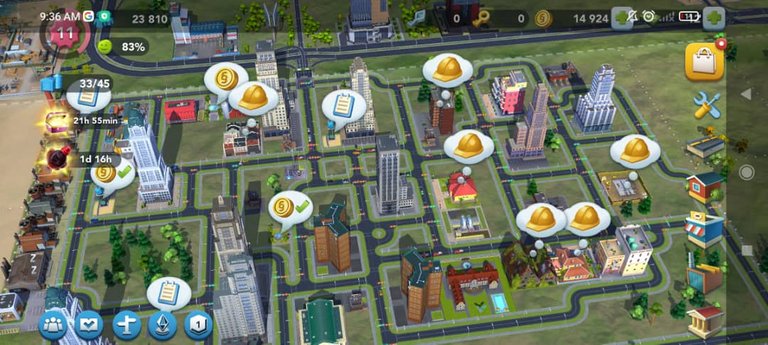 Otro punto interesante del juego es que los habitantes se quejaban por todo, realmente eran muy expresivos y esto me parecía tan real, algunos se quejaban porque no tenían electricidad, otros por el agua, otros porque no había policías en el área, también recuerdo que había habitantes que me pedían escuelas, parques y lugares para divertirse, mientras que otros querían reconstruir sus casas. Hubo un momento en que decidí ignorar a todos, porque si no tenía dinero qué podía hacer para ayudarlos.
Algo que me gustaba mucho era el mercado, donde podía vender y comprar productos, esto me costó mucho entenderlo, y como dicen pagué la novatada, porque las primeras ventas las hice sin querer y gasté de mis ahorros 10 dólares que tenía en publicidad, esto fue un gran error, porque ese dinero lo estaba juntando para ampliar mi depósito, y con eso pues lo desperdicié. Otro error que cometí fue vender productos que luego necesitaría para ampliar el terreno y ampliar el depósito, y realmente los vendí por un bajo precio, luego tuve que pasar varios niveles para volver a encontrar los productos.
Another interesting point of the game is that the inhabitants complained about everything, they were really very expressive and this seemed so real to me, some complained because they had no electricity, others about water, others because there were no policemen in the area, I also remember that there were inhabitants who asked me for schools, parks and places to have fun, while others wanted to rebuild their houses. There was a moment when I decided to ignore everyone, because if I had no money what could I do to help them.
Something I liked a lot was the market, where I could sell and buy products, this cost me a lot to understand, and as they say I paid the hazing, because the first sales I made unintentionally and I spent from my savings 10 dollars I had in advertising, this was a big mistake, because that money I was putting together to expand my warehouse, and with that I wasted it. Another mistake I made was to sell products that I would later need to expand the land and expand the warehouse, and I actually sold them for a low price, then I had to go through several levels to find the products again.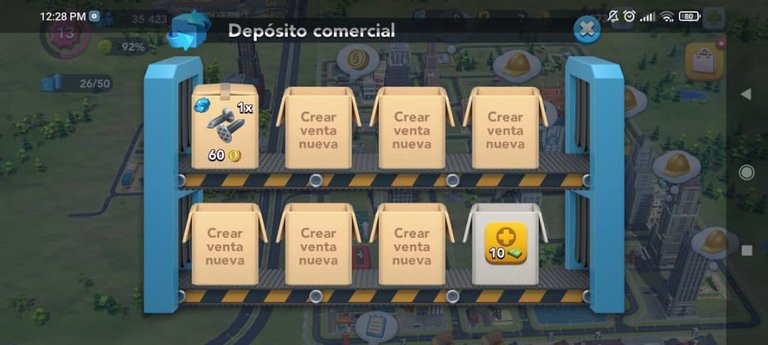 También recuerdo que conseguí desbloquear el muelle de carga y curiosamente había un pulpo que sentía cierta atracción por mis barcos, sólo lo vi dos veces, y siempre uno de los habitantes me decía que el pulpo estaba allí, el primero que vio al pulpo fue mi hijo, y me preguntó con risas si me había dado cuenta de que tenía un monstruo en el juego.
Realmente este es un juego muy completo, donde aprendes a tener paciencia, y aprendes a tolerar las críticas y las quejas dando lo mejor de uno mismo, lo que estoy segura es que nunca aspiraría al cargo de alcalde y menos después de probar este juego, porque es realmente difícil observar las necesidades de tus habitantes y no poder hacer nada al respecto por no tener dinero.
I also remember that I managed to unlock the loading dock and curiously there was an octopus that felt a certain attraction for my ships, I only saw it twice, and always one of the inhabitants told me that the octopus was there, the first one who saw the octopus was my son, and he asked me with laughter if I had realized that I had a monster in the game.
Really this is a very complete game, where you learn to have patience, and you learn to tolerate criticism and complaints giving the best of yourself, what I am sure is that I would never aspire to the position of mayor and less after trying this game, because it is really difficult to observe the needs of your inhabitants and not being able to do anything about it for not having money.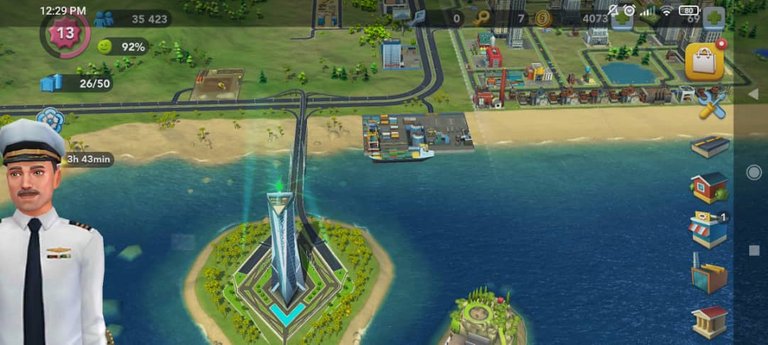 Con este juego también aprendes a equilibrar los gastos y a ver las prioridades, a saber, qué es más necesario y qué es un lujo, aprendí a identificar cuándo una inversión es buena y cuando no, recuerdo que los compradores me llegaban todo el tiempo ofreciéndome a precio de gallina flaca por mis productos que luego en el mercado podía vender más caros, entonces tuve que tener mucho discernimiento para saber qué vender y a quién vender y a quién no.
With this game you also learn to balance expenses and to see the priorities, to know what is more necessary and what is a luxury, I learned to identify when an investment is good and when it is not, I remember that buyers came to me all the time offering me a skinny chicken price for my products that I could sell at a higher price in the market, then I had to be very discerning to know what to sell and who to sell to and who not to sell to.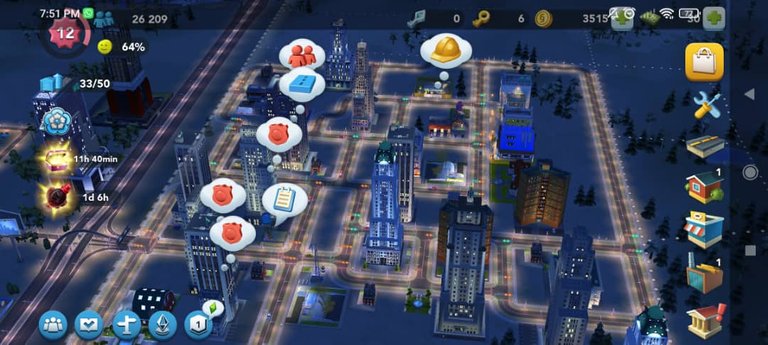 Espero se animen en probar este juego y sientan en sus manos lo que es ser alcalde o responsable de una ciudad , capaz y ustedes tienen una mejor administración que la mía y no les pasa lo que a mi me paso , actualmente estoy sin dinero trabajando fuerte en mis industrias para poder ampliar un poco mas la ciudad y remodelar los edificios viejos, también tengo que mejorar los parques y construir las escuelas, pues los habitantes dicen a cada rato que sus hijos se harán delincuentes por mi culpa , porque no tienen donde estudiar, bueno amigos espero disfruten un rato de este juego .
I hope you are encouraged to try this game and feel in your hands what it is like to be mayor or responsible for a city, maybe you have a better administration than mine and you do not have what happened to me, I am currently without money working hard in my industries to expand the city a little more and remodel the old buildings, I also have to improve parks and build schools, because the inhabitants say all the time that their children will become delinquents because of me, because they have nowhere to study, well friends I hope you enjoy this game for a while.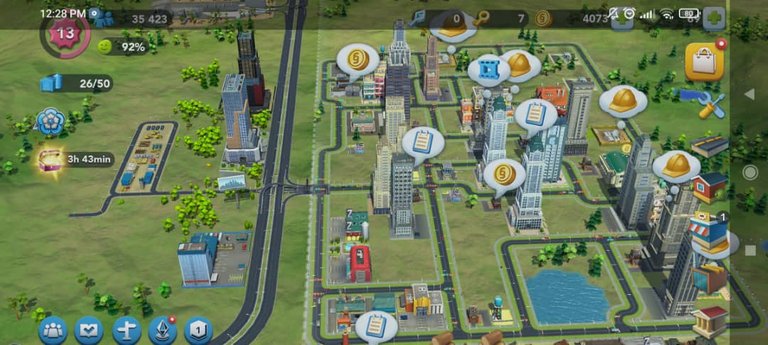 ---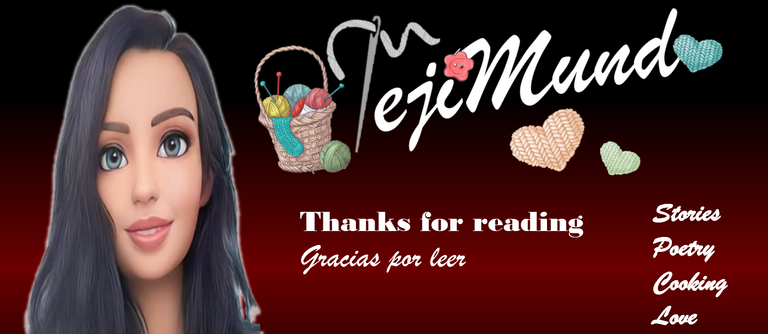 Editado en PowerPoint utilizando ToonArt
Capturas de pantalla tomadas por mi con mi teléfono Redmi 10