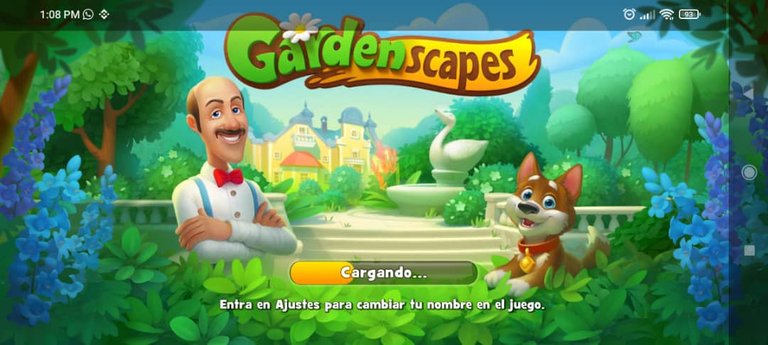 Hola mi querida comunidad, hoy quiero hablarles de un juego que hace poco instale en mi teléfono y con el que me he distraído un rato, porque como sabemos no todo en la vida es trabajo o estrés, sino que también hay que dedicar un tiempo importante al entretenimiento y despejar la mente del día a día , de tantas angustias y preocupaciones, y bueno este juego ha sido mi aliado , porque realmente libero mi mente y me olvido de todo , creo al final ese es el sentidos de los juegos hacer que te olvides de muchas cosas por un buen rato.
Hello my dear community, today I want to tell you about a game that I recently installed on my phone and with which I have distracted myself for a while, because as we know not everything in life is work or stress, but we must also devote an important time to entertainment and clear the mind of the day to day, so many anxieties and concerns, and well this game has been my ally, because I really free my mind and I forget everything, I think in the end that is the sense of the games make you forget about many things for a while.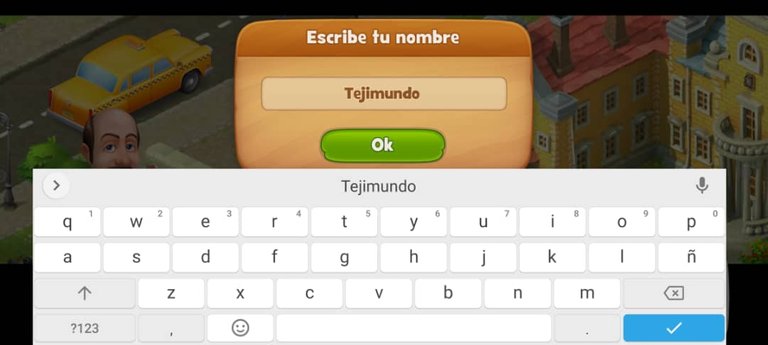 Este juego que les vengo a presentar me ha gustado mucho y se llama Gardenscapes , y les cuento una anécdota muy curiosa y es que por mi mal inglés , pensé en un principio que el juego se llamaba escampado del jardín , y ese fue una de las razones por la que decidí probarlo pero realmente cuando lo coloco en el traductor lo que dice es jardinería.
This game that I have come to present has pleased me a lot and is called Gardenscapes, and I tell you a very curious anecdote and is that my bad English, I thought at first that the game was called escampado del jardín, and that was one of the reasons why I decided to try it but really when I put it in the translator what it says is gardening.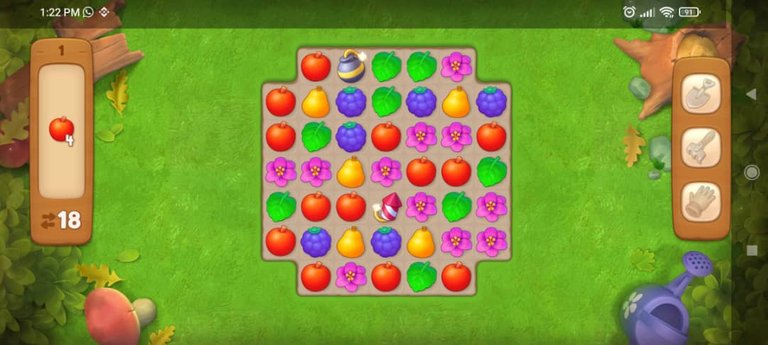 Hace tiempo ya había jugado este tipo de juegos en el computador, pues recuerdo que mi hijo lo tenía instalado, pero si les soy sincera la experiencia no es la misma ya que es mucho mejor en un dispositivo táctil, tienes un mejor manejo de cada una de las piezas y es una experiencia mucho más real.
Some time ago I had already played this kind of games on the computer, as I remember my son had it installed, but if I am honest the experience is not the same as it is much better on a touch device, you have a better handling of each of the pieces and it is a much more real experience.
Este hermoso juego trata de reestructurar completamente un jardín, ya que uno es el propietario o dueño de la nueva casa, y tienes que reestructurar las fuentes, las lámparas, asientos y todo lo relacionado con embellecer el jardín, pero para ello tienes que ganar unos mini juegos que te presentan, donde tienes que juntar varios elementos iguales en la misma línea, en este caso son frutas y flores, y el juego está desarrollado al estilo Candy Crush, y realmente esta parte es muy entretenida aparte de que cada nivel es más difícil y además te dan super objetos para poder explotar todas las frutas más rápido.
This beautiful game is about completely restructure a garden, since you are the owner of the new house, and you have to restructure the fountains, lamps, seats and everything related to beautify the garden, but for this you have to win some mini games that are presented to you, where you have to put together several equal elements in the same line, in this case are fruits and flowers, and the game is developed in Candy Crush style, and really this part is very entertaining besides that each level is more difficult and also give you super objects to exploit all the fruits faster.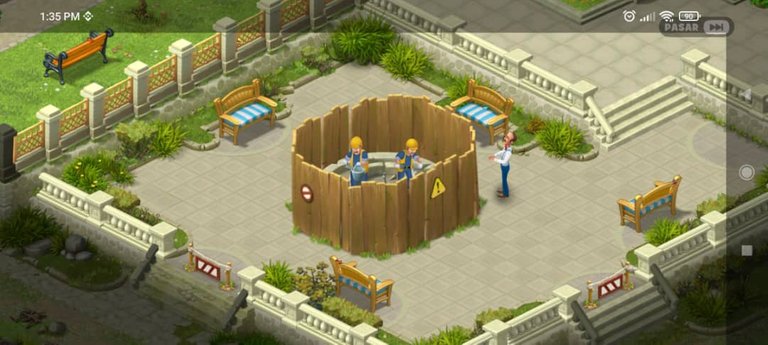 Lo mejor de todo son las recompensas y ver como poco a poco vas embelleciendo ese hermoso jardín y bueno ese tipo de trabajo en la vida real me costaría mucho dinero, aparte de que me llevaría varios días de trabajo, pero en el juego es cuestión de segundos y ya he reconstruido una buena parte.
The best of all are the rewards and seeing how little by little you are beautifying that beautiful garden and well that kind of work in real life would cost me a lot of money, besides it would take me several days of work, but in the game it is a matter of seconds and I have already rebuilt a good part of it.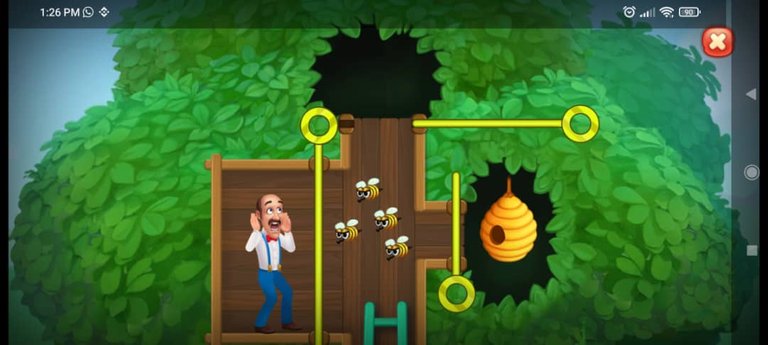 Hay otro apartado en el juego que es realmente muy llamativo y es donde te ponen a pensar que pieza debes mover primero, si soy sincera como les dije al ver el título y estos dibujos, pensé que debía probarlo, este fue el motivo por el que me descargué el juego, pero luego recordé que era más que todo alinear los elementos.
There is another section in the game that is really very striking and is where they make you think about which piece you should move first, if I'm honest as I told you when I saw the title and these drawings, I thought I should try it, this was the reason why I downloaded the game, but then I remembered that it was mostly aligning the elements.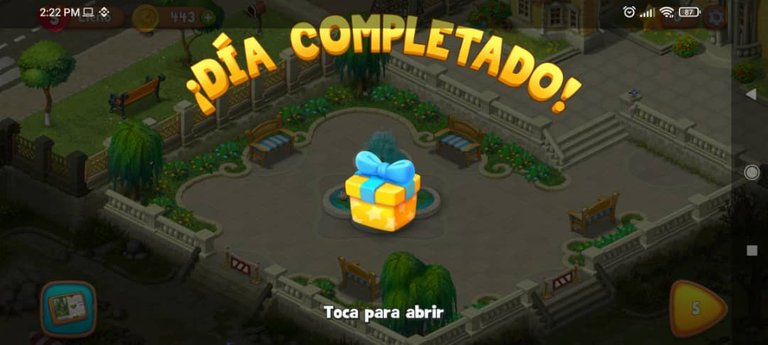 Espero avanzar bastante en el juego y dejar el jardín hermoso también les cuento que juego te da la oportunidad de tomarte fotografías con cada nuevo reto alcanzado y eso es muy motivador y adicional te queda el recuerdo , si no lo han jugado chicos , pruébenlo , es un juego acto para todo publico , sin malas palabras , ni lenguaje obsceno , aparte de que no tiene violencia , y eso me pareció bien pues es un juego acto para niños.
I hope to advance a lot in the game and leave the garden beautiful also tell them that the game gives you the opportunity to take pictures with each new challenge achieved and that is very motivating and in addition you have the memory, if you have not played it guys, try it, it is a game act for all audiences, no bad words, no foul language, besides that has no violence, and that seemed good to me because it is a game act for children.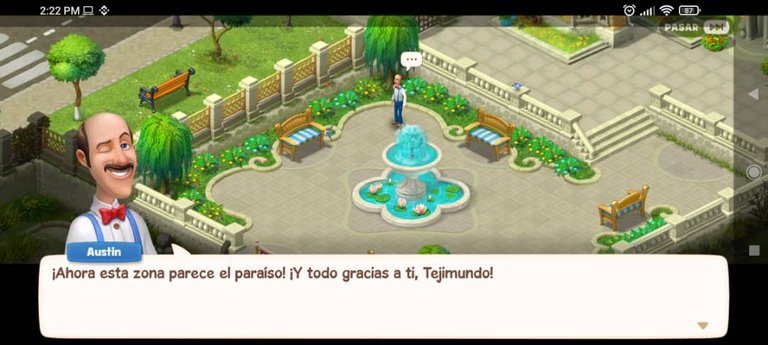 ---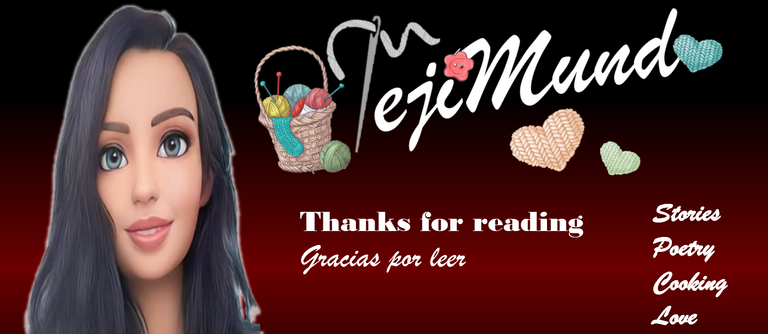 Editado en PowerPoint utilizando ToonArt
Capturas de pantalla tomadas por mi con un Redmi 10