Tutorial y guía para solucionar el error que impide usar la pantalla dividida en tu Móvil Xiaomi.
Saludos y buenos días mis amigos de hive y de esta espectacular comunidad, hoy estoy de regreso con ustedes para traerles un tema que les puede ser de mucha utilidad. Como sabemos hoy día una de las marcas de teléfonos móviles que más auge está teniendo es sin duda Xiaomi, se caracteriza por brindar equipos con buenas prestaciones a un precio menor que sus competidores, pero como es natural todo por muy bueno que sea puede presentar fallos y errores. El tema que te contaré está relacionado con un bug que muchos han presentado en la capa de personalización que usa esta marca en sus móviles, dicho error impide que puedas usar la clásica y útil función de pantalla dividida. En este tutorial te ensañare como recuperar esta función, para ello usaremos una aplicación. También te iré contando en el trascurso de este articulo tips para que puedas sacarle el máximo potencial a la app. Pues sin más dilación doy comienzo a este interesante tema.
Primer paso: Descarga la aplicación.
Si eres uno de los muchos que han presentado este problema en su móvil Xiaomi no tienes que preocuparte, pues existe una app que se encarga de recuperar esta función. Puedes descargarla desde sus medios oficiales es decir la Google Play. Podrás encontrarla buscando su nombre el cual es: Acceso directo de Pantalla dividida.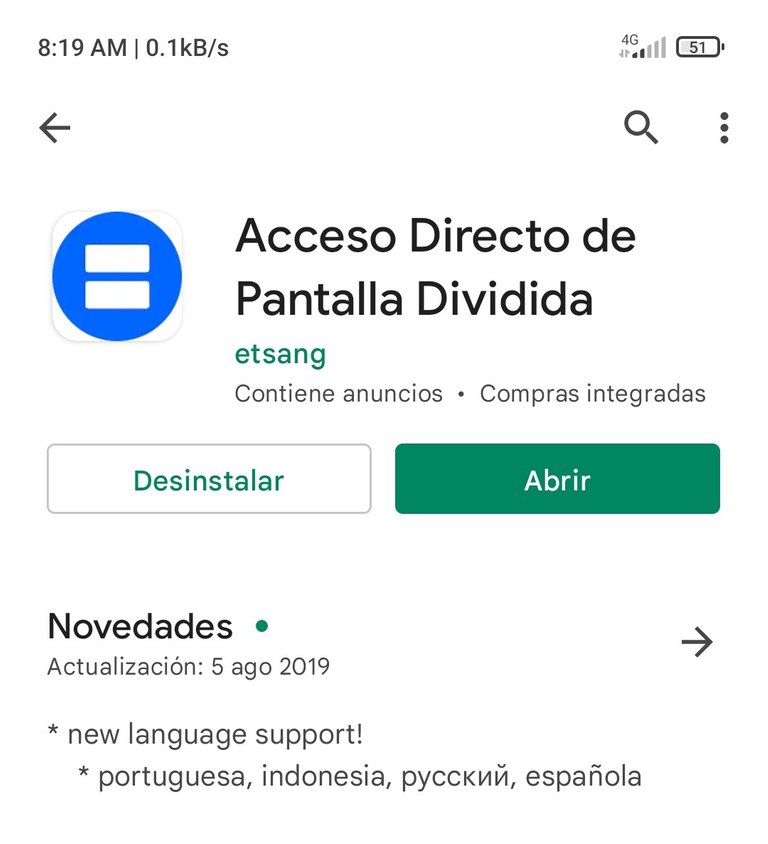 Captura de Pantalla en mi Móvil
Segundo paso: Activar y configurar la app.
Una vez tengamos descargada e instalada la aplicación es momento de activar sus funciones y realizar su correcta configuración. Es un proceso bastante sencillo y que no te llevará más de un minuto. Antes de contarles cómo hacerlo debo recalcar que algunos de estos pasos pueden cambiar dependiendo de la versión de android o de la versión de la capa de personalización que estén usando. Para que tengan una idea este tutorial lo realizo en un móvil con android 11 y la versión de miui es 12.5.8.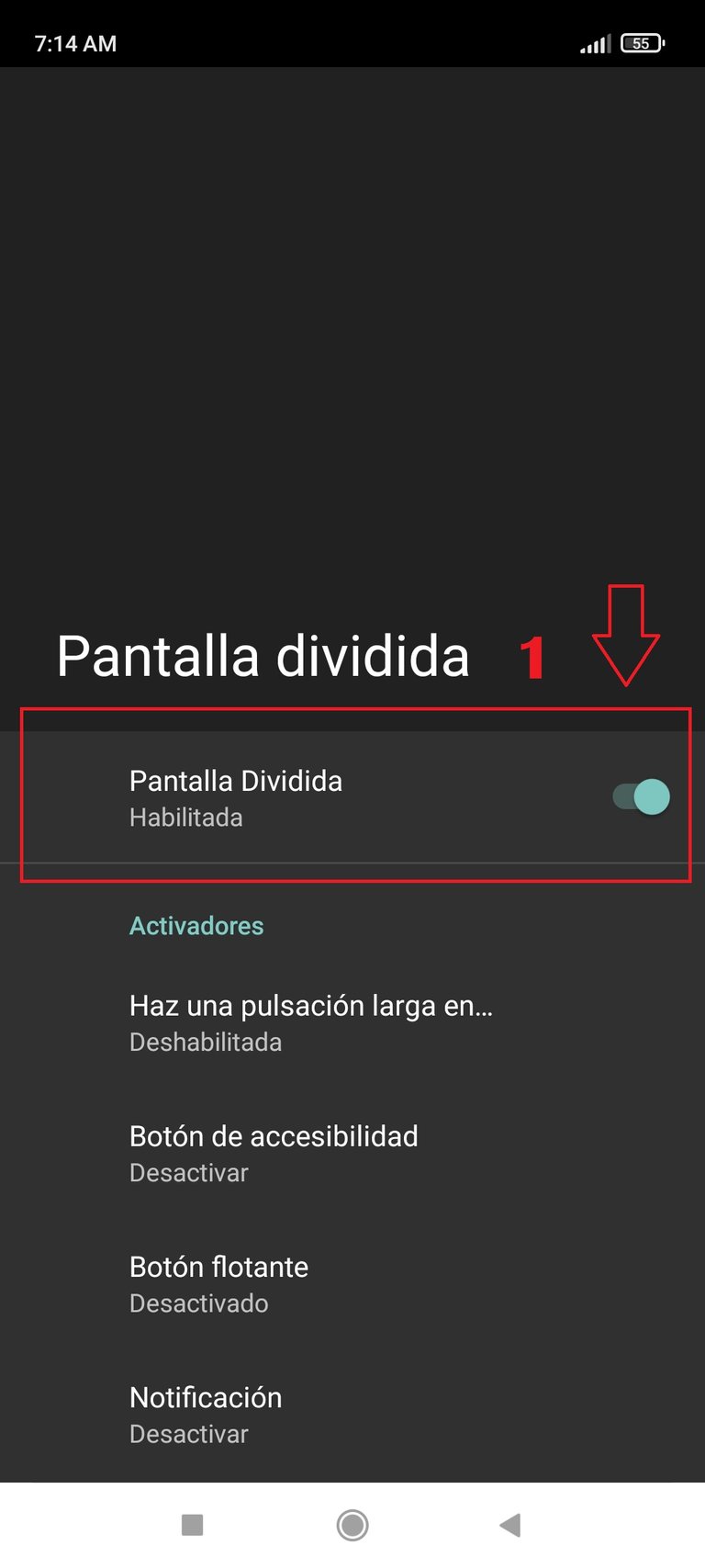 Captura de Pantalla en mi Móvil
Como pueden observar en la imagen que les dejo arriba lo primero que debemos hacer es activar la función que dice: pantalla dividida. Al hacerlo la aplicación al instante nos pedirá que le otorguemos los permisos correspondientes. Dichos permisos se encuentran en el apartado de Accesibilidad en los ajustes de nuestro móvil. En la siguiente imagen les muestro este apartado.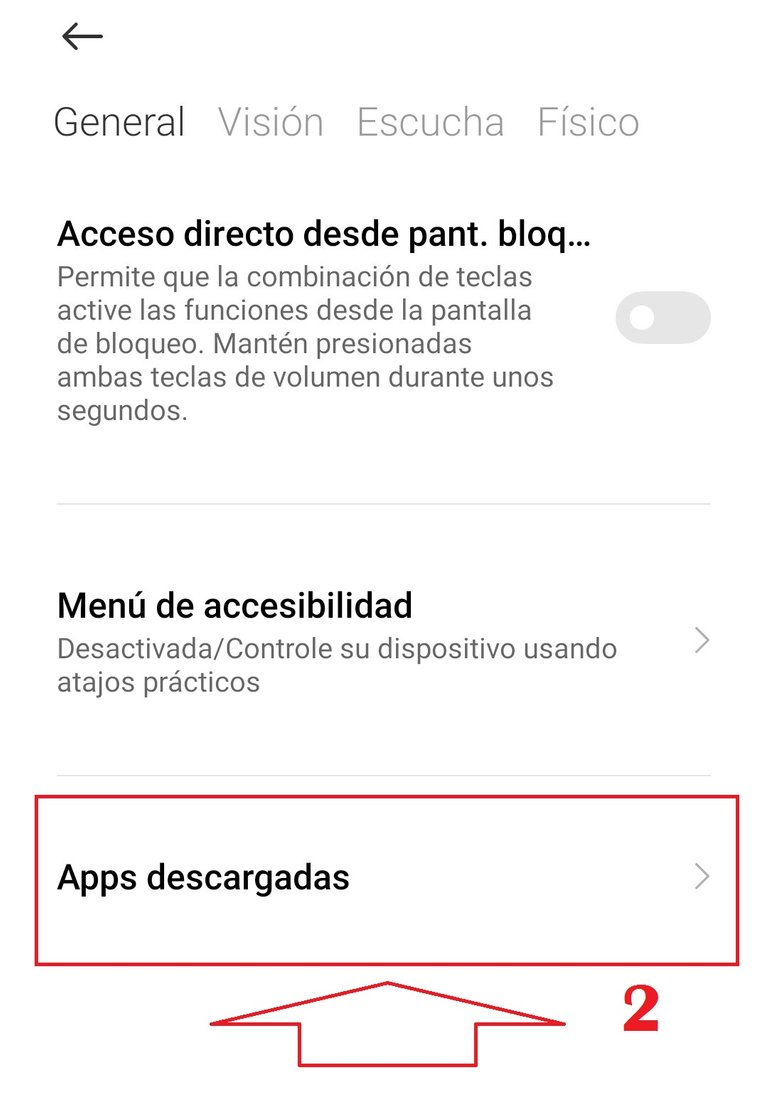 Captura de Pantalla en mi Móvil
Como se nota en la imagen de arriba la app nos redirigirá a este aparatado en la configuración. Aquí lo primero que debemos seleccionar es el menú: Apps descargadas, en la siguiente imagen les muestro que debemos hacer a continuación.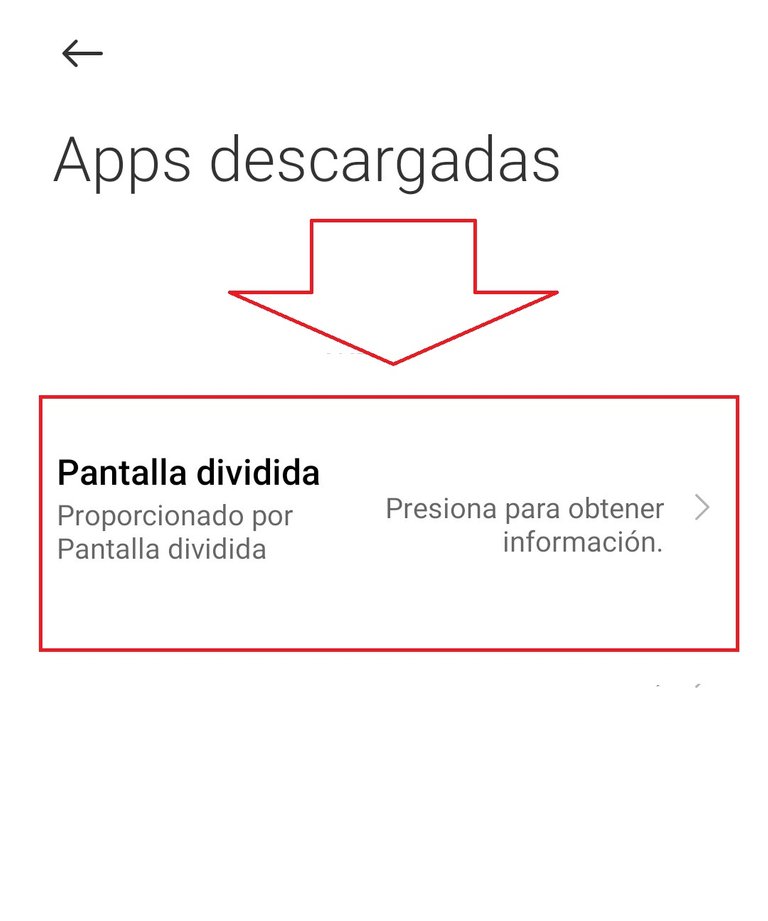 Captura de Pantalla en mi Móvil
Una vez dentro del apartado de app descargadas se nos mostraran una lista de configuraciones de las distintas aplicaciones que tengamos en nuestro móvil, nosotros debemos ubicar la que dice: Pantalla dividida. Una vez la encontremos la seleccionamos.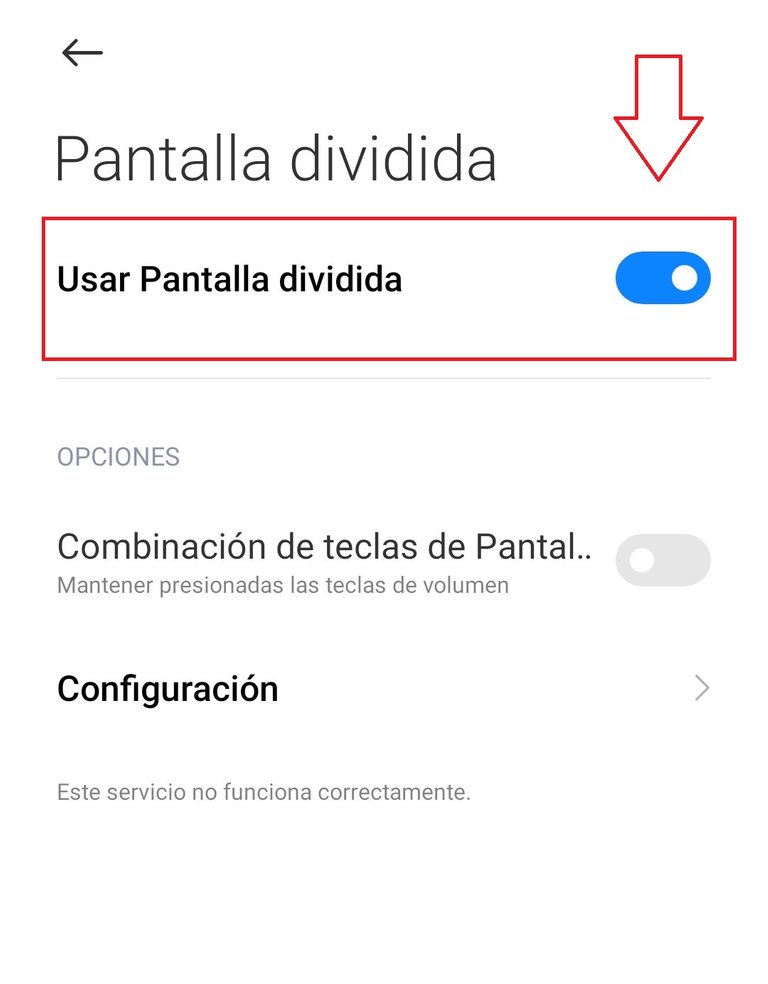 Captura de Pantalla en mi Móvil
Finalmente solo resta activar el interruptor para darle el permiso de accesibilidad a la app. En la imagen de arriba pueden observar este apartado. Con todos estos pasos terminados habremos devuelto la funcionalidad de poder dividir la pantalla en nuestro móvil.
Ajustes adicionales.
Con los pasos y ajustes que vimos ya la aplicación puede funcionar sin problemas, pero hay algunos ajustes adicionales para personalizar aun más la manera de usar la app. Por ejemplo en donde pulsar para activar la pantalla dividida, accesos directos entre otros. A continuación te contaré todos estos ajustes adicionales.
Elegir por donde activar el modo pantalla dividida.
Lo primero que podremos personalizar es elegir de que manera activar esta función, tendremos varias opciones, la primera es por la clásica barra de navegación o botones. Para hacerlo nos dirigiremos nuevamente a la app y entraremos en el apartado: Pulsación larga.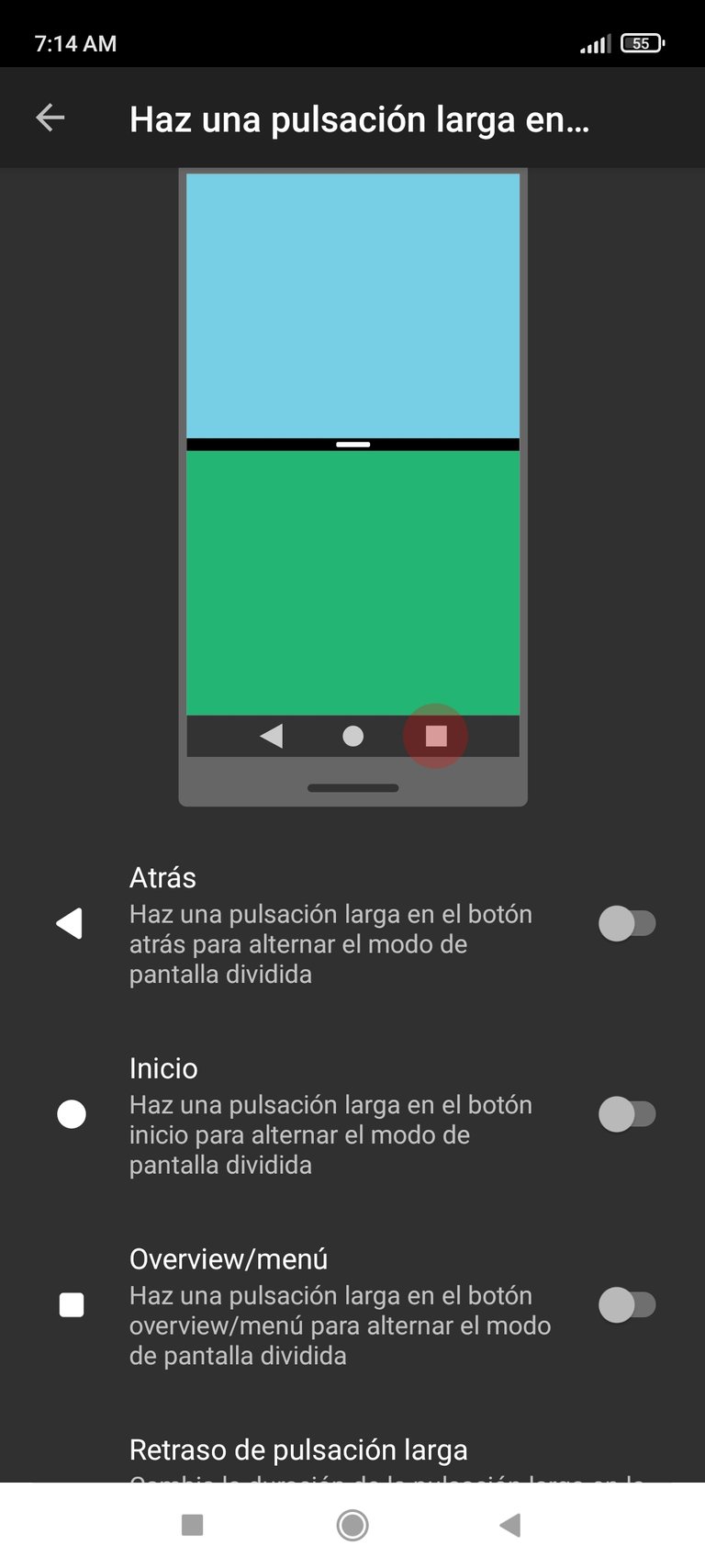 Captura de Pantalla en mi Móvil
Como pueden ver hay 3 opciones, tú puedes asignarle la función al botón que más te guste o se adapte a tus necesidades.
Acceso directo en el centro de control.
Otro método que podemos usar para activar la función de pantalla dividida es mediante un acceso directo ubicado en el centro de control o notificaciones. Para ello nos desplazaremos a ese apartado. Una vez estemos dentro pulsaremos en el icono de editar para reorganizar los accesos directos, tu seleccionaras el que dice pantalla dividida y lo pondrás en el lugar donde más gustes. En la imagen de abajo te muestro como quedaría.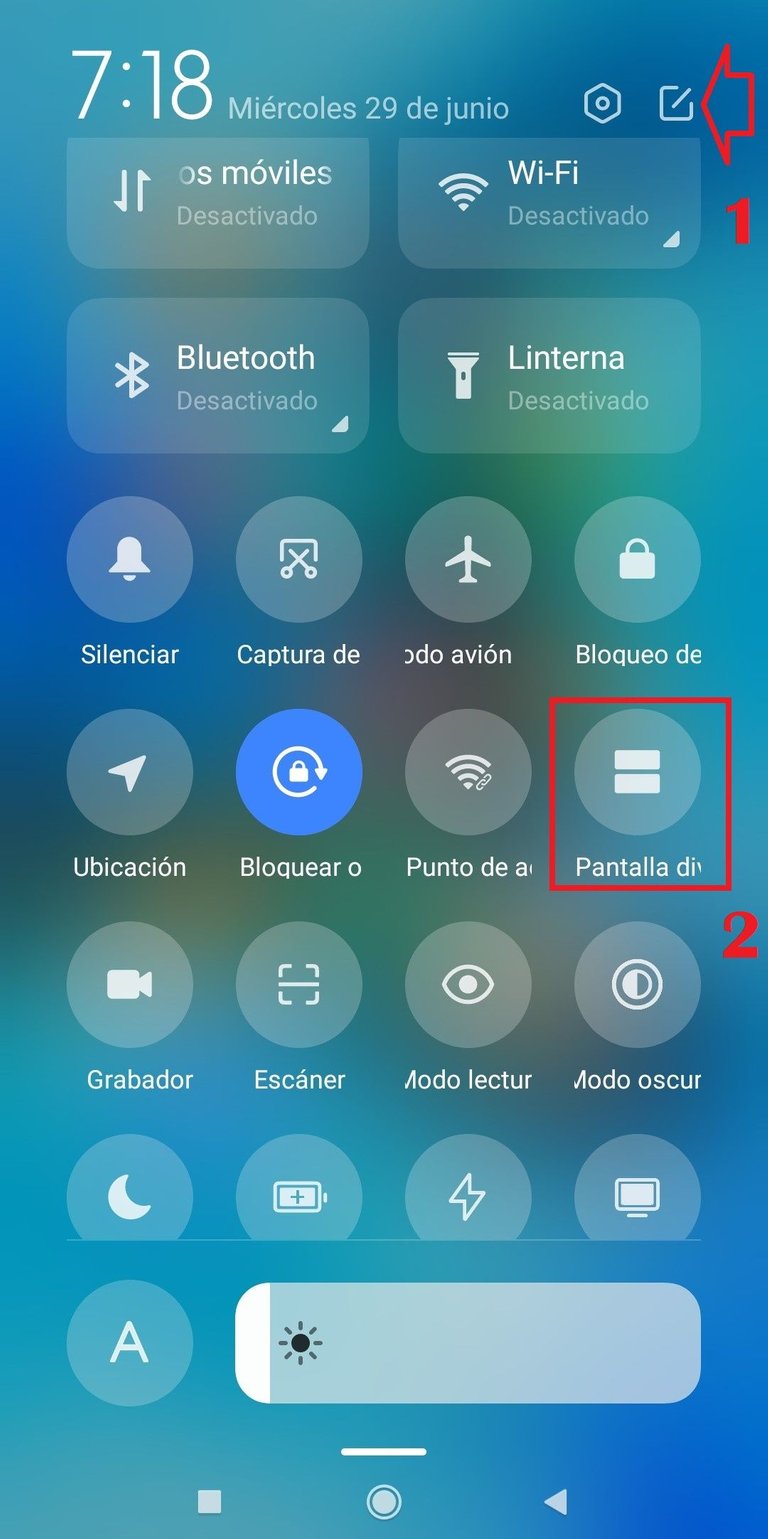 Captura de Pantalla en mi Móvil
Botón flotante.
Otro de los métodos que puedes usar para activar la pantalla dividida es usar la función de Botón flotante, como lo dice su nombre es un botón que siempre se mostrará en la pantalla por encima de otras apps, puedes arrastrarlo o moverlo al lugar donde desees. Para activarlo solo debes ir a los ajustes de la app y ubicar el apartado de Botón flotante, ahí podrás elegir su tamaño, color entre otras opciones muy interesantes.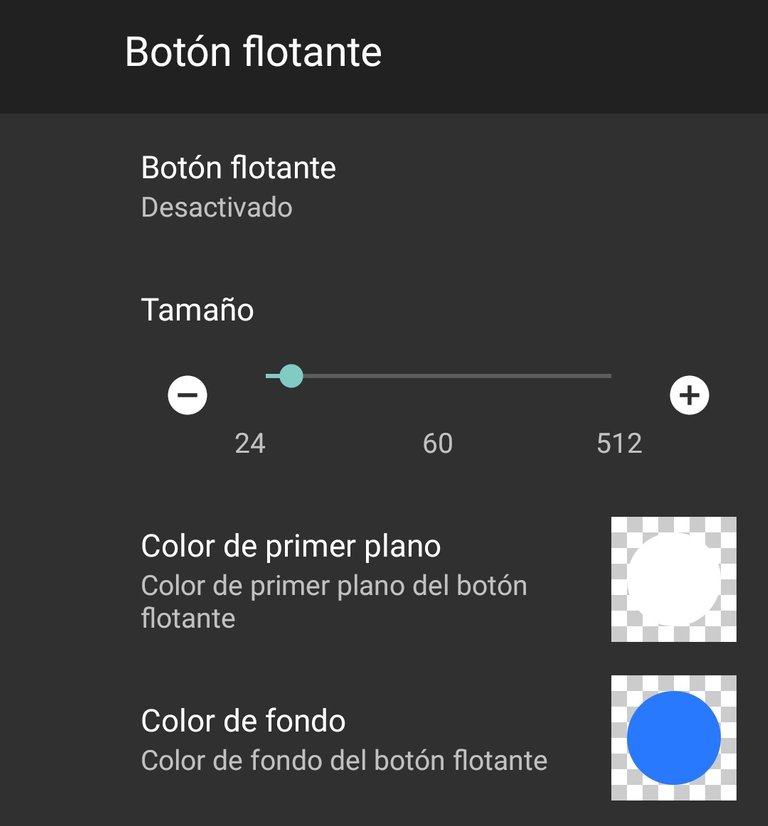 Captura de Pantalla en mi Móvil
Consejos finales.
Ahora llegó el momento de contarles algunos tips o consejos para que tengan presente y la aplicación no les de errores o fallos inesperados.
Lo primero que quiero recomendarles es que desactiven el ahorro de batería de miui específicamente para esta aplicación, pues si no lo hacemos el sistema bloqueará a la app impidiendo que podamos usar sus funcionalidades.
El segundo tips que les doy es que actualicen el software su móvil a la última versión disponible, pues esta funcionalidad de pantalla dividida viene por defecto en todos los móviles modernos de xiaomi. Si el tuyo no la trae es porque seguramente tienes la versión de miui con bugs.
Pues mis queridos amigos de hive, este ha sido mi artículo del día de hoy, espero que les haya sido de ayuda si estas presentando este inconveniente en tu móvil xiaomi, te invito a dejarme en los comentarios tus opiniones o si conoces otros métodos para recuperar la función de pantalla dividida. Muchas gracias por leer, les deseo un excelente día.
Si lo deseas puedes seguirme en mis redes:
Twitter.
English Version.
Greetings and good morning my friends from hive and from this spectacular community, today I am back with you to bring you a topic that can be very useful to you. As we know today, one of the most booming mobile phone brands is undoubtedly Xiaomi, it is characterized by providing equipment with good features at a lower price than its competitors, but as is natural, everything, no matter how good it may be, can have flaws. and mistakes. The topic that I will tell you about is related to a bug that many have presented in the customization layer that this brand uses on their mobiles, this error prevents you from using the classic and useful split screen function. In this tutorial I will show you how to recover this function, for this we will use an application. I will also tell you tips in the course of this article so that you can get the most out of the app. Well, without further ado, I begin this interesting topic.
First step: Download the application.
If you are one of the many who have had this problem on their Xiaomi mobile, you do not have to worry, because there is an app that is responsible for recovering this function. You can download it from its official media, that is, Google Play. You can find it by searching for its name which is: Split Screen Shortcut.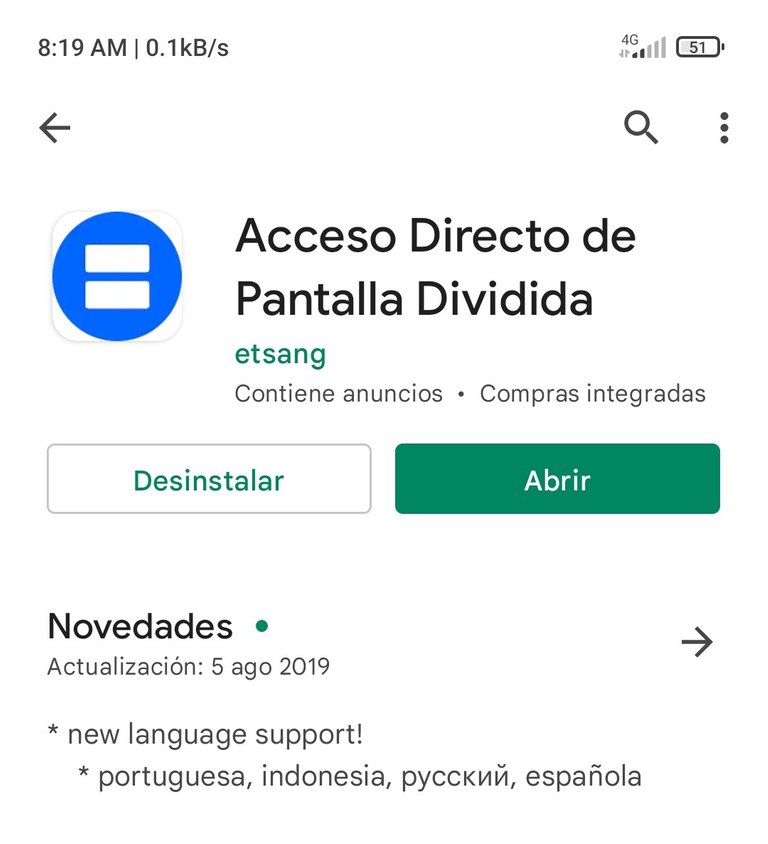 Screenshot on my Mobile.
Second step: Activate and configure the app.
Once we have downloaded and installed the application, it is time to activate its functions and carry out its correct configuration. It is a fairly simple process and it will not take you more than a minute. Before telling you how to do it, I must emphasize that some of these steps may change depending on the version of android or the version of the customization layer that you are using. To give you an idea, I am doing this tutorial on a mobile with android 11 and the miui version is 12.5.8.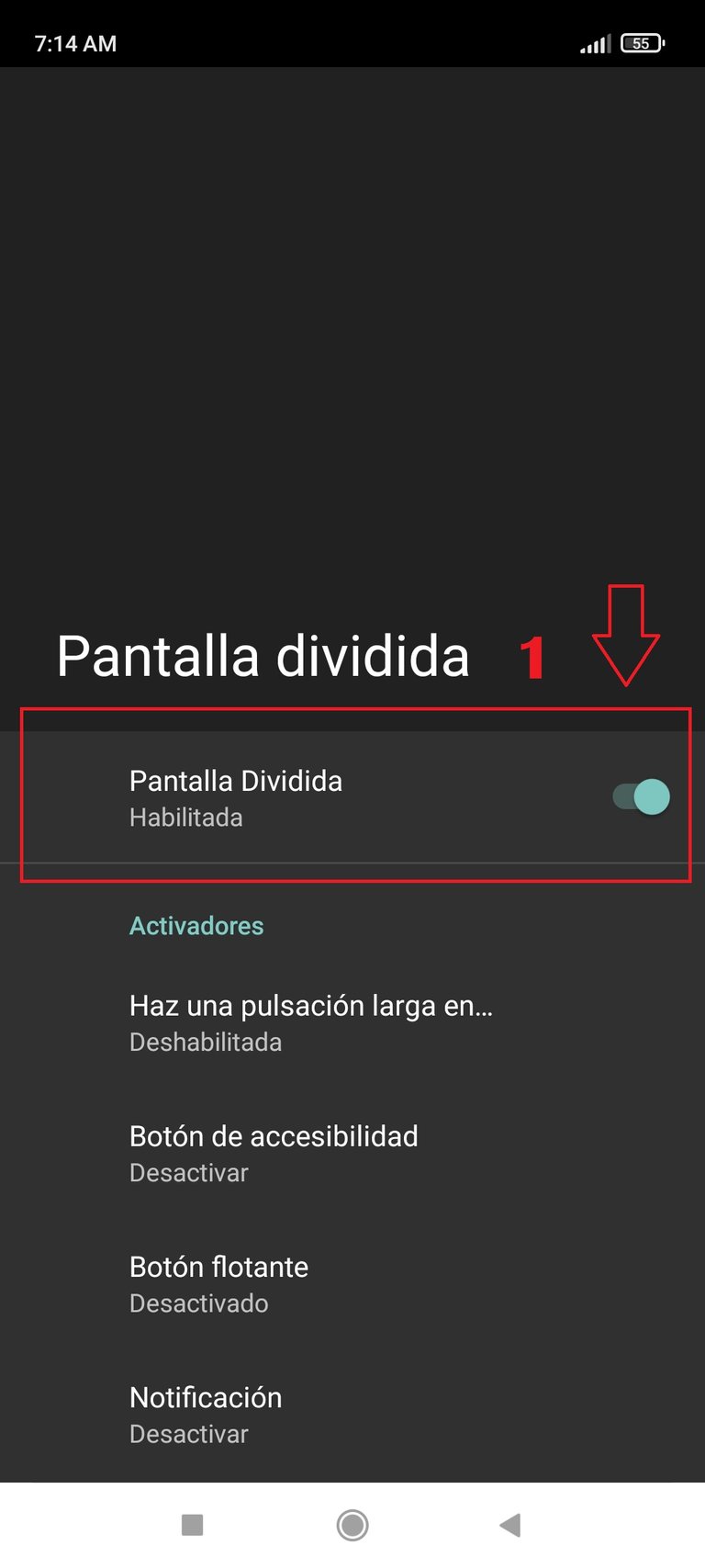 Screenshot on my Mobile.
As you can see in the image that I leave you above, the first thing we must do is activate the function that says: split screen. When doing so, the application will instantly ask us to grant the corresponding permissions. These permissions are found in the Accessibility section in the settings of our mobile. In the following image I show you this section.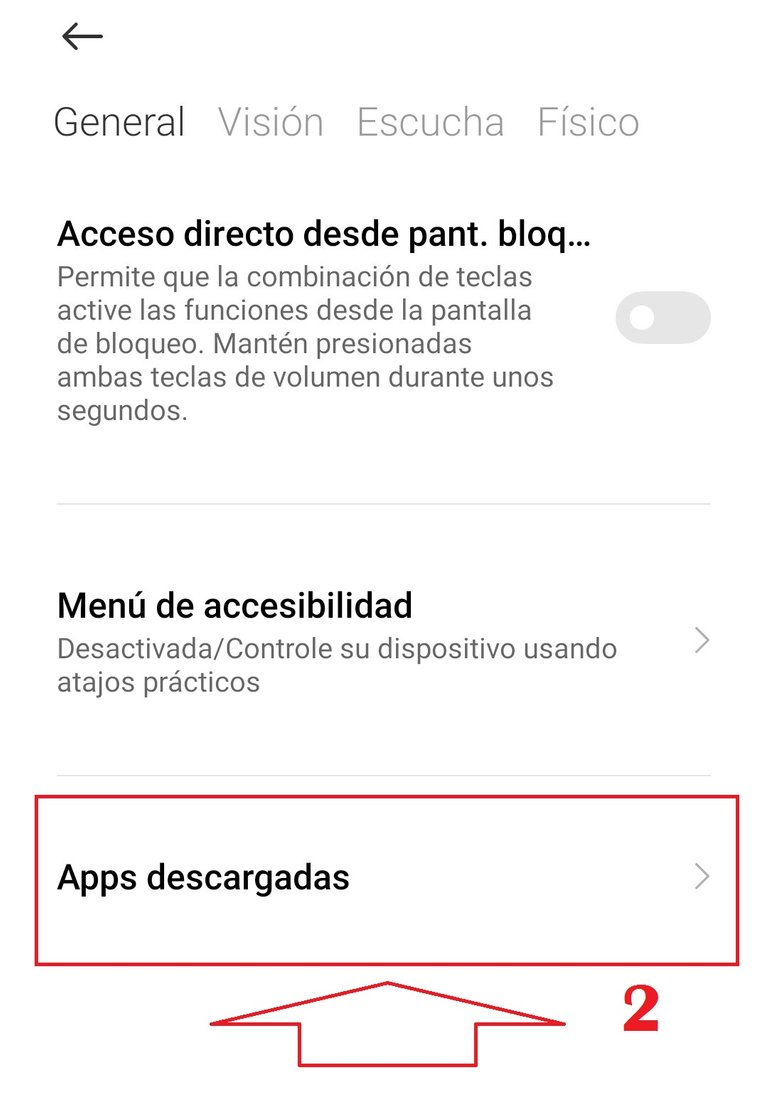 Screenshot on my Mobile.
As you can see in the image above, the app will redirect us to this section in the configuration. Here the first thing we must select is the menu: Downloaded Apps, in the following image I show you what we must do next.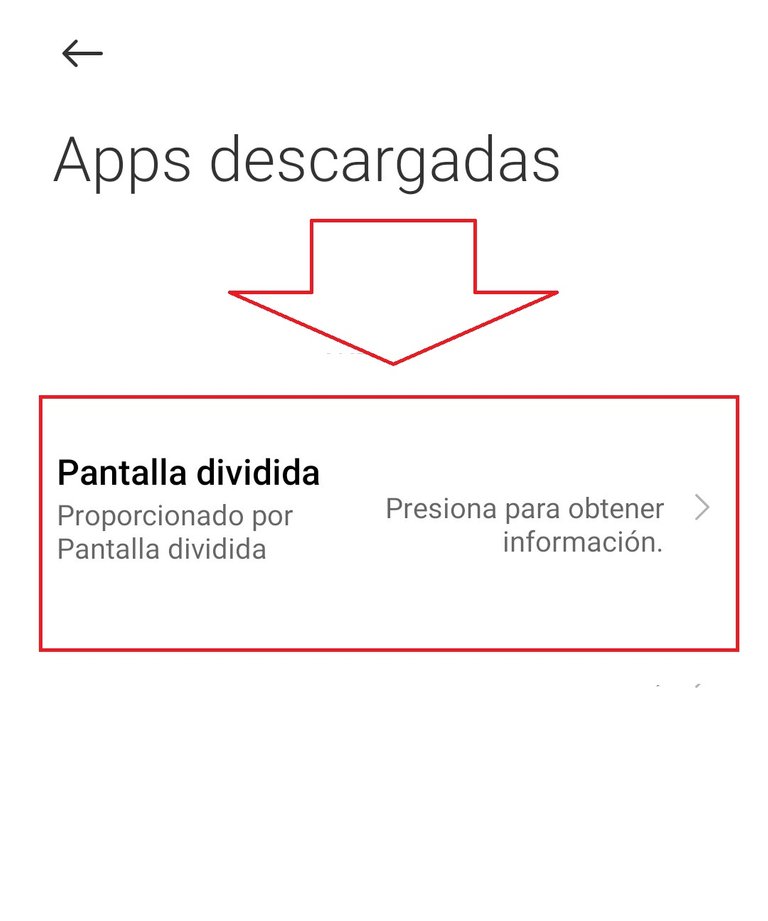 Captura de Pantalla en mi Móvil
Once inside the downloaded app section, we will be shown a list of configurations of the different applications that we have on our mobile, we must locate the one that says: Split screen. Once we find it, we select it.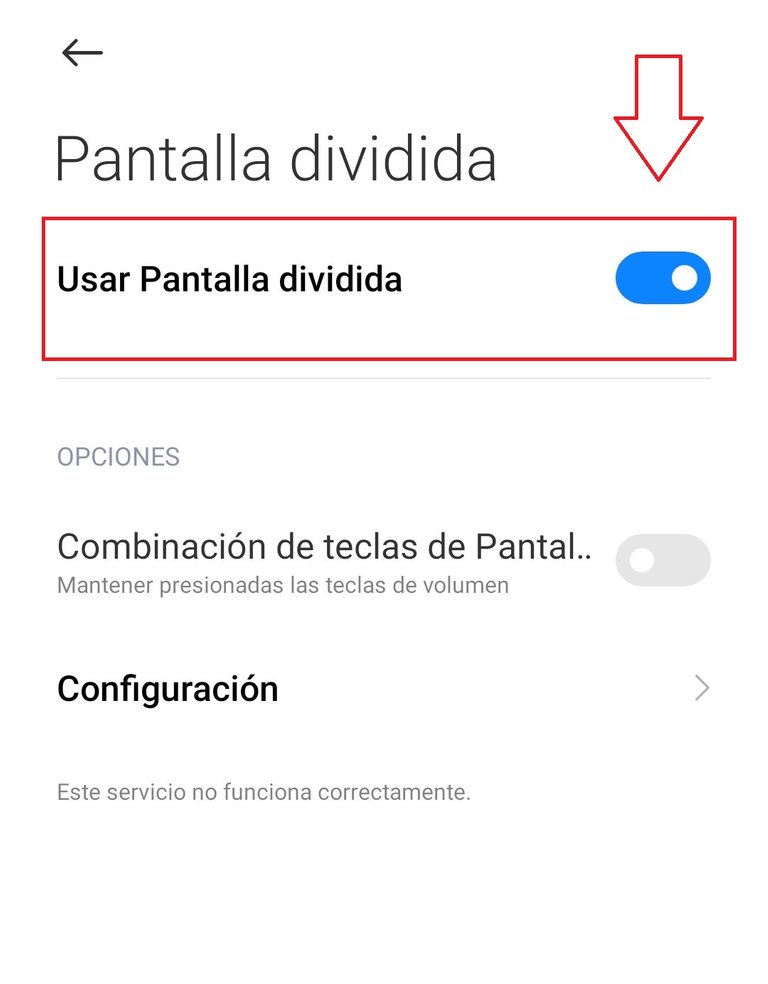 Screenshot on my Mobile.
Finally, it only remains to activate the switch to give the app accessibility permission. In the image above you can see this section. With all these steps completed, we will have returned the functionality of being able to divide the screen on our mobile.
Additional settings.
With the steps and settings we have already seen, the application can work without problems, but there are some additional settings to further customize the way you use the app. For example where to press to activate the split screen, shortcuts among others. Next I will tell you about all these additional settings.
Choose where to activate split screen mode.
The first thing that we can customize is to choose how to activate this function, we will have several options, the first is through the classic navigation bar or buttons. To do so, we will go back to the app and enter the section: Long press.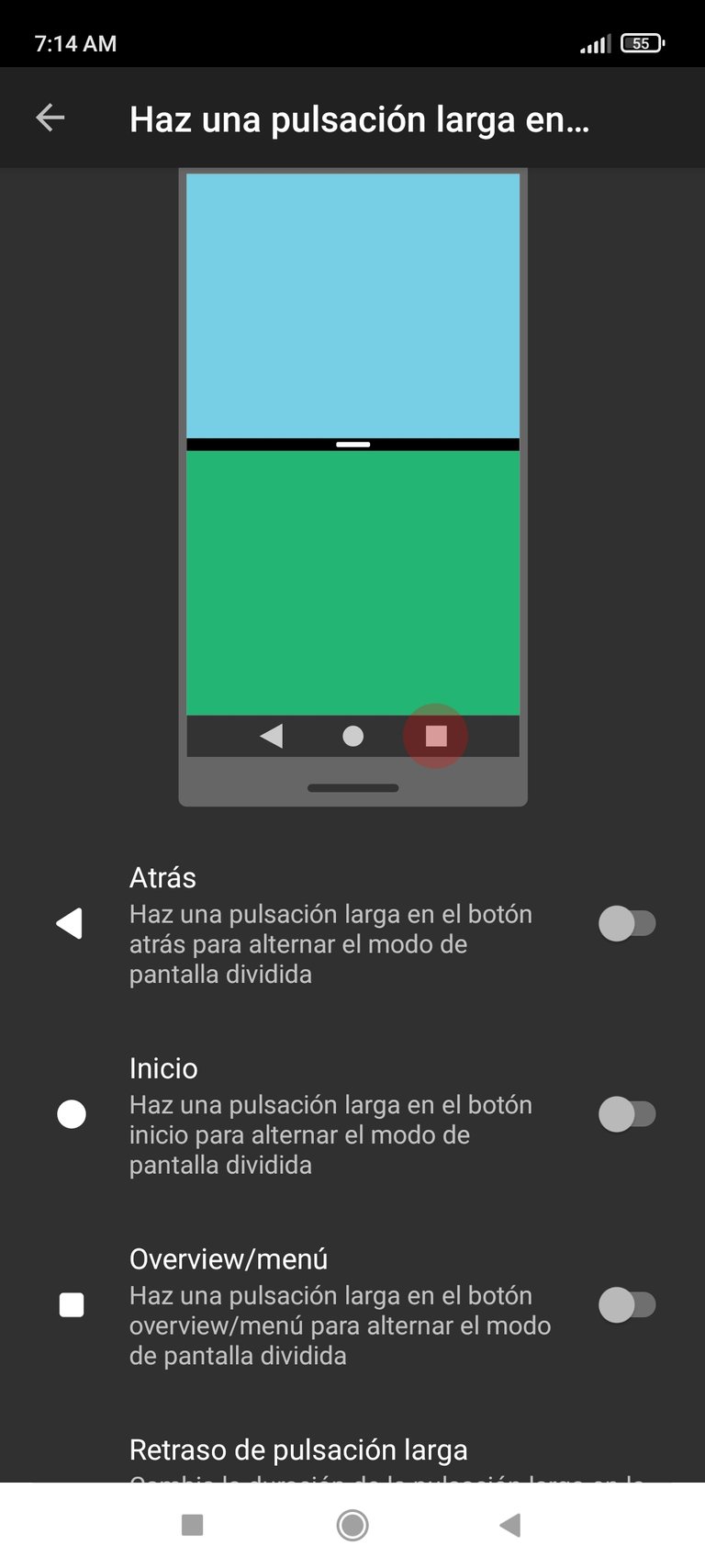 Screenshot on my Mobile.
As you can see there are 3 options, you can assign the function to the button that you like the most or that suits your needs.
Direct access in the control center.
Another method that we can use to activate the split screen function is through a shortcut located in the control center or notifications. For this we will move to that section. Once we are inside we will click on the edit icon to rearrange the shortcuts, you will select the one that says split screen and you will put it in the place where you like the most. In the image below I show you how it would look.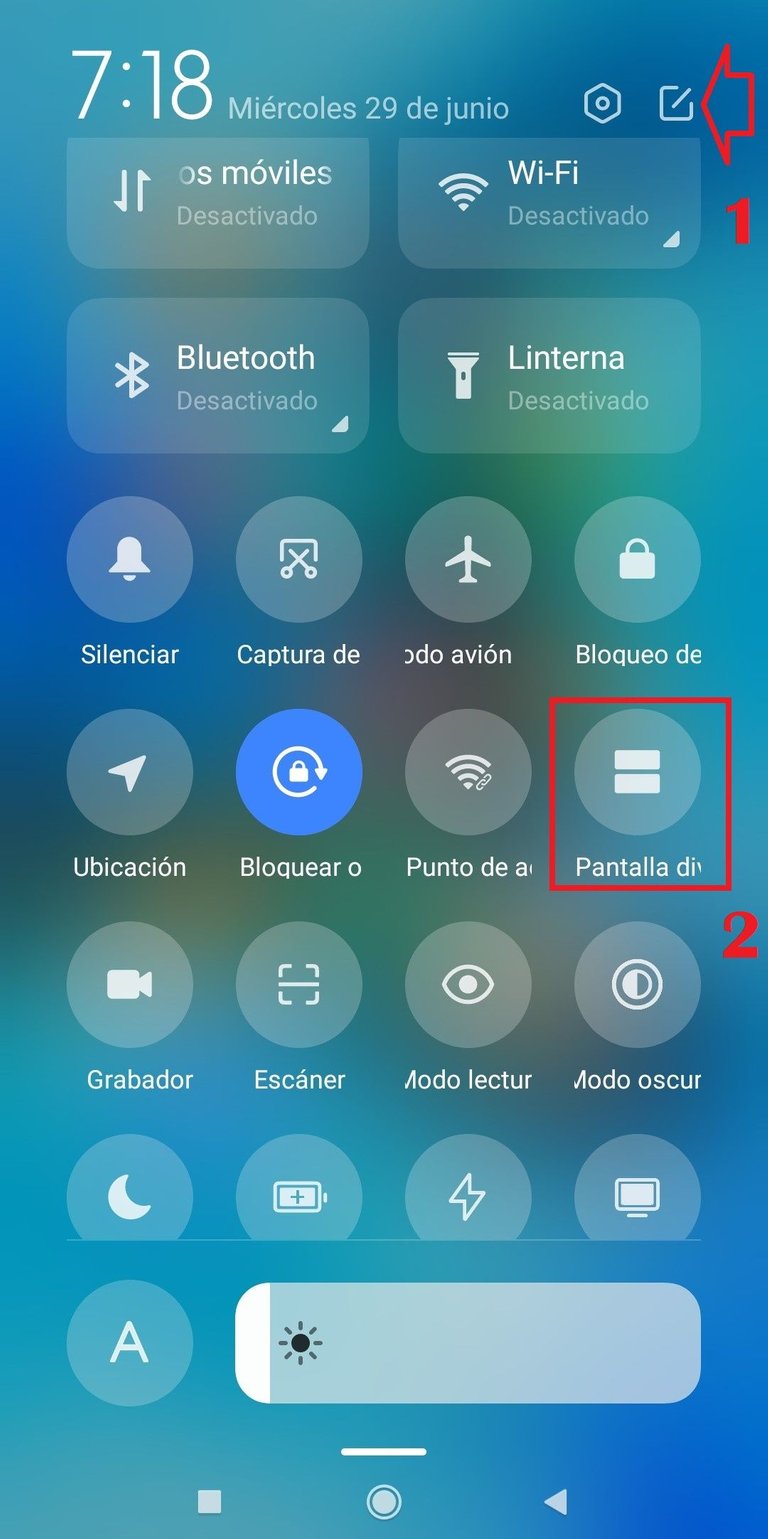 Screenshot on my Mobile.
Floating button.
Another method that you can use to activate the split screen is to use the Floating Button function, as its name says, it is a button that will always be displayed on the screen above other apps, you can drag or move it to the place where you want. To activate it, you just have to go to the app settings and locate the Floating button section, there you can choose its size, color, among other very interesting options.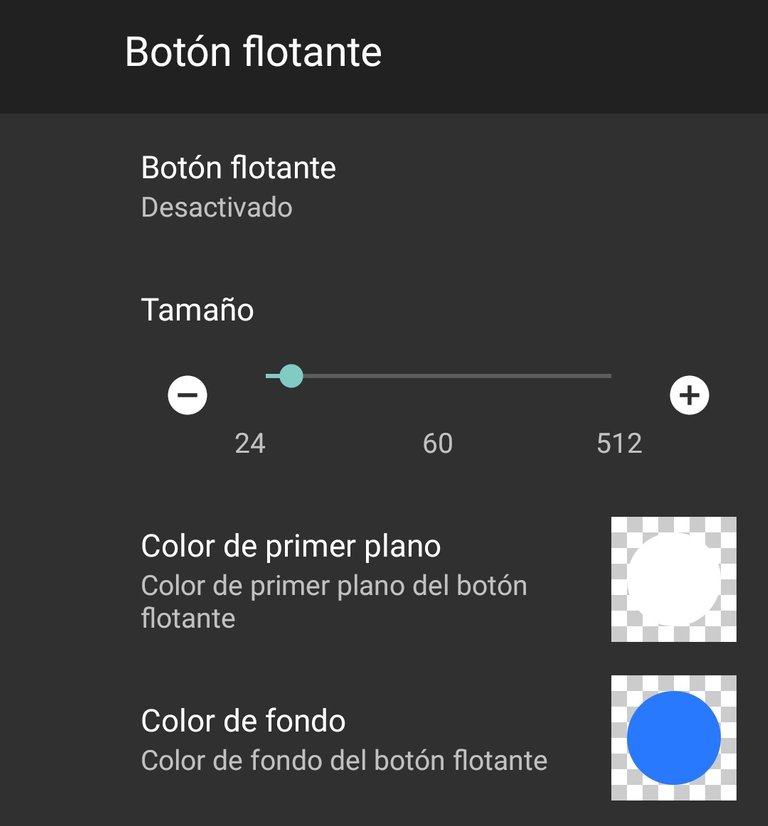 Screenshot on my Mobile.
Final tips.
Now is the time to tell you some tips or advice so that you keep in mind and the application does not give you unexpected errors or failures.
The first thing I want to recommend is that you disable the miui battery saver specifically for this application, because if we don't, the system will block the app, preventing us from using its features.
The second tip that I give you is to update your mobile software to the latest version available, since this split screen functionality comes by default in all modern Xiaomi mobiles. If yours doesn't have it, it's because you probably have the version of miui with bugs.
Well my dear hive friends, this has been my article for today, I hope it has been helpful if you are having this problem on your xiaomi mobile, I invite you to leave me your opinions in the comments or if you know other methods to recover split screen function. Thank you very much for reading, I wish you a great day.
If you wish you can follow me on my networks:
Twitter.