Tutorial, guía completa y soluciones para reparar problemas o errores en los periféricos de tu PC.
Saludos y buenas tardes mis estimados amigos de hive y de esta espectacular comunidad. El día de hoy estoy de regreso para compartir con ustedes un tema muy interesante. Todos los que tenemos una PC en casa sabemos que para poder utilizarla correctamente es necesario tener una serie de accesorios o periféricos, por mencionar algunos tenemos el mouse, el teclado, la impresora y muchísimos otros. Gracias a ellos podemos disfrutar a plenitud de nuestro equipo, pero lamentablemente en muchas ocasiones estos dan fallos y errores que impiden que podamos usarlos o trabajar correctamente con ellos. En este artículo te voy a enseñar maneras de reparar o solucionar los errores más comunes que estos dispositivos pueden presentar. Espero que este artículo te sea de ayuda, pues sin más dilación damos comienzo a este útil tema.
La web cam.
Comenzamos por uno los dispositivos que hoy día se usan cada vez más, me refiero a las web cam, estas cámaras nos permiten hacer varios trabajos, desde trasmitir nuestra imagen en un gameplay a hacer una simple viodeollamada. Estas son propensas a dar errores, pero casi todos sus problemas tienen fácil solución, a continuación te cuento algunos de ellos.
No transmite imagen o se queda oscura.
Este problema puede deberse a varios factores, pero en la mayoría de los casos es por falta de autorización del sistema operativo. Para repararlo debes seguir los siguientes pasos. Primero te dirigirás a la configuración de tu pc, en el apartado de búsqueda de la parte superior derecha escribirás la palabra (cámara), entre los resultados seleccionarás (configuración de cámara).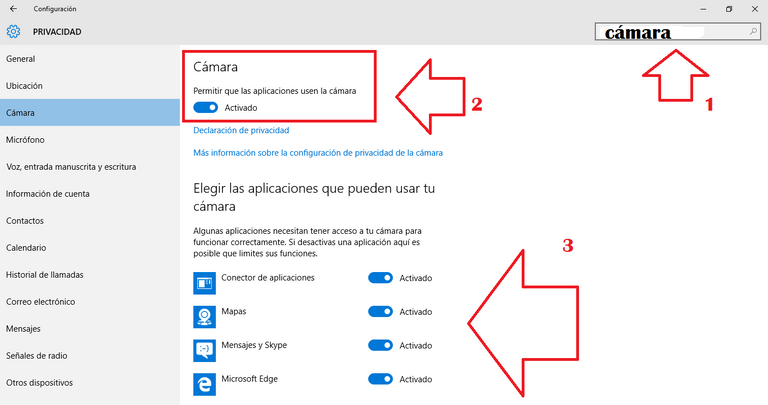 Captura de Pantalla en mi PC.
Te saldrá lo que ves en la imagen de arriba, aquí solo debes fijarte y verificar que las cámaras conectadas a tu pc estén activadas, en el caso que no lo estén solo enciendes el indicador y listo. Como segunda solución si te fijas en la imagen hay un filtro de programas que pueden usar la cámara, asegúrate bien de que el que tu quieres usar esté permitido dentro de esos ajustes.
Problemas de drivers.

En el caso de que los anteriores pasos no hayan solucionado tu problema es posible que tengas errores en los drivers, pueden estar causados por una mala instalación o corrupción por malware. A continuación te muestro como solucionarlos.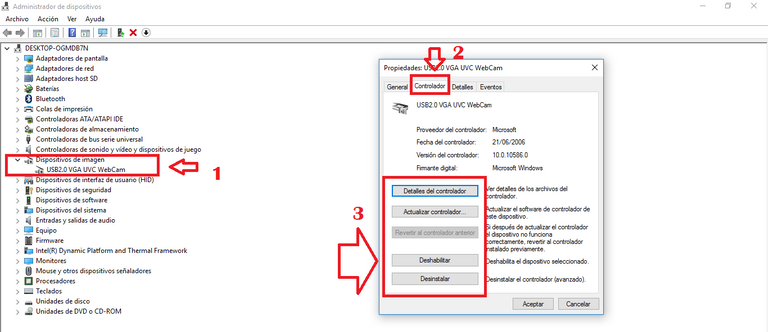 Captura de Pantalla en mi PC.
Lo primero que debes hacer es ubicar el apartado de búsqueda en tu barra de herramientas y buscar la frase: (Administrador de dispositivos) y abrirlo. Luego te saldrá lo que vez en la imagen que te dejo arriba, lo siguiente es hacer clic en la sección (dispositivos de imagen) y seleccionar tu controlador dando clic derecho. Eliges la opción de propiedades y la característica controlador, finalmente puedes actualizar el controlador vi Internet o desinstalarlo para Windows al reiniciar el equipo lo repare e instale automáticamente. Con esto la mayoría de problemas deberían quedar solucionados.
El teclado.
Ahora vamos a hablar de otro de los periféricos que mas todos usamos en casa, me refiero al teclado, este es imprescindible para poder usar nuestra PC a plenitud. A continuación te cuento algunos de sus problemas más comunes y su solución.
No se escriben las letras correctas.
Uno de los problemas más recurrentes que nos podemos topar al usar un teclado es que este no escriba las teclas que presionamos. Por poner un ejemplo los signos de puntuación, la letra (ñ), o simplemente presionar una letra y que salga una incorrecta. Esto tiene muy fácil solución y es debido en gran parte a una mala configuración del idioma del teclado. En la caja de tu dispositivo verifica para qué idioma está preparado, sabiendo esto sigue los siguientes pasos.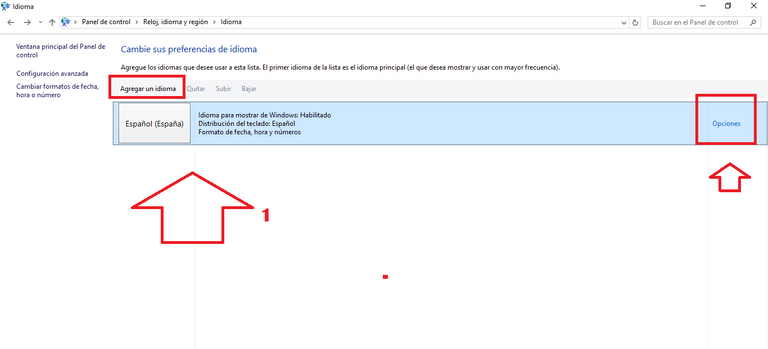 Captura de Pantalla en mi PC.
En el apartado de búsqueda de tu barra de herramientas escribe la frase (idioma) a continuación te saldrá lo que vez en la imagen. Como te dije anteriormente debes verificar el idioma de tu teclado en su caja y ver si este es el que está instalado. Si por ejemplo tu teclado está en español y tu pc con una configuración en ingles ya sabes cuál es el error. Para solucionarlo debes cambiar el idioma de tu PC, para ello debes dar en el apartado de (agregar idioma) y escoger español o tu idioma nativo. Eso debería reparar el problema en la mayoría de los casos.
También puede pasar que tu PC esté en español pero las letras o signos siguen saliendo erróneos, en ese caso lo que puede estar mal son los métodos de entrada. Para cambiarlos fíjate en la imagen de arriba, a la derecha hay un apartado de opciones, lo seleccionas y te saldrán los métodos de entrada actuales. Lo que debes hacer es cambiar esas entradas, para ello debes hacer clic en el apartado (agregar método de entrada) y escoger el correcto que se mociona en la caja de tu dispositivo. Te dejo una imagen para que veas cómo se hace.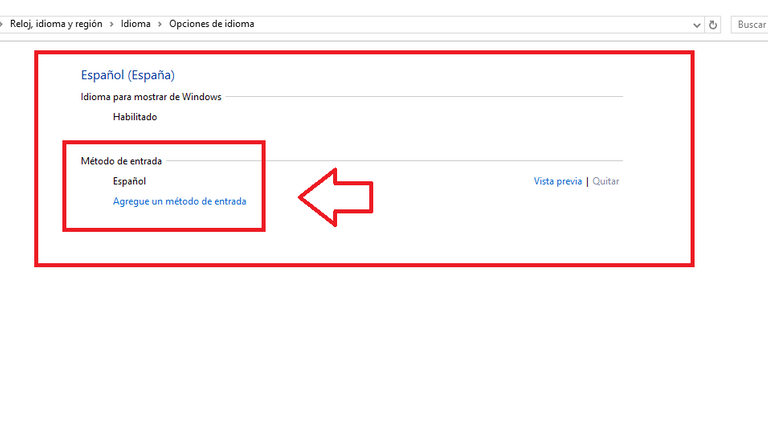 Captura de Pantalla en mi PC.
Revisar el software del teclado.
Como segundo método te recomiendo que revises el software que controla tu teclado, esto es en el caso de que uses un teclado moderno y este use un software adicional para controlar o personalizar las funciones de las teclas.
El mouse.
El tercer periférico sobre el que les hablaré el día de hoy es el mouse, este es el dispositivo principal de cada PC, sin el nuestro uso de una computadora sería mucho más molesto y para algunos imposible. Este es propenso a dar ciertos problemas que en la mayoría de casos son generados por mala configuración o descuido de nuestra parte. A continuación te cuento algunas soluciones.
La flecha o puntero se mueven muy lento.
El problema más recurrente es que el puntero se mueva súper lento y esto sigue pasando aunque movamos el mouse muy rápido. Este problema es muy molesto cuando se quiere trabajar o jugar en nuestra PC ya que toma más tiempo realizar cualquier operación. Para solucionar este problema solo tienes que seguir los siguientes pasos.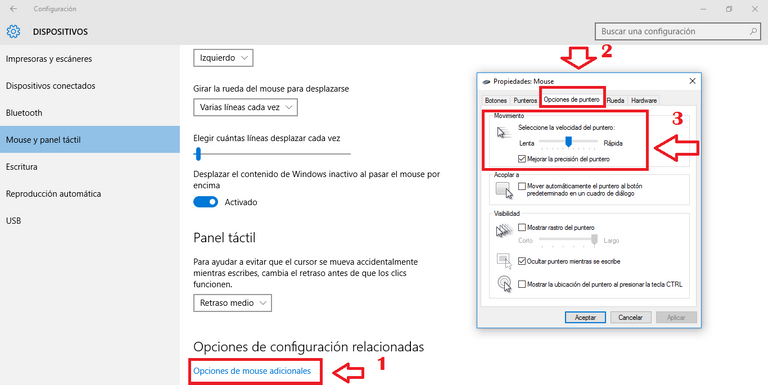 Captura de Pantalla en mi PC.
En tu barra de herramientas ubica el apartado de búsqueda y escribe la frase (mouse), entre los resultados elige (configuración de mouse). Luego te saldrá lo que vez en la imagen de arriba, ahí debes elegir (opciones de mouse adicionales). Después de eso veras la ventana que hay en la derecha de la imagen, finalmente solo debes seleccionar las (opciones del puntero) y modificar la velocidad a tu gusto.
Otro consejo que te doy para solventar este problema es que periódicamente limpies el sensor de tu mouse, ya que este por suciedad puede estar reconociendo incorrectamente los movimientos. Además si te es posible usa el mouse encima de una superficie correcta, ya que la madera tiene imperfecciones que generan falsos movimientos que el sensor reconoce.
Pues mis queridos amigos de geek zone y hive en general, este ha sido mi artículo del día de hoy, deseo que te haya gustado y sobre te sirva para cuando un día presentes estos problemas o si los estas padeciendo. Muchas gracias por tomarse unos minutos a leer este blog, si lo deseas puedes dejarme en los comentarios tus opiniones u otros tips que conozcas. Tengan un excelente día.
Si lo deseas puedes seguirme en mis redes.
Twitter.
English
Tutorial, complete guide and solutions to repair problems or errors in the peripherals of your PC.
Greetings and good afternoon my dear friends of hive and of this spectacular community. Today I am back to share with you a very interesting topic. All of us who have a PC at home know that in order to use it correctly it is necessary to have a series of accessories or peripherals, to mention a few we have the mouse, the keyboard, the printer and many others. Thanks to them we can fully enjoy our equipment, but unfortunately on many occasions they give us bugs and errors that prevent us from using them or working correctly with them. In this article I am going to show you ways to repair or solve the most common errors that these devices can present. I hope that this article will be of help to you, because without further delay we begin this useful topic.
The web cam.
We start with one of the devices that are used more and more today, I am referring to web cams, these cameras allow us to do various jobs, from transmitting our image in a gameplay to making a simple video call. These are prone to errors, but almost all their problems have an easy solution, below I will tell you some of them.
Does not transmit image or stays dark.
This problem can be caused by several factors, but in most cases it is due to a lack of authorization from the operating system. To repair it you must follow the following steps. First you will go to the configuration of your PC, in the search section at the top right you will write the word (camera), among the results you will select (camera configuration).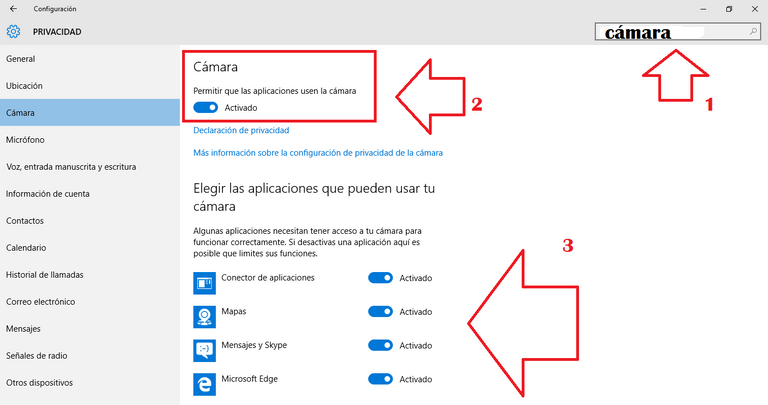 Screenshot on my PC.
You will get what you see in the image above, here you just have to look and verify that the cameras connected to your PC are activated, if they are not, just turn on the indicator and that's it. As a second solution if you look at the image there is a program filter that can use the camera, make sure that the one you want to use is allowed within those settings.
Driver problems.
In the event that the previous steps have not solved your problem, it is possible that you have errors in the drivers, they may be caused by a bad installation or corruption by malware. Here I show you how to solve them.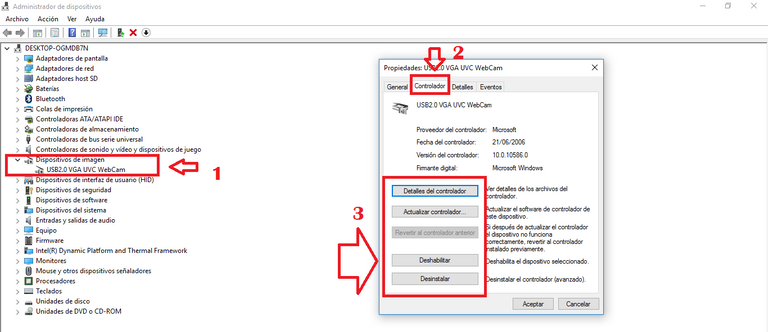 Screenshot on my PC.
The first thing you should do is locate the search section on your toolbar and search for the phrase: (Device Manager) and open it. Then you will get what you see in the image that I leave you above, the next thing is to click on the section (image devices) and select your controller by right clicking. You choose the properties option and the driver feature, finally you can update the driver vi internet or uninstall it for Windows when you restart the computer it will repair and install it automatically. This should fix most of the problems.
Keyboard.
Now we are going to talk about another of the peripherals that we all use at home, I mean the keyboard, this is essential to be able to use our PC to the fullest. Here are some of the most common problems and their solution
The correct letters are not written.
One of the most recurrent problems that we can run into when using a keyboard is that it does not write the keys that we press. For example, punctuation marks, the letter (ñ), or simply press a letter and an incorrect one appears. This has a very easy solution and is largely due to a bad configuration of the keyboard language. In the box of your device, check what language it is prepared for, knowing this, follow the next steps.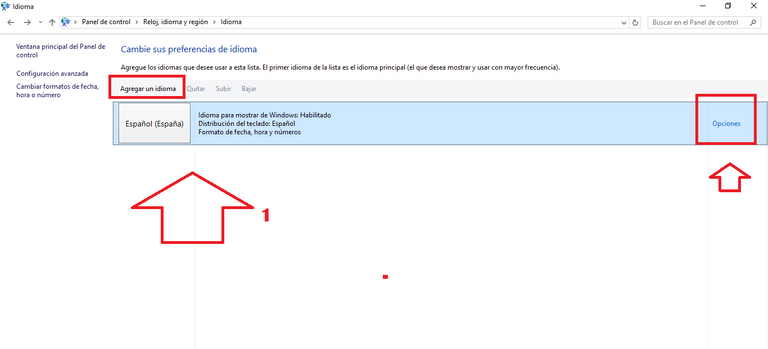 Screenshot on my PC.
In the search section of your toolbar write the phrase (language) then you will get what you see in the image. As I told you before, you should check the language of your keyboard in its box and see if this is the one that is installed. If, for example, your keyboard is in Spanish and your PC has an English configuration, you already know what the error is. To solve it you must change the language of your PC, for this you must click on the (add language) section and choose Spanish or your native language. That should fix the problem in most cases.
It can also happen that your PC is in Spanish but the letters or signs continue to come out wrong, in that case what may be wrong are the input methods. To change them, look at the image above, on the right there is an options section, select it and the current input methods will appear. What you must do is change those inputs, to do this you must click on the section (add input method) and choose the correct one that is listed in the box of your device. I leave you an image so you can see how it is done.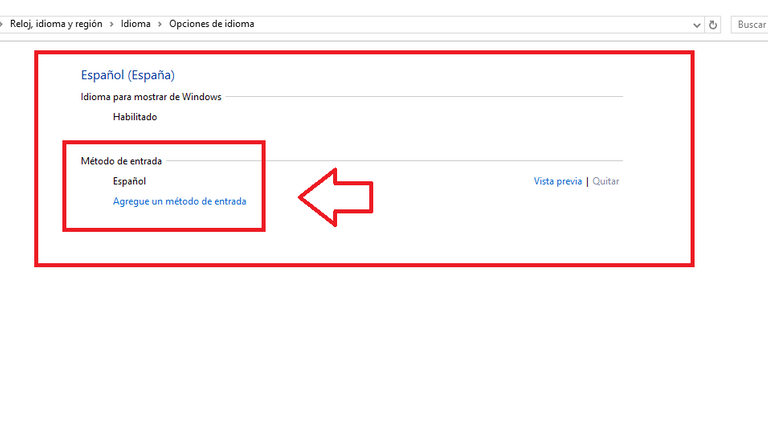 Screenshot on my PC.
Check keyboard software.
As a second method I recommend that you check the software that controls your keyboard, this is in case you use a modern keyboard and it uses additional software to control or customize the functions of the keys.
The mouse.
The third peripheral that I will talk about today is the mouse, this is the main device of every PC, without our use of a computer it would be much more annoying and for some impossible. This is prone to certain problems that in most cases are caused by misconfiguration or carelessness on our part. Here are some solutions.
The arrow or pointer moves very slowly.
The most recurring problem is that the pointer moves super slowly and this continues to happen even if we move the mouse very fast. This problem is very annoying when you want to work or play on your PC as it takes more time to perform any operation. To solve this problem you just have to follow the following steps.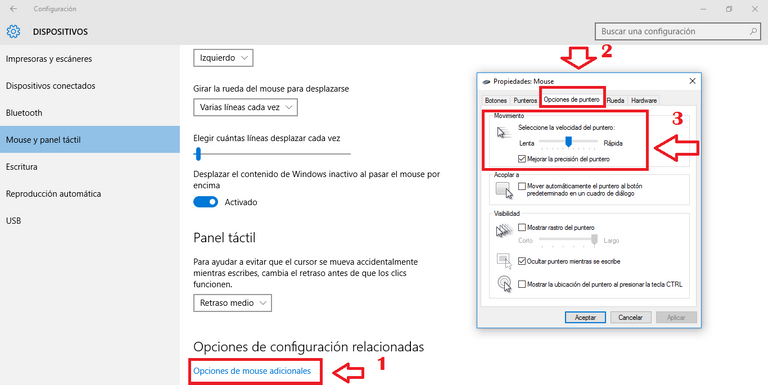 Screenshot on my PC.
In your toolbar locate the search section and write the phrase (mouse), among the results choose (mouse configuration). Then you will get what you see in the image above, there you must choose (additional mouse options). After that you will see the window on the right of the image, finally you just have to select the (pointer options) and modify the speed to your liking.
Another tip that I give you to solve this problem is to periodically clean the sensor of your mouse, since it may be incorrectly recognizing movements due to dirt. Also, if possible, use the mouse on a correct surface, since the wood has imperfections that generate false movements that the sensor recognizes.
Well my dear friends from geek zone and hive in general, this has been my article for today, I hope you liked it and that it will serve you well when one day you present these problems or if you are suffering from them. Thank you very much for taking a few minutes to read this blog, if you wish you can leave me your opinions or other tips that you know in the comments. Have a great day.
If you wish you can follow me on my networks.
Twitter.