Mi nueva adquisición: Teclado y mouse Xtesh. Review y unboxing.
Saludos y buenas tardes queridos amigos de Geek Zone, el día de hoy he vuelto para compartir con ustedes un Review y unboxing sobre un nuevo dispositivo que he comprado recientemente, me refiero a un combo de teclado y mouse. Les contaré todos sus detalles y mi experiencia de uso. Espero que este artículo les sea de ayuda por si desean adquirir un dispositivo similar. Pues sin más dilación damos comienzo.
Unboxing: Vista general del empaquetado.
Lo primero que quiero mostrarles es el empaquetado del dispositivo. Cómo pueden ver en la imagen es una caja bastante alargada. En su caratula podemos ver algunos de sus detalles, por ejemplo se muestra el modelo del dispositivo el cual es el XTK300s, además de esto podemos apreciar algunas sus bondades, como que tiene buena argonomía y fácil configuración. También se especifica que este dispositivo viene configurado para poder usarse sin problemas con el idioma español.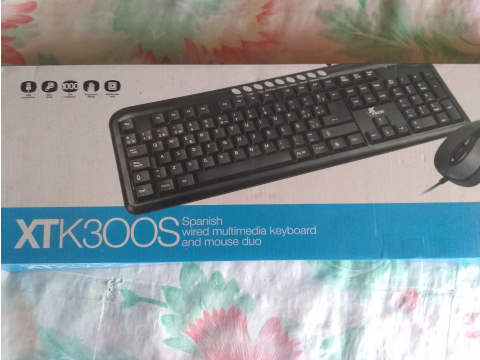 Abriendo el empaque:
En la siguiente imagen les muestro como abro la caja del dispositivo, en su interior podemos ver qué viene protegido con el estándar naylon de preservación. A la derecha se puede observar el mouse. Este no trae el clásico naylon de burbujas que todos siempre deseamos apretar, pero en general el estándar cumple bien su función.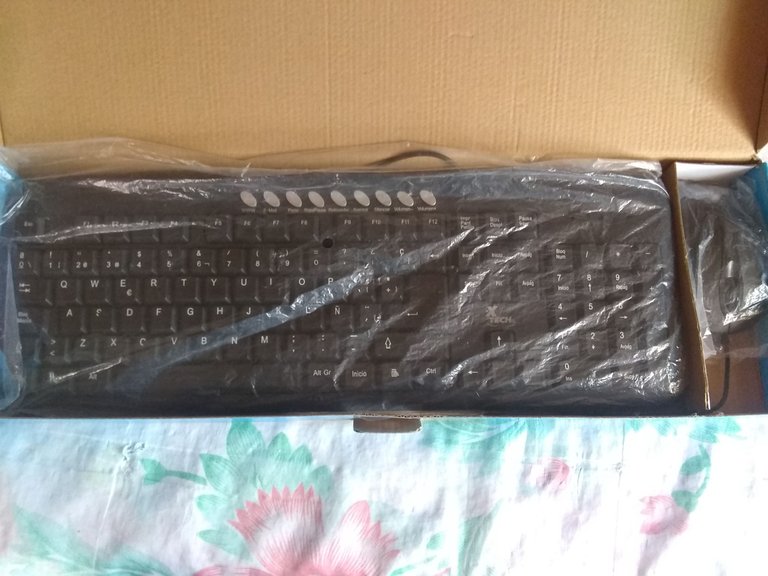 Detalles técnicos:
En el caso del teclado tenemos las clásicas configuraciones de hoy día, algunas de ellas son que viene con el conector USB genérico y los controles en español.
Este teclado solo puede ser usando en equipos con sistema operativo Windows, ya que no es compatible con la familia de Apple y Linux.
Cuenta con un cable de una dimensión bastante aceptable la cuál es de 1.5 metros. Y este punto es muy útil pues en muchas ocasiones la torre de nuestra PC está alejada del escritorio lo cual hace imposible en algunos casos que los periféricos puedan conectarse correctamente. Con este dispositivo no tendrás ese tipo de problemas.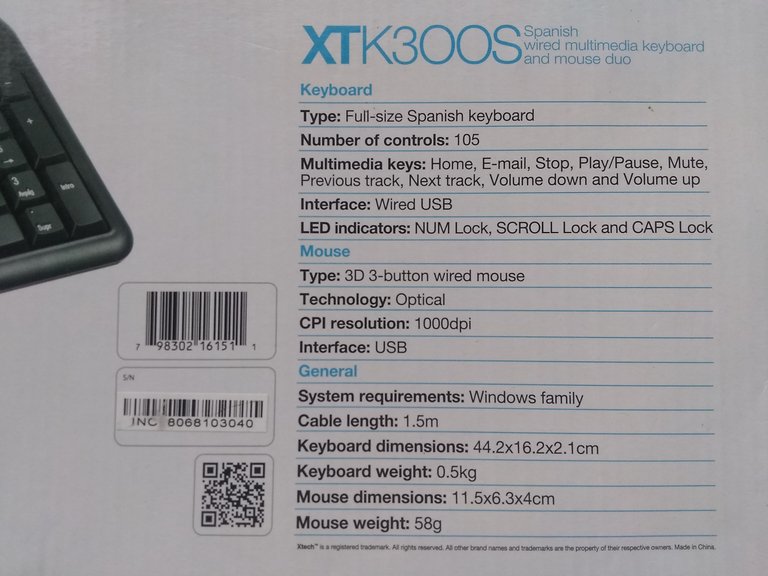 Botones Multimedia:
El teclado además de lo anterior mencionado viene equipado con los botones Multimedia. Estos son inmensamente útiles a la hora de consumir contenido en nuestra PC, pues nos facilitan mucho la interacción con el equipo. Muchas veces estamos jugando un juego y queremos bajar/subir o mutear el volumen y si nuestro teclado no cuenta con estás funcionalidades se nos hace más difícil acceder a estas opciones.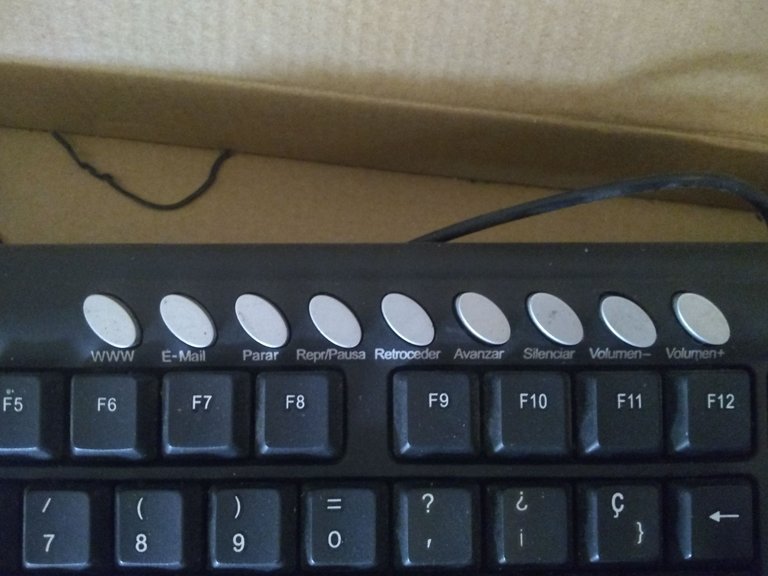 Pero eso no es todo si se fijan en la imagen también cuenta con botones dedicados al correo y el navegador, estas dos opciones nos permitirán ejecutar estos programas sin necesidad de salir de otro que estemos usando en ese momento. Para poder usarlos tienes que ir a configuración y elegir un navegador como predeterminado e igualmente una app que controle el correo de manera nativa, una vez hecho esto estos botones cumplirán su cometido y te ahorrarán mucho tiempo en el uso diario de tu PC.
El mouse.
En el caso del mouse contamos con el clásico conector USB y sensor óptico. Lo mejor de este dispositivo es que cuenta con 1000 DPI, esto es muy útil a la hora de trabajar o jugar ya que le da más precisión a las tareas que hagamos, también es un punto a favor para la sensibilidad del sensor, ya que detecta hasta el más mínimo movimiento. En muchos casos nos a pasado que estamos utilizando nuestro mouse para tareas tan sencillas como editar texto pero se nos hace difícil por la falta de precisión del puntero, en este caso este mouse será ideal para ti.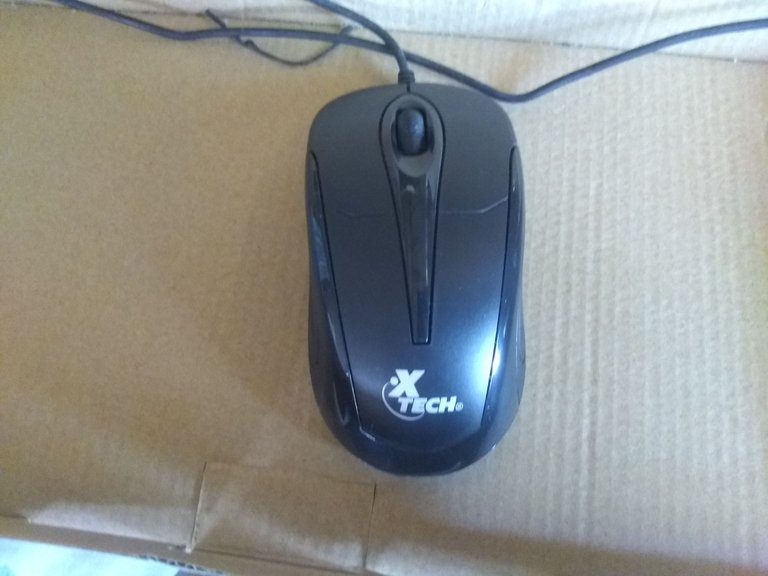 Mis opiniones.
Mis opiniones sobre estos dispositivos es que su calidad es bastante aceptable pese a que su precio es bastante bajo. Me gustó mucho la buena sensibilidad del mouse ya que en mi día a día suelo hacer tareas que requieren de una buena precisión, en ese caso cumple muy bien. En el caso del teclado es muy bueno para escribir y la interacción general con el PC. El tacto de las teclas es algo duro así que talvez pueda se un punto en contra si lo quieres para jugar juegos que requieran teclas de poco recorrido. En general son buenos periféricos para tu equipo si estas buscando algo barato y con calidad.
Pues mis amigos, esto es lo que quería compartir con ustedes el día de hoy, espero que te pueda servir como guía en el caso que este dispositivo este disponible en tu país. Muchas gracias por haber leído mi reseña sobre estos artículos que recién compré. Les deseo a todos buenas tardes.
Si lo deseas puedes seguirme en mis redes.
Twitter
https://twitter.com/TecnologyFan1
Todas las fotos usadas en este artículo son de mi autoría.
English
My new acquisition: Xtesh keyboard and mouse. Review and unboxing.
Greetings and good afternoon dear friends of Geek Zone, today I am back to share with you a Review and unboxing about a new device that I recently bought, I mean a keyboard and mouse combo. I will tell you all its details and my experience of use. I hope this article will help you if you want to purchase a similar device. So without further delay we begin.
Unboxing: General view of the packaging.
The first thing I want to show you is the packaging of the device. As you can see in the image, it is a fairly long box. On its cover we can see some of its details, for example the model of the device is shown, which is the XTK300s, in addition to this we can appreciate some of its benefits, such as having good ergonomics and easy configuration. It is also specified that this device is configured to be used without problems with the Spanish language.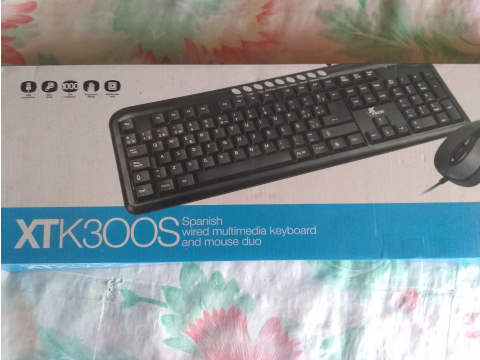 Opening the package:
In the following image I show you how I open the box of the device, inside we can see what is protected with the nylon preservation standard. On the right you can see the mouse. This one does not have the classic bubble nylon that we all always want to squeeze, but in general the standard does its job well.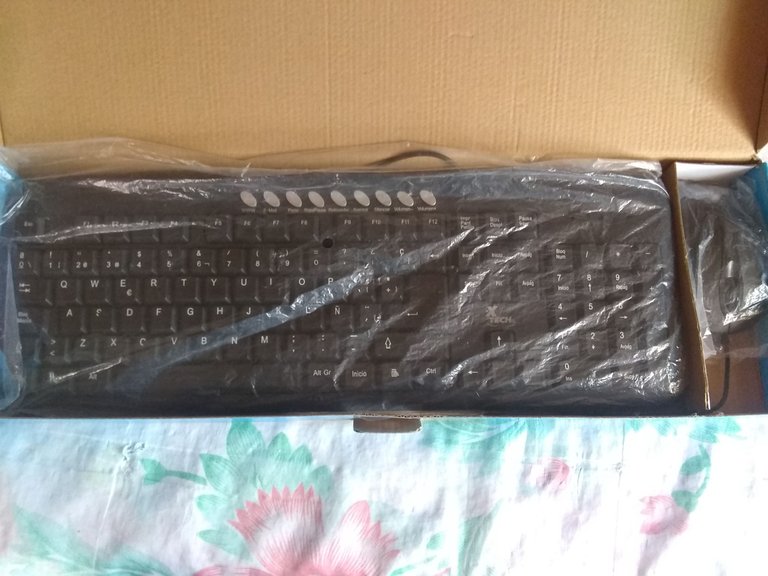 Technical details:
In the case of the keyboard we have the classic configurations of today, some of them are that it comes with the generic USB connector and the controls in Spanish.
This keyboard can only be used on computers with Windows operating system, since it is not compatible with the Apple and Linux family.
It has a cable of a quite acceptable dimension which is 1.5 meters. And this point is very useful because on many occasions the tower of our PC is far from the desktop, which makes it impossible in some cases for the peripherals to connect correctly. With this device you will not have such problems.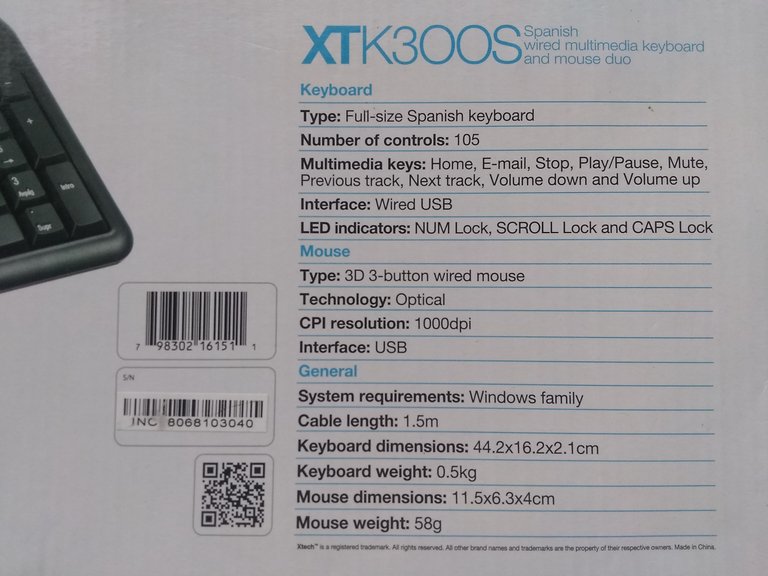 Media Buttons:
The keyboard in addition to the above mentioned is equipped with Multimedia buttons. These are immensely useful when it comes to consuming content on our PC, as they make it much easier for us to interact with the computer. Many times we are playing a game and we want to lower/raise or mute the volume and if our keyboard does not have these features, it becomes more difficult for us to access these options.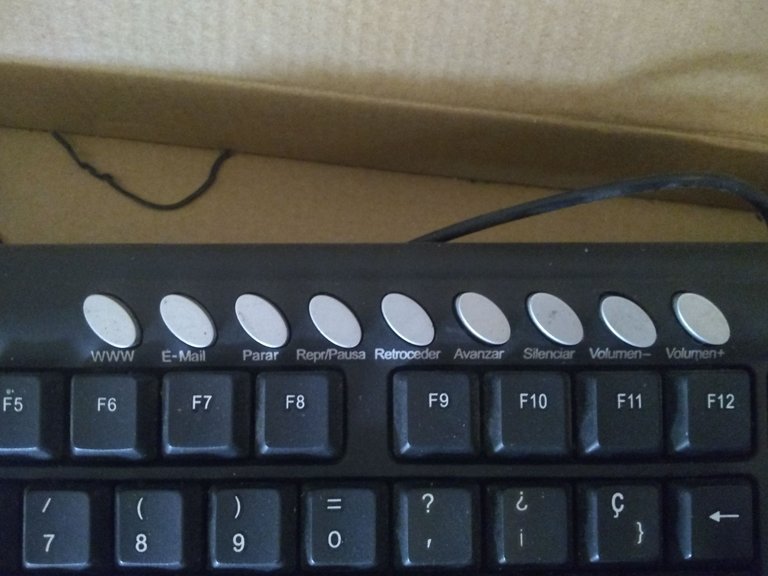 But that's not all if you look at the image, it also has buttons dedicated to mail and the browser, these two options will allow us to run these programs without having to leave another one that we are using at that moment. To be able to use them you have to go to settings and choose a browser as default and also an app that controls mail natively, once this is done these buttons will fulfill their purpose and will save you a lot of time in the daily use of your PC.
The mouse.
In the case of the mouse we have the classic USB connector and optical sensor. The best thing about this device is that it has 1000 DPI, this is very useful when working or playing since it gives more precision to the tasks that we do, it is also a point in favor for the sensitivity of the sensor, since it detects even the slightest movement. In many cases it has happened to us that we are using our mouse for tasks as simple as editing text but it is difficult for us due to the lack of precision of the pointer, in this case this mouse will be ideal for you.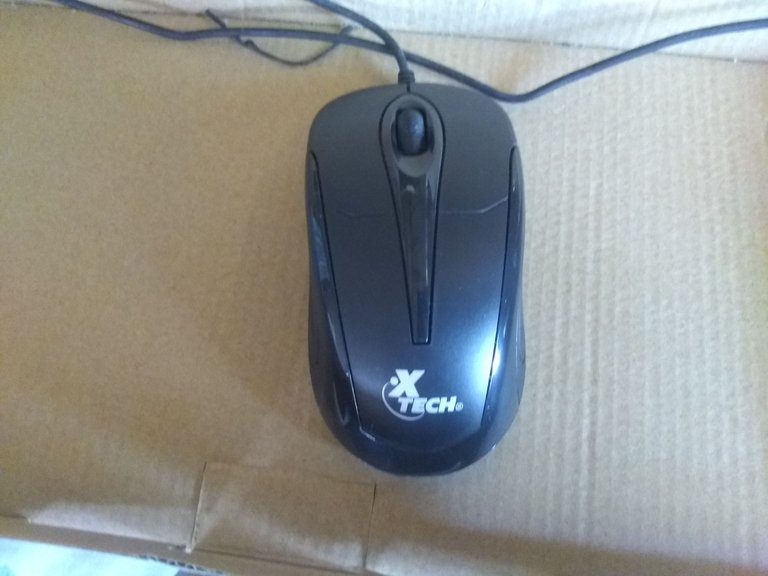 My opinions.
My opinions about these devices is that their quality is quite acceptable despite the fact that their price is quite low. I really liked the good sensitivity of the mouse since in my day to day I usually do tasks that require good precision, in that case it works very well. In the case of the keyboard, it is very good for typing and general interaction with the PC. The touch of the keys is somewhat hard, so it may be a point against it if you want it to play games that require short keys. In general, they are good peripherals for your computer if you are looking for something cheap and with quality.
Well my friends, this is what I wanted to share with you today, I hope it can serve as a guide if this device is available in your country. Thank you very much for reading my review about these items that I just bought. I wish you all good afternoon.
If you wish you can follow me on my networks.
Twitter
https://twitter.com/TecnologyFan1
All photos used in this article are my own.