Conoce la mejor aplicación para poder tener un control remoto en tu teléfono. Tutorial completo y guía.
Saludos y buenos días mis queridos amigos de geek zone y de hive en general, hoy estoy de regreso para traerles un tema muy interesante que seguro les será muy útil. Les contaré sobre una aplicación que considero es una de las mejores en su campo, me refiero a ZAZA REMOTO. Su funcionalidad es poder usar nuestro teléfono como un control remoto universal. Con ella podremos usar desde una TV, aires acondicionados, ventiladores, bocinas y muchísimos equipos más que podemos tener en casa. En mi tiempo usándola me ha sido muy útil en diferentes situaciones, desde ocasiones donde se ha roto o estropeado el control remoto físico de alguno de mis equipos. Hoy te contaré todos sus detalles, como usarla y algunos datos interesantes. Pues sin más dilación doy comienzo a este interesante tema.
Lo que necesitas para usarla.
Antes de comentarles cómo usar esta útil aplicación tengo que comentarles sobre algunos puntos importantes. Como sabemos para poder usar un control remoto este necesita de un sensor especial, este es denominado como sensor de infrarrojos. Para que nuestro teléfono sea compatible con esta app debe contar con este apartado. Para saber si tu móvil cuenta con esta funcionalidad debes chequear su página oficial o simplemente mirar en el marco superior y verificar que exista un pequeño sensor. En el caso que no lo tengas lamentablemente no podrás usar esta aplicación. En este último caso existe otra vía que es comprando un sensor externo que conectaras a tu móvil por vía OTG o por el Jack de auriculares. Ahora que conocen este detalle súper importante paso a contarles cómo usar la app.
Primer paso: Descargar la aplicación.
Lo primero que debemos hacer es descargar la aplicación por sus medios oficiales, es decir por la Google play store para android o en el caso de IOS la app store. Para localizarla solo basta con escribir en el buscador (Zaza Remote), hecho esto pasamos al siguiente paso.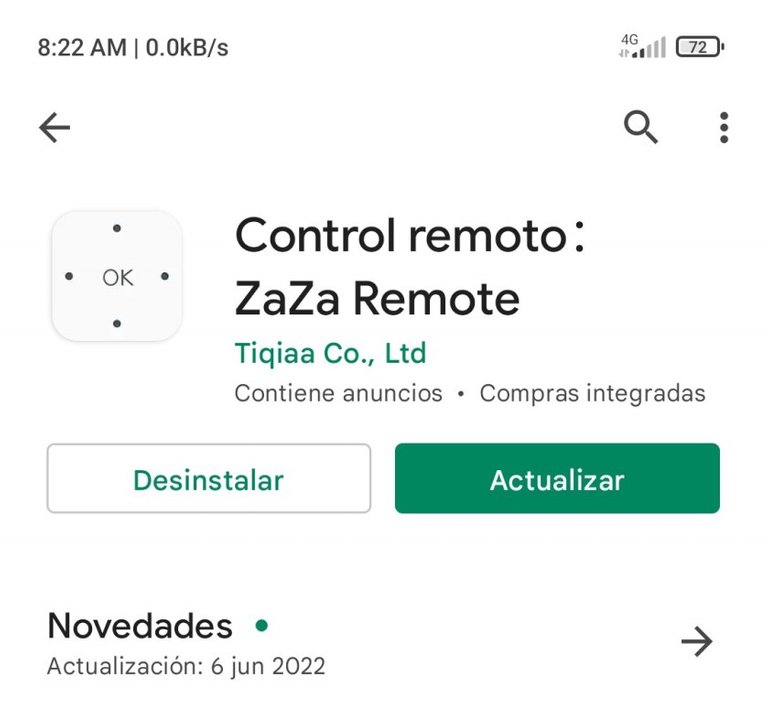 Captura de Pantalla en mi Móvil
Segundo paso: Elegir un equipo.
Una vez descargada y ejecutada la aplicación es momento de elegir el equipo que queremos controlar desde el móvil. Al iniciar la app lo primero que se nos pedirá es elegir un tipo de dispositivo o electrodoméstico. En este tutorial usaré como ejemplo a una TV pero el procedimiento es el mismo para los demás equipos. Contaremos con un gran catalogo donde están cubiertos la gran mayoría de dispositivos que podemos llegar a poseer en casa.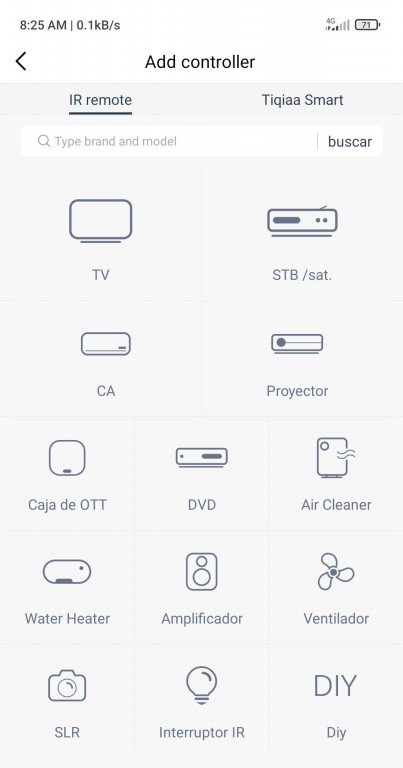 Captura de Pantalla en mi Móvil
Tercer paso: Elegir la marca.
Una vez elegido el tipo de equipo que queremos usar tendremos que elegir la marca del dispositivo. Como sabemos en el mercado hay infinidad de tipos y marcas de TVs, ventiladores, bocinas o los clásicos DVD. La aplicación necesita para identificar tu modelo que primeramente especifiques a que marca pertenece. Desde ya te cuento que esta app es compatible con la inmensa mayoría de dispositivos que hay en nuestros hogares, ya que cuenta con un gran catalogo de códigos por lo que es muy buena opción.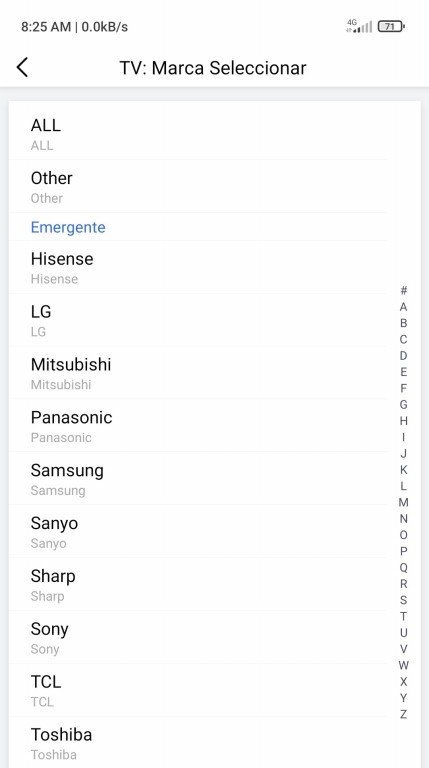 Captura de Pantalla en mi Móvil
Cuarto paso. Pruebas de compatibilidad.
Con los pasos anteriores realizados es momento de hacer las pruebas de compatibilidad, estas son una serie de intentos que hará la aplicación con tu dispositivo para descifrar su modelo o código. Para ello se te indicará que presiones algunas teclas e ir viendo si funciona. Esto se divide por pasos es decir si no funciona tu presionarás la X indicando que no es compatible, la aplicación entonces cambiara el código por otro y la prueba se volverá a repetir. Una vez des con el correcto presionas el signo de confirmar y finalmente la app quedará lista para su uso.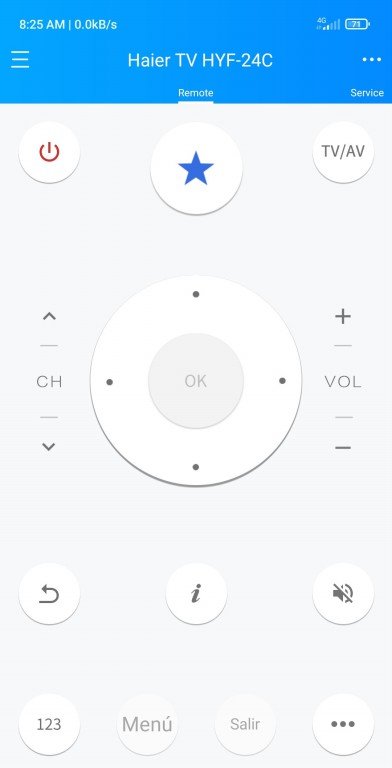 Captura de Pantalla en mi Móvil
¿Cómo añadir un nuevo dispositivo?
Nosotros podemos configurar cuantos equipos queramos, una vez que añadimos uno este siempre apareará primero por defecto, para elegir otro pulsamos en la barra deslizable que se encuentra en la esquina superior izquierda de la pantalla. Ahí puedes ver un signo de +, con el puedes añadir nuevos dispositivos a la app. Cabe destacar que para cada nuevo dispositivos se tendrán que repetir los pasos anteriores que mocioné.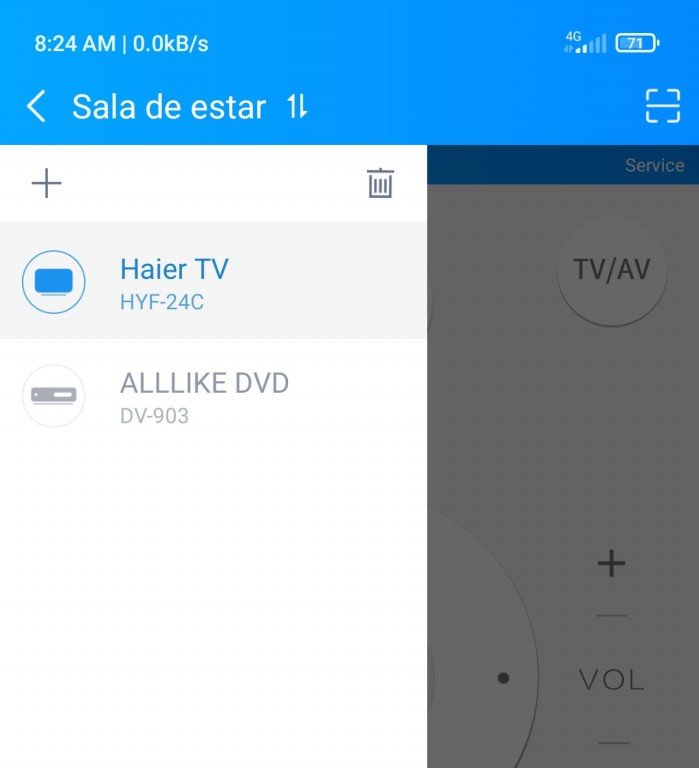 Captura de Pantalla en mi Móvil
Pues como han podido observar mis amigos, todo el procedimiento es muy fácil y cualquiera puede hacerlo. Seguro que te puede ser muy útil en muchas situaciones. Pero esta app cuenta algunas ventajas mas, a continuaciones les hare un breve resumen con algunas de las que hemos visto en este articulo y otras adicionales.
Ventajas.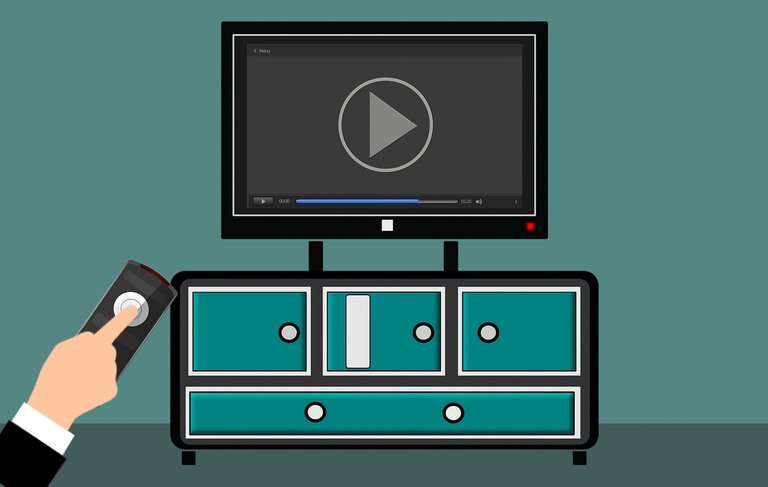 Fuente
Es gratuita: Lo primero que quiero destacar es que esta aplicación es gratuita por lo que no tendrás que pagar por usar sus funcionalidades. La verdad a mi me sorprendió bastante que a pesar de sus características no sea de pago. Lo que si mocionaré es que en alguna ocasión aislada te puede presentar cierta publicidad, esta no llega a ser molesta pues no interrumpe el uso de la app.
Sin internet: Lo siguiente que quiero destacar es que esta aplicación no necesita internet para funcionar. Puedes usarla sin ningún problema aunque no tengas conexión, solo se necesitará cuando vayas a configurar un nuevo equipo o dispositivo, luego de eso no hará más falta. Esto es una gran ventaja pues nos evita costes adicionales de internet o datos.
Compatibilidad: La ultima ventaja que quiero mencionar el día de hoy es su inmensa compatibilidad con muchas marcas de equipos, no importa si son muy antiguos o desconocidos, como mencione anteriormente esta app cuenta con un gran catalogo de códigos que se actualiza constantemente.
Pues mis queridos amigos geeks como han podido ver esta app es toda una navaja suiza de herramientas. Espero que este artículo te haya sido de ayuda para conocer a esta interesante y útil app. Muchas gracias por leer, puedes dejarme en los comentarios tus opiniones u otras parecidas que conozcas. Tengan un excelente día.
Si lo deseas puedes seguirme en mis redes:
Twitter.
English Version
Meet the best application to have a remote control on your phone. Complete tutorial and guide.
Greetings and good morning my dear friends from geek zone and hive in general, today I'm back to bring you a very interesting topic that will surely be very useful. I will tell you about an application that I consider to be one of the best in its field, I am referring to ZAZA REMOTE. Its functionality is to be able to use our phone as a universal remote control. With it we can use from a TV, air conditioners, fans, speakers and many more equipment that we can have at home. In my time using it, it has been very useful in different situations, from occasions where the physical remote control of one of my equipment has been broken or damaged. Today I will tell you all its details, how to use it and some interesting facts. Well, without further ado, I begin this interesting topic.
What you need to use it.
Before telling you how to use this useful application, I have to tell you about some important points. As we know, in order to use a remote control, it needs a special sensor, this is called an infrared sensor. For our phone to be compatible with this app, it must have this section. To find out if your mobile has this functionality, you should check its official page or simply look in the upper frame and verify that there is a small sensor. In the event that you do not have it, unfortunately you will not be able to use this application. In the latter case, there is another way, which is to buy an external sensor that you will connect to your mobile via OTG or through the headphone jack. Now that you know this super important detail, I'm going to tell you how to use the app.
First step: Download the application.
The first thing we must do is download the application through its official means, that is, through the Google play store for android or, in the case of IOS, the app store. To locate it, just write in the search engine (Zaza Remote), once this is done, we move on to the next step.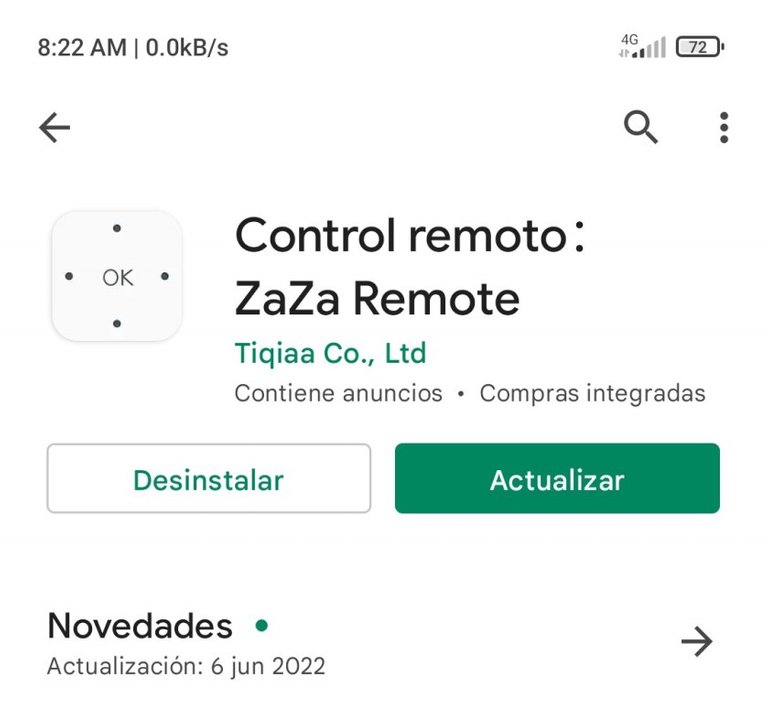 Screenshot on my Mobile.
Second step: Choose a team.
Once the application is downloaded and executed, it is time to choose the equipment that we want to control from the mobile. When you start the app, the first thing you will be asked to do is choose a type of device or appliance. In this tutorial I will use a TV as an example but the procedure is the same for the other equipment. We will have a large catalog where the vast majority of devices that we can have at home are covered.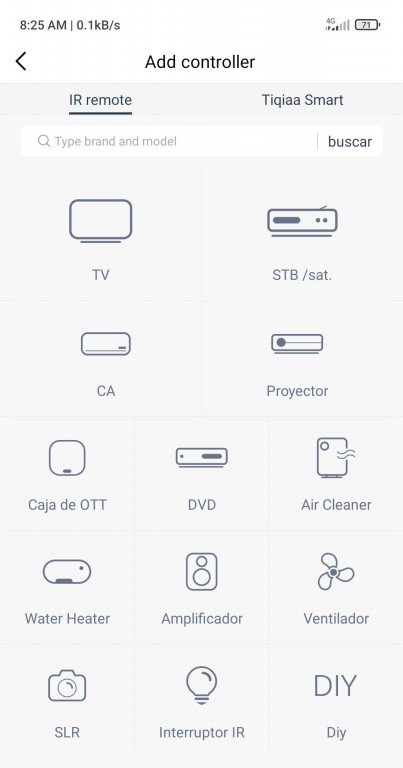 Screenshot on my Mobile.
Third step: Choose the brand.
Once the type of equipment we want to use has been chosen, we will have to choose the brand of the device. As we know, there are countless types and brands of TVs, fans, speakers or the classic DVDs on the market. The application needs to identify your model that you first specify which brand it belongs to. From now on I tell you that this app is compatible with the vast majority of devices that are in our homes, since it has a large catalog of codes so it is a very good option.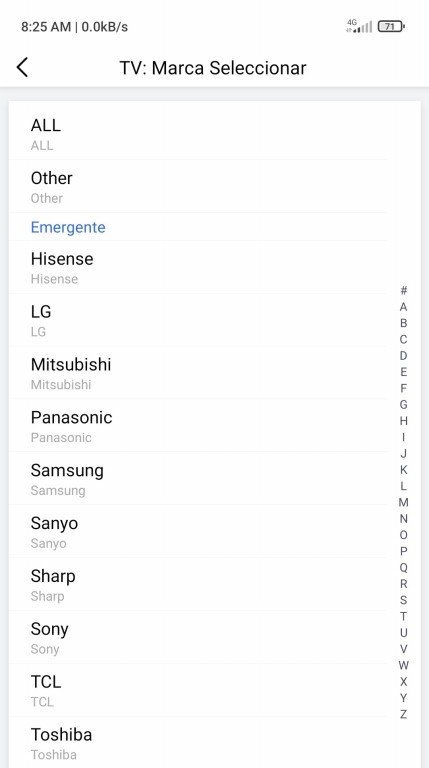 Screenshot on my Mobile.
Fourth step. Compatibility tests.
With the previous steps done, it is time to do the compatibility tests, these are a series of attempts that the application will make with your device to decipher its model or code. To do this, you will be instructed to press some keys and see if it works. This is divided into steps, that is, if it does not work, you will press the X indicating that it is not compatible, the application will then change the code for another and the test will be repeated. Once you find the correct one, press the confirm sign and finally the app will be ready for use.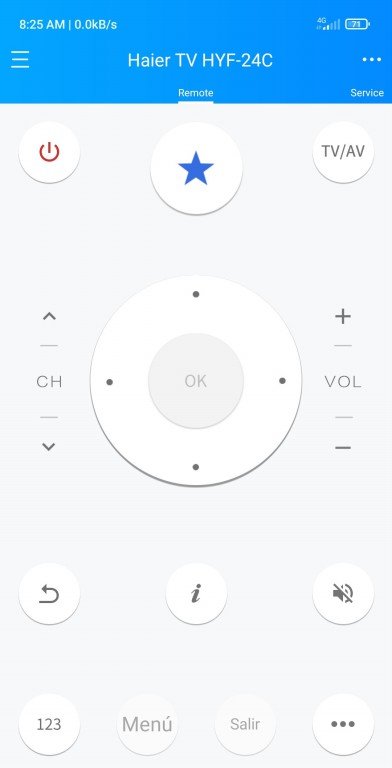 Screenshot on my Mobile.
How to add a new device?
We can configure as many teams as we want, once we add one it will always pair first by default, to choose another we click on the slider bar that is in the upper left corner of the screen. There you can see a + sign, with which you can add new devices to the app. It should be noted that for each new device, the previous steps that I mentioned will have to be repeated.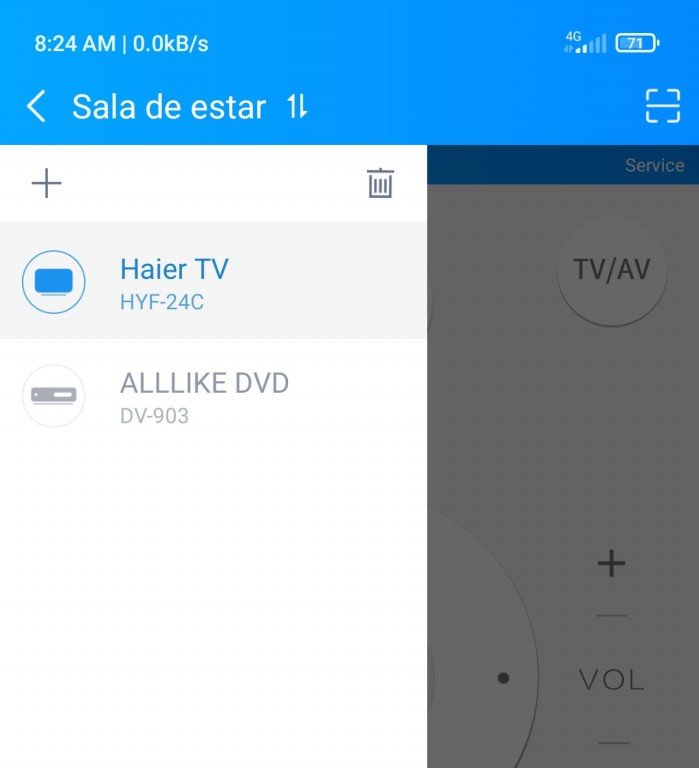 Screenshot on my Mobile.
Well, as my friends have seen, the whole procedure is very easy and anyone can do it. Surely it can be very useful in many situations. But this app has some more advantages, below I will make a brief summary with some of the ones we have seen in this article and additional ones.
Advantage.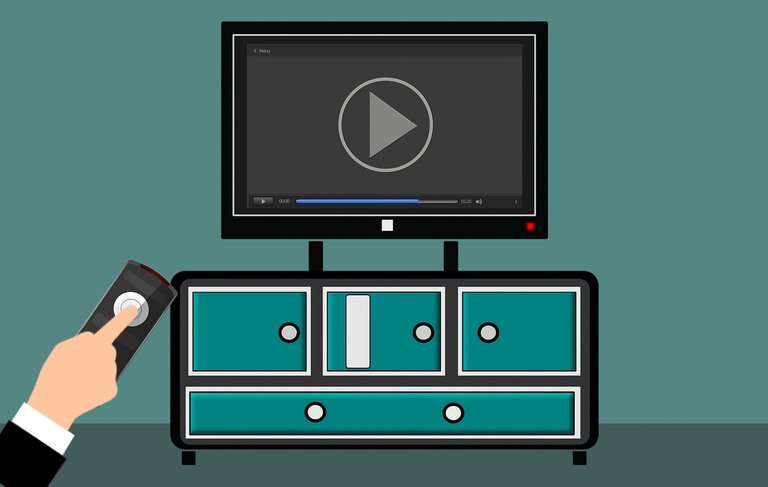 source
It's free: The first thing I want to point out is that this application is free, so you won't have to pay to use its features. The truth is that I was quite surprised that despite its characteristics it is not paid. What I will mention is that on some isolated occasion it can present you with certain advertising, this does not become annoying because it does not interrupt the use of the app.
Without internet: The next thing I want to point out is that this application does not need internet to work. You can use it without any problem even if you don't have a connection, it will only be needed when you go to configure a new computer or device, after that it won't be needed anymore. This is a great advantage because it avoids additional internet or data costs.
Compatibility: The last advantage that I want to mention today is its immense compatibility with many brands of equipment, it does not matter if they are very old or unknown, as I mentioned before, this app has a large catalog of codes that is constantly updated.
Well, my dear geek friends, as you have seen, this app is a complete Swiss army knife of tools. I hope that this article has been helpful to you in getting to know this interesting and useful app. Thank you very much for reading, you can leave me in the comments your opinions or other similar ones that you know. Have a great day.
If you wish you can follow me on my networks:
Twitter.