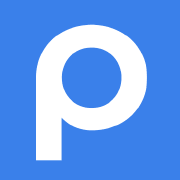 Fuente

ESPAÑOL"

♥️El Amor es un Sentimiento Universal que Transforma Alma y Corazones.♥️
.
Cuando entramos a la plataforma de #hive una de las cosas que debemos hacer es acompañar nuestras publicaciones con fotografías.
En los diversos contenidos que se presentan en este ecosistema, deben incluirse las fotos porque le dan un toque especial a los post y las mismas siempre van adecuadas al escrito presentado, generalmente guarda relación con las letras plasmadas.
Cuando las imágenes no son propias se debe tener mucho cuidado y se debe procurar evitar subir a la plataforma aquellas que tienen derecho de autor , alguna marca de agua, porque evidentemente eso no está permitido, así que debemos inclinarnos por las que son de uso libre y tratar en lo posible de citar al fotógrafo de esa imagen.
De igual manera y a los fines de darle más certeza y credibilidad a tu blog, puedes utilizar imágenes propias, ya sean tomadas a través de tu equipo móvil o por medio de una cámara fotográfica de uso personal, una tablet o cualquier dispositivo que dispongas.
En mi caso soy fanática de capturar momentos a través de mi teléfono realme 7 y por eso en mis publicaciones se pueden apreciar muchas fotos de mi álbum personal, así que cuando supe de hive, el tema de las fotografías no fue un obstáculo, ya que tengo una amplia galería de las mismas, las cuales acompañan a mis publicaciones.
Pero ¿Cómo podemos colocar las fotos en los respectivos blog? Y ¿De qué manera podemos subirlas e incluirlas dentro del maquetado requerido?
Bueno , en mi caso particular lo hago de 2 formas, pero el día de hoy voy a compartir como lo hago a través de Postimage desde mi teléfono.
El Pluggin Postimages es una herramienta que proporciona la web para poder subir una imagen a cualquier blog y adjuntarla por medio de un link que ella te va a proporcionar, por lo que es muy fácil su uso y se los voy a explicar cómo lo hago en mi paso a paso.

♥️Este es el Paso a Paso ♥️
.
♥️Paso 1♥️
.
Ir al navegador, colocar la palabra postimages y seleccionar almacenamiento gratuito de imágenes.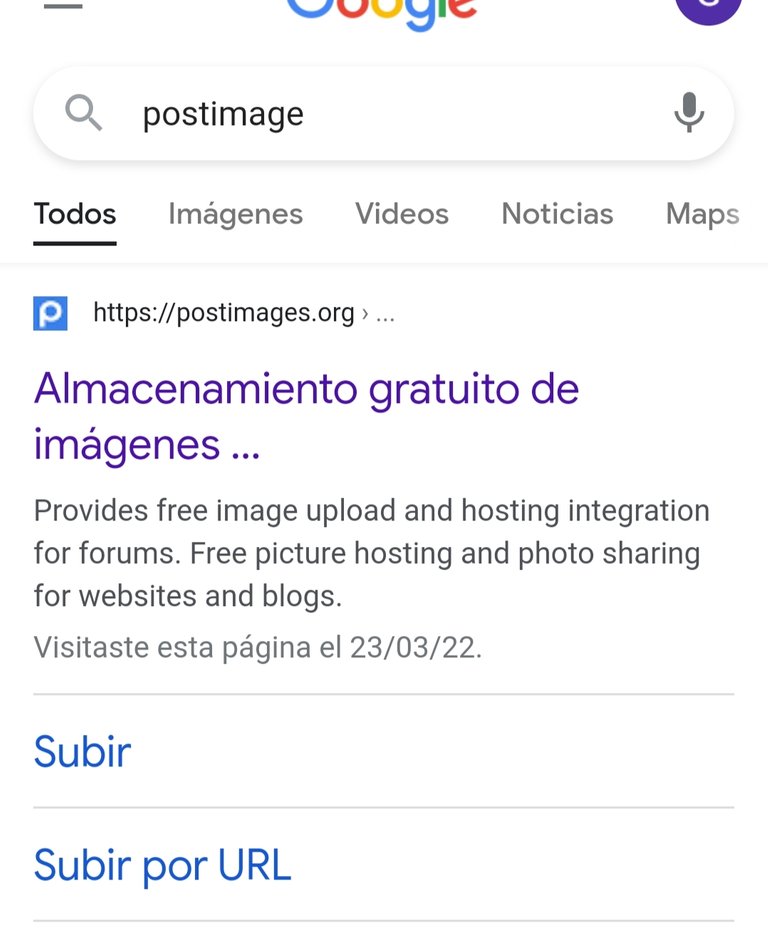 ♥️Paso 2♥️
.
Posteriormente seleccionar "elige las imágenes"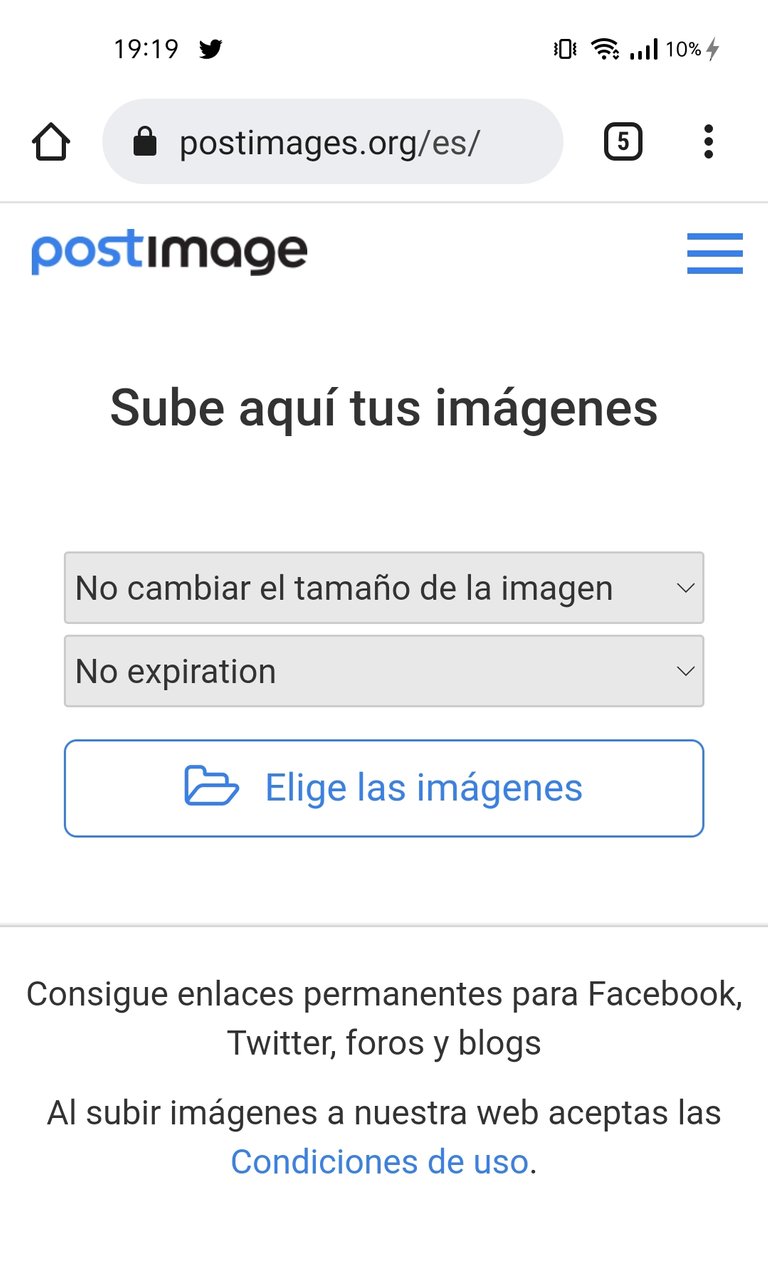 ♥️Paso 3 ♥️
.
Luego vas a seleccionar en el archivo cual es la foto que vas a necesitar para tu post de las que están ubicadas en la galería de tu teléfono.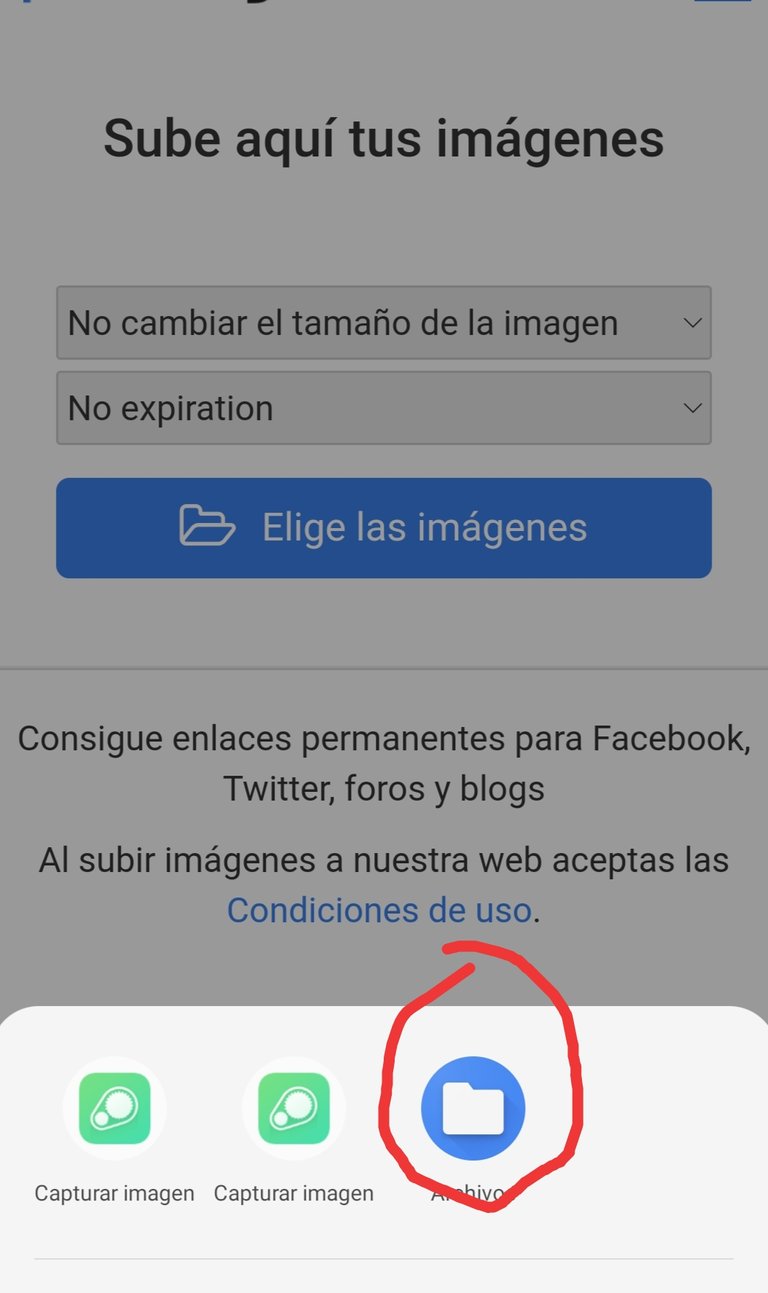 ♥️Paso 4♥️
.
Seguidamente una vez seleccionada la imagen espera que se suba al 100 por ciento y se complete y vas tomar el direct link que reflejó y eso lo vas a copiar.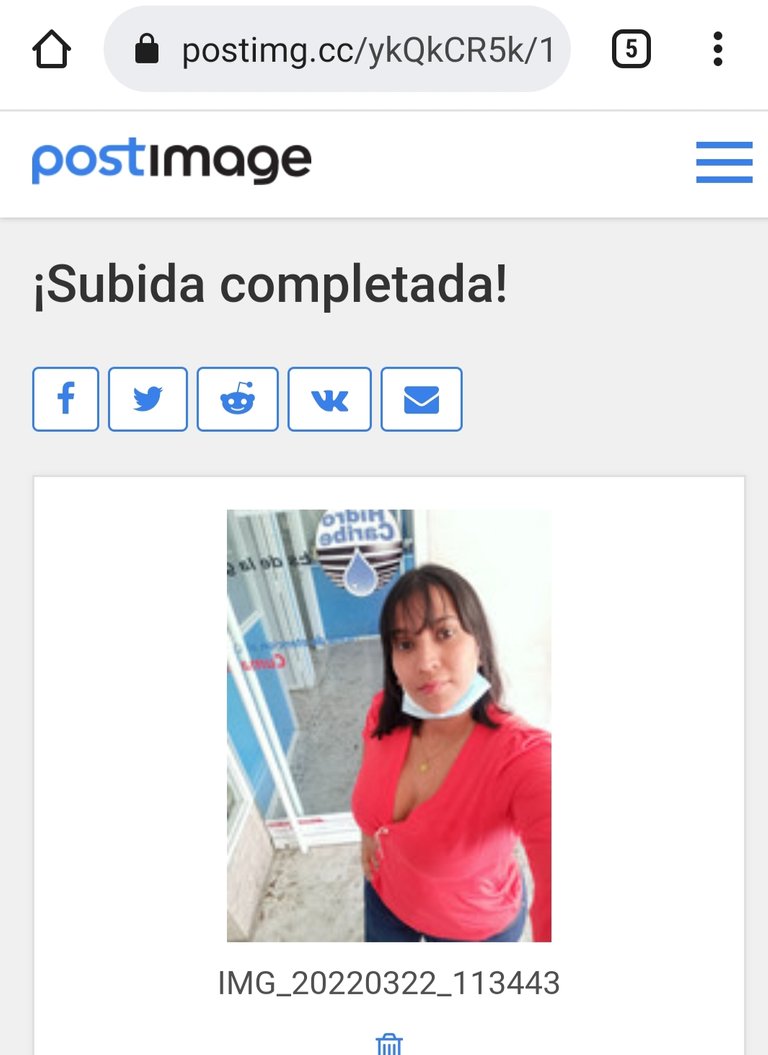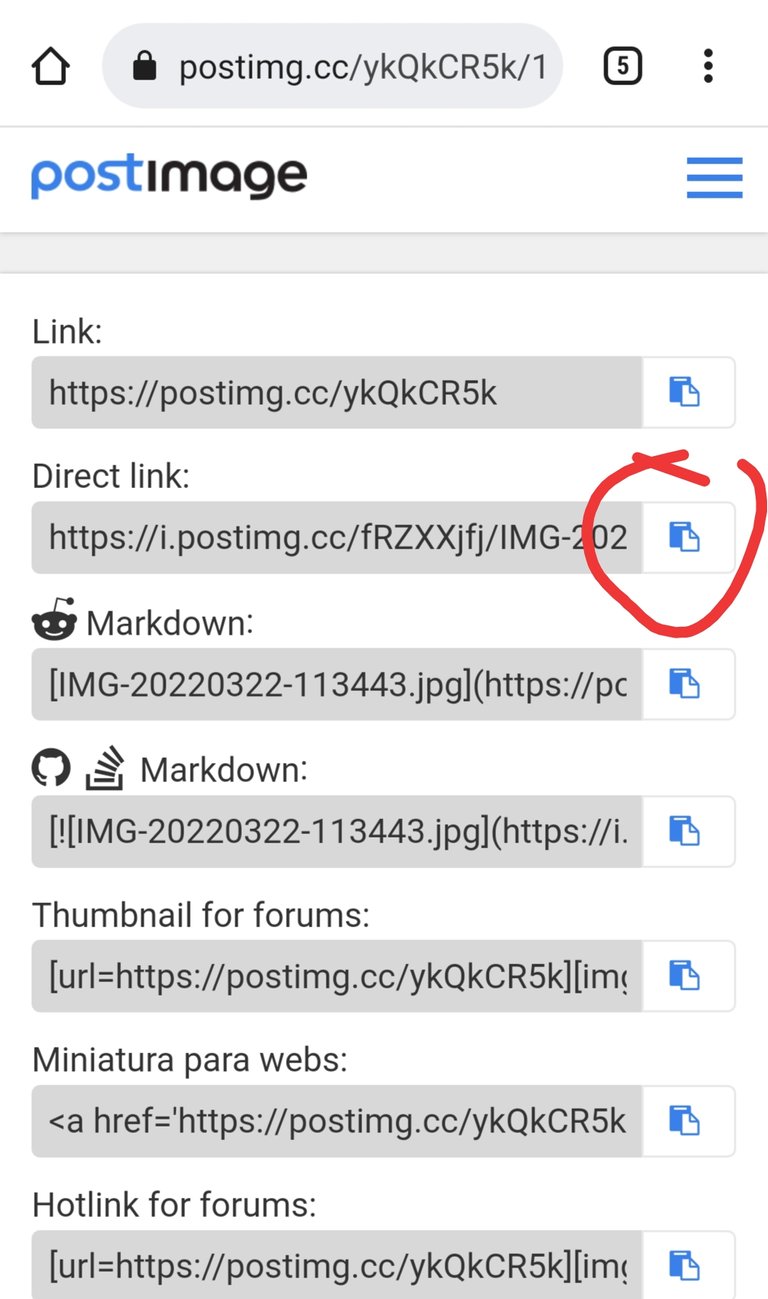 ♥️Paso 5♥️
.
y luego por último pegar el direct link de la siguiente manera: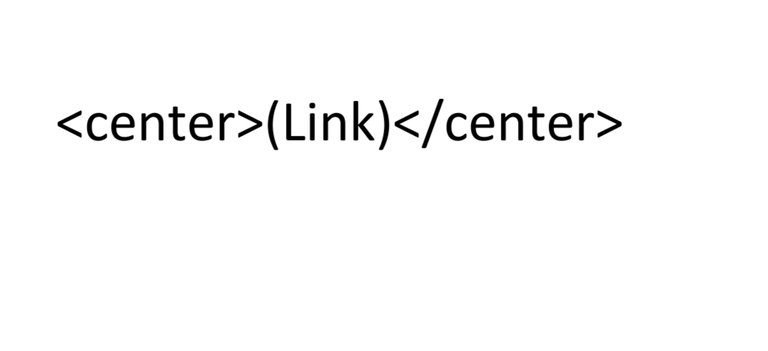 Esta es una herramienta muy importante para ser usada en hive para presentar las publicaciones. Espero que esta explicación haya sido de tu agrado y que si no la haz usado te animes a hacerlo.

"ENGLISH"

♥️Love is a Universal Feeling that Transforms Soul and Hearts.♥️
.
When we enter the #hive platform, one of the things we must do is to accompany our publications with photographs.
In the various contents that are presented in this ecosystem, photos should be included because they give a special touch to the post and they are always appropriate to the writing presented, generally related to the letters depicted.
When the images are not your own, you should be very careful and try to avoid uploading to the platform those that have copyright, some watermark, because obviously that is not allowed, so we must lean towards those that are free to use and try as far as possible to cite the photographer of that image.
Similarly, and in order to give more certainty and credibility to your blog, you can use your own images, whether taken through your mobile device or through a camera for personal use, a tablet or any device you have.
In my case I am a fan of capturing moments through my realme 7 phone and that's why in my publications you can see many photos from my personal album, so when I learned about hive, the issue of photographs was not an obstacle, since I have a large gallery of them, which accompany my publications.
But **How can we place the photos in the respective blog? And how can we upload them and include them in the required layout?
Well, in my particular case I do it in 2 ways, but today I will share how I do it through Postimage from my phone.
The Postimagen Pluggin is a tool that provides the web to upload an image to any blog and attach it through a link that she will provide you, so it is very easy to use and I will explain how I do it in my step by step.

♥️This is the Step by Step ♥️
.
♥️Step 1♥️
.
Go to the browser, place the word postimage and select free image storage.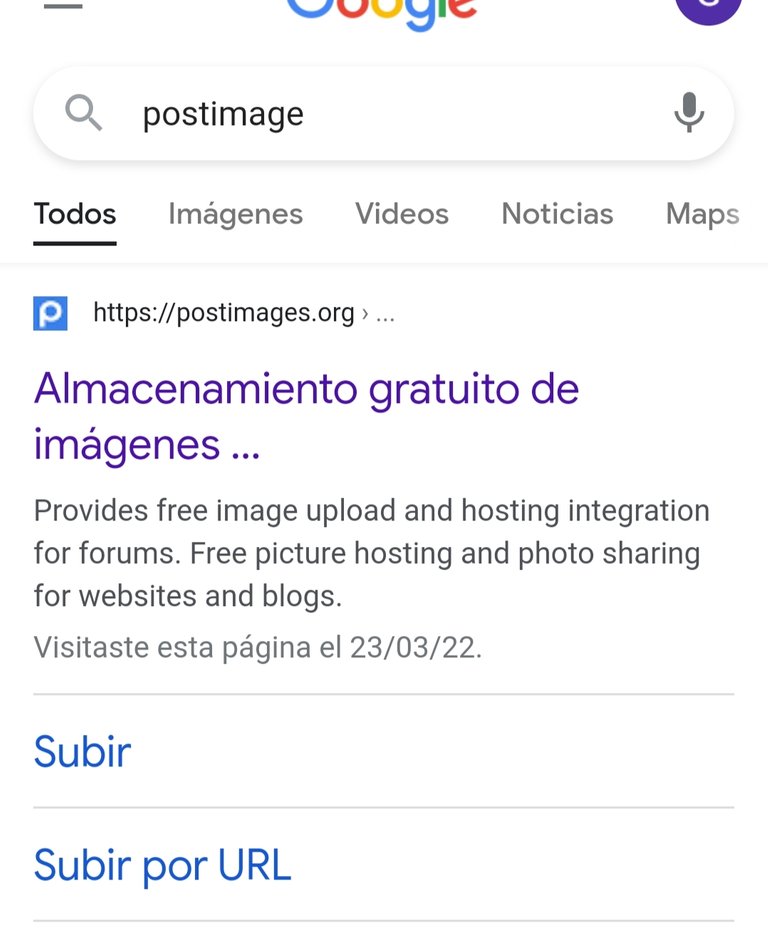 ♥️Step 2♥️
.
Subsequently select "choose images".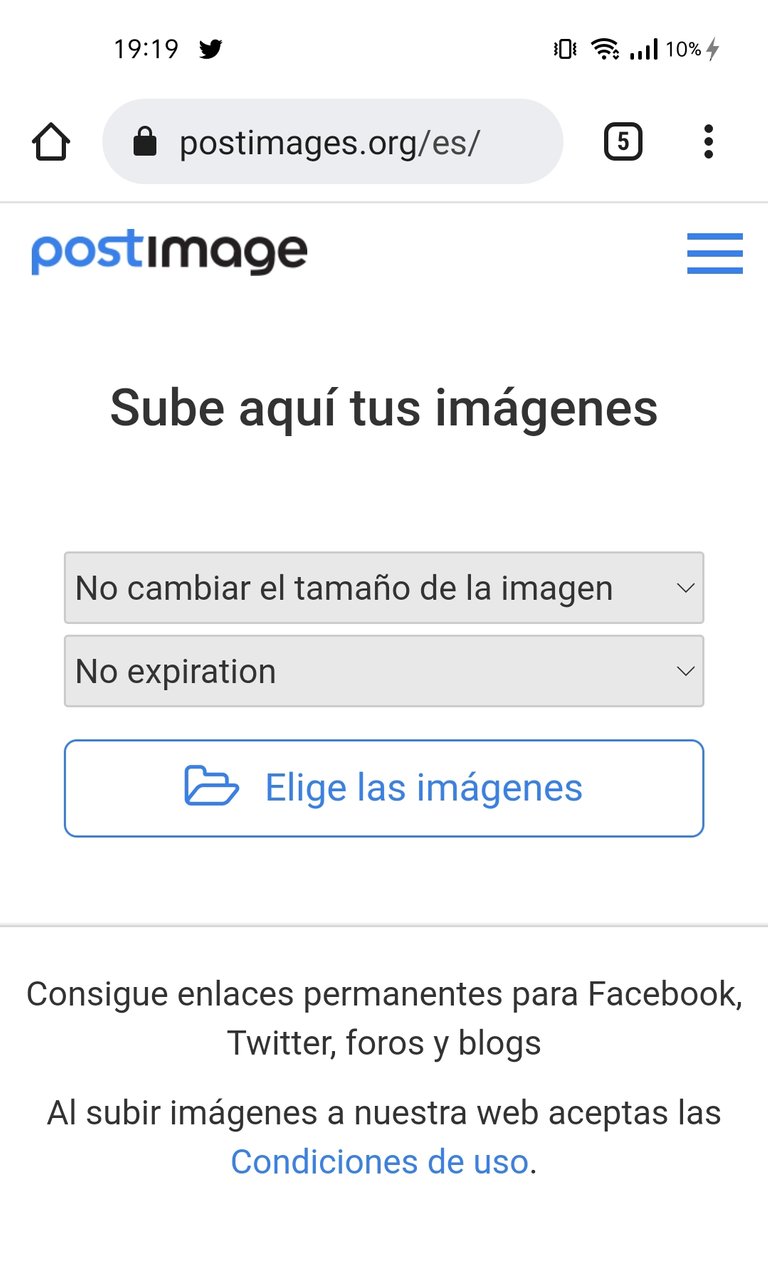 ♥️Step 3 ♥️
.
Then you are going to select from the file which picture you are going to need for your post from the ones located in your phone's gallery.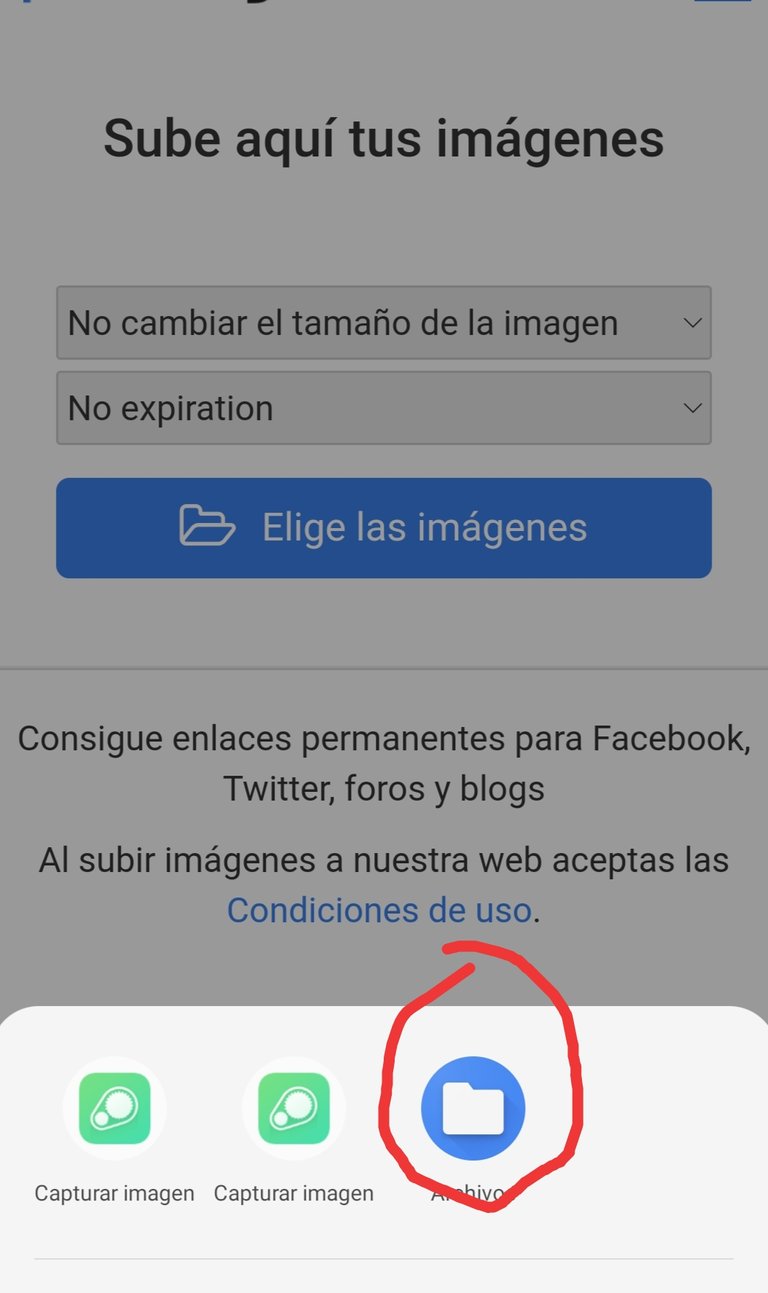 ♥️Step 4♥️
.
Next, once the image is selected, wait for it to upload to 100 percent and complete and you will take the direct link that it reflected and copy it.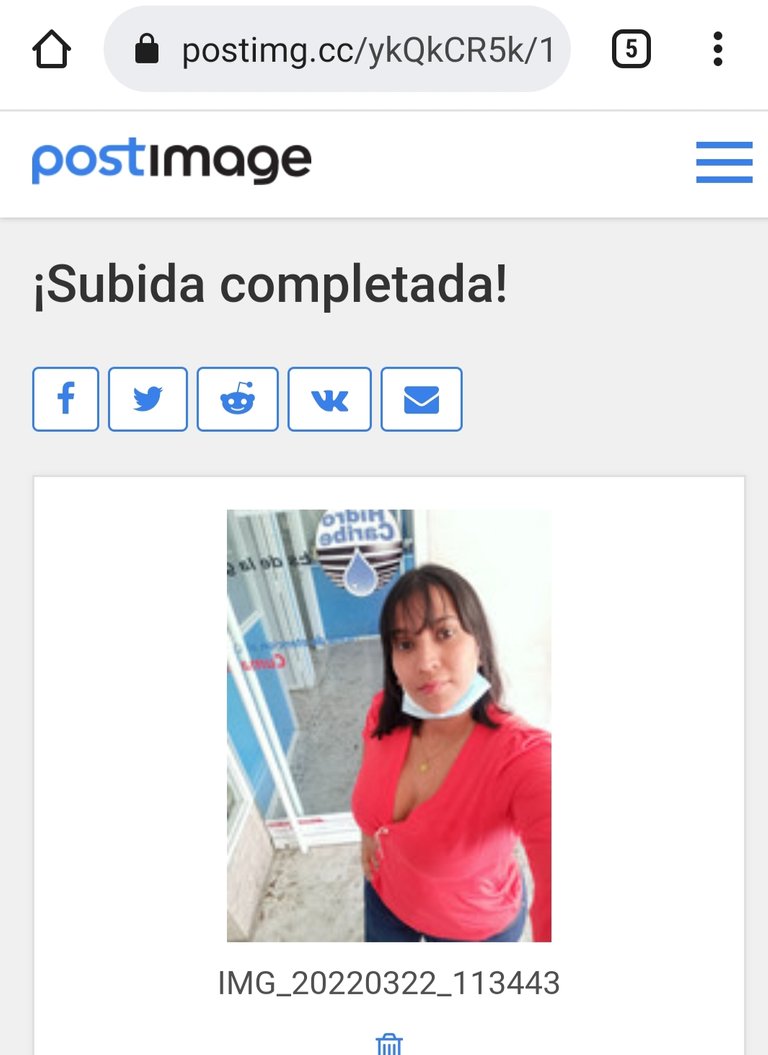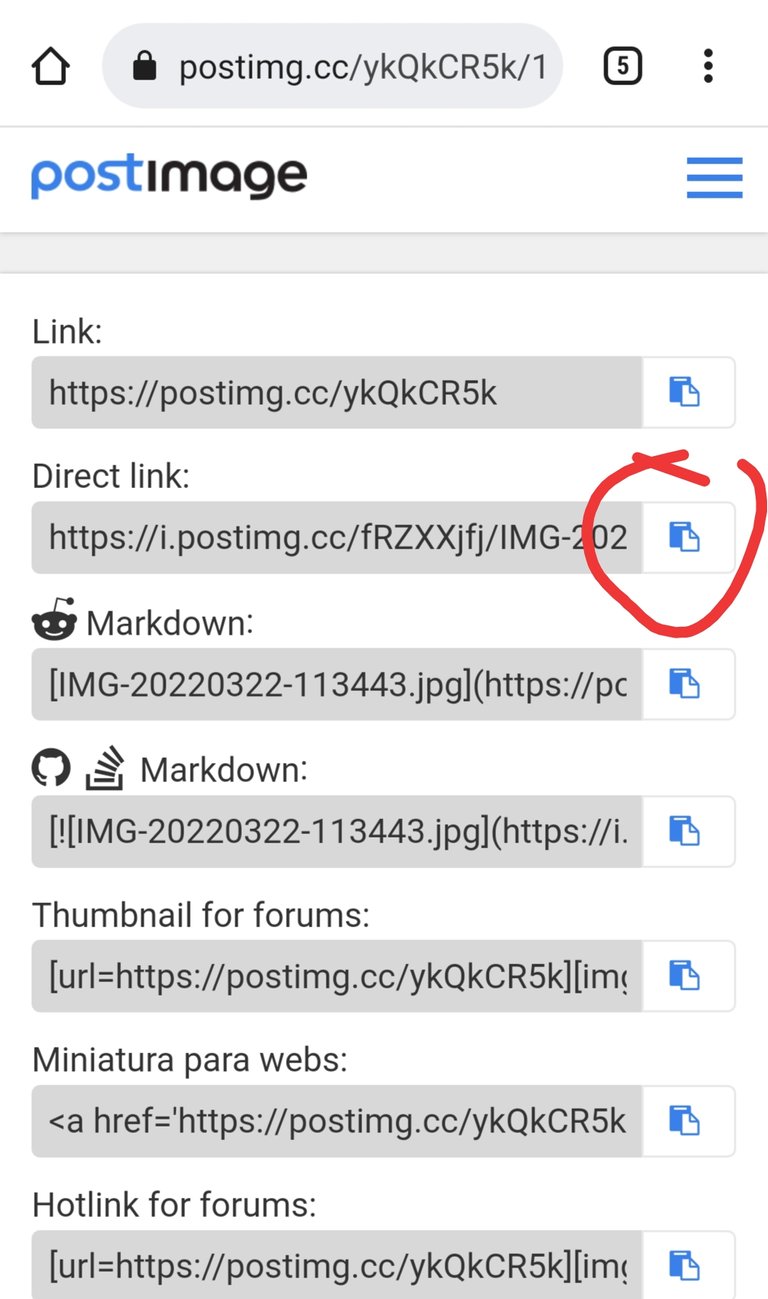 ♥️Step 5♥️
.
And then finally paste the direct link as follows: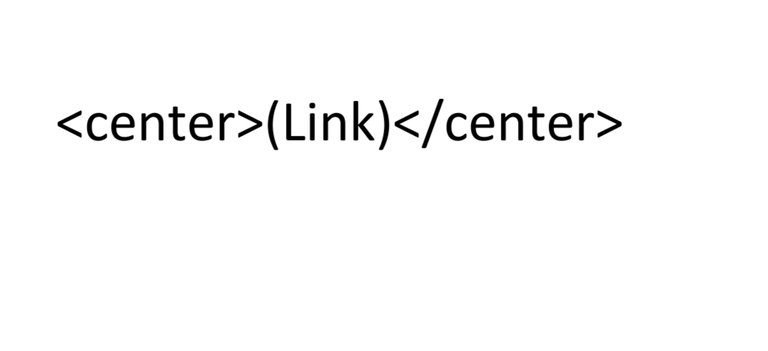 This is a very important tool to be used in hive to submit the publications. I hope that this explanation has been to your liking and that if you have not used it you are encouraged to do so.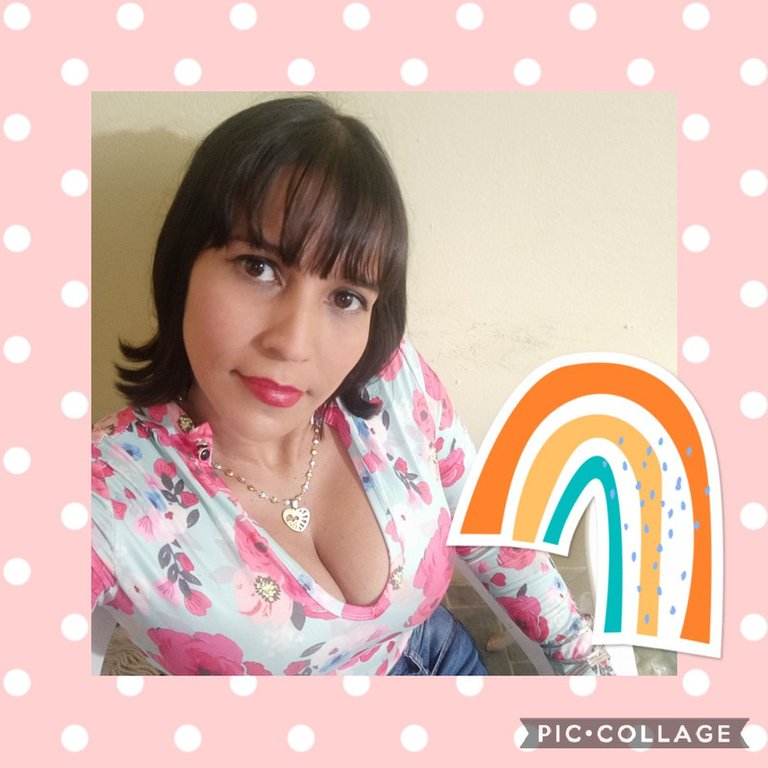 "DESPUES DE LA TORMENTA SIEMPRE SALE EL ARCOIRIS. ¡NUNCA TE RINDAS!"
Gracias por dedicar un tiempo para leer mi publicación, la escribí con mucho amor.
Thank you for taking the time to read my post, I wrote it a lot of love.
Me despido.
I bid you farewell.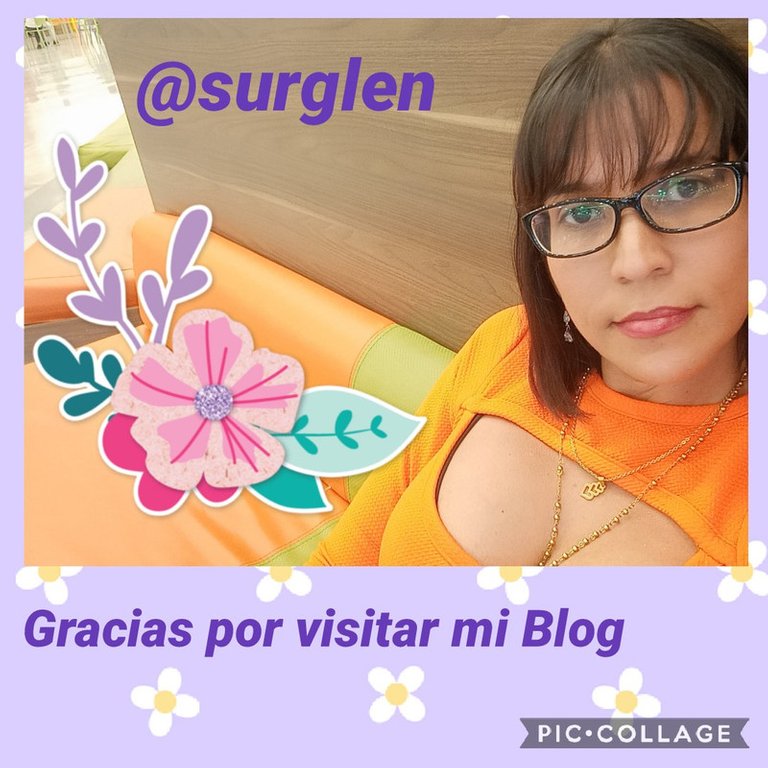 Todo el contenido que se encuentra en esta publicación es de mi autoría, cualquier duda hacer mención a mi persona y con gusto les responderé @surglen.
All the content found in this publication is my authorship, if you have any questions, mention me and I will Gladys answer you @surglen.
Las Fotografías son de mi propiedad, excepto las citadas con su fuente.@surglen
Photographs are my property, except those cited with their source. @surglen.
Avatar realizados en Bitmoji
Los separadores/Separators Aquí/here