✨English✨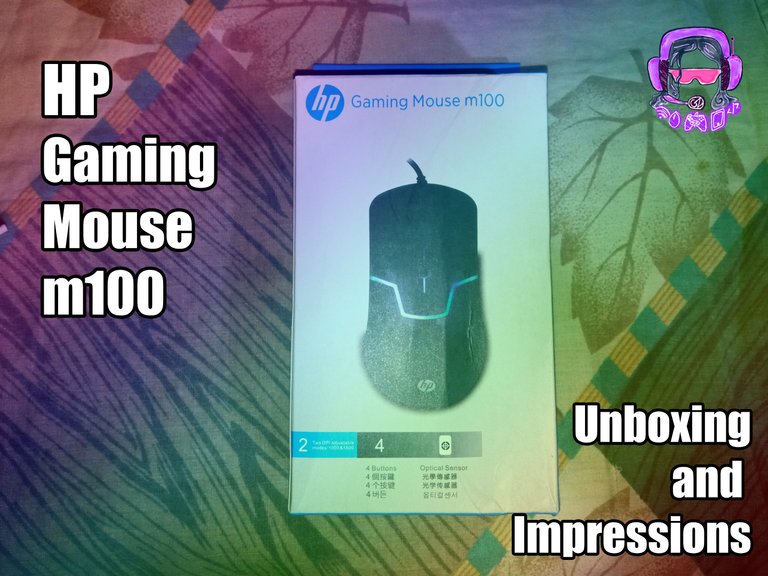 Since I got my pc I've used the same mouse, just like the "Canaima" laptops (a laptop series that the government gifted to students), I guess it will be a "renamed" mouse to look more "national", anyway that same mouse worked great for me for years, until it started to fail and I had to change it, some time ago I talked about the mouse and keyboard combo I bought as a replacement, for those who haven't read the review, that mouse was a real piece of shit, the sensor was erratic and I had no choice but to return to my old mouse, until I finally decided to buy another one, this time less ostentatious, and my choice was the HP M100, promoted as a "gamer" mouse, after my experience with the other one, it's not a mouse that I would have bought, but I saw a couple of reviews that spoke well of the mouse, and in a compulsive impulse I went and bought it.
In the store I was already scared, because the lady who attended me had to look for two different mouses, the first one she showed me didn't scroll, and the second one apparently didn't work the right click, but the third one looked perfect and was the one I bought, it was a little late so I hurried to return home to try it.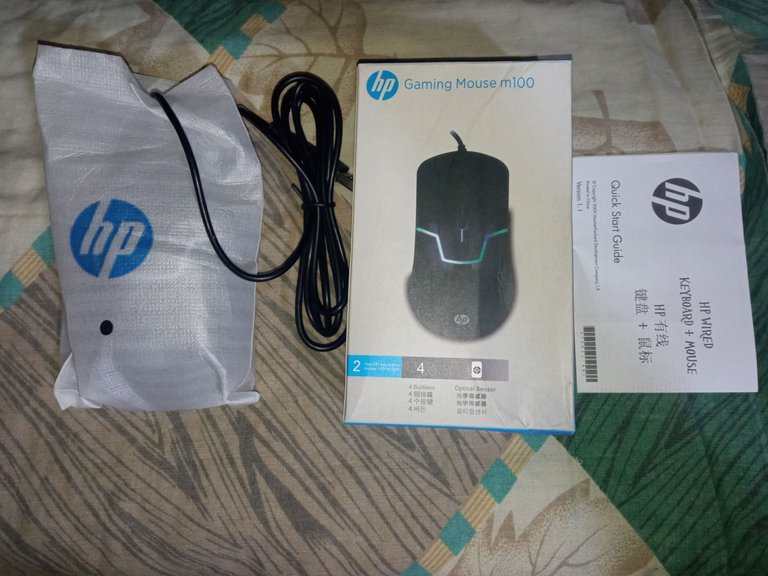 The box doesn't have much to show, inside only comes the mouse wrapped in a paper that is very soft to the touch, a manual that nobody reads, and nothing else, on the sides of the box you can read some of the features of the mouse, it really has nothing very special, but it's like in those ads for pc, the dumbest function is sold as the 8th wonder, something like:
"Snapdragon 888 optical sensor for the highest precision in all games, carbon fiber buttons and RGB lights with 16 million fully customizable colors."
And as usual all this is a lie.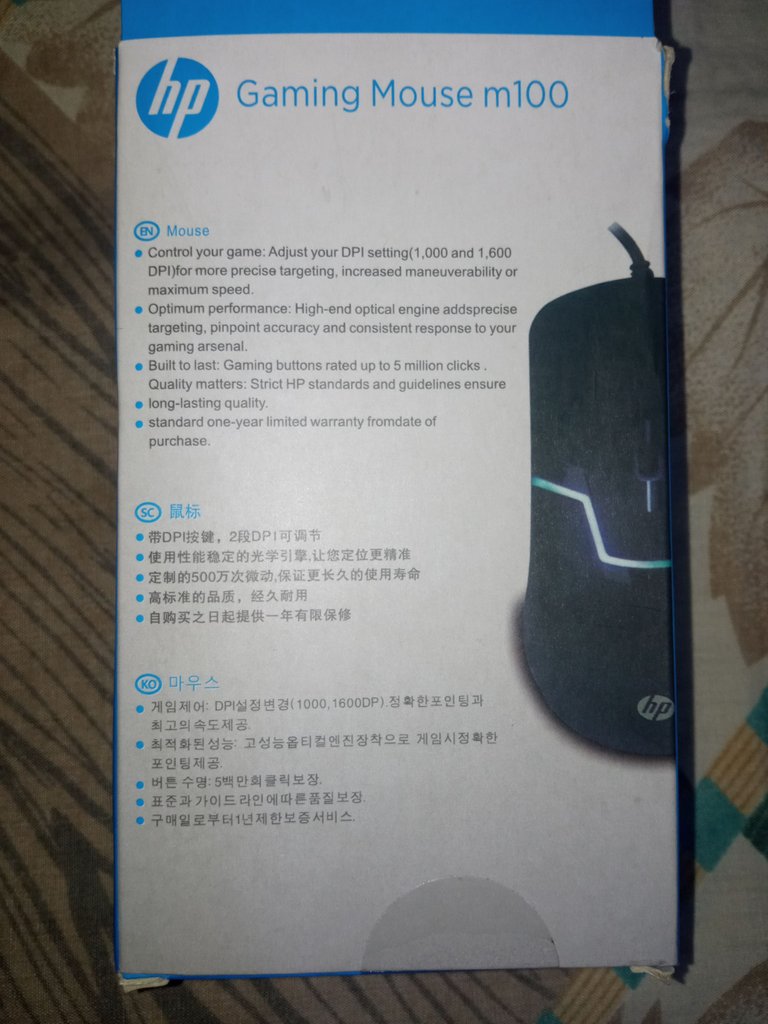 Nah, just kidding, the mouse is very basic but it does include something I had never tried, and that is an additional button that allows you to change the DPI, in case you live under a rock (like me just before I bought the mouse), DPI stands for Dots Per Inch, in a simpler way, the higher the DPI, the more sensitive the mouse will be to movement.
This mouse has 4 modes ranging from 1000 to 1600 DPI, each time you press the button it will change cyclically, ie 1000>1200>1400>1600>1000 and so on, since I started using it I set it to 1200 as it seems the most balanced, and the one that most resembles my old mouse, the others seem very slow, or too fast, but it will be a matter of getting used to it.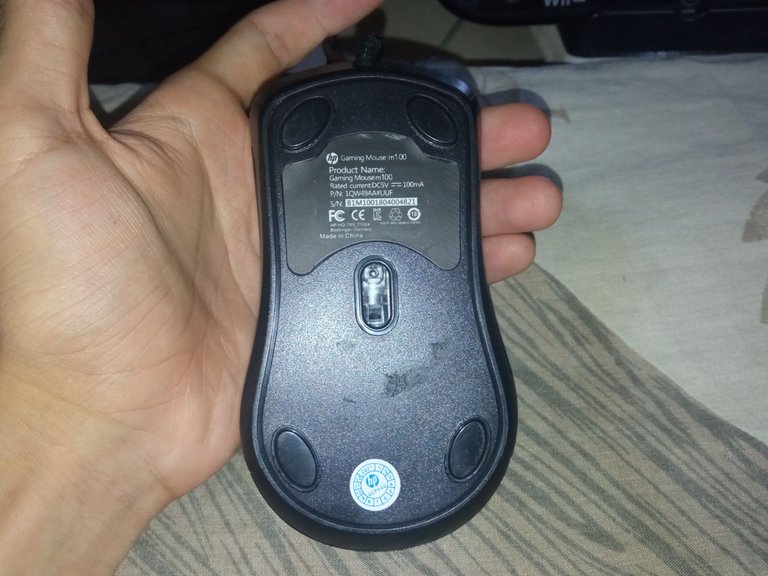 Something that left me with a lot of satisfaction, is that I thought all this time that the mouse would be smaller than mine, when in fact it's larger, my hands aren't extremely large, but they adapt well to the mouse, I'll be showing it in a picture, and also the mouse has RGB, it isn't configurable or as colorful as other mouses of the same price, and that gives it a very elegant look, besides being black, which I appreciate because I don't like white peripherals, this is a matter of taste though.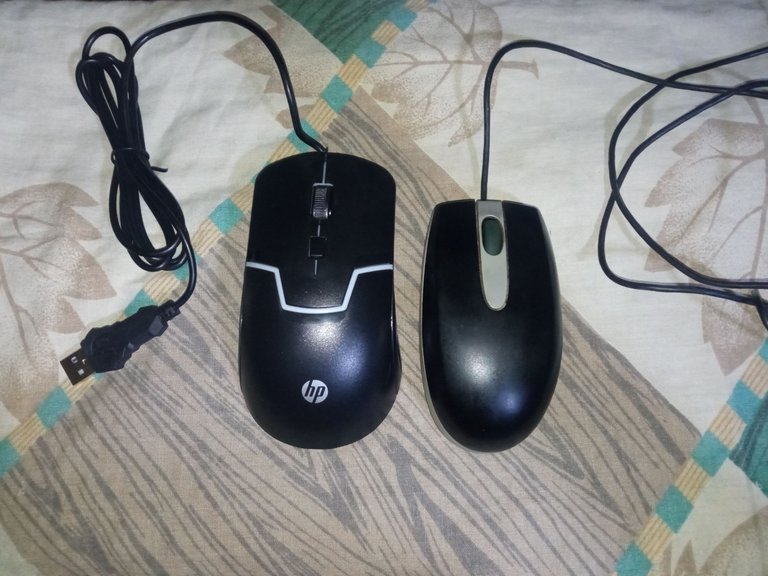 I've been using it for a week and the difference is notorious, it's a normal mouse if you forget about the DPI, it doesn't do wonders, it doesn't increase the FPS, nor does it play for you (that would be really boring haha), but for me coming from a mouse with a very inaccurate sensor, and another one that if you moved it too much it "disconnected" because of the cable, it's like entering the mouse heaven, I've been able to work and spend my free time playing games that were a headache before, like Counter-Strike, imagine that you have an enemy in range, every millisecond counts, and the mouse turns off because the cable stops making contact, it was horrible, this is replicable in any other FPS or games where you need to be fast and accurate with the mouse, and the simple fact of being able to play with the peace of mind that the mouse will not disconnect at the worst moment is very nice.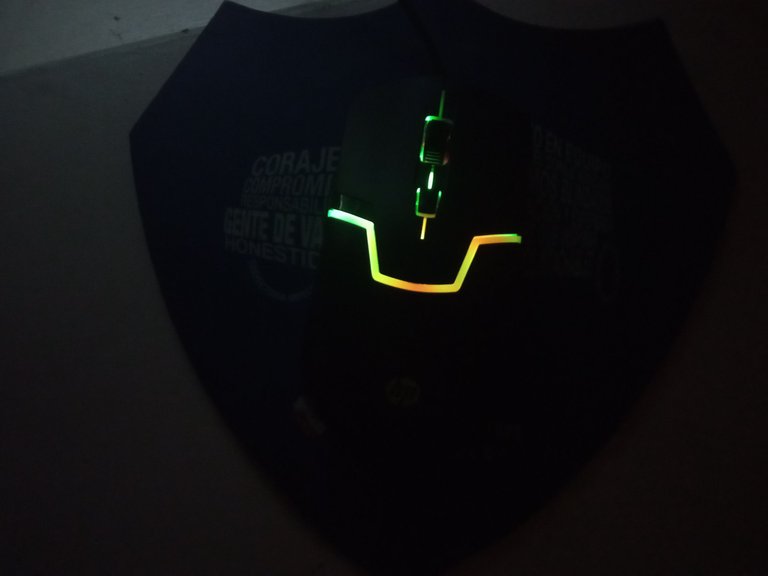 Obviously I've only had it for a little over a week, time will tell how the sensor will behave, which is the part that worries me the most that it's well preserved and does not start to behave erratically, but at first impression, it seems a good mouse to me, if anyone has this model or a similar one, please leave your experience in the comments.
I don't have much more to add, thank you very much for reading to the end, I hope you liked it or that it will be useful for you.

See you around, bye bye.




Screenshots were taken by me 📷
Translation with help of DeepL


✨Español✨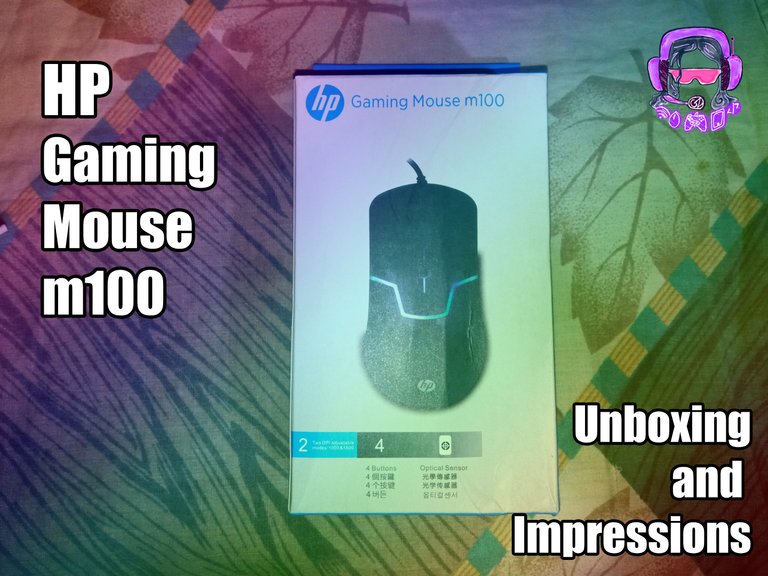 Desde que tengo mi pc he utilizado el mismo mouse, al igual que las laptops "Canaima", imagino que será un mouse "rebautizado" para parecer más "nacional", de cualquier forma ese mismo mouse me funcionó de maravilla durante años, hasta que empezó a fallar y tuve que cambiarlo, hace tiempo hablé del combo de mouse y teclado que compré a modo de remplazo, para quien no haya leído la review, dicho mouse fue una verdadera basura, el sensor era errático y no tuve otra alternativa que regresar a mi mouse viejo, hasta que finalmente decidí comprar otro, esta vez menos ostentoso, y mi elección fue el HP M100, promocionado como mouse "gamer", después de mi experiencia con el otro, no es un mouse que hubiese comprado, pero vi un par de reviews que hablaban bien del mouse, y en un impulso compulsivo fui y lo compré.
En la tienda ya me estaba dando algo de miedo, pues la señorita que me atendió tuvo que buscar dos mouse diferentes, el primero que me enseñó no hacía scroll, y al segundo al parecer no le funcionaba el click derecho, pero el tercero se veía perfectamente y fue el que compré, era algo tarde así que me apresuré a regresar a mi casa para probarlo.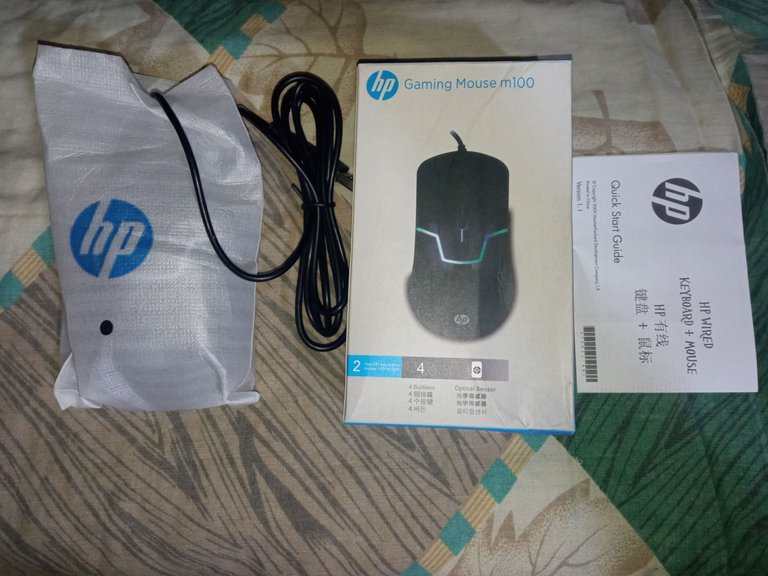 La caja no tiene demasiado que enseñar, dentro solo viene el mouse envuelto en un papel de estos que es bien suave al tacto, un manual que nadie lee, y nada más, en los costados de la caja pueden leerse algunas de la características del mouse, realmente no tiene nada muy especial, pero es como en esos anuncios de pc, la función más tonta te la venden como la 8va maravilla, algo tipo:
"Sensor óptico Snapdragon 888 para la mayor precisión en todos los juegos, botones de fibra de carbono y luces RGB con 16 millones de colores completamente personalizables"
Y como siempre todo esto es mentira.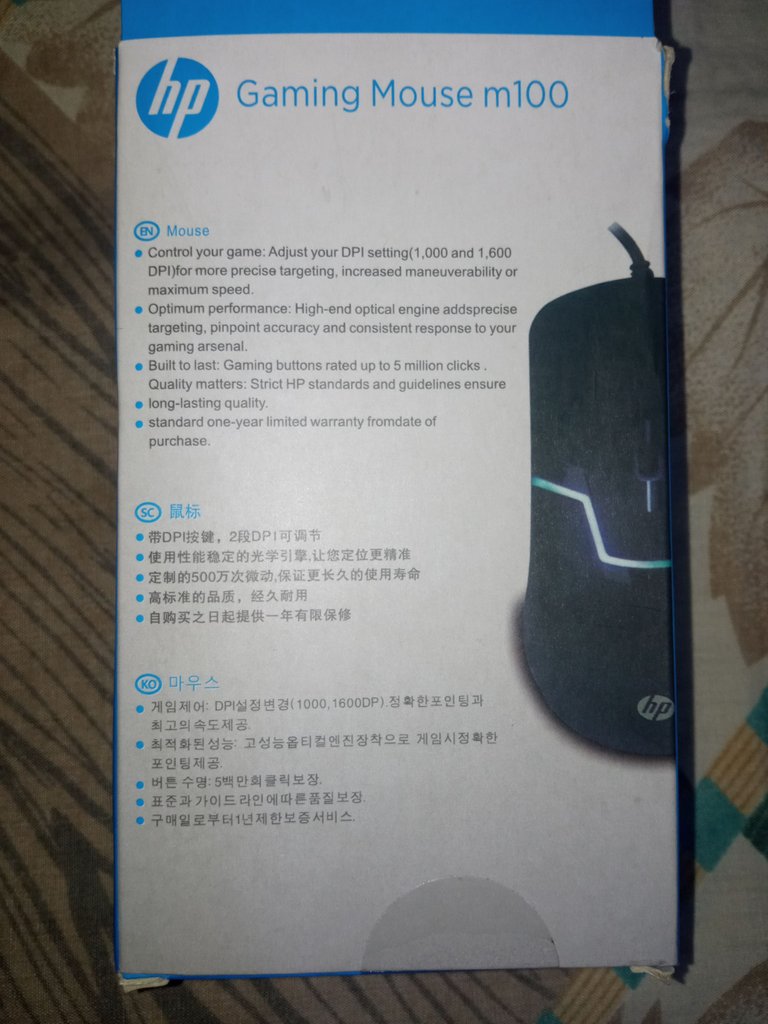 Nah, es broma, el mouse es muy básico pero sí incluye algo que nunca había probado, y es un botón adicional que te permite cambiar los DPI, por si vives debajo de una piedra (al igual que yo justo antes de comprar el mouse), DPI significa Dots Per Inch, en español "Puntos por pulgada", de forma más sencilla, mientras más altos los DPI, mayor será la sensibilidad del mouse al movimiento.
Este mouse tiene 4 modos que van de 1000 hasta 1600 DPI, cada vez que presionas el botón cambiará de forma cíclica, es decir 1000>1200>1400>1600>1000 y así sucesivamente, yo desde que lo empecé a utilizar lo configuré en 1200 pues me parece la más balanceada, y la que más se parece a mi antiguo mouse, las demás me parecen muy lentas, o demasiado rápidas, pero será cuestión de acostumbrarse.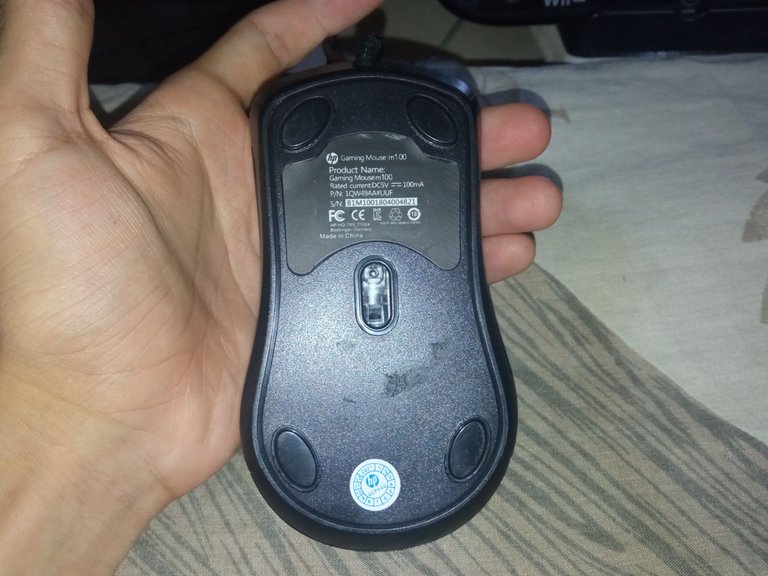 Algo que me dejó con bastante satisfacción, es que creí todo este tiempo que el mouse sería más pequeño que el mio, cuando en realidad es más grande, mis manos no son extremadamente grandes, pero se adaptan bien al mouse, ya lo estaré enseñando el alguna foto, y además el mouse tiene RGB, no es configurable ni es tan vistoso como el de otros mouse del mismo precio, y eso le da un aspecto bastante elegante, además de ser de color negro, lo cual agradezco porque detesto los accesorios de color blanco, aunque al final esto es un tema de gustos.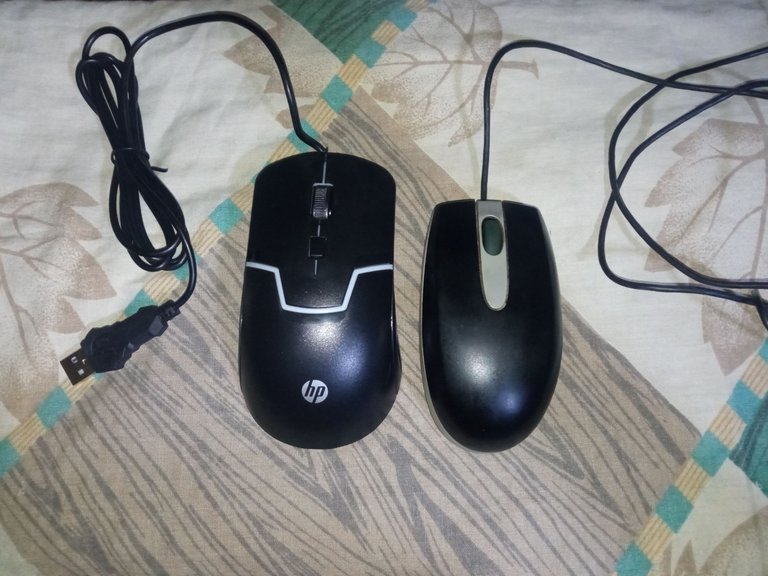 Lo he estado utilizando durante una semana y la diferencia es notoria, es un mouse normal si te olvidas de los DPI, no hace maravillas, no te sube los FPS, ni juega por ti (eso en realidad sería muy aburrido haha), pero para mi que vengo de un mouse con un sensor muy impreciso, y otro que si lo movías mucho se "desconectaba" por culpa del cable, es como entrar al cielo de los mouse, he podido trabajar y pasar mis ratos libres jugando a juegos que antes eran un dolor de cabeza, como el Counter-Strike, imagina que tienes a un enemigo a tiro, cada milisegundo cuenta, y se te apaga el mouse porque el cable deja de hacer contacto, era horrible, esto es replicable en cualquier otro FPS o juegos donde requieras ser rápido y preciso con el mouse, y el simple hecho de poder jugar con la paz mental de que el mouse no se va a desconectaren el peor momento es muy agradable.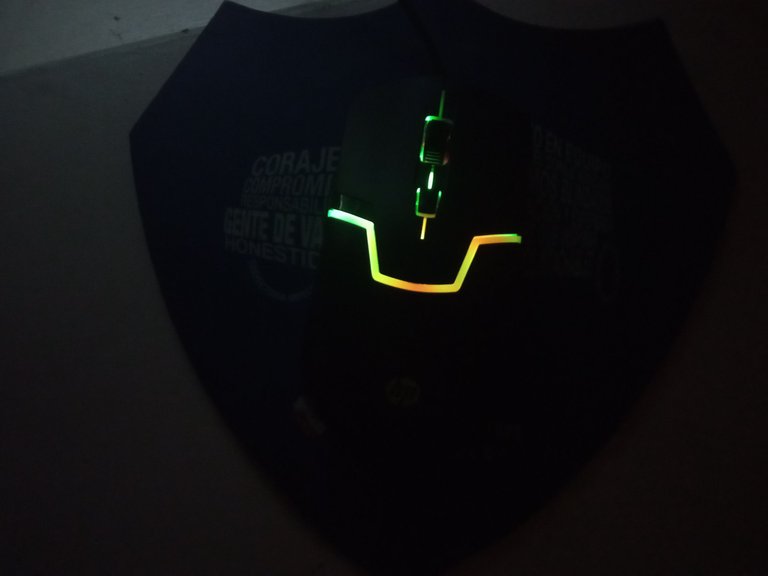 Obviamente solo lo he tenido poco más de una semana, el tiempo dirá qué tal se comportará el sensor que es la parte que más me preocupa que se conserve bien y no empiece a comportarse de manera errática, pero a primera impresión, me parece un buen mouse, si alguien tiene este modelo o uno similar, por favor deje su experiencia en los comentarios.
No tengo mucho más que agregar, muchas gracias por leer hasta el final, espero les haya gustado o les sirva de algo.

Nos vemos por ahí, bye bye.




Las fotos fueron tomadas personalmente 📷