✨Hello Everyone✨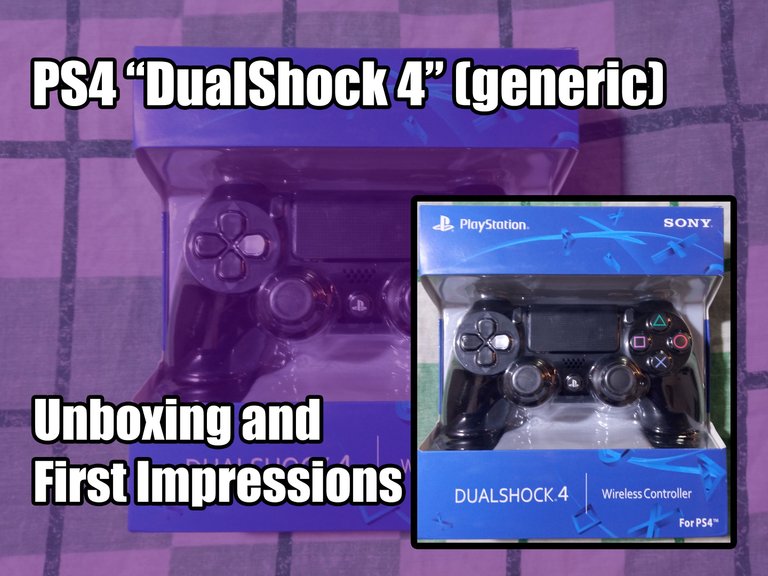 For those who know me, you know that since about a month I'm in a love-hate relationship with my pc, actually this is something that comes from years ago, but it wasn't until a month ago that these problems increased significantly, reaching the point that I can no longer even record Metroid Fusion because it runs at 5 FPS, which is why my constant effort to put together a new pc as each time this has more nails in the coffin, but for the same reason, I'll have to vary my content to other consoles, mainly my beloved Wii U.
The question is that I didn't want to wear much the Wii U Gamepad, most of the time I was using a generic PS3 controller which already passed to better life, but now I decided to make an investment that I try to see as a "long-term savings" to keep as intact as possible the gamepad in view that it isn't replaceable or at least not with the ease of any other controller, that's why I bought a PS4 gamepad, obviously generic because these days is very difficult to get a new original controller, let alone at a good price, although the store specified that it was an "official product", I bought it knowing that it was just another generic controller.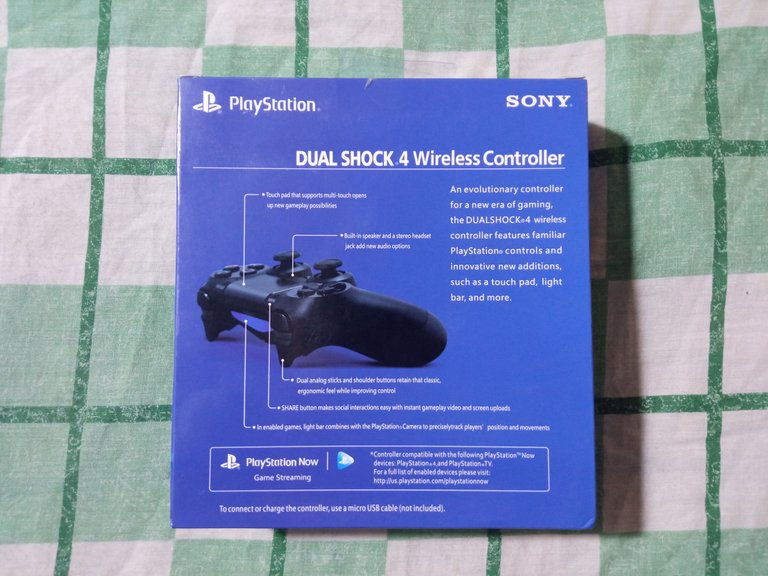 Interestingly, the box itself specifies that the cable is not included, but when you open the box there IS a cable, this may vary from one manufacturer to another though.
Despite that, at first glance if they put me the same box at the price of an original controller, I wouldn't have been able to differentiate whether it's a generic controller or not, because that's the greatest "achievement" of the imitators, most of the controllers and their boxes manage to deceive the eye at first, but as I said I bought this knowing full well that it's generic, so I expect to find details of any kind.
Except for that, the truth is that at first glance the controller looks beautiful, I've never had a PS4 controller of any kind between my hands so I was very excited and was part of what prompted me to go for this model and not a more "safe" purchase of some other generic model of which I had reference, I wanted to check if for its price these controls are worth it, and although at the moment I can only give you my first impressions, eventually I'll give you a more extensive analysis, for now let's focus on the first contact.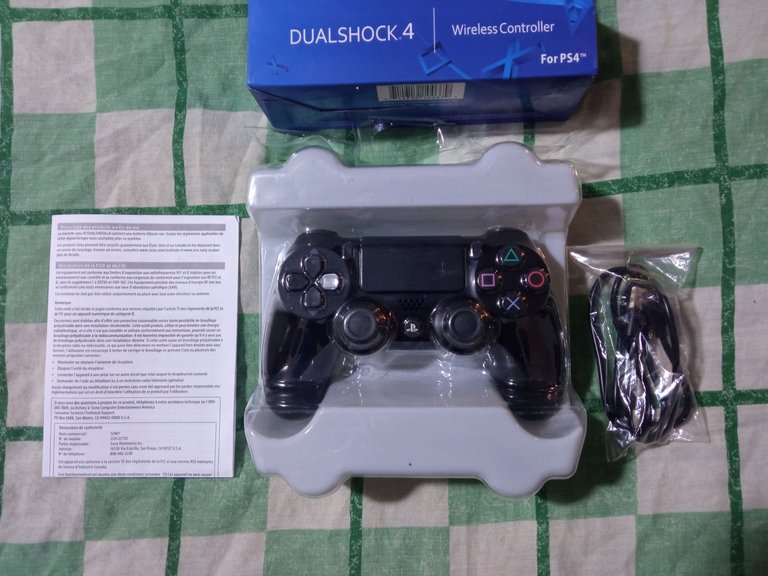 In the box besides the controller comes an instruction manual and a cable that serves both to charge the controller and to connect it via USB and play, I thought it would only work to charge but it wasn't the case, I used it to connect the controller to my pc and tried a couple of games, which detected the control without installing anything additional, this is a big difference with PS3 controllers, in which you need to install additional software for games to detect them as Xbox 360 controls, it isn't very difficult, but it's much more practical.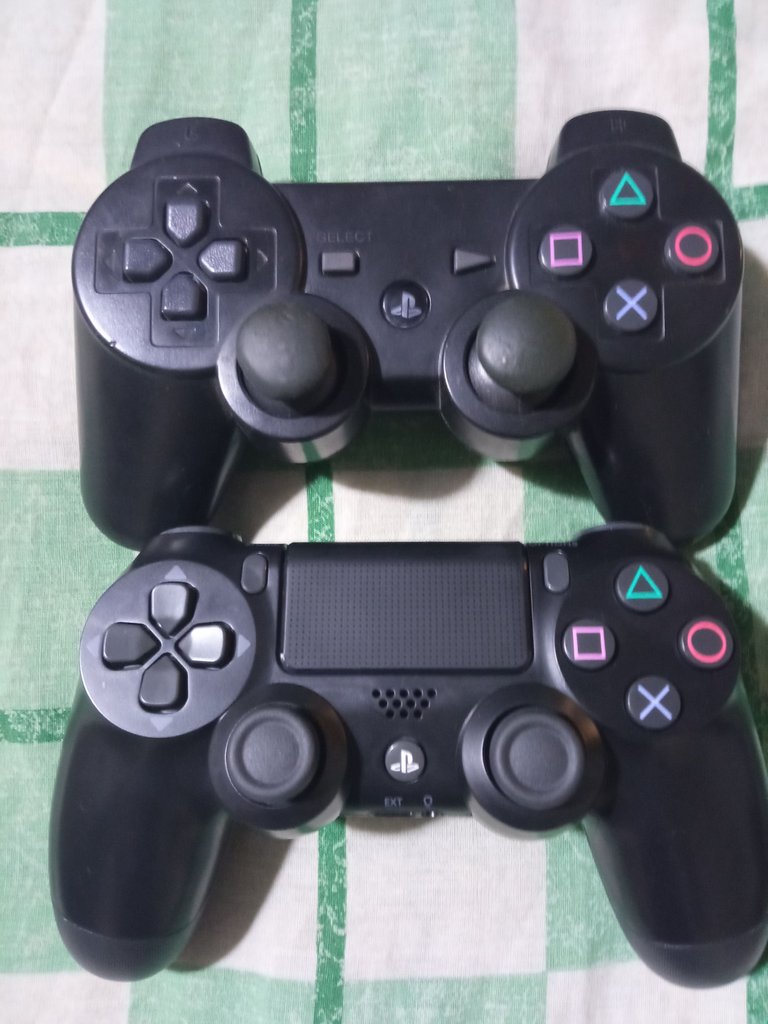 Compared to the PS3 controller, the PS4 controller is slightly larger and has more ergonomics, basically from the PS2 to the PS3 the biggest difference was that one is wireless and the other is not, so you can get an idea with that.
I got scared when I tried to turn on the controller, and as I said I had never had one of PS4, I wanted to synchronize it with a PS3 of a relative to check if it worked and the controller didn't turn on the led light or did absolutely nothing, I tried to connect it to the pc to see if anything changed, and there the control began to charge, probably it came without battery and my impatience made me get scared unnecessarily, when I connected it again to the PS3 the console recognized it without problems, however, to play with the controller wirelessly you have to do a different process and pair it as a bluetooth device.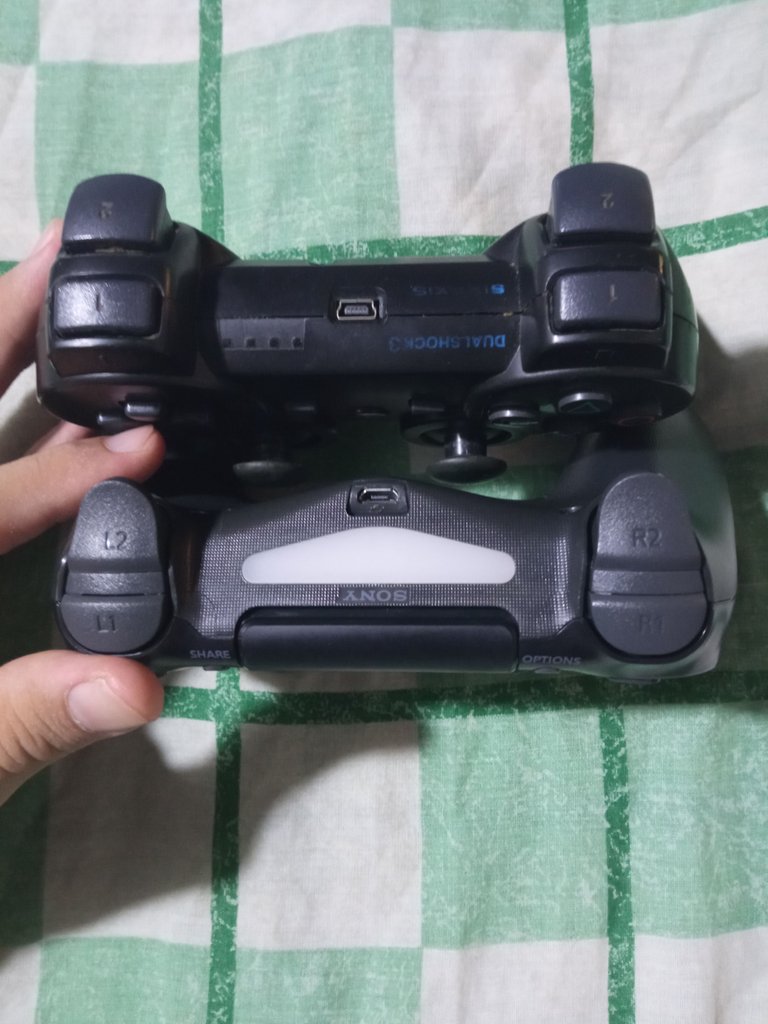 But this isn't the reason why I bought it, as I said I was interested in using it with the Wii U to preserve its gamepad, and I'm glad that syncing the controller wasn't a big problem, just like to pair the PS3 controller, you need a homebrew which allows you to connect almost any wireless controller, the PS3 had to be paired via cable, with the PS4 just press PS + Share, as happened in the PS3, then the connection is almost instantaneous and so far I found it a good experience, I could also confirm that rumble works, unlike the PS3, which remained vibrating forever and was very annoying.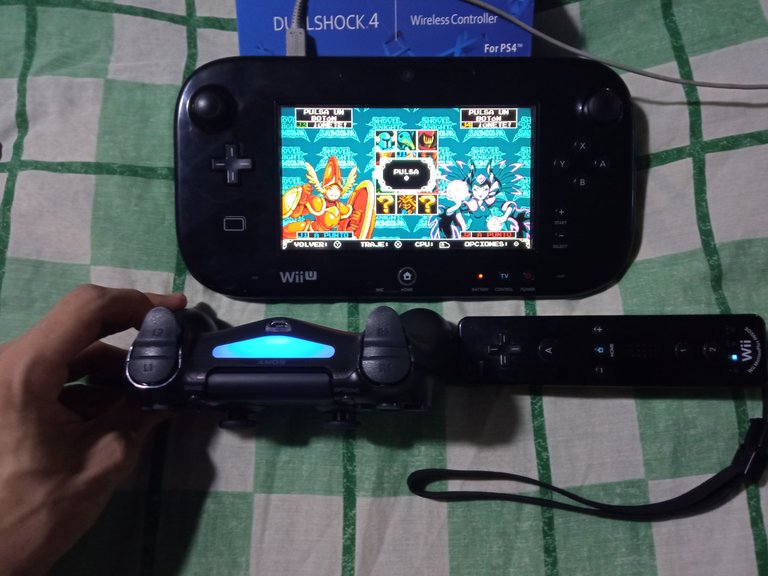 I was able to connect the DualShock 4 in addition to a WiiMote, there is no problem at the time of mixing some controls with others which gives a lot of ease to play with friends if you don't have enough WiiMotes or Pro Controllers.
I find it crazy how many things you can connect the controller to, it's only the first day but I can verify that it works perfectly on Wii U, PS3, Android, PC, and even PS2, at least for now, the experience of playing Kingdom Hearts 2 with this controller is very good.
The construction materials feel regular, and this is where I can get to doubt the durability and I can't say I have much confidence that it will last me a while worth its price, at least the joysticks feel much better than those of the generic PS3 controllers, which are harder and tend to get stuck, in any case, I just have to keep testing it to see how durable it really is, that's why I can't recommend it yet, but my first impressions are mostly good and I hope they stay that way, anyway, keep in mind that not all generics are the same, and thank you very much for reading to the end.

See you around, bye bye.




All the photos were taken by me 📷
Translation with help of DeepL


✨Saludos a todos✨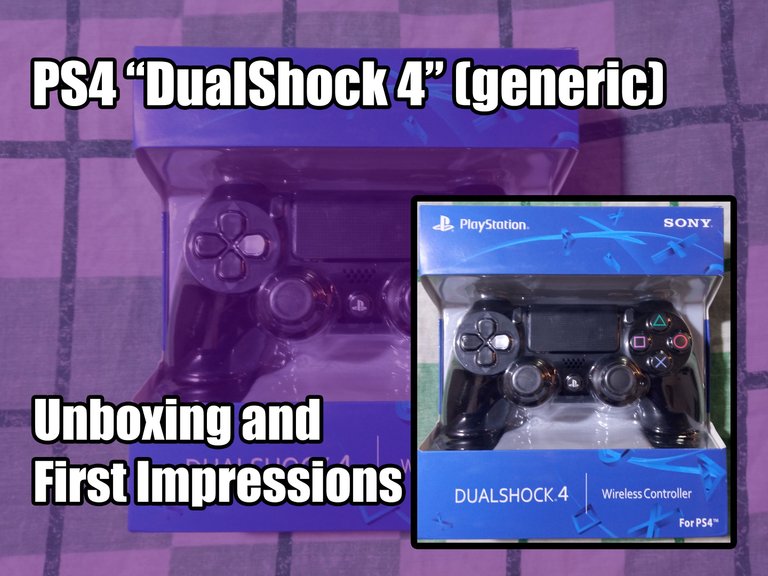 Para aquellos que me conocen, saben que desde aproximadamente un mes estoy en una relación de amor-odio con mi pc, en realidad esto es algo que viene desde hace años, pero no fue sino hasta hace un mes que estos problemas se acrecentaron notablemente, llegando al punto de que ya ni siquiera puedo grabar Metroid Fusion sin que vaya a 5 FPS, motivo por el cual mi constante esfuerzo para armar una nueva pc pues cada vez esta tiene más clavos en el ataúd, pero por lo mismo, voy a tener que variar mi contenido a otras consolas, principalmente mi querida Wii U.
La cuestión está en que no quería desgastar mucho el Wii U Gamepad, la mayor parte del tiempo estuve usando un control de PS3 genérico el cual ya pasó a mejor vida, pero ahora decidí hacer una inversión que intento ver como un ahorro a largo plazo para mantener lo más intacto posible el gamepad en vista de que no es reemplazable o al menos no con la facilidad de cualquier otro control, es por eso que compré un gamepad de PS4, obviamente genérico pues en estos días es muy difícil conseguir un control original, nuevo, y mucho menos a buen precio, aunque en la tienda especificaba que era un "producto oficial", lo compré sabiendo que solo era un control genérico más.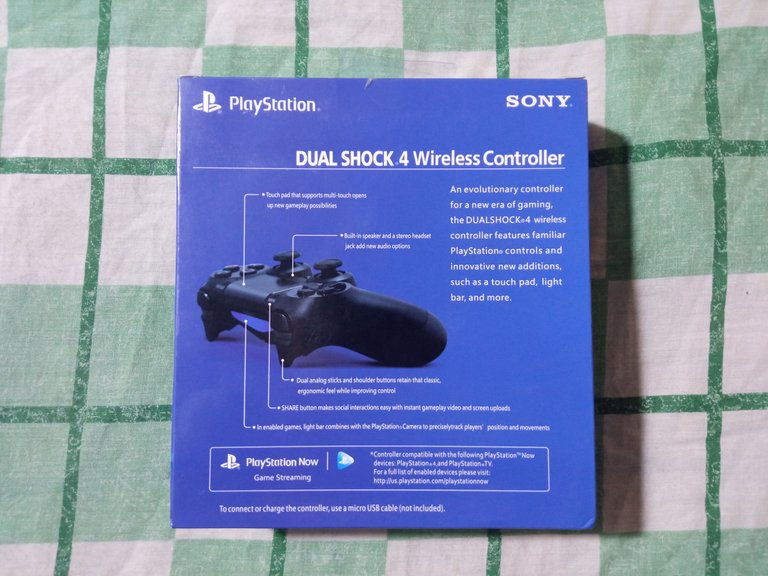 Curiosamente, la misma caja especifica que el cable no viene incluído, pero al abrir la caja sí nos viene un cable, aunque quizá esto varíe de un fabricante a otro.
A pesar de eso, a primera vista si me ponen la misma caja al precio de un control original, no habría sabido diferenciar de si es un control genérico o no, pues ese es el mayor "logro" de los imitadores, buena parte de los controles y sus cajas logran engañar la vista en un primer momento, pero como les dije compré esto sabiendo de sobra que es genérico, por lo tanto espero encontrarme detalles de cualquier tipo.
Exceptuando eso, la verdad es que a primera vista el control me parece precioso, nunca he tenido un control de PS4 de ningún tipo entre mis manos así que me hacía mucha ilusión y fue parte de lo que me impulsó a irme por este modelo y no una compra más "segura" de algún otro modelo genérico del cual tuviese referencia, quería comprobar si por su precio valen la pena estos controles, y aunque de momento solo puedo darles mis primeras impresiones, eventualmente les daré un análisis más extenso, por el momento vamos a enfocarnos en el primer contacto.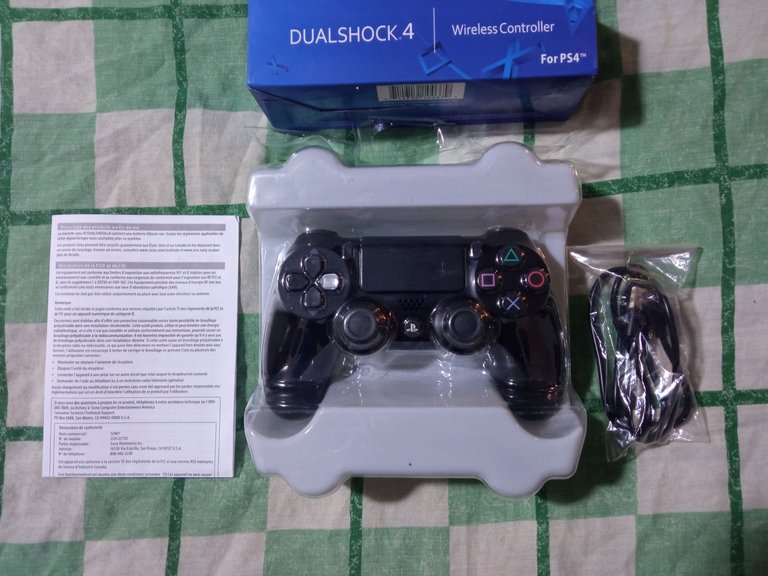 En la caja además del control viene un manual de instrucciones y un cable que sirve tanto para cargar el control como para conectarlo por USB y jugar, pensé que solo funcionaría para cargar pero no fue el caso, lo utilicé para conectar el control a mi pc y probé un par de juegos, los cuales detectaron el control sin necesidad de instalar nada adicional, esto es una gran diferencia con los controles de PS3, en los cuales hace falta instalar un software adicional para que los juegos los detecten como controles de Xbox 360, tampoco es muy difícil, pero es mucho más práctico.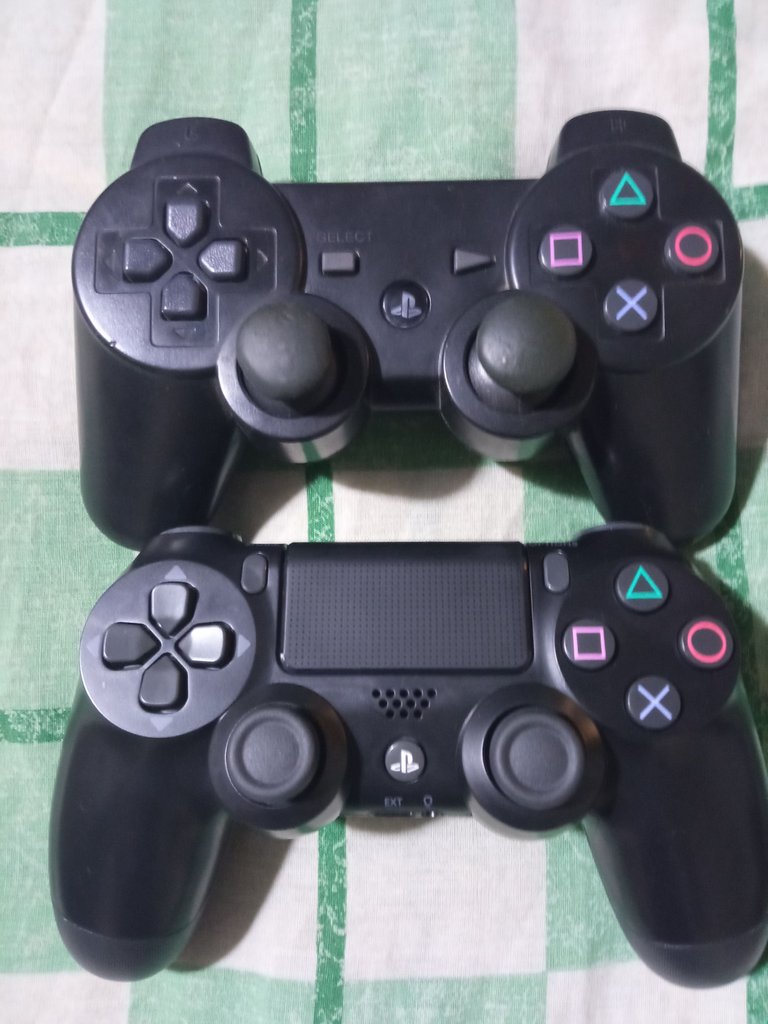 Comparado al control de PS3, el de PS4 es ligeramente más grande y posee más ergonomía, básicamente del PS2 al PS3 la mayor diferencia era que uno es inalámbrico y el otro no, así que se pueden hacer una idea con eso.
Pasé un susto al encender en control, y es que como dije nunca había tenido uno de PS4, quería sincronizarlo con un PS3 de un familiar para verificar si funcionaba y el control no encendía la luz led ni hacía absolutamente nada, probé a conectarlo en la pc a ver si de algo variaba, y allí el control empezó a cargar, probablemente venía sin batería y mi impaciencia me hizo asustarme sin necesidad, al conectarlo de nuevo al PS3 la consola lo reconoció sin problemas, eso sí, para jugar con el control de forma inalámbrica hay que hacer un proceso diferente y emparejarlo como un dispositivo bluetooth.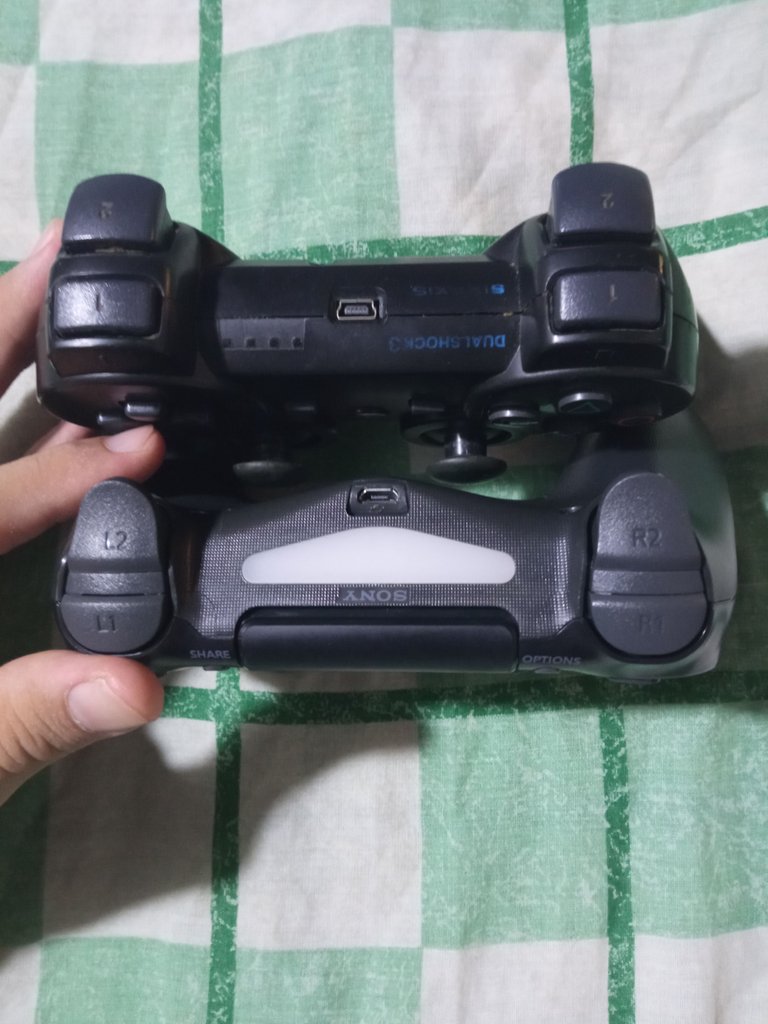 Pero esto no es la razón por la cual yo lo compré, como ya dije me interesaba usarlo con el Wii U para preservar su gamepad, y me alegra que sincronizar el control no fue mayor problema, al igual que para emparejar el control de PS3, es necesario un homebrew de terceros el cual te permite conectar casi cualquier control inalámbrico, el de PS3 tenía que ser emparejado vía cable, con el de PS4 basta con presionar PS + Share, al igual que ocurrió en el PS3, luego la conexión es casi instantánea y hasta el momento me ha parecido una buena experiencia, también pude comprobar que si vibración funciona, a diferencia de la de PS3, que se quedaba vibrando eternamente y era muy molesto.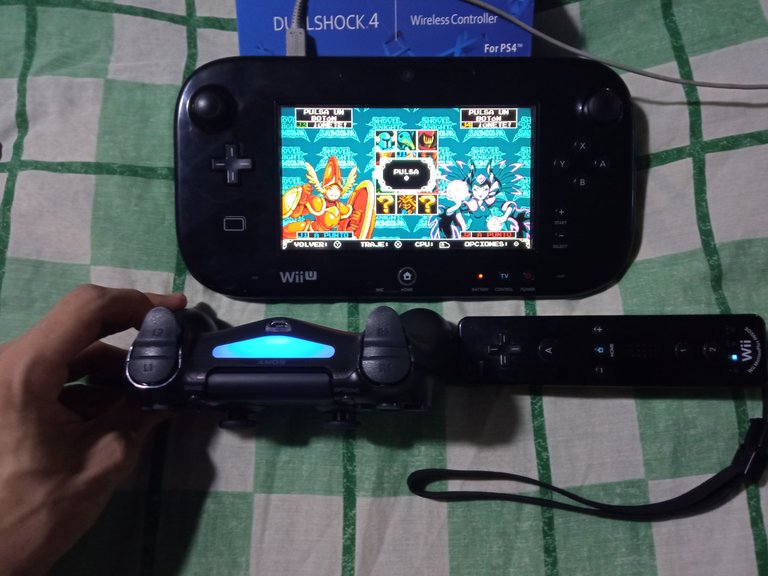 Pude conectar el DualShock 4 aparte de un WiiMote de toda la vida, no hay ningún problema al momento de mezclar unos controles con otros lo cual da mucha facilidad para jugar con amigos si es que no tienes suficientes WiiMotes o Pro Controllers.
Me parece una locura la cantidad de cosas en las que se puede conectar el control, solo es el primer día pero puedo verificar que funciona perfectamente en Wii U, PS3, Android, PC, e incluso en PS2, al menos de momento, la experiencia de jugar Kingdom Hearts 2 con este control es muy buena.
Los materiales de construcción se sienten regulares, y es aquí donde puedo llegar a dudar de la durabilidad y no puedo decir que tenga mucha confianza en que me dure un tiempo que valga su precio, al menos las palancas se sienten mucho mejor que las de los controles genéricos de PS3, que son más duras y se suelen atascar, en cualquier caso, solo me queda seguirlo probando hasta ver que tan durable es realmente, es por eso que no puedo recomendarlo aún, pero mis primeras impresiones son mayormente buenas y espero que así se mantengan, de cualquier forma, tengan en cuenta que no todos los genéricos son iguales, y muchas gracias por leer hasta el final.

Nos vemos por ahí, bye bye.




Todas las fotos fueron tomadas personalmente 📷