✨English✨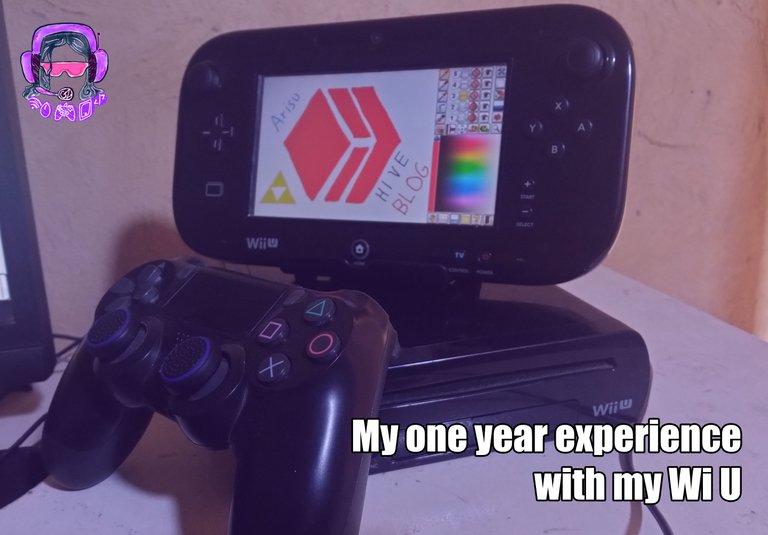 2021 was a very busy year for me in terms of consoles, I went from Nintendo 64 to Xbox 360, and from Xbox 360 to Wii U, I've already commented a bit about how the Wii U is a console I dreamed about for years, and it wasn't until about June of last year that I could buy it, and in fact, I remember watching the Nintendo Direct of last E3 through the YouTube app that already came with the console (that's right, that a console from 2012 has YouTube in 2022 seems like cutting edge technology to me).
TODAY, I come to talk as "objectively" as possible about the console, its pros, cons, and if I think it's worth buying one today.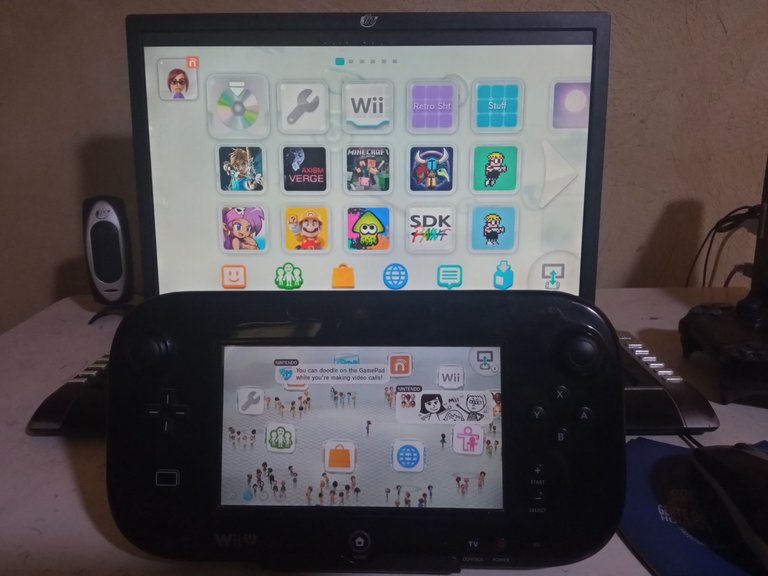 The Wii U was such a big failure, that if the Switch had been the same, Nintendo would have shown us its successor last year, and this year it would have been launched, that is, the console didn't reach 5 years of life, instead today, the Switch has already turned 5 years old and we don't have the slightest hint of what will be its successor, there are leaks, but nothing official.
The first thing I would like to talk about, is perhaps the most important, the most positive and at the same time the most negative of the Wii U, the gamepad, the giant controller that turns the Wii U into a kind of dektop Nintendo Ds, in some cases the games require two screens to play properly, and in others you can play with one or the other, also some give you both options, like Axiom Verge, you can use the gamepad screen to play without the need of the TV, or you can have the map and inventory on the gamepad while playing on the TV, Shovel Knight implements something similar.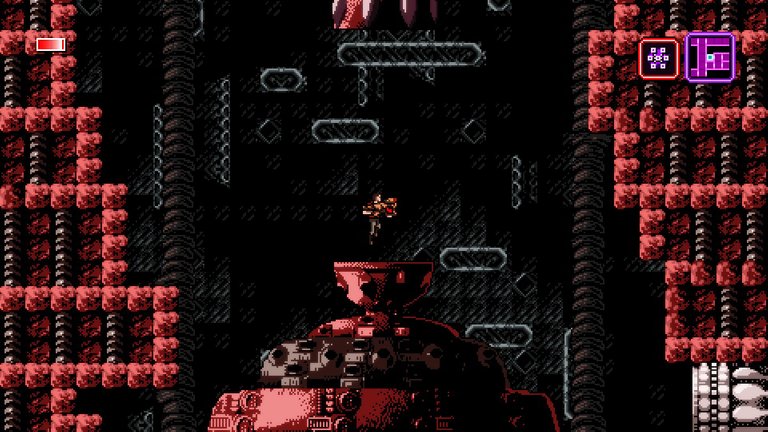 Main Screen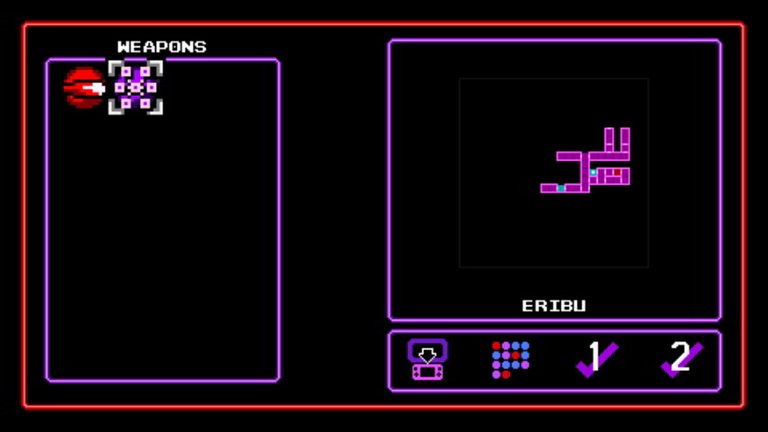 Gamepad
The gamepad has everything, touch screen, microphone, gyroscope, a camera, you can change the TV even with the console off, you can scan amiibos if you have, plus it has all the necessary buttons for any game, the negative comes when the gamepad suffers damage, it's very difficult to get a replacement, because you can't buy it separately unless someone with another Wii U sells it to you, plus the idea is that it's on while the console is on, even if you don't use it, you can turn off the screen, but it's still on and consuming battery, which doesn't last long, in my case the battery lasts about 3 hours at most.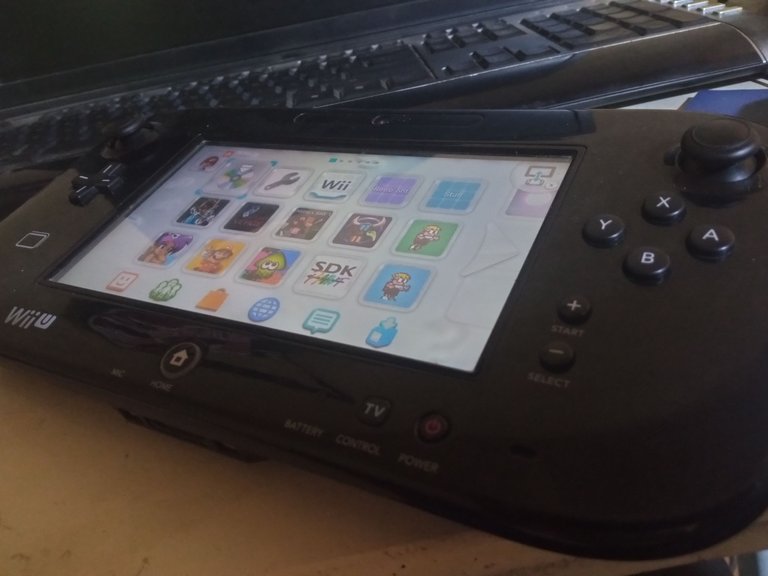 You can turn it off if you do it while the console is booting, but there are still games that require you to use the gamepad, Zombi U, Splatoon, Nintendo Land and a few others are designed to work with the Wii U gamepad and don't allow you to use a WiiMote unless in multiplayer, the gamepad must always be there, luckily Nintendo understood that this dependence was unnecessary, and later games like the remasters of Zelda Wind Waker and Twilight Princess, can be played with a Pro Controller.
But not everything is bad, because the construction materials of the gamepad are of good quality, and considering that I'm not the first, nor the second, but the THIRD OWNER who has had this console, the fact that the gamepad doesn't have drift or anything like that seems very positive to me.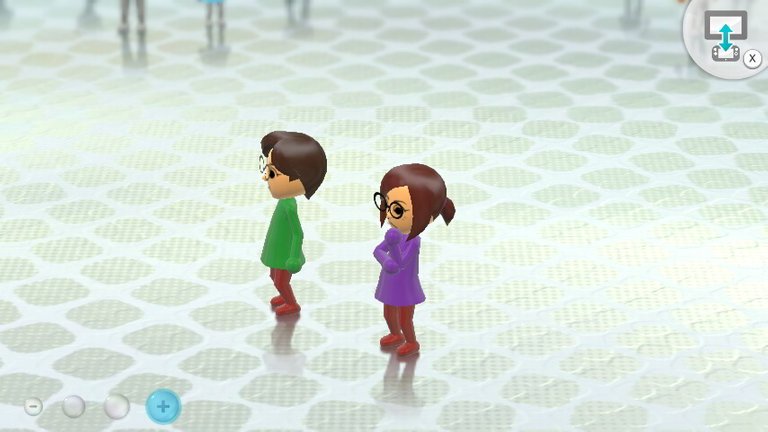 Just look at the Miis, they're so cute.
What I don't like about the gamepad as such, is that although I find it comfortable, I don't like pressing the joysticks, it doesn't feel as natural as in a PS3 or Xbox controller, you feel like you are going to break them, obviously they don't break, but the feeling is strange, for this and everything else I mention to you, is that I prefer to use a PS4 controller to preserve the gamepad and be able to enjoy it for much longer.

The Games




Another important point, don't expect a catalog as big as the PS2, but I must say that although it's a smaller catalog, I still haven't finished all their important games, I haven't played Xenoblade Chronicles X, besides having "infinite" games like Super Smash Bros. or Injustice, in my opinion there are many games of very high quality, I would say that they are "exclusive" but Nintendo has been given the task of snatching the Wii U each and every one of its exclusives one by one, there are very few games that remain without porting, such as the same XCX I just mentioned.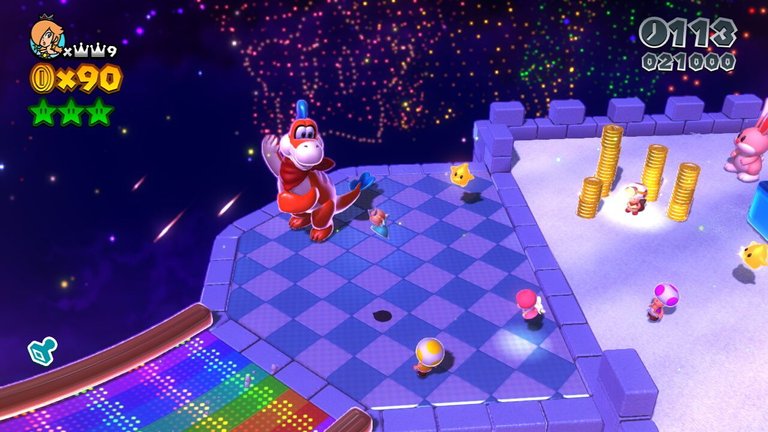 Super Mario 3D World, my favorite Mario 3D game.
But if you are a retro gamer, the Wii U catalog doesn't end there, because through the virtual console you can enjoy games from previous Nintendo consoles, and if you want, you can install Retroarch and emulate even more consoles, the emulation may not be as flawless as the virtual console games, but generally speaking, if you want to play Super Mario, Street Fighter 2, and Metal Slug, you will be able to without much problem.
Continuing with the backward compatibility, a Wii U is equivalent to a conventional Wii, literally the console has a Wii Menu almost identical to the original Wii, with this you can play all the Wii games you have apart from using the accessories, I always play Guitar Hero without any problem, the negative is that you can't use Wii U controls in Wii games, I understand that there are cases like Wii Sports that you need a WiiMote YES OR YES, but for example the New Super Mario Bros. Wii, Mario Kart Wii or Super Smash Bros. Brawl, it would be cool to play them with the gamepad or the Pro Controller.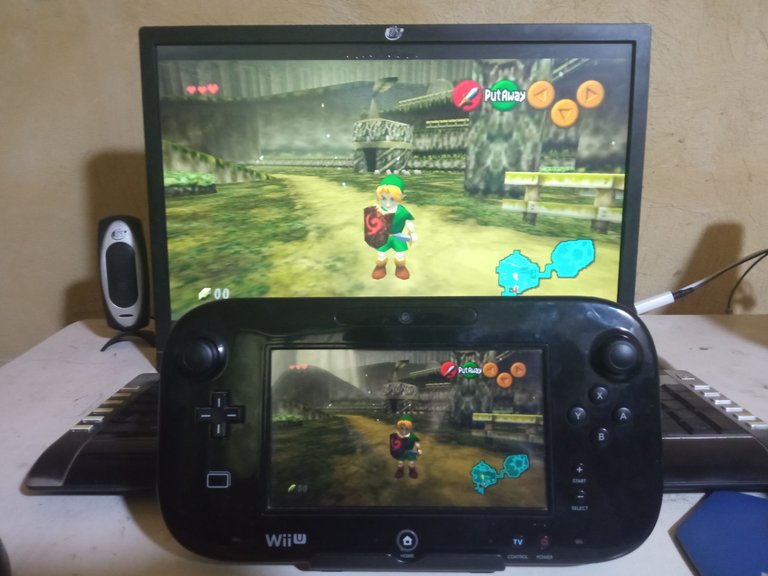 Ocarina of Time native port.
I don't know if it's possible to insert a GameCube disc and play it as you would with a Wii disc, but it's possible to take advantage of the Wii U backward compatibility in other ways, being able to play GameCube games, AND EVEN, on the gamepad and from the comfort of your bed, imagine playing Resident Evil 2 from the comfort of your bed as if you had a Switch.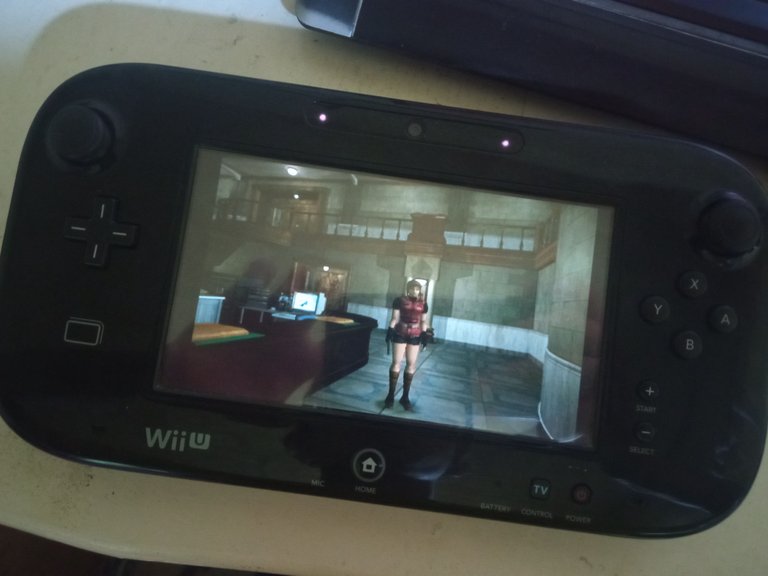 But no matter how well I talk about backward compatibility, virtual console and such, not everything is nice, because my experience with Nintendo 64 games has been terrible, Ocarina of Time for example, apart from being in the same resolution as the Wii port, I don't know if it's just me, but I felt quite a lot of input lag when playing, I don't have any screenshots to compare, but I recently tried the Ocarina of Time port that comes directly from the fan made port for PC, and the experience is far superior, the same happens with the Super Mario 64 port, which also runs at a beautiful and stable 60 fps, both running natively on Wii U, no emulation in this case.
If there is something I like, and at the same time not, are the menus, the Wii U menu follows the Wii and 3DS menu trend, but unlike the 3DS you can't install themes, and although it's easy to use, some loading screens can be exasperating, they don't take long, but after a while you can get to feel the menu a bit [slow].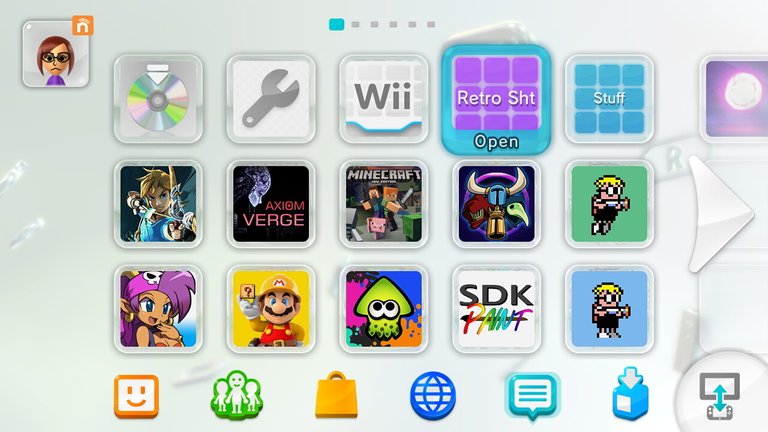 Another important drawback, the storage, in the best case you will only have 32 Gb, and in the worst, 8 gb, which is enough for nothing, if you prefer the digital format, or it's very difficult to get the games in physical, you need a USB of sufficient capacity or an external hard drive with enough power, I've always used a 32 gb USB that I have on hand and I really haven't had problems, I just delete what I don't want to play and install what I want later.
But I left the best for last, the reason why I decided to buy a Wii U.

The Legend of Zelda: Breath of the Wild




When Nintendo announced BotW my soul and my butt left my body, what they had achieved seemed awesome and I had to play it sooner rather than later, but a Switch was way beyond my budget, so that's when I remembered that usually a Wii U costs 1/3 of what a Switch costs, and even though in my city I found crazy prices, like $260, I finally found what would be my console.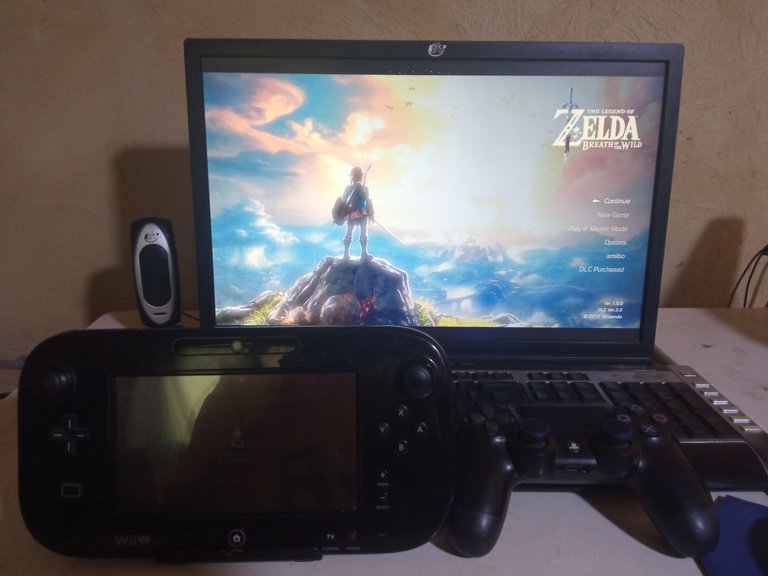 The last main Zelda installment is indisputably the game that most squeezes the capabilities of the console, I've already said it, for me this is the best Zelda ever made, and I'd like to see what Nintendo is going to come up with with the sequel, unfortunately there I do need a Switch haha, but that's another topic.
Even though the main point is Zelda, keep in mind that (as I said a bit above) many of the Switch exclusives come from Wii U, Super Mario 3D World, Bayonetta 2, Donkey Kong Country: Tropical Freeze, and the one and "only" Mario Kart 8, which on Switch has sold more than all Wii U sales combined, if you are interested in any of these games, maybe the Wii U is a better option depending on your budget.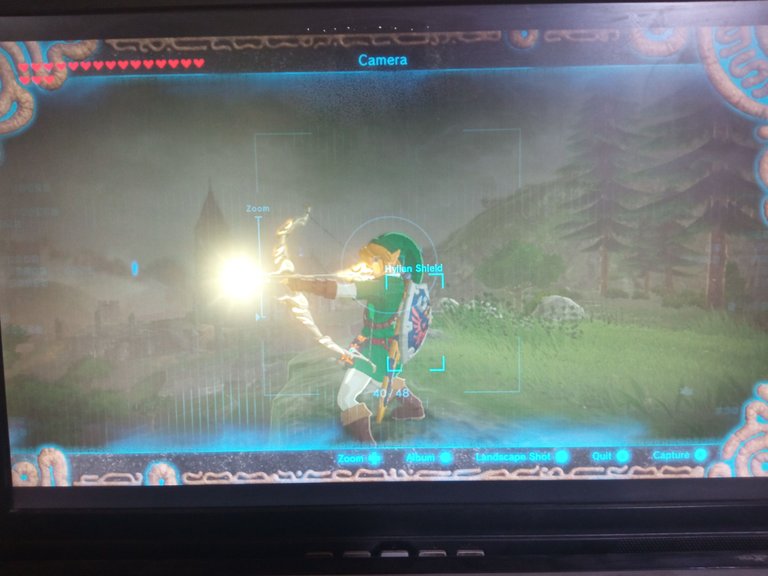 For some reason it's impossible for me to take screenshots directly from BotW, so here's a picture of the camera taking a picture haha.
In conclusion, should you buy a Wii U? as always, it DEPENDS, if your plans are to play CoD and FIFA, better look for a PS3/Xbox 360 that are around a similar price, if you like Nintendo games or have a weakness for retro games, this is your console without a doubt.
So far I haven't come to feel regret for the purchase, the console works perfectly, and also doesn't heat up anywhere near the level of a PS3 or Xbox 360, it's more or less like the original Wii, which benefits it a lot in that aspect.
And well, that's all for this review, if you have any questions or comments you can do it with confidence, the usual haha, thank you very much for reading, I hope you liked it.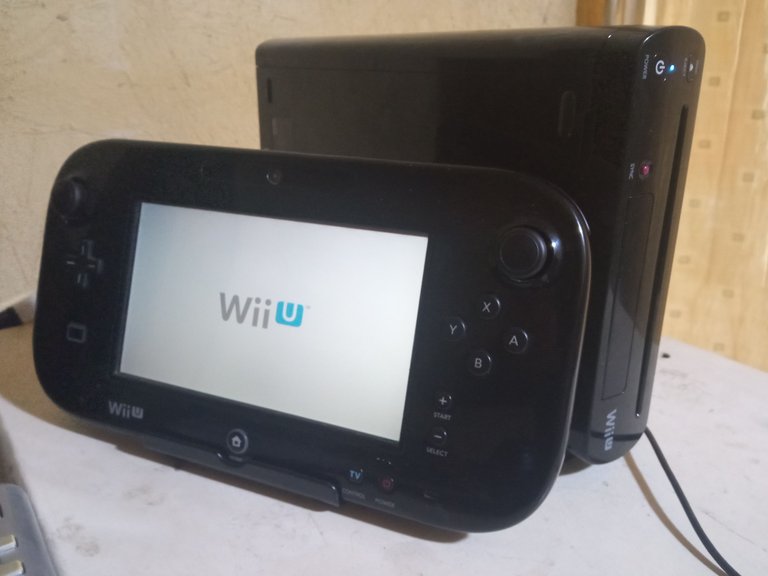 See you around, bye bye.




Photos and Screenshots were taken by me. 📷
Translation with help of DeepL


✨Español✨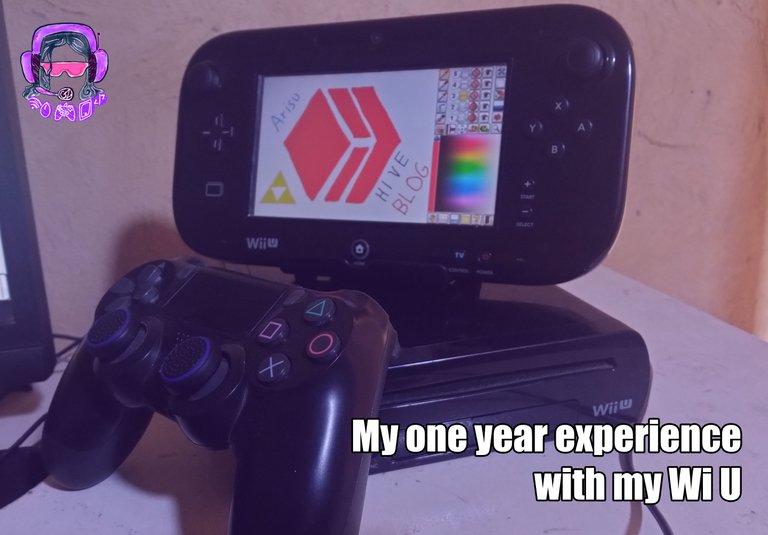 El 2021 fue un año muy movido para mi en cuanto a consolas, pasé de Nintendo 64 a Xbox 360, y de Xbox 360 a Wii U, ya he comentado un poco sobre cómo el Wii U es una consola con la cual soñé durante años, y no fue sino hasta más o menos junio de hace un año que pude comprarla, y de hecho, recuerdo haber visto el Nintendo Direct del pasado E3 a través de la app de YouTube que ya venía con la consola (así es, que una consola del 2012 tenga YouTube en 2022 me parece tecnología de punta).
Poco más de un año después, vengo a hablar lo más "objetivamente" posible sobre la consola, sus pros, sus contras, y si pienso que vale la pena que te compres una a día de hoy.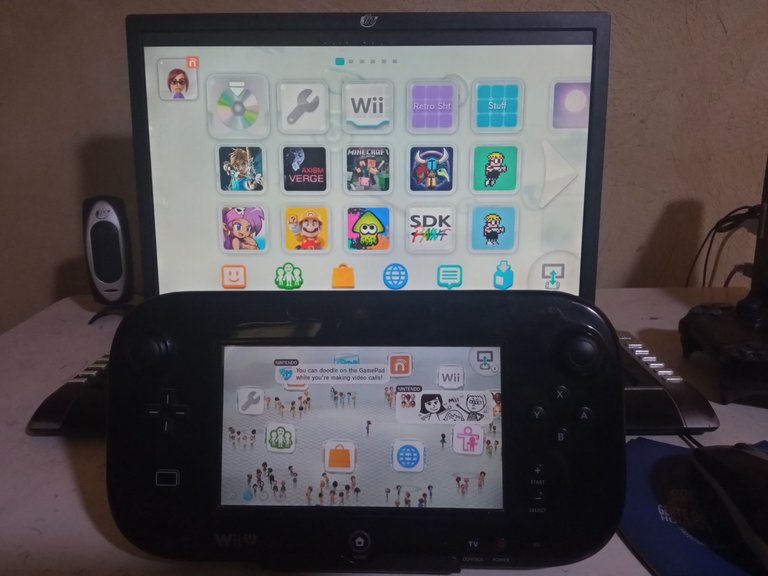 La Wii U fue un fracaso tan grande, que si la Switch hubiese sido igual, Nintendo nos hubiese enseñado a su sucesora el año pasado, y ya este año habría sido lanzada, es decir, la consola no llegó a los 5 años de vida, en cambio a día de hoy, la Switch ya cumplió 5 años y no tenemos el menor indicio de lo que va a ser su sucesora, hay filtraciones, pero nada oficial.
Lo primero de lo que me gustaría hablar, es quizá lo más importante, lo más positivo y a su vez lo más negativo de la Wii U, el gamepad, el control gigante que convierte a la Wii U en una especie de Nintendo Ds de sobremesa, en algunos casos los juegos requieren de dos pantallas para jugarse correctamente, y en otros puedes jugar con una u otra, también algunos te dan ambas opciones, como Axiom Verge, que puedes utilizar la pantalla del gamepad para jugar sin la necesidad de la televisión, o puedes tener el mapa e inventario en el gamepad mientras juegas en la TV, Shovel Knight implementa algo similar.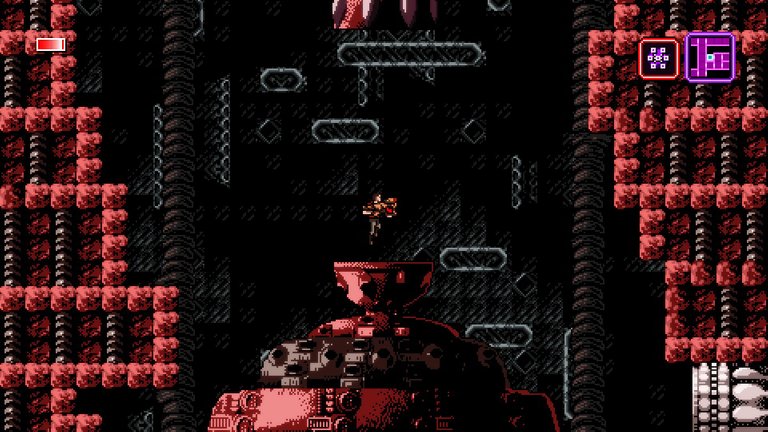 Pantalla Principal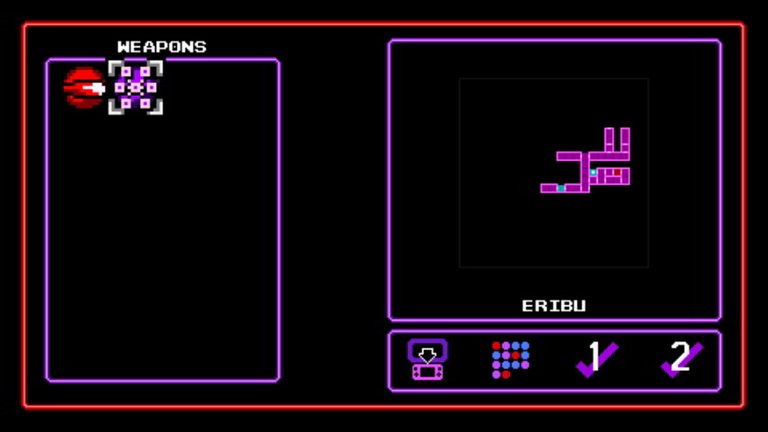 Gamepad
El gamepad tiene de todo, la pantalla tactil, micrófono, giroscópio, una cámara, sirve para cambiar la televisión aún con la consola apagada, puedes escanear amiibos si es que tienes, aparte de que tiene todos los botones necesarios para cualquier juego, lo negativo viene cuando el gamepad sufre algún daño, es muy difícil conseguir un reemplazo, pues no son controles que se puedan conseguir por separado a menos que alguien con otra Wii U te lo venda, además que la idea es que esté encendido mientras la consola esté encendida, aunque no lo uses, puedes apagar la pantalla, pero sigue encendido y consumiendo batería, que tampoco dura mucho, en mi caso la batería dura unas 3 horas como máximo.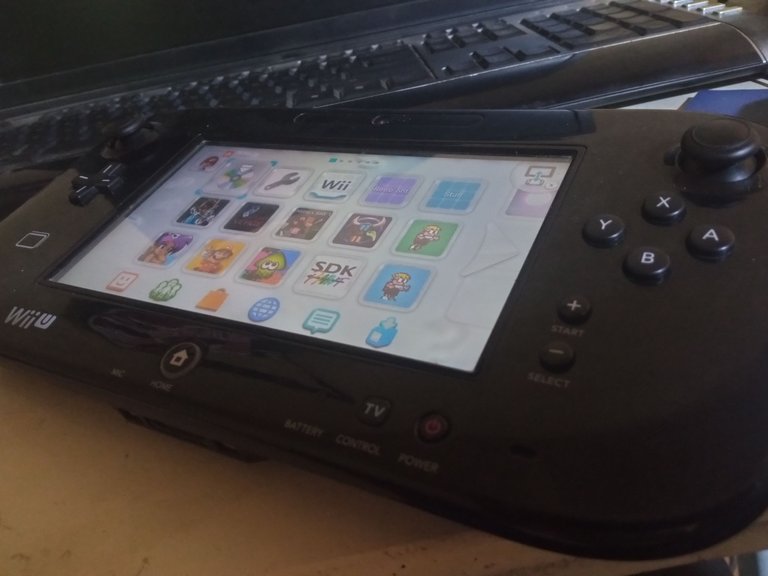 Puedes apagarlo si lo haces mientras se enciende la consola, pero igual hay juegos que exijen que utilices el gamepad, Zombi U, Splatoon, Nintendo Land y otros cuantos están diseñados para funcionar con el Wii U gamepad y no permiten que utilices un WiiMote a menos que sea en multijugador, el gamepad siempre debe estar, por suerte Nintendo entendió que esta dependencia era innecesaria, y juegos posteriores como los remasters de Zelda Wind Waker y Twilight Princess, pueden jugarse con un Pro Controller.
Pero no todo es malo, pues los materiales de construcción del gamepad son de buena calidad, y teniendo en cuenta que no soy el primero, ni el segundo, sino el TERCER DUEÑO que ha tenido esta consola, que el gamepad no tenga drift ni nada por el estilo me parece muy positivo.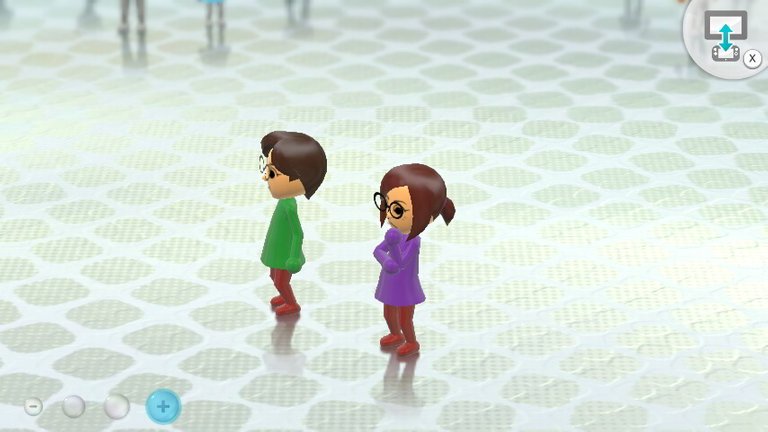 Solo vean a los miis, bien chiquitos, bien bonitos.
Lo que sí puedo decir que no me gusta del gamepad como tal, es que aunque me parece cómodo, no me gusta presionar los joysticks, no se siente tan natural como en un control de PS3 o Xbox, sientes como si los vas a romper, obviamente no se rompen, pero la sensación es extraña, por esto y todo lo demás que les menciono, es que prefiero utilizar un control de PS4 para preservar el gamepad y poder disfrutarlo durante mucho tiempo más.

El catálogo




Otro punto importante, no esperes un catálogo tan grande como el de PS2, pero debo decir que aunque es un catálogo más pequeñito, aún no me termino todos sus juegos importantes, no he tocado el Xenoblade Chronicles X, además de haber juegos "infinitos" como Super Smash Bros. o Injustice, a mi parecer hay muchos juegos de muchísima calidad, diría que son "exclusivos" pero Nintendo se ha dado a la tarea de arrebatarle a la Wii U todos y cada uno de sus exclusivos uno por uno, son muy pocos los juegos que quedan sin portear, como el mismo XCX que acabo de mencionar.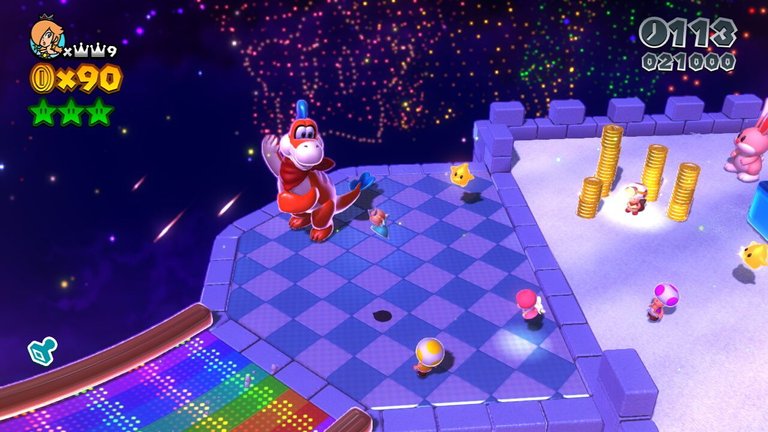 Super Mario 3D World, hasta ahora mi Mario 3D favorito.
Pero si eres un jugador retro, el catálogo del Wii U no se acaba ahí, pues mediante la consola virtual puedes disfrutar de juegos de las consolas anteriores de Nintendo, y si lo deseas, puedes instalar Retroarch y emular aún más consolas, la emulación puede no ser tan impecable como los juegos de la virtual consola, pero en términos generales, si quieres jugar al Super Mario de NES, al Street Fighter 2, y al Metal Slug, vas a poder sin mucho problema.
Siguiendo con la retrocompatibilidad, tener una Wii U es equivalente a tener una Wii convencional, literalmente la consola tiene un Menú de Wii casi idéntico al de la Wii original, con esto puedes jugar a todos los juegos de Wii que tengas aparte de usar los accesorios, yo siempre juego al Guitar Hero sin ningún problema, lo negativo es que no puedes usar controles de Wii U en juegos de Wii, entiendo que hay casos como el Wii Sports que necesitas un WiiMote SÍ O SÍ, pero por ejemplo el New Super Mario Bros. Wii, el Mario Kart Wii o Super Smash Bros. Brawl, estaría cool jugarlos con el gamepad o el Pro Controller.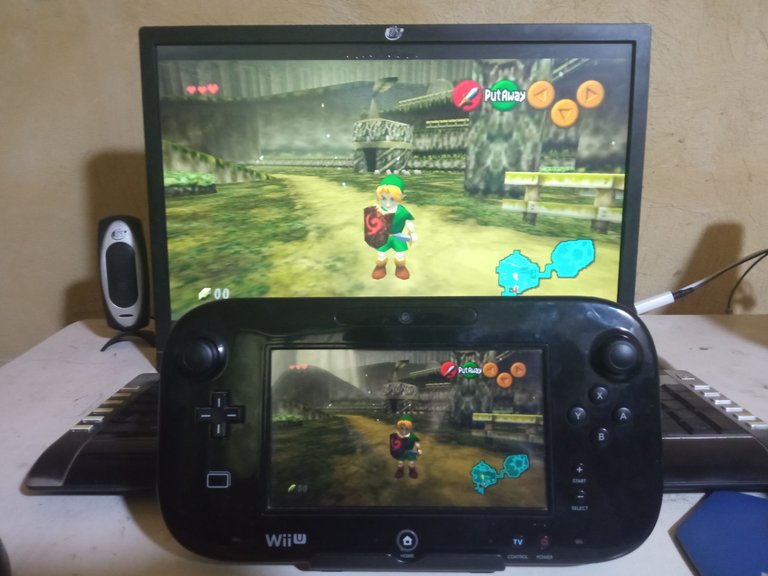 Port nativo de Ocarina of Time
Desconozco si es posible meter un disco de GameCube y jugarlo como harías con uno de Wii, pero es posible aprovechar la retrocompatibilidad del Wii U de otras formas, pudiendo jugar a juegos de GameCube, E INCLUSO, en el gamepad y desde la comodidad de tu cama, imagina echarte unas partidas de Resident Evil 2 desde la comodidad de tu cama como si tuvieses una Switch.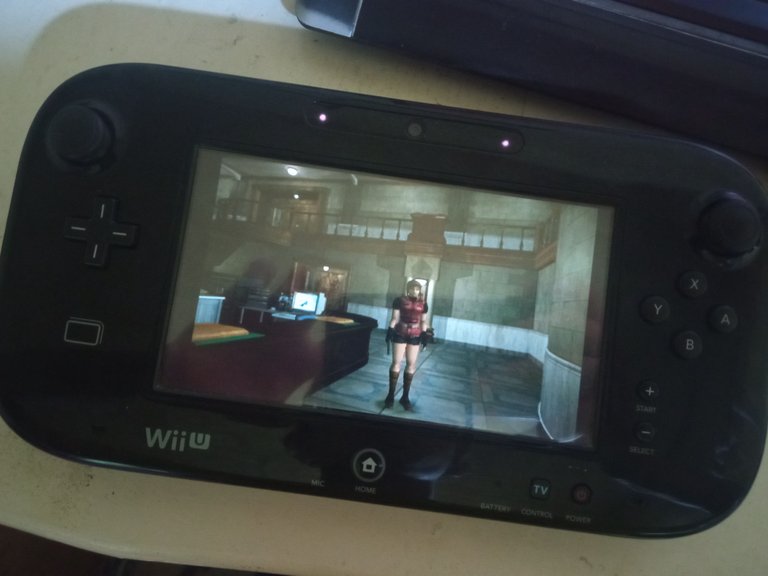 Pero por muy bien que hable de la retrocompatibilidad, la consola virtual y tal, no todo es bonito, pues mi experiencia con los juegos de Nintendo 64 ha sido nefasta, el Ocarina of Time por ejemplo, aparte de estar en la misma resolución que el port de Wii, no sé si es solo cosa mía, pero sentía bastante input lag al momento de jugar, no tengo ninguna captura para comparar, pero recientemente probé el port de Ocarina of Time que viene directamente del port hecho por fans para PC, y la experiencia es muy superior, lo mismo ocurre con el port de Super Mario 64, que además corre a unos preciosos 60 fps estables, ambos corriendo nativamente en Wii U, nada de emulación en este caso.
Si hay algo que me gusta, y a la vez no, son los menús, el menú de Wii U sigue la tendencia del menú de Wii y 3DS, pero a diferencia del 3DS no puedes instalar temas, y aunque es fácil de usar, algunas pantallas de carga pueden ser exasperantes, no tardan mucho, pero después de un tiempo puedes llegar a sentir el menú un poco [lento].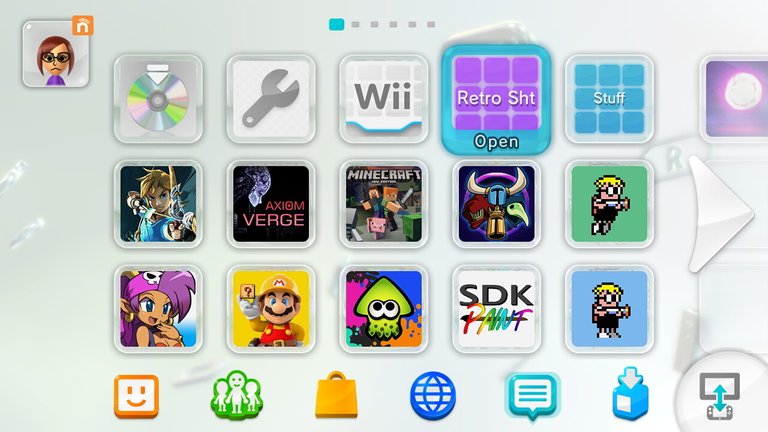 Otro contra importante, el almacenamiento, en el mejor de los casos solo tendrás 32, y en el peor, 8 gb, lo cual alcanza para nada, si prefieres el formato digital, o es muy difícil conseguir los juegos en físico, necesitas un USB de suficiente capacidad o bien un disco duro externo con la suficiente alimentación, yo siempre he utilizado un USB de 32 gb que tengo a la mano y realmente no he tenido problemas, simplemente borro lo que no quiero jugar e instalo lo que me apetece.
Pero me dejé lo mejor para el final, la razón por la cual yo decidí comprar una Wii U.

The Legend of Zelda: Breath of the Wild




Cuando Nintendo anunció BotW mi alma y mis gluteos dejaron mi cuerpo, lo que habían logrado me parecía impresionante y tenía que jugarlo más pronto que tarde, pero una Switch estaba mucho más allá de mi presupuesto, así que fue cuando recordé que por lo general una Wii U cuesta 1/3 de lo que cuesta una Switch, y a pesar de que en mi ciudad encontré precios loquísimos, como 260$, finalmente encontré la que sería mi consola.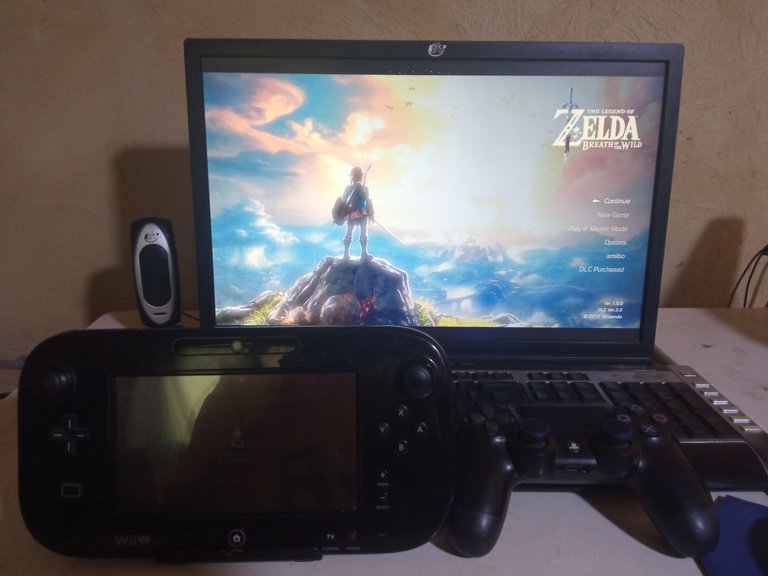 La última entrega principal de Zelda es indiscutiblemente el juego que más exprime las capacidades de la consola, ya lo he dicho, para mi este es el mejor Zelda jamás hecho, y me gustaría ver con qué nos va a salir Nintendo con la secuela, lamentablemente ahí sí necesito Switch haha, pero eso ya es otro tema.
A pesar de que el punto principal sea el Zelda, ten en cuenta que (como dije un poco más arriba) muchos de los exclusivos de Switch vienen de Wii U, Super Mario 3D World, Bayonetta 2, Donkey Kong Country: Tropical Freeze, y el mismísimo Mario Kart 8, que en Switch ha vendido más que todas las ventas de Wii U juntas, si te interesa alguno de estos juegos, pues quizá el Wii U sea una mejor opción según tu presupuesto.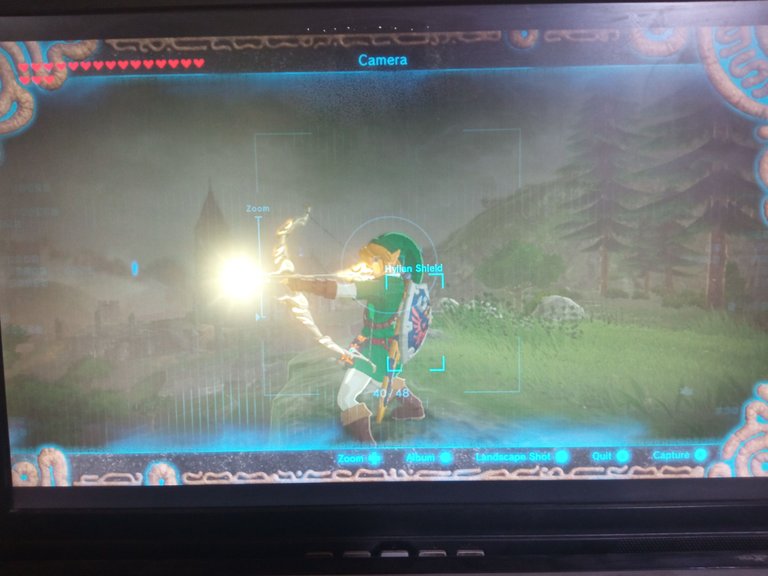 Por alguna razón me es imposible sacar capturas directamente de BotW, así que aquí tienen una foto de la cámara tomando una foto haha.
En conclusión, ¿deberías comprar una Wii U? como siempre, DEPENDE, si tus planes son jugar CoD y FIFA, mejor busca un PS3/Xbox 360 que rondan un precio similar, si te gustan los juegos de Nintendo o tienes debilidad por los juegos retro, es tu consola sin lugar a dudas.
Yo de momento no he llegado a sentir arrepentimiento por la compra, la consola funciona perfectamente, y además no se calienta ni de lejos al nivel de una PS3 o Xbox 360, es más o menos como la Wii original, lo cual la beneficia mucho en ese aspecto.
Y bueno, eso ha sido todo por esta review, si tienen cualquier pregunta o comentario pueden dejarlo con confianza, lo de siempre haha, muchas gracias por leer, espero les haya gustado.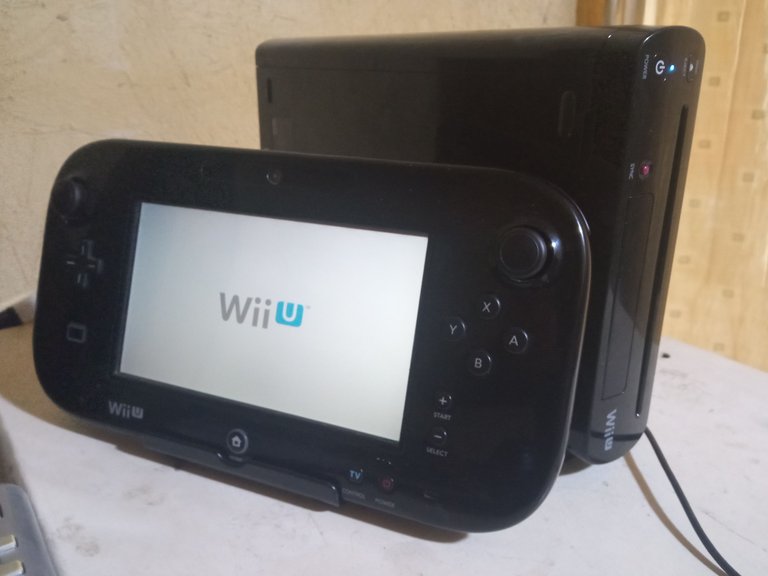 Nos vemos por ahí, bye bye.




Todas las fotos y capturas fueron tomadas personalmente. 📷