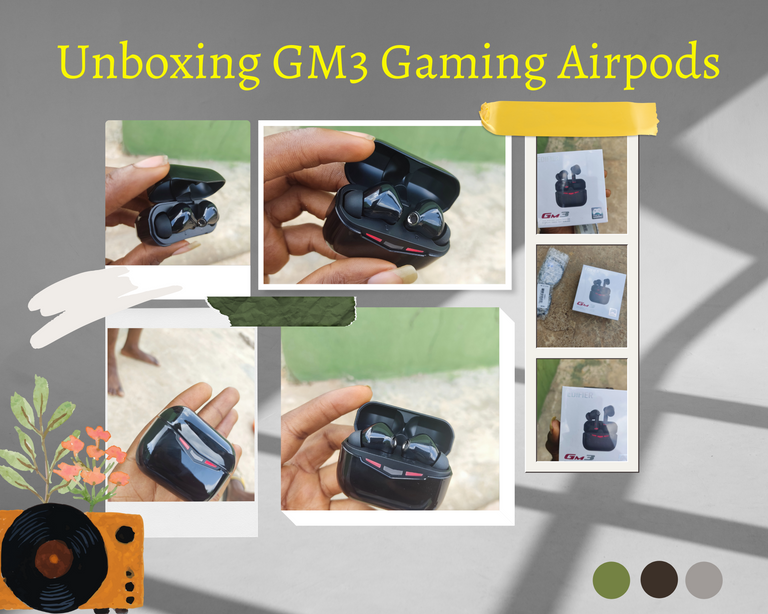 Hello everyone, it is good to be here. This is actually my first time publishing in this community and with that, my first post is about the unboxing of a gaming airpod which I recently just got. Presently, we are going past the days of using earpiece to pure wireless, that's why we have many of this tiny devices very much available.
Before getting this device, I use to make use of Oraimo Freepods pro which I recently misplaced in my last Hive Meet Up which happened on Saturday but since I cannot do without an airpod (live is miserable) I had to find an alternative and I found this wonderful airpod on an online store called Jumia.
Hola a todos, es bueno estar aquí. Esta es mi primera vez publicando en esta comunidad y con eso, mi primer post es sobre el unboxing de un airpod de juego que recientemente acabo de conseguir. En la actualidad, estamos pasando los días de uso de auricular a puro inalámbrico, es por eso que tenemos muchos de estos pequeños dispositivos muy disponibles.
Antes de adquirir este dispositivo, solía utilizar los Oraimo Freepods pro, que perdí recientemente en mi último Hive Meet Up, que tuvo lugar el sábado, pero como no puedo prescindir de un airpod (la vida es miserable), tuve que buscar una alternativa y encontré este maravilloso airpod en una tienda online llamada Jumia.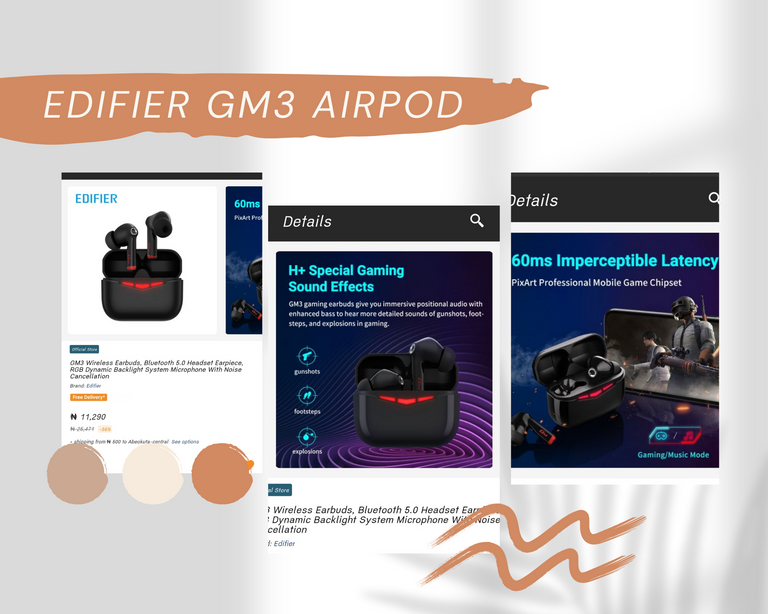 MUSIC AND GAME MODE
In the image above, I took screenshot of the site I bought the device, you can check it on jumia.ng, then I decided it using canva app above. What attracted me to the airpods is because it has low latency i.e it is very good for gaming with detailed hearing of gunshots, footsteps and explosions.
You can switch in between gaming mode and music mode with this device. To switch in between game mode and music mode, you only need to tap one hear of the device twice and then, there would be a switch.
MÚSICA Y MODO DE JUEGO
En la imagen de arriba, tomé la captura de pantalla del sitio que compré el dispositivo, se puede comprobar en jumia.ng, entonces decidí que el uso de la aplicación canva arriba. Lo que me atrajo a los Airpods es porque tiene baja latencia, es decir, es muy bueno para el juego con la audiencia detallada de disparos, pasos y explosiones.
Puedes cambiar entre el modo de juego y el modo de música con este dispositivo. Para cambiar entre el modo de juego y el modo de música, sólo tienes que tocar dos veces un oído del dispositivo y entonces, habrá un interruptor.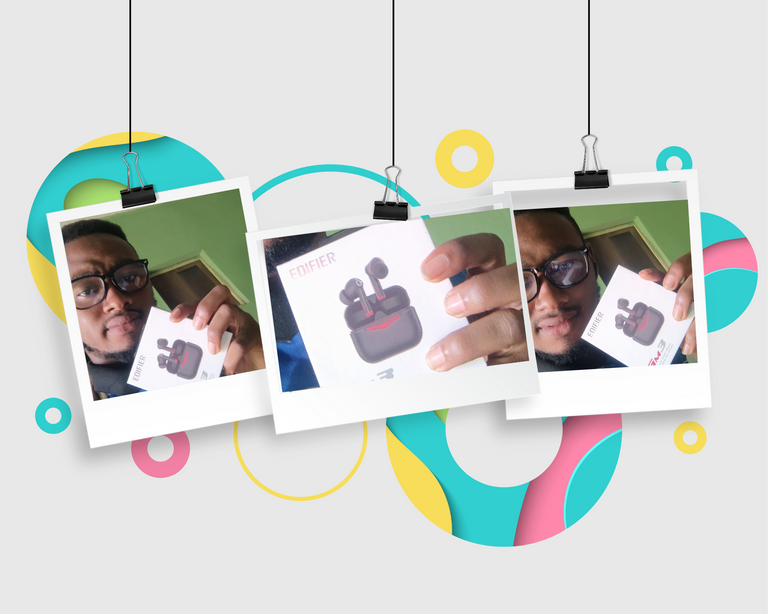 BATTERY LIFE
Now let's talk about battery life. One of the things I failed to look at when buying this device was the battery life. It is not long lasting as the ones I normally use but it is quite still manageable.
The pods alone has a battery life of 4.5 hours while for the charging case has a playback time of 15 hrs. This means that the charging case offers one an extra 15 hours without having to charge directly to the power supply.
LA VIDA DE LA BATERIA
Ahora hablemos de la duración de la batería. Una de las cosas que no miré al comprar este aparato fue la duración de la batería. No es tan duradera como las que uso normalmente pero es bastante manejable.
Las vainas por sí solas tienen una duración de la batería de 4,5 horas, mientras que el estuche de carga tiene un tiempo de reproducción de 15 horas. Esto significa que el estuche de carga le ofrece a uno 15 horas adicionales sin tener que cargar directamente a la fuente de alimentación.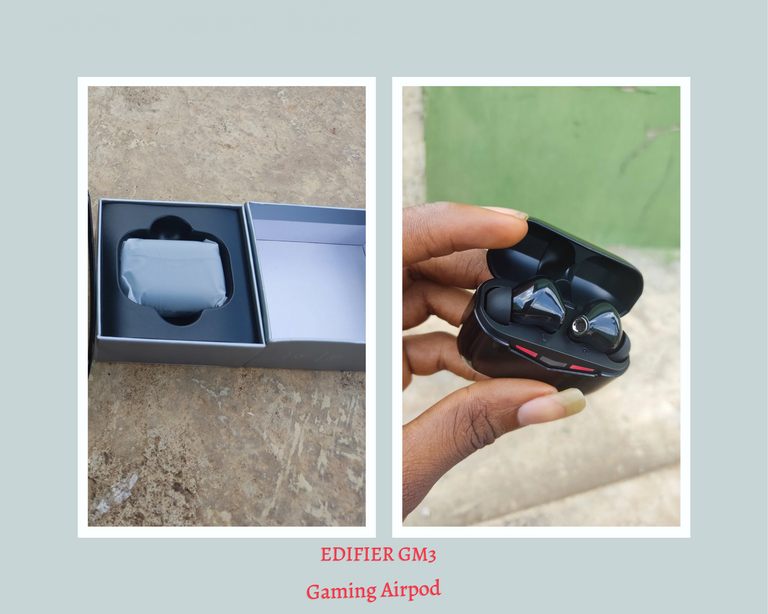 NOISE CANCELLATION
What makes this earbud great is that it comes with environmental noise cancellation which makes it great at making calls. With this feature, you would be able to make calls in environments that are noisy and yet, the call receiver would hear you clearly. Isn't that great.
This makes me remember of times when I am in the market or any noisy area and how I find it difficult to hear what the person at the other side says as well as them hearing my voice. This can be a huge struggle and frustration. This is where the help of this feature comes in play.
CANCELACIÓN DE RUIDO
Lo que hace que este auricular sea excelente es que viene con cancelación de ruido ambiental, lo que lo hace excelente para hacer llamadas. Con esta función, podrás realizar llamadas en entornos ruidosos y, sin embargo, el receptor de la llamada te oirá con claridad. ¿No es genial?
Esto me hace recordar los momentos en los que estoy en el mercado o en cualquier zona ruidosa y cómo me resulta difícil oír lo que dice la persona que está al otro lado, así como que ellos oigan mi voz. Esto puede ser una gran lucha y frustración. Aquí es donde entra en juego la ayuda de esta función.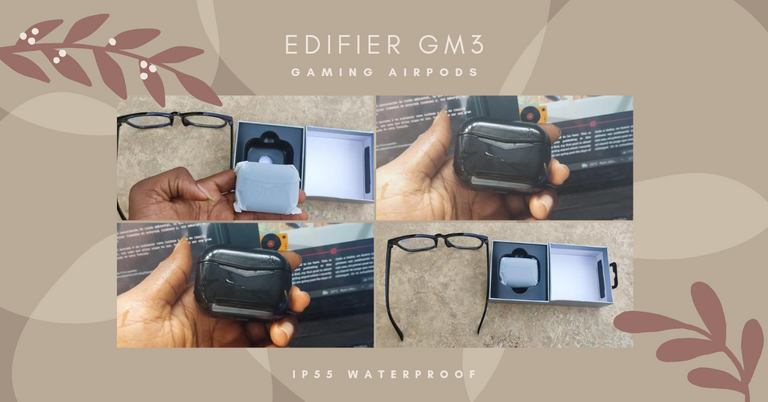 WATERPROOF
Talking about waterproof, on the case of the device, it was written it has a IP rating of 55, clearly stated as IP55 waterproof. I don't know how strong this waterproof and I cannot say we should fully trust this because something being said to be waterproof does not mean it can still not be damaged by water.
I have an experience of one of my airpods that developed fault because of I chose to bath with it. On a norms, I bath while earing music but I wanted to test the music experience using that earbuds but it later damaged. I was pained after that incident.
IP IMPERMEABLE
Hablando de la resistencia al agua, en la caja del dispositivo, estaba escrito que tiene un grado de IP de 55, claramente declarado como IP55 resistente al agua. No sé qué tan fuerte este impermeable y no puedo decir que debemos confiar plenamente en esto porque algo que se dice que es resistente al agua no significa que todavía no puede ser dañado por el agua.
Tengo una experiencia de uno de mis airpods que desarrolló un fallo debido a que elegí bañarme con él. En una norma, me bañé mientras escuchaba música, pero quería probar la experiencia musical usando esos auriculares, pero luego se dañaron. Me dolió ese incidente.

OVERVIEW
From my review, the Edifier gaming airpods is a low budget device which is manageable and fine to use. I was attracted to the device because of its structure. It is very loud and yeah, the noise cancellation works to an extent. If you are using this earbuds too, feel free to share your review below.
VISIÓN GENERAL
Según mi opinión, los airpods para juegos de Edifier son un dispositivo de bajo presupuesto que es manejable y fino de usar. Me atrajo el dispositivo por su estructura. Es muy fuerte y sí, la cancelación de ruido funciona hasta cierto punto. Si tú también usas estos auriculares, no dudes en compartir tu opinión a continuación.
---
WHO IS STARSTRINGS01
---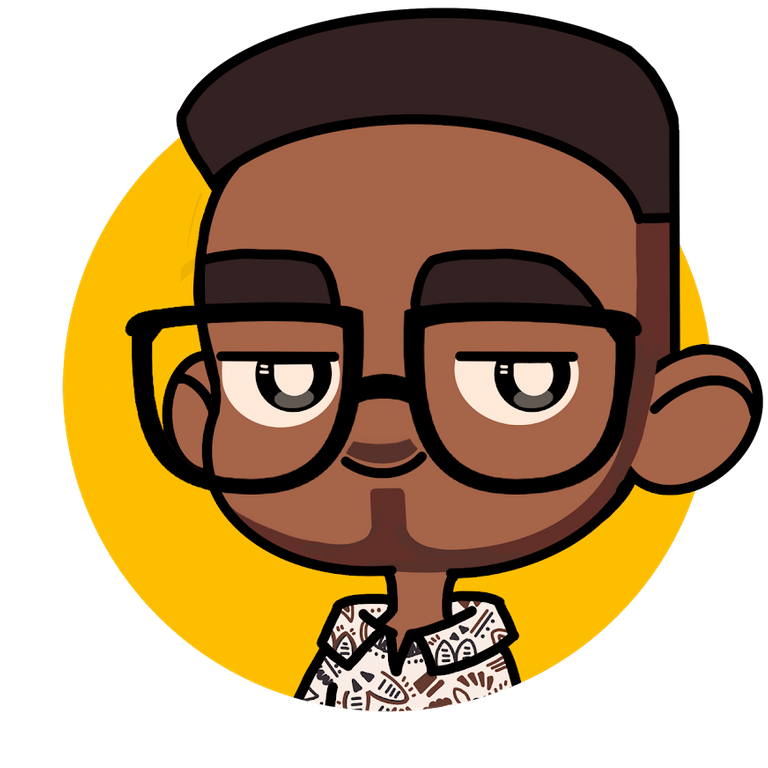 Starstrings01 AKA Giftedhands is a Hive lover, a Nigeria musician (Guitarist) and also a student who studies Mechatronics Engineering in the Federal University of Agriculture, Abeokuta.
His goal on Hive is to be more than a regular blogger but something more; someone with a purpose. That's one of the reasons why he founded the newbies initiative @newbies-hive to help guide and support newbies. Kindly click here to follow @newbies-hive curation trail.
He battles and struggles with balancing education and being active on the chain but yet his love and passion for Hive keeps him on balance.
---
All images are mine except indicated otherwise
---

IF YOU LOVE THIS POST, YOU CAN KINDLY SUPPORT BY YOUR COMMENTS, REBLOG AND UPVOTE. IT WOULD BE MUCH APPRECIATED

THANKS FOR VISITING MY BLOG 😇💕