In my region, every time we need to order a product online, the first marketplace to go to is always Jumia or Konga. This is because we can easily buy products using our banks and our currency, the naira, without having to worry about paying in dollars.
---
---
---
---
Buying goods that would be shipped from outside the country always requires paying with a dollar card or having a dollar account that has to be funded with dollar cash. So it is difficult to buy stuff online. Jumia had always made it easy for us to get things from their marketplace, even though they would be shipped from abroad.
But this time, I got two products from an international marketplace and paid with a dollar card issued from the PayDay app. Their service is quite cheaper than chipper cash—contrary to what their name implies.
I noticed products in AliExpress are quite cheaper sometimes compared to when buying from Jumia and other local online markets. It felt like some vendors were buying from sites like AliExpress and now reselling through Jumia to make their profits.
When I noticed this, I tried to test it out by ordering a photochromic glass and an RGB light.
These were the two orders I went to collect at the pickup station. I had a long walk under the sun, which is why I am sweating in the picture above.
I had to take lots of pictures so that you could see the extent of the long walk I had and how much I was sweating. I was happy that I received my product earlier, which was two weeks after I ordered it.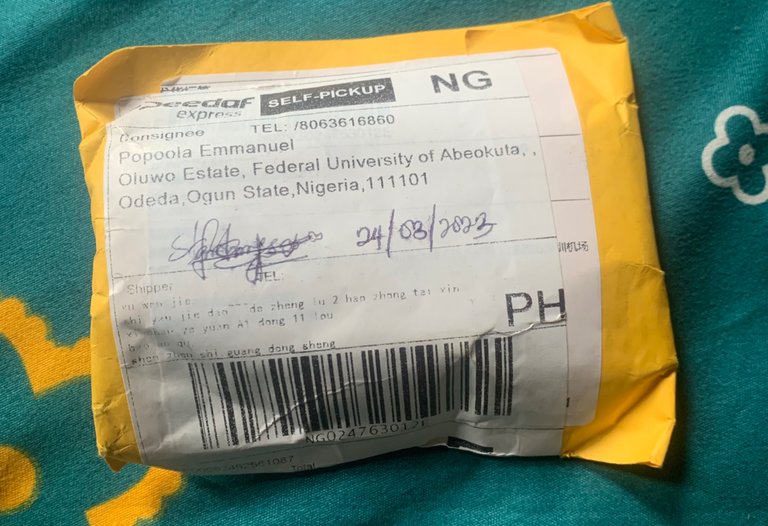 Now let's talk about the first product I ordered. This product is a photochromic glass, which also has protection from blue light. This is how the product was packaged, and you can see my signature and the date when I collected the package from my letter.
Ordering this product cost me only $1.4 with a free shipping fee. I was amazed when I first saw this item on AliExpress and how cheap it was. I could not resist ordering the item.
Over here, if I were to get photochromic glasses from the local market, I would probably be charged about $10 at least. I know this because I have once asked a buyer online who deals in selling these kinds of glasses for his price ranges, and I was surprised with the amounts he was calling for me.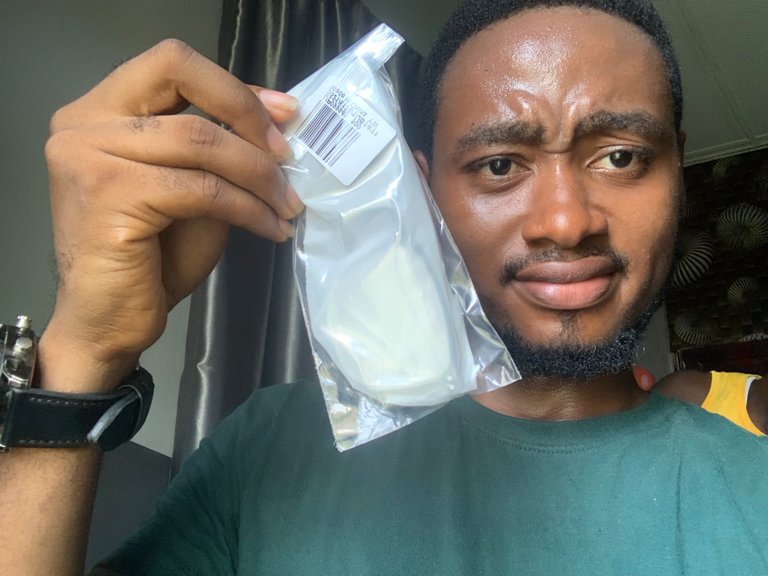 I removed the product from the package it was in and found it to be white nylon. The glasses had a different plastic feel.
It has an attractive look, and I had to go test out the photochromic features immediately after bringing it out.
Since my last pair of glasses had broken, it had been months since I used one, so I had totally forgotten how it felt to be wearing glasses.
---
---
I had totally forgotten to snap the glasses before going under the sun, but if you look at the glasses, they have changed colour to a different colour. It is no longer pure, transparent white like it used to be. So I decided to remove the label from the glass so that I could show you the difference between how the glass was and after it was taken under the sun.
| With Label | Without Label |
| --- | --- |
| | |
Now the difference is very noticeable. Since that part of the glasses had not felt the effect of the sun, it did not change its colour.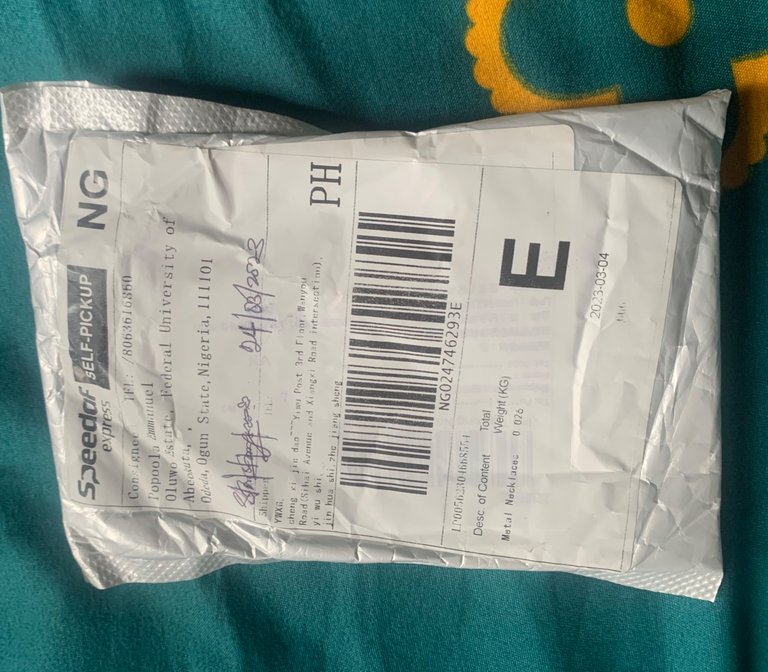 Let's move on to the second package that I ordered online.
This is a RBG light. Some people call it a Christmas light because of the different colours it has and because it looks like the lights they place on Christmas trees, but this one is placed on the wall.
I already have one that I am using, which I bought at a local store, but I found this particular RGB light to be different from the one I have before.
What amazed me about this type is that it has a Bluetooth connection, which means that it can be controlled with your mobile phone without having to use the remote that comes with the light.
For the particular RBG Light I have, there is nothing like a Bluetooth connection on it. So I was intrigued by that feature. This product cost me $4.7 for a 5-metre length, while the one I ordered on AliExpress cost me $3.5 for a 2-metre length.
The picture above is of the LED strip and the remote control. I was surprised that the remote control did not come with a battery. I later understood the reason why they did so: so that people would try out the Bluetooth connection. If they placed batteries in the strips, many people would only rely on the remote control and not think of going through the stress of downloading their mobile app and also connecting the LED strips through Bluetooth connections.
At first, I wasn't at my place but at my former place. I walked back to my place so that I could add the new RGB LED strip to the one I had before. Here is a picture of my apartment with the LED strip I previously had.
So when I got to my side, I thought of extending the lights down the wall, but something unexpected happened that made me change my mind about using the newly acquired RGB LED strip light. So here is what happened:
When we tried joining the old LED strip to the new one, we noticed that the power of the new one was greater than the one I previously had and that the light brightness was not even. The bulbs on the new strip were bigger, and they took a lot more energy than what the old strip could supply, causing this to happen. You can see the way the light did not brighten up evenly in the images above and below.
Since it did not really make sense like this, we decided to remove it and not use it. I later gave the strip to my cousin, who came around that day. I told him it wasn't useful for me, but it would help beautify his room.
---
𝙰𝙱𝙾𝚄𝚃 𝚃𝙷𝙴 𝙰𝚄𝚃𝙷𝙾𝚁
---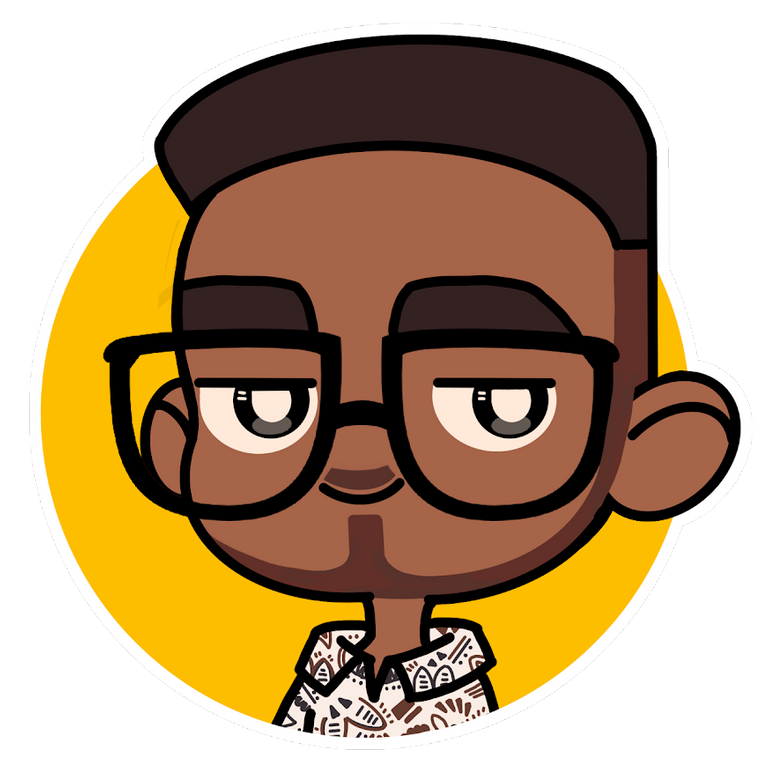 Designed by @ grisvisa
Starstrings01, also known as Giftedhands, attends the Federal University of Agriculture in Abeokuta to study mechatronics engineering. He is a lover of the hive, a guitarist from Nigeria, and a student.
His ambition on Hive is to be more than just an ordinary blogger; he wants to be someone with a purpose. That's why he started the newbies initiative @newbies-hive to help guide and support newbies. Please follow the @newbies-hive curation trail by clicking here.
He tries to juggle education with being active on the chain, but his love and passion for Hive keep him on track..
---
All images are mine except where indicated otherwise
All gifs included are powered by Tenor
---
Some posts you might be interested to read:
QUALITY ENGAGEMENT Vs. QUALITY CONTENTS Vs. GAINING VISIBILITY ON HIVE
BEING UNIQUE DOESN'T MAKE IT ORIGINAL || HIVE REWARDS ORIGINALITY